We are finishing off the week with a wedding that I would like to have attended, purely on the wedding breakfast and the decoration! Louise and Robin really pulled out the stops and made sure that all of their guests were well looked after, with cocktails a-plenty, and the most amazing menu. It's not surprising that so many of the wedding party have BIG smiles on their faces later on in the evening! With a stunning colour scheme of white and rose gold, which has to be my current favourite, all mixed in with some bang on trend foliage, this wedding also looks amazing! A truly glamorous day filled with metallics, sparkle, cocktails and lots of fun, all captured perfectly by Andy Gaines.
Just great fun!  Both venues and all of the suppliers were wonderful, so it all got off to a good start; we were then surrounded by our amazing families and best (albeit slightly bonkers) friends for a day of festivities… perfect.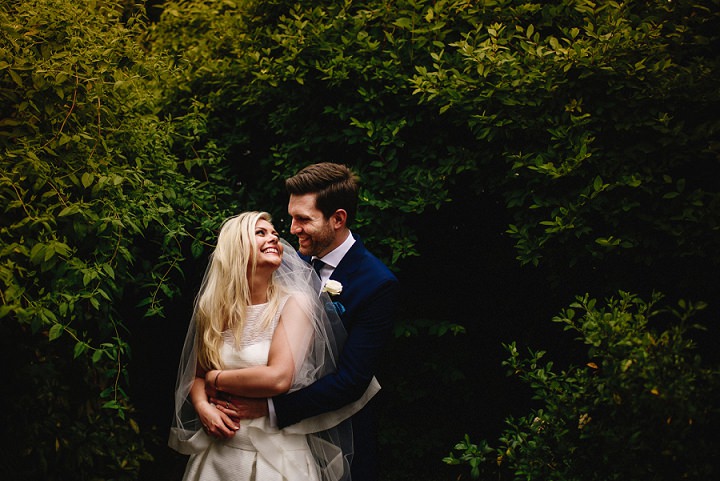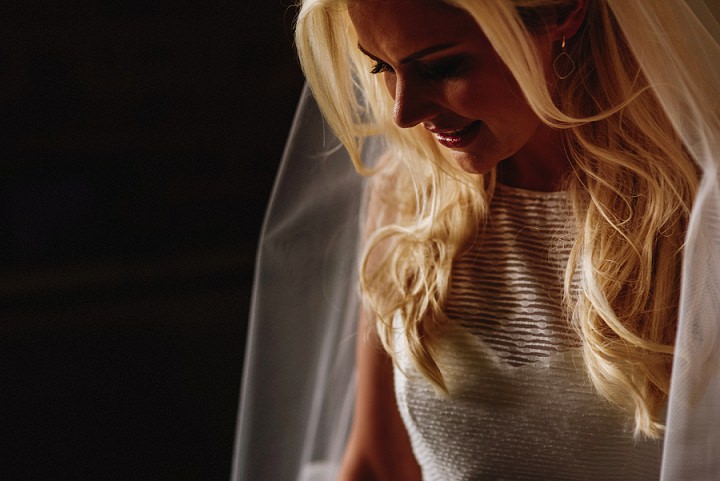 Louise and Robin were married on the 10th June 2016 in a church ceremony at St Michael and All Angels, Great Witley, followed by a reception at Curradine Barns, Shrawley in Worcestershire. 'Rob and I were very keen on getting married near where we live, for sheer convenience!  That being said, we did view some beautiful potential venues in the Cotswolds before we finally settled on Great Witley Church and Curradine Barns. We were entirely open minded as to the style of venue we wanted for our wedding day.  Our decision was ultimately heart led.  As to the Great Witley Church, we certainly hadn't intended on finding ourselves a Baroque church, but it was just around the corner from Curradine (convenience again!) and we were bowled over by its beauty. We had 90 guests to the day, and 120 for the evening. The wedding took 18 months to plan.'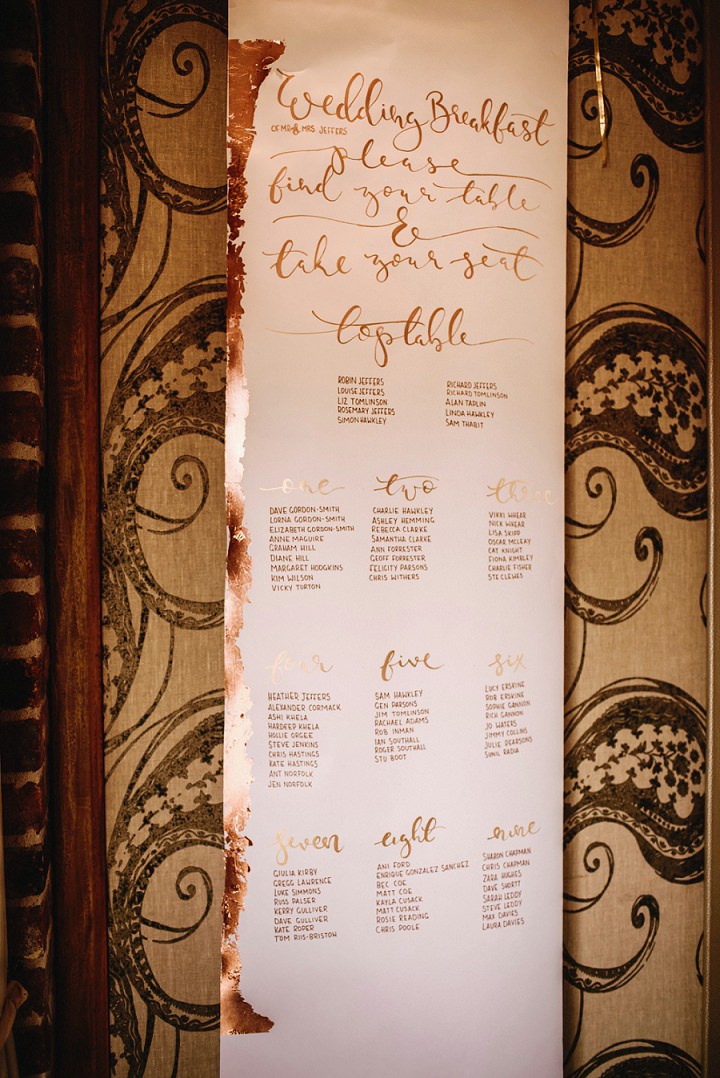 How they met
We met through some of our best friends, Sam (who was the awesome Best Man in the eventual proceedings) and Giulia (bridesmaid) in April 2009.  I had a penchant for backcombing my hair in those days and Giulia informed me that I would like Rob as he "has big hair".  He did, as promised, have "big hair" (and, come to mention it, Russell Brand-esque styling) and indeed, I rather liked him.  So it had been a fair assessment of my unwitting requirements for a potential life-mate by Giulia.  Within weeks of meeting, Rob surprised me with a weekend away in Paris… whilst we are yet to determine our relationship commencement date we like to pretend that we became official in the City of Love nearly 8 years ago.
The Proposal
We decided to spend a Christmas holiday on our own in York.  We stayed in a beautiful lodge in the middle of a forest, complete with outdoor hot tub.  I had always suggested that if it did eventually take Rob's fancy to propose, then I would be grateful if he would avoid proposing on Christmas Day.  So, true to form, he proposed on Christmas Day, declaring that it was the only day when I wouldn't see it coming!  This was true! We opened champagne far earlier than is acceptable (even for Christmas!) and proceeded to call our loved ones to share the news.  We then relaxed in the hot tub with another bottle of champagne… and then another.  By the time afternoon dawned, we realised that we were far too drunk to cook Christmas dinner and opted to eat our Boxing Day nibbles instead!  Best Christmas Ever.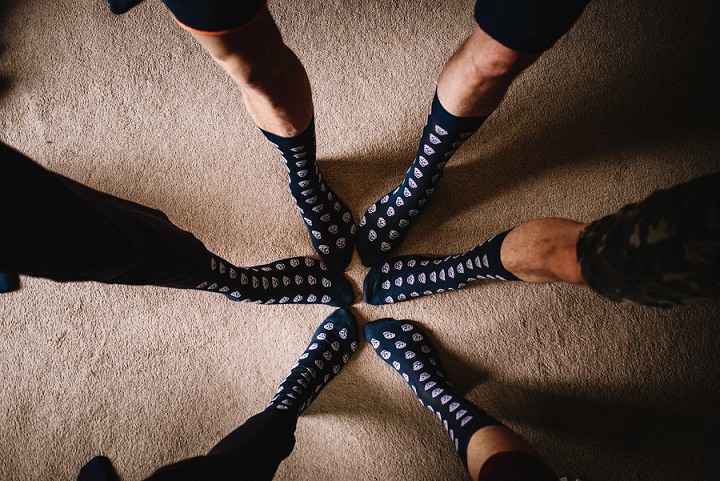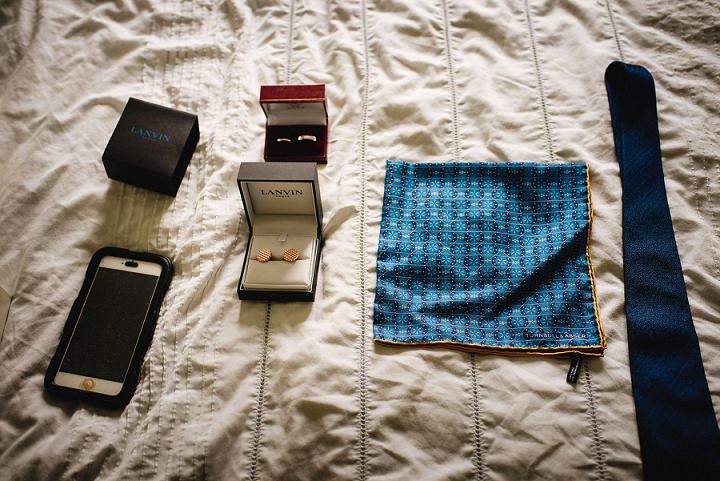 How did you allocate your budget?
Weddings make you quickly lose all concept of the value of money.  We found ourselves uttering sentences that don't exist in the real world, like "well, it's only an extra grand".  We did attempt to set a budget but the figures in the 'budget' column didn't ever tend to represent the amount that we discovered we needed.  So, we decided that we were only going to do this big wedding malarkey thing once, worked a bit harder and threw everything we had at it. We had a really clear idea of what we wanted the day to look and feel like and we didn't want to look back and regret any of our choices.  We were only prepared to spend what we could afford, and weren't prepared to incur any debt, but we worked really hard to make sure we achieved what we wanted.
Where did you splurge and where did you save?
We definitely 'splurged' on flowers. Karen, at Passion for Flowers, and her team were worth every penny.   We really wanted hanging floral chandeliers above the dining tables (a barn, with its beams, lending perfectly to the construction effort required), a flower wall back-drop and a floral garland across the front of the top table.  It was a tall order and because we didn't want any other 'decoration' in the venue, just flowers, we were happy to spend whatever was necessary.
We saved on the church decorations as the baroque design was just so beautiful that we didn't feel it needed much dressing.  We also saved on the wedding car for the bridesmaids.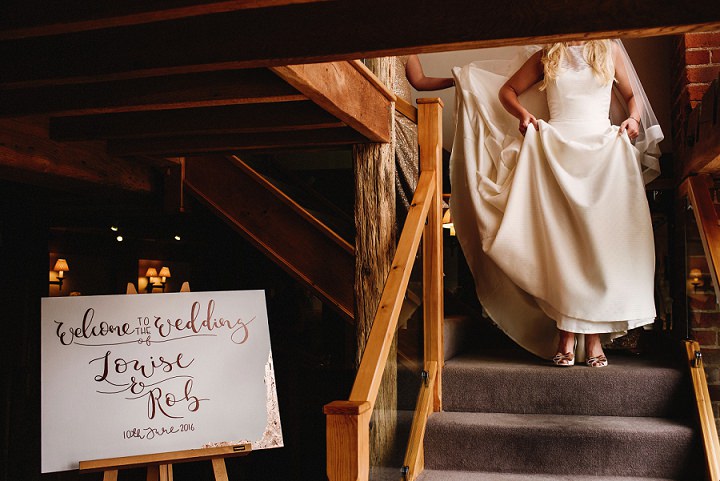 Why did you choose your photographer?
Rob rarely got involved with wedding planning but when he did, he really had the Midas touch.  Andy 'awesome' Gaines was spotted by Rob after being delegated the job of finding a photographer.  Andy was a little pricier than some of the other photographers which we had looked at but Rob was so in awe that he professed that he would "sell a kidney to get this guy".  Fortunately for us, Andy was available on our date and Rob's mum very kindly offered to foot the photography bill.
We both loved Andy's work, his unpretentious and natural style really appealed to us.  His work just looked cool.  We thought that even if we didn't pull of a spectacular looking day, Andy's skills were such that it would probably look like we had!  Also, we both hate having our picture taken, so when Andy explained that his approach was antithesis of what we had come to expect of more traditional photographers, it really sealed the deal. On the day, Andy demonstrated ninja-like stealth.  We felt we hardly saw him yet he managed to capture every moment perfectly.  The man deserves a medal.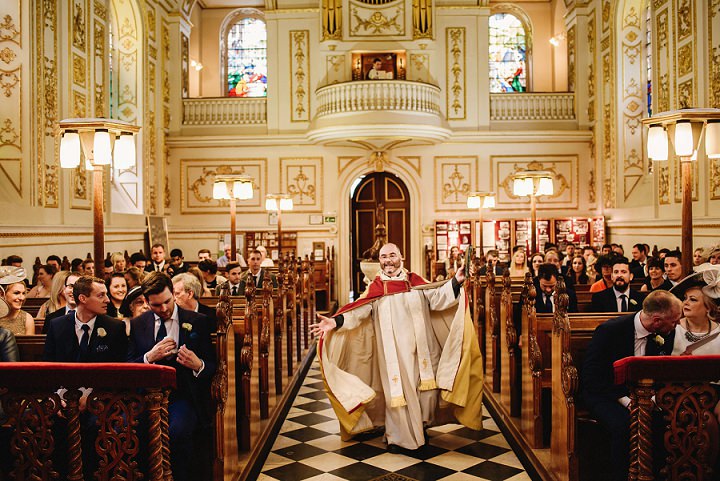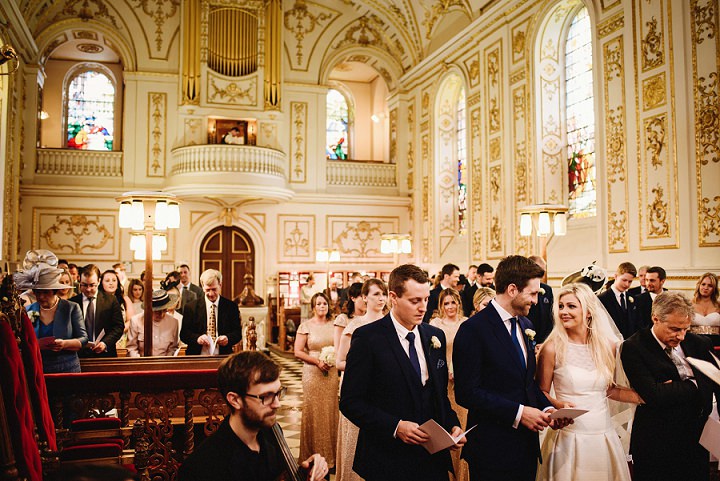 The Dress
My dress was a made to measure Jesus Peiro, the veil was also Jesus Peiro.  The very wonderfully talented Madi at The Bridal Boutique in Henley in Arden had a beautiful range of dresses but I fell in love with the slightly off-beat design of this one.  The material had a very subtle white shimmer and was slightly embossed with a diamond pattern. I knew I wanted something fairly classic but with a bit of an edge and I felt this did the job perfectly. My shoes were bespoke, to include a rose gold element, by Charlotte Mills.  My earrings and bracelet were rose gold and from Monica Vinader.  My Aunty also presented me with the beautiful engagement ring of my grandma which was my 'something old'.  I wore a flower crown in the evening, once I removed my veil, which was made by Passion for Flowers.
The Suit and Bridesmaids
Rob was exceptionally well kitted-out in a bespoke suit, shoes from Crockett and Jones, rose gold cufflinks by Lanvin, Turnbull and Asser pocket square and Tom Ford tie.
The bridesmaids wore stunning rose gold Sorella Vita dresses, also from The Bridal Boutique in Henley in Arden.
Theme and Flowers
Even though we had selected a barn venue, we didn't want traditional barn decoration.  Instead, we wanted the venue to look really elegant and warm, so decided on lots of foliage and white flowers all accented by rose gold.  We attempted an "elegant whimsy" theme.
Stationery
We really wanted modern calligraphy and rose gold ink but after months of trawling the internet/ asking for recommendations, just couldn't find anyone.  Just when we were about to give up on the rose gold stationary dream, we stumbled across Polly and Me.  Allie is incredibly creative and just lovely to deal with.  She made all of our stationary/ signage requirements possible.  She even edged all of the stationary with rose gold foiling!
Polly and Me made all of the table numbers, place-card names, signs for around the venue (including a welcome sign and order of the day) and a huge paper scroll table plan which hung from ceiling to floor.  Everything she made was stunning and we felt incredibly lucky to have found her.
Personal Touches
We had a quiz about us during the wedding breakfast.  The table with the most correct answers won a bottle of champagne.  Unsurprisingly, the table with the most bridesmaids won!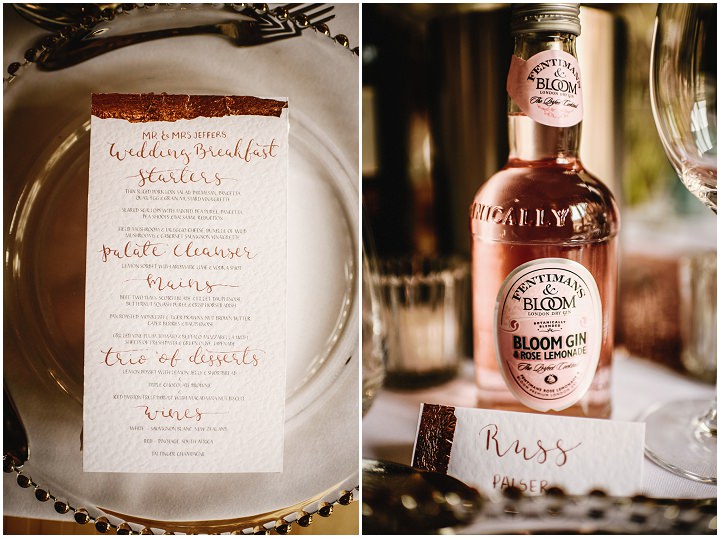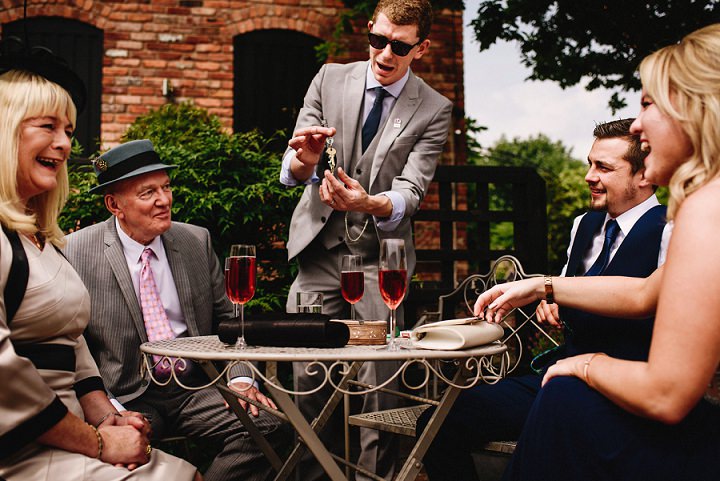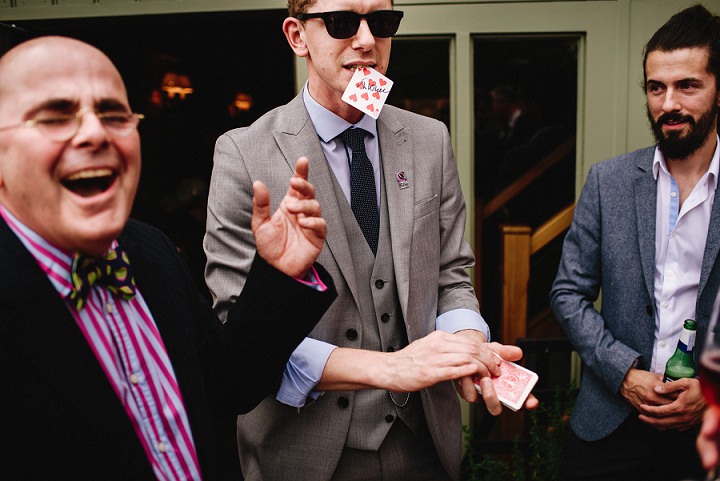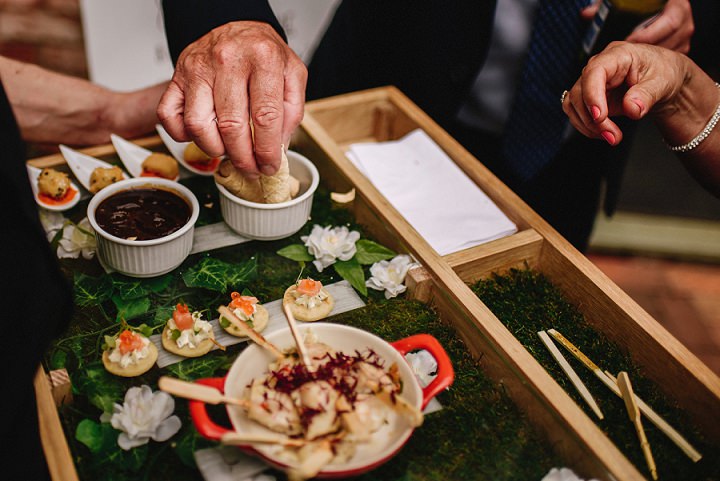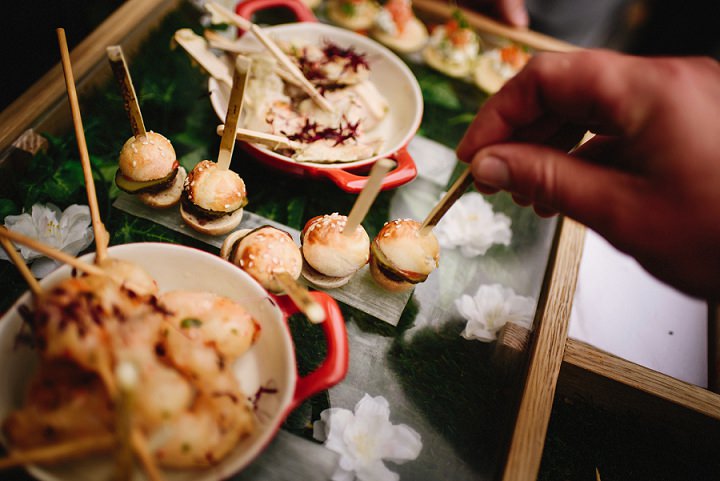 Food
One of the main reasons that we selected Curradine Barns, after falling for the style of the venue itself, was the fabulous food.
We had 6 different canapes for the drinks reception, followed by a wedding breakfast of scallops with pancetta or quail-egg topped pork salad; a main course of either monkfish with tiger prawns or beef 'three-ways'; a palate cleanser of a lemon and lime vodka shot and, finally, a trio of desserts (lemon posset with shortbread, triple chocolate brownie and passion fruit parfait).
One of our main goals was to ensure that our wedding guests were suitably squiffy, we achieved this in record time by ensuring unlimited Kir Royale cocktails and beers were available upon arrival and with bottles of Fentimans Gin and Tonic or Gin and Rose Lemonade as favours.  The wedding breakfast was swashed down with a great deal of wine, a touch of champagne, and ameretto slammers which followed.
Wedding Cake
By the fabulously talented Laura Jane Cake Design.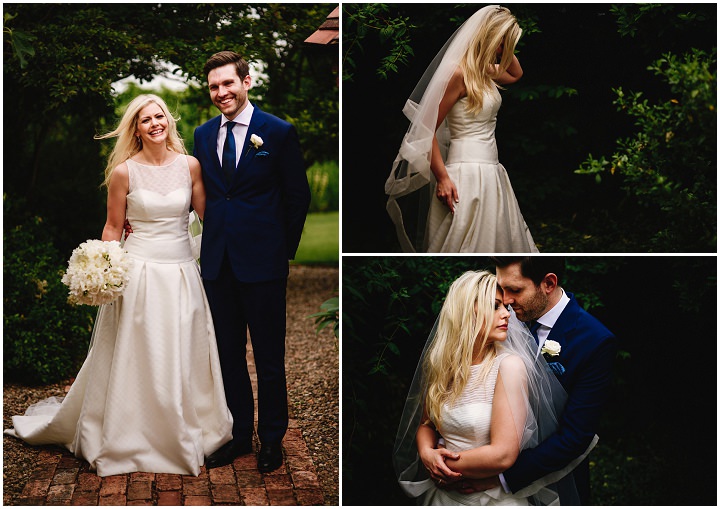 Entertainment
Vyne String Quartet, who learnt 'Home' by Edward Sharpe and the Magnetic Zeros for me to walk down the aisle to, and also played string versions of a range of up-tempo modern songs throughout the drinks reception.
We also asked the insanely talented magician, Christian Fletcher, to come and entertain guests with his wizardry during reception drinks.  Christian is an old school friend of mine, which made the whole experience even more special.
We hired Midlands Photo Booths for the evening reception. Finally, after seeing their spectacular performance at the Jam House in Birmingham, we hired the Beat Brothers for live music in the evening… and wow they were good!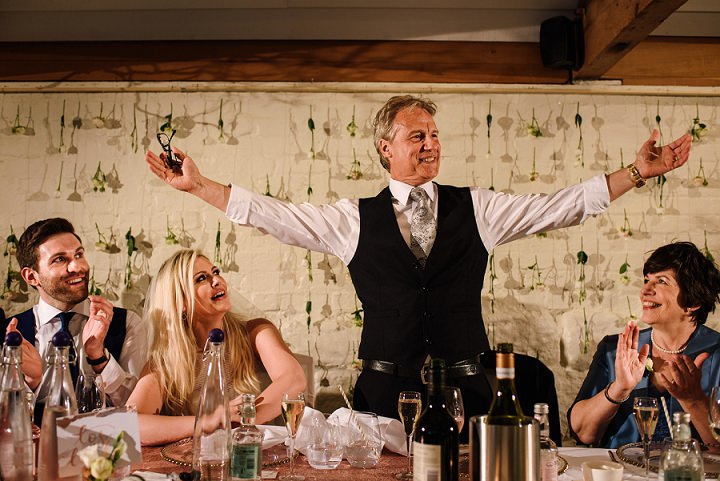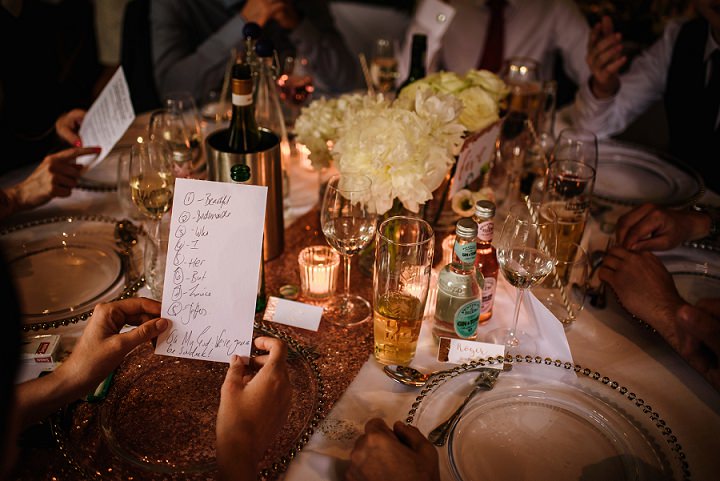 Special Moments
We loved everything, but highlights include being with my mum and bridesmaids, and Rob with his best man and ushers, on the morning of the wedding.  The usual tear-jerker, when my dad arrived and saw me church-ready and began to well-up.
Getting married in church was so special and getting into the car, finally as husband and wife, was really exciting.
A particularly fun moment was after the wedding breakfast when Andy grabbed us, the bridesmaids, best man and ushers for a mini-photo shoot.  We were by now, as in accordance with the plan, a little tipsy and it had begun to rain.  Off we trekked to the nearest gated field and, fuelled by intoxication, someone burst into song, brollies were cast into the air and we returned to the venue wet and muddy but in the highest of spirits.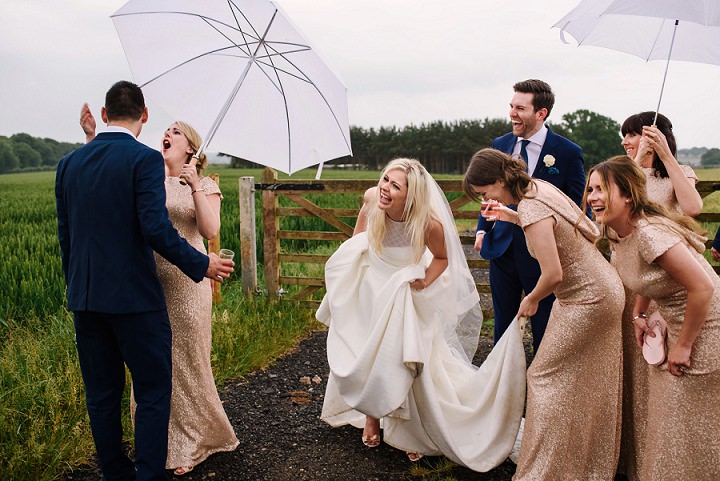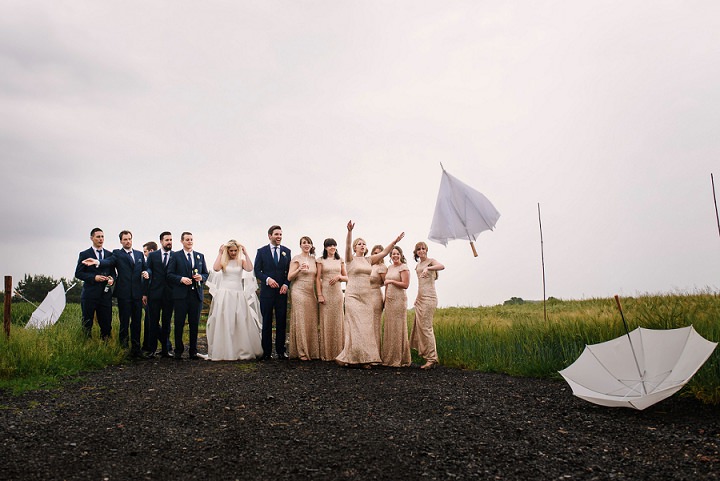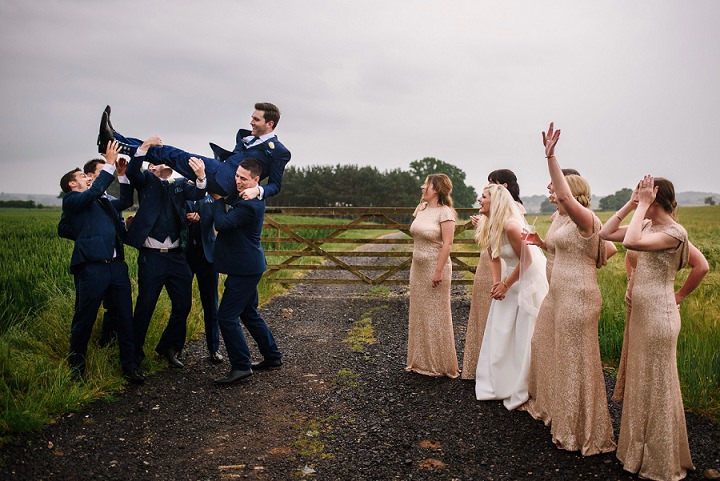 Advice for Other Couples
I wasn't too great at planning our wedding.  I was too worried about all of the details so I am certainly not someone whose example ought to be followed, but I would say try to learn from my failings and not get too wrapped up in the detail as ultimately, as we found out, all that matters is that you get to marry your favourite person in the world, with all of your other favourite people there to get drunk with after!  The day is just the very best.
Also, let your parents invite a few friends!  My mum had some of her closest friends at the wedding and she loves that they were there so that they have that shared experience.
Biggest Surprise
Our biggest surprise of the day was probably how well it all came together and just how much fun we had.  For me, Rob's speech and his incredible delivery was a huge surprise as he had been openly nervous about  it in the run-up to the wedding.His speech was also incredibly funny and sentimental.  I couldn't have been more proud.
Also a smaller but surprising detail was how gorgeous the wedding breakfast room smelt because of all of the flowers.  It was a real surprise to have such a perfectly scented room when all we had been thinking about is how it would look.
Finally, we were surprised at just how rowdy our friends were!  The obligatory 'buzz word' game was played during the speech, with guests having to drink on hearing their allocated word.  There was then a very particular buzzword, which the Best Man managed to incorporate into his speech (!), which resulted in a table of male friends/ ushers doing push-ups and star-jumps around the room!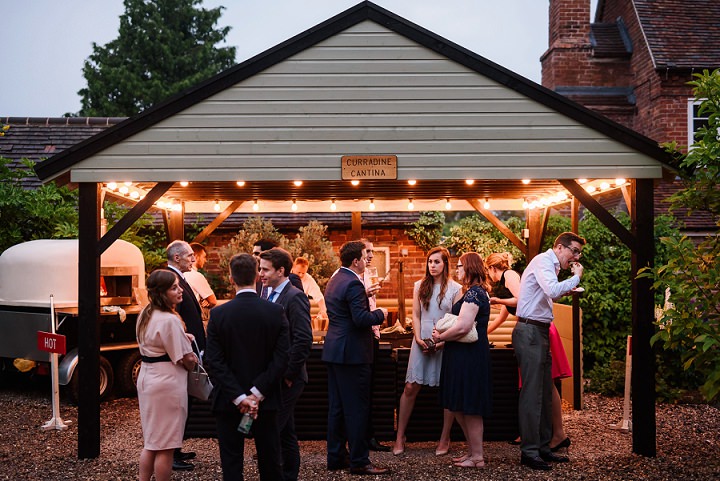 Supplier Shout Outs
For more information on Andy's work go to:
www.andygaines.com / [email protected] / 07799265834 / FACEBOOK / I: @andy_the_gaines / T: @andy_gaines
I am an award-winning creative wedding photographer, based in York but shooting weddings across the world.  A key focus on story -telling and natural photography, I make weddings with 'less cheese and more awesome'!