We're so excited to welcome resident Bridal Hair and Beauty expert Jenn Edwards back to Boho today to share some brilliant make-up tips with you! Today Jenn is giving us her top product buys for dealing with those warmer days. Many of you will be getting married in the height of summer, or you may have opted for a destination wedding. Either way how to keep your make up on your face and looking fresh and beautiful all day something you will need to consider when choosing the make up for your big day. Crossed fingers for a sweltering summer! I'll pass you over to Jenn…
Brides, so many of you have opted for a destination honeymoon and are jet setting off to hotter climates, but we can't forget the growing number of 'Honeymooners' that seek romance and adventure closer to home, with all the beauty and charm that the UK has to offer.  And, if you're optimistic like us, this year we're going to get the scorcher of a summer that's long overdue right!?
In either case, or even if you're not getting married anytime soon, you will love our little offering today cause who doesn't want long-lasting makeup that stands up to heat?
As a team of professional hair and makeups artists, specialising in weddings, it's our job to know all the best products available for our brides. And providing long-lasting results, which stand the test of time in all-weather conditions, and climates, is our priority. Not to mention the odd tear or two on a wedding day.
#1 makeup forever aqua brow
Waterproof brow corrector, fills defines and lengthens, heatproof and waterproof.
It may seem like an odd choice as our number one product but it's all about the brows right now. Weather super defined HD brows are your bag or not, if you've discovered the difference a 'good brow' can make then you'll love this product.
#2 Kiko definition waterproof Liquid eyeliner
This Water resistant formula with slightly creamy consistency makes it easier to use and suitable for every woman, from the most experienced to the make up novice.
This is my personal favourite; in fact it's my desert Island product!  Believe it or not I'm allergic to most eye products including all eye shadows, mascara and most other liquid liners.  A cream eye shadow once left me with blisters.  I also wear contact lenses so my eyes are sensitive and prone to watering too.   A quick swipe of this liner defines my eyes without the need for anything else and I no longer look a tired mess.  What's more…It does not budge!  You do need to purchase waterproof eye makeup remover to get this stuff off or it will still be there 3 days later.
#3 Peter Thomas Roth Instant Mineral spf.
Instant sunscreen for those with sensitive, greasy, or combination skin types.
This can be used alone over moisturiser or as a setting powder over makeup. Just brush on for an instant sunscreen that wont make the skin greasy. Can also be used on scalp to protect and absorb excess oil. If you perspire excessively in hot conditions or climates then we highly recommend this product.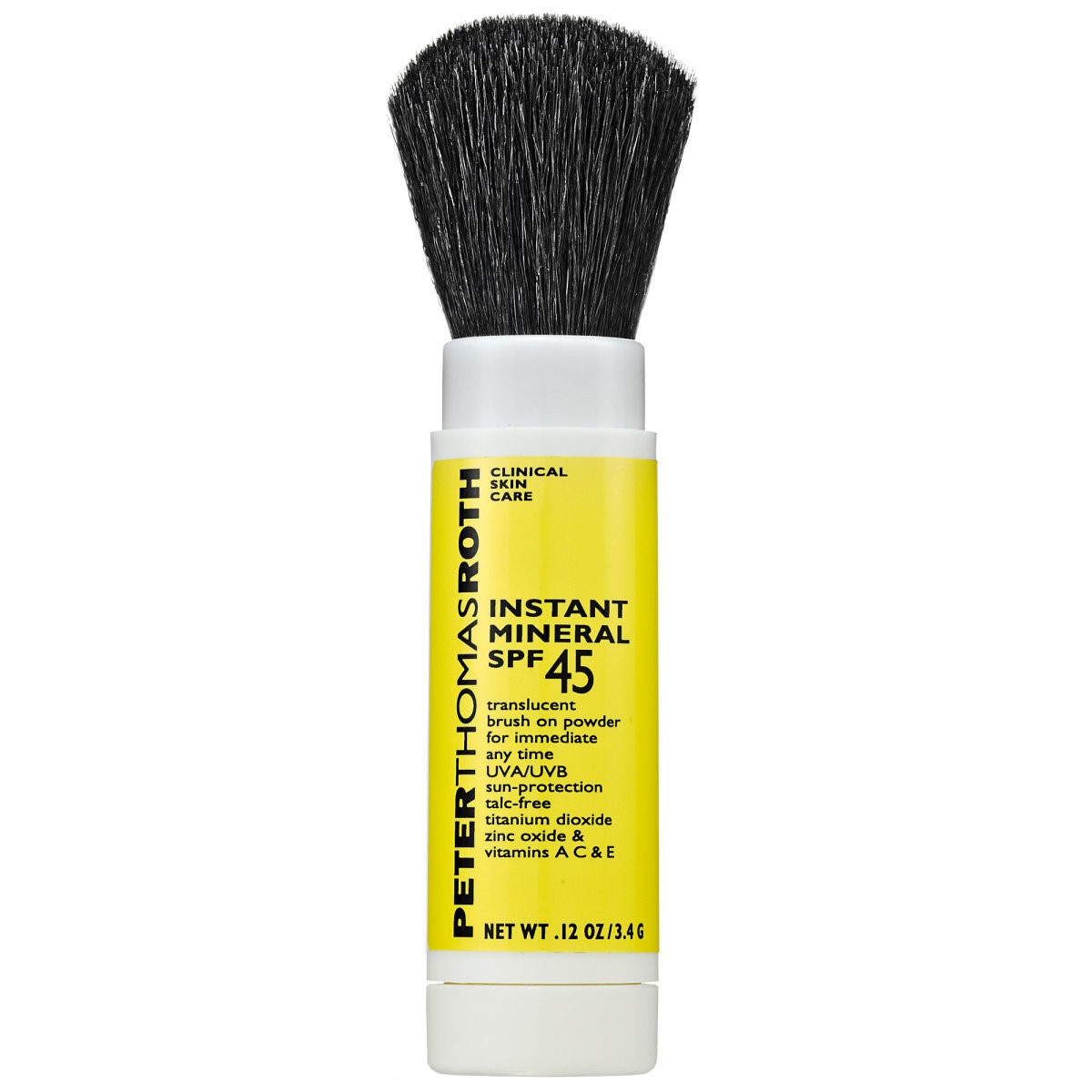 #4 Urban Decay De-Slick Complexion Primer
Banish oil and make your makeup stay put with De-Slick Complexion Primer. Urban Decay designed this lightweight, oil-absorbing primer to not only control shine, but also help makeup go on better and last all day.
De-Slick Complexion Primer keeps oil in check even in the most extreme conditions.
#5 Urban Decay Eyeshadow Primer Potion – Shade: Minor Sin
Once you've tried Urban Decay Eyeshadow Primer Potion, you'll never want to live without it. The formula glides on smoothly, and space-age polymer technology fills in any imperfections on the skin's surface, prepping your lids for all-day shadow.
We suggest you use this alone in place of a traditional powder eyeshadow.  Although you have multiple shades to choose from Minor Sin, a champagne shimmer, is a sheerer version of Sin that Urban Decay reworked based on customer feedback and it's perfect for a fresh and pretty daytime look in the sun.
#6 Cargo Cosmetics Swimmable Water Resistant Blusher and Bronzer.
Cheek color won't streak or fade; it's sweat-proof and weatherproof!
Silky powder formula glides over the skin for a subtle wash of color. The sheer powder is buildable for a customized look. Silicone-coated pigments provide better adhesion to the skin and help withstand water for extended wear.
#7 Kat von d Everlasting liquid lipstick.
This 'Everlasting' liquid lipstick features a creamy formula which glides over lips like a gloss and sets to a true matte finish. Along with 24-hour wear and 26 striking, high-pigment shades, this next-generation formula is packed with natural moisturisers including vitamin E and sunflower seed wax.
If you follow us you'll know that we're all about 'Natural' and so, as you can imagine, we love these beautiful 'Nudes' that are perfect for a hot summers day lazing on a beach or around a pool where, 'bright lippy' can look a little OTT.
If you have your own 'long wearing' favorites or have any questions for our team, please leave in the comments below.  We'd love to hear from you!
FOR MORE INFORMATION ON JENN'S WORK GO TO
www.jennedwards.com / [email protected] / FACEBOOK / PINTEREST / T:@jennedwardsMUA / I: @jennedwardsmua

Jenn is multi award-winning wedding hair and makeup artist based in Sheffield. She's Queen Bee when it comes to boho hair styling, soft waves, braids and festival looks and, although she insists that less is more when it comes to makeup, her kit barely fits in her car.

[jprel]