Good morning everyone – welcome to the weekend! I'm thrilled to be bringing you this week's Boho Pins edition – I love seeing so many variations of a first dance, from locations, props, routines and the all round LOVE simply glowing from the newlyweds.  So grab a brew and shimmy around your kitchen this morning as you browse this lovely selection of first dance shots. My favourite? The Dip. Simply gorgeous!
Image Source via Lucy Noble  – I love an outdoor wedding, so being able to have your first dance underneath the stars would just be amazing, especially in a woodland wedding like this.
Image Source via Firsthand Photography – I love a first dance that has been well thought out, and this one is fab, with a proper dance routine.
Image Source via Feather Love – It's the flooring I love in this first dance, the carpets really add to the boho feel of the day.
Image Source via L'Artisan Photographe – I love seeing the men having a good time as well, and these two grooms look like they are having an absolute ball!
Image Source via Andy Hudson Photography – Wow it's not often you see dry ice at a wedding, so this first dance has so much drama!
Image Source via White Diamond Photography – Not only is this image just stunning, the idea of dancing away on the beach under the stars just sounds like heaven!
Image Source via Joel Bedford – And there's the dip! Swoon! Also, how amazing are those floor candle holders!?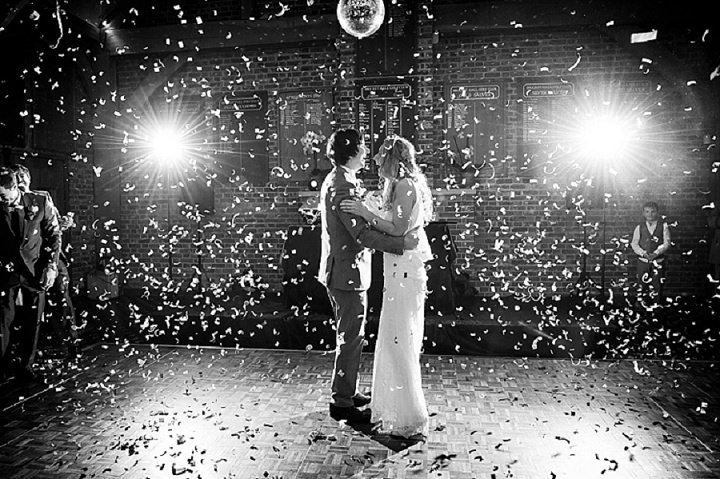 Image Source via Fiona's Wedding Photography – A confetti cannon during the first dance looks incredible!
Image Source via S6 Photography  – A barefoot bride and a leaping groom totally getting into their energetic first dance!
Image Source– And finally, when you channel Vincent and Mia from Pulp Fiction during your first dance you get all the cool points from me!
FOLLOW KELLY AND LAURA ON PINTEREST: