The Boho Wedding Directory is a hand-picked list of the top wedding suppliers in the business, ready to help you plan your Boho wedding. The Directory is located in the main menu bar at the top of each page and is super easy to use. It is split up into suppliers and regions making it easy for you to find the perfect Boho supplier for your wedding.
To make sure you don't miss any of the wonderful suppliers that have been added to the directory, each week I showcase the suppliers that have joined in a mini update.
Decoration: Swizzels Matlow
Swizzels are best known as the inventors of Love Hearts, Drumstick and Parma Violets, all of which have been lovingly enjoyed by young and old for generations. We now also offer Wedding Love Hearts which read 'just married' and can also be personalised to includes names and wedding dates. They make for perfect whimsical wedding favours and are available in cute favour boxes, silver trinket boxes and a range of other packages
More Information: www.boho-weddings.com/swizzels-matlow
Photography: Rachel Joyce Photography
Wedding photographer with a love of all things handmade, vintage and cheerful is seeking loved up couples who are doing things their own way. With a relaxed style of photography, I'll capture all the authentic moments of the day, all the pretty details and some beautiful portraits of the two of you.
More Information: www.boho-weddings.com/rachel-joyce-photography
Entertainment: Absolute
Absolute are a 5 to 7 piece wedding and party band of the highest quality. The band can tailor a set for your event whether you like rock, pop or funk or fancy an Irish folky theme for a good 'ole Jig. From The Police to Bruno Mars to Maroon 5 to Stevie wonder to Justin Timberlake to The Killers to to Duran Duran, there's something there for everyone.
More Information: www.boho-weddings.com/absolute
Decoration: Clouds and Currents
Clouds and Currents is an award winning product design company, specialising in bespoke touches for your wedding. From Wedding Hangers to Personalised Wedding Guest Books and beyond, we create some of the UK's most unique personalised gifting and decor solutions; designed, created and delivered to you directly from our studio in rural Essex.
More Information: www.boho-weddings.com/clouds-and-currents
Entertainment: Embassy
Embassy is a charismatic and energetic 5-piece party band who know how to get your party started. Embassy will deliver rock and pop classics from the past 5 decades guaranteed to keep your dance floor full all night long! Available from a 5 to 8 piece the band can tailor their sets and line up to suite any event or budget. Embassy consists of some of London's finest musicians, they are very experienced, highly professional and committed to making your night one to remember.
More Information: www.boho-weddings.com/embassy
Hen Do: Yogini Hen
Are you looking for a healthy boho hen do? We offer bespoke yoga hen dos with a bohemian twist. Choose between a Weekend Retreat Experience, Full/Half Day or 2 Hour Package in your venue or we can source venues for you. Beginners welcome. We guarantee a fun, bonding and inspiring experience.
More Information: www.boho-weddings.com/yogini-hen
Entertainment: Groove Allstars
Groove Allstars are the north of The UK's Premier award winning wedding and event band. Available from a 6 to 11 piece, the band perform dance floor classics from the Funk, Soul and Motown era, with a dusting of modern day hits for good measure. Mix this with the bands vast musical ability, performance experience and showmanship and you have the perfect recipe to get your event grooving from the first note to the last!!
More Information: www.boho-weddings.com/groove-allstars
Photography: Rose Images Wedding Photography
Hi I'm Sally Rose – A professional and down-to-earth female photographer based in London, working across the UK and Abroad. My style is relaxed, candid and colourful – I love capturing real moments as they unfold naturally – telling a true story of your day. Each wedding is unique and I love show this through my photography from the tiny details to the big moments.
More Information: www.boho-weddings.com/rose-images-wedding-photography
Entertainment: Soul Factor
Soul Factor is a 5 to 8 piece Funk, Soul, Motown and Pop wedding and event band of the highest caliber. With over 9 years experience playing together at weddings and events, the band are an extremely tight unit and can guarantee a seamless and highly entertaining show on every performance. Performing a diverse mix of new and old dance floor classics you will be dancing all night and getting your groove on.
More Information: www.boho-weddings.com/soul-factor
Photography: Kelsie Low Photography
Naturally creative wedding photographer with a candid, reportage style based in Essex, UK. I'm not your typical wedding photographer and love anything out-of-the-norm. I fully immerse myself in your day, always going the extra mile to tell your story and capture stunning imagery that you'll be proud to flaunt.
More Information: www.boho-weddings.com/kelsie-low-photography
Gift Ideas: Wedding Picture
Wedding Picture is a bespoke illustration portrait taken from your wedding day. Whether you are celebrating your grandparent's diamond or gold anniversary, or it's a gift for your best friend or perhaps you want to surprise your wife on your first wedding anniversary – after all it is Paper!
More Information: www.boho-weddings.com/wedding-picture-bespoke-wedding-illustration-portrait
Photography: Fiona Kelly Photography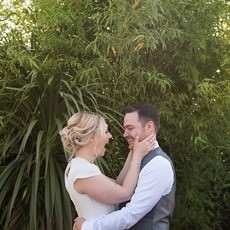 Hi, I'm Fiona – a lover of sunsets, happy people and beautiful, natural photographs. I understand that your wedding day is unique to you and capturing that individuality and spirit is really important. I love to create images that show the real emotions and gorgeous details of the day, while ensuring you have a relaxed and fun time.
More Information: www.boho-weddings.com/fiona-kelly-photography
IF YOU ARE INTERESTED IN GETTING YOURSELF ADDED ON TO THE 'BOHO WEDDING DIRECTORY' EMAIL ME AT

[email protected]

 FOR AN APPLICATION FORM.
HAVE A GOOD WEEKEND
BIG BOHO LOVE
KELLY XX