Good afternoon all, I hope you are staying warm and dry as the weather is currently miserable in Sheffield! Drizzle aside, today we get to focus on much prettier things, like bridal gown shopping! We are very lucky to be able to welcome Belle Bridal to Boho today to talk the key do's and don'ts to dress shopping – a must read for all you newly engaged ladies out there!
'We understand the pressures that every bride faces when shopping for their dream wedding gown — and we know just how to help.'
Belle Bridal tell is all you need to know about Shopping for your dream Wedding Dress
A staggering 82% of brides have feelings of regret when they look back at their wedding, with their most common complaint being their wedding dress. A third of women look back at their wedding dress and "cringe" at what they decided to wear. This may be a common pitfall, but it is far from unavoidable. We understand the pressures that every bride faces when shopping for their dream wedding gown — and we know just how to help.
One of the key reasons that women end up making a poor wedding dress decision is stress. Weddings are often hyped up to be the single most important day of our lives, which puts a lot of pressure on brides that is anything but helpful. After all, it's a well-known fact that stress can affect the way we make decisions. We've all done things that we regret in stressful situations.
It's crucial that your dress shopping experience is as relaxed and stress-free as possible. With this guide, we give you some dos and don'ts that will help you avoid some common mistakes, giving you a calm head for better decisions and an enjoyable experience.
Do Shop When It Suits You
on't rush into a busy showroom during your lunch break because that's the only time they're open that you can make. Although many wedding dress boutiques keep the standard nine-to-five hours, many smaller retailers offer private appointments. At a small boutique, not only will you be able to shop at a time which suits you and your bridesmaids, but the service you can expect will be far more personal. After all, this is your day and even a wedding dress that's cheap in London still costs a lot, so you have every right to expect the best. If you don't feel welcomed and cared about, look elsewhere!
Another good tip is to come with an idea of what styles suit your body type and what dresses are out there. Pinterest is a great way to keep all of your ideas organised and in the same place. It's a clever, modern alternative to the traditional folder full of flyaway cutouts from wedding magazines. Having an idea before you shop is a great way to save stress and time when you're in the shop, although if you really don't know what suits you, a good shop assistant will be able to advise you.
Don't Assume an Expert Service Knows Best
A key 'do' of shopping for your wedding dress is finding an experienced professional to help fit you, and advise you on styles and dresses. A one-on-one service is vital, and the better the relationship you develop with the store owner, the better they will understand your taste and what you want from your wedding. Remember that the salesperson (or better still, shop owner) has probably put thousands of women in wedding dresses over the years and will have an expert's perspective of who looks good in what.
However, this doesn't mean that you should take their word as gospel. Even if you are talking to the country's finest creator of ball gown-style dresses, if you don't like ball gowns then they're not for you. Just because a service is expert, doesn't mean they're the right expert for you.
Do Make Sure You Try a Variety of Shops and Dresses
While some boutiques only offer designer gowns, there are many showrooms that cater for a wider variety of tastes and styles. You may think that a glamorous dress is the one for you, but we find more modest wedding dresses are what many brides in the UK fall in love with. Likewise, you may think you have to spend a lot of money for a designer dress, but a budget wedding dress shop could surprise you, especially a discount designer wedding dress shop. If you have a specific idea and don't allow yourself any flexibility, you're setting yourself up for disappointment.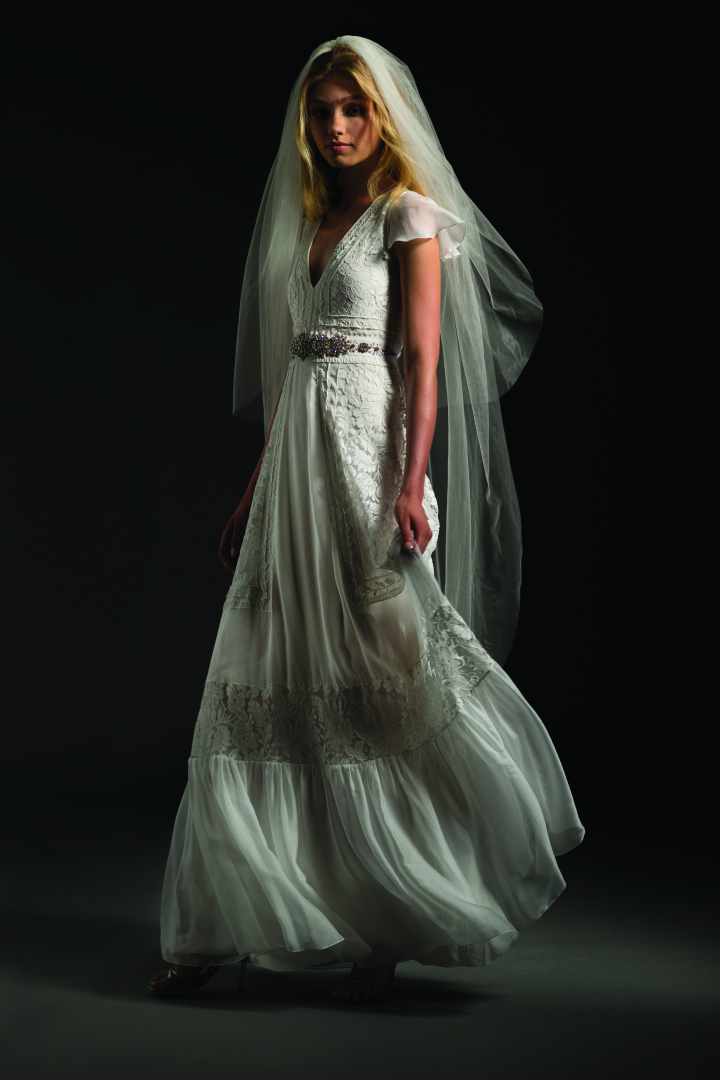 Don't Forget Your Own Heels
We always tell our brides to bring as many of their wedding accessories as possible. Not only can it help style the outfit, but having something like your own heels will give a more accurate representation of what your dress will look like on the day. Having your own things will make the whole experience more enjoyable, as you can feel like you're shopping from your own bedroom.
The same applies to your hair and makeup. If you arrive to a fitting not feeling the best about your hair and makeup, you may feel dissatisfied with the dresses you try on, too. You should also try to loosely style your hair into what you want on the day, giving a better idea of what you'll look like. When you're looking for dress inspiration, pay attention to the hair that goes with each style.
Do Take Advantage of a Showroom's Specialities
Showrooms sometimes specialise in certain types of gowns, or have years of experience in sourcing exactly what it is that you want. If you are on a budget, consider shopping for a sample dress. Search online for retailers that have all the right connections to allow you to get that designer wedding dress at a fraction of cost. Search locations specific to you, too. For example, search for 'budget wedding dress shops in London'. Don't, however, be afraid to travel a bit. You can even make it a fun day out in a new city. Use every piece of expertise available to you; that's what we are here for after all!
Don't Expect the Dress to Fit When You Try It
If you find a budget wedding dress shop in London with the perfect sample dress, don't be disappointed when you try it on and it doesn't fit. A dress will never fit perfectly when you try it in the store, but that's what seamstresses are for. All good wedding boutiques will either have an in-house seamstress, or a trusted seamstress they use regularly who can alter the dress for you. When you make alterations, try to get them as close to the wedding day as possible to ensure a perfect fit.
Remember the golden rule: don't buy a dress that is too small. Many brides claim they are going to lose weight, but no one can predict the future and a pre-wedding diet isn't advisable. It is considerably easier and cheaper to take dresses down a size or two over making them bigger, not to mention far less stressful than trying to cope with extreme dieting when you need your energy for planning and making sure the wedding goes smoothly.
And remember: the whole reason for getting married is to celebrate the love you have with another person, so make sure you enjoy yourself.
For more information about Belle Bridal go to:
bellebridal.co.uk / [email protected] / 020 8446 2481 / 28 Baxendale, Whetstone, London, N20 0EG / FACEBOOK / T : @belle_bridal / PINTEREST
Jo Cowan and Claire Chapman have been running their company, Belle Bridal, for the past six years. Belle Bridal is a family-run business which aims to deliver the highest standard of service and literally welcomes you into Jo and Claire's own home, so you can shop at a time that's best for you. They specialise in sample wedding dresses, so you can get that discount wedding dress without any of the usual stress.