Happy Friday and welcome to the end of the working week and the official countdown to Christmas. With only 2 more sleeps till Christmas day, we can now officially get very excited about the big day! To end the year of fabulous real weddings, I have this very glitzy and glam wedding from Liverpool. Even though this wedding takes place in July, I feel it has a real Christmassy feel to it. With the lighting in the ceremony venue, the glitter cannon and all of the lovely lighting details in the reception. Filled with Geometric designs, pastel accents and so much glitter, I really feel this is the perfect way to end the year of amazing real weddings we have had on the blog. Big thanks to Clara Cooper Photography for the images.
The most incredible day with each other and with all the people we love. Like having the best party ever, with all of your favourite things happening, all your favourite people and you get to marry the person you love while everyone celebrates that… What could be better!
Caroline and James were married on the 3rd July 2016 at Liverpool Philharmonic Hall – Music Room followed by a reception at Oh Me Oh My. 'We chose to get married in my hometown of Liverpool, as that is also where we met, James is from Mold in North Wales, we now live in London. We had to change our ceremony venue 3 months before the wedding, we were originally going to get married in a theatre, but we found as the wedding planning went on, we were unhappy with the organisation. So after a lot of deliberating.The music room in the Phil was hands down the perfect venue for us! We ended up being the first couple to marry there. For our reception venue we chose Oh Me Oh My, a classic Liverpool city centre building, with a very cool rooftop bar. We had 90 day guests and up to 130 in the evening. The wedding took 15 months to plan.'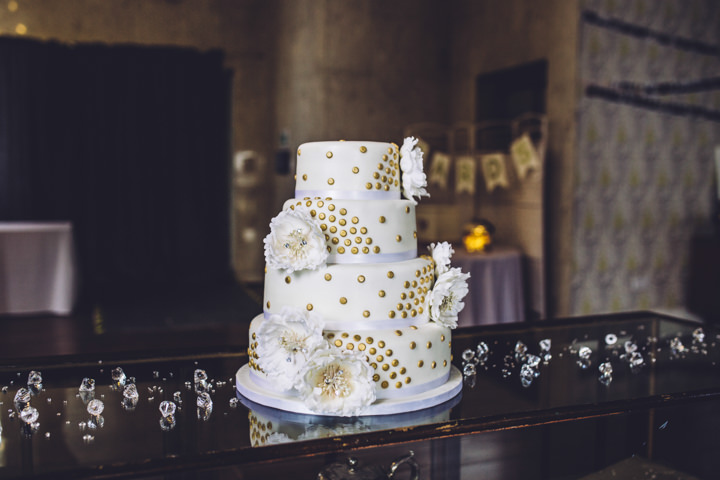 How they met
We met at work, were friends for around a year. James took me on a 'friend' date, it went so well that 2 months later we got together! 7 years later we tied the knot.
The Proposal
I always knew that Caroline's dream proposal was on top of the Empire State Building, with a Tiffany ring from 5th Avenue. We'd spent the week in New York and had an amazing time so on our last day while walking down 5th Avenue I thought what better time than now so suggested we go into Tiffany's for a look around. We picked a ring and then they managed to get it resized in 2 hours for us! We picked it up and then back to the hotel. If you've ever been up the Empire State Building you'll know it's packed with tourists and not very romantic. Instead we went to the roof of our hotel which was a really nice cocktail bar right under the Empire State so we had a view of it all lit up and that's where I asked the question. We then celebrated with some more cocktails before telling our families when we got home 2 days later.
How did you allocate your budget?
We spent about half of the budget on the reception as we wanted to throw a really memorable party for our family and friends. The rest we split across everything else.
Where did you splurge and where did you save?
We were budget conscious throughout so there weren't any 'splurges' as such. We both come from large families, and also wanted our friends to be there, so we knew that we needed to save money where we could to enable us to invite everyone. One of the things that cut down costs was having a buffet for our wedding breakfast. That didn't even feel like a compromise as the food in Oh Me Oh My is so good! I have a creative job, so used my skills to design everything from all our wedding stationary including invites, orders of service and menus, to the table decorations and wedding favours. While it was a lot of time and hard work this did help with the budget. We also pulled in favours from friends and family throughout.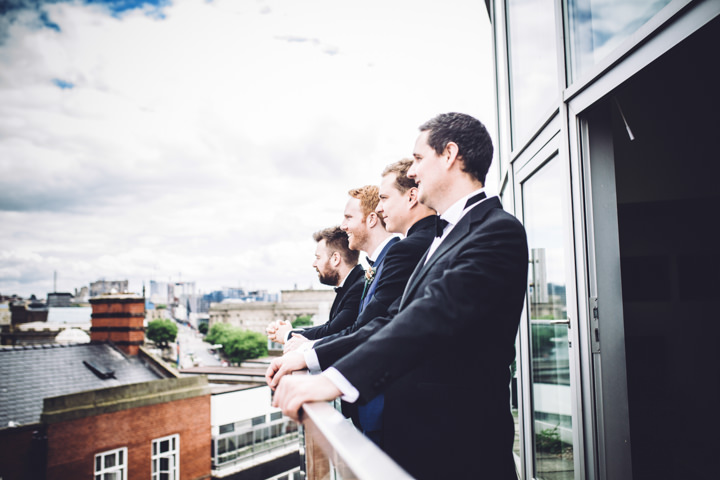 Why did you choose your photographer?
When looking for a wedding photographer we had a clear idea that we wanted someone who would capture the feel and atmosphere of the day without any awkward, uncomfortable posed pictures. We found Lucy while looking at photographs of Oh Me Oh My. We found from looking at her website she had shot some beautiful looking weddings, that showed brides and grooms looking happy and relaxed. Neither of us are that comfortable in front of the camera, so it felt important to get this right.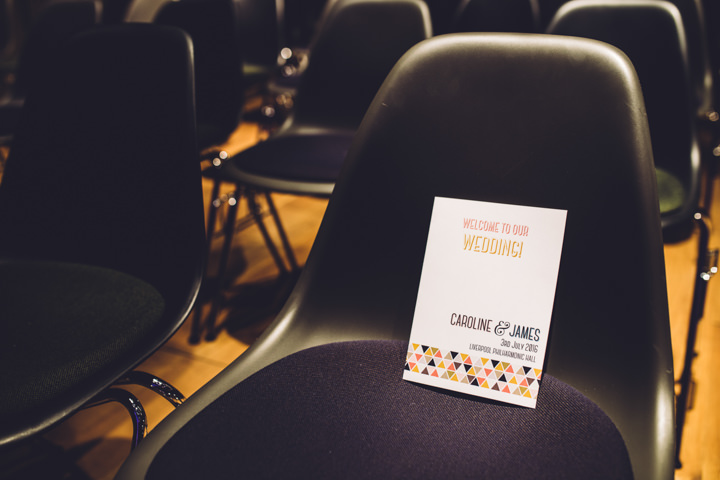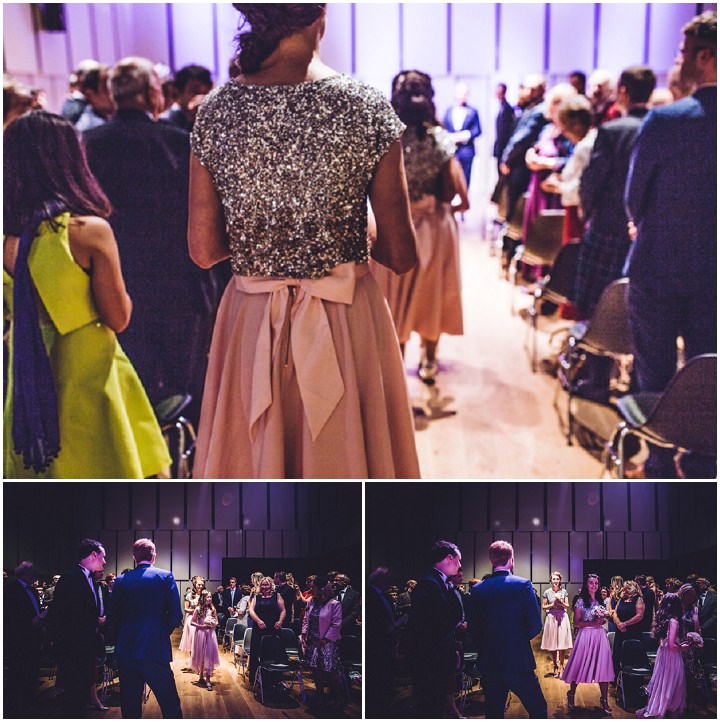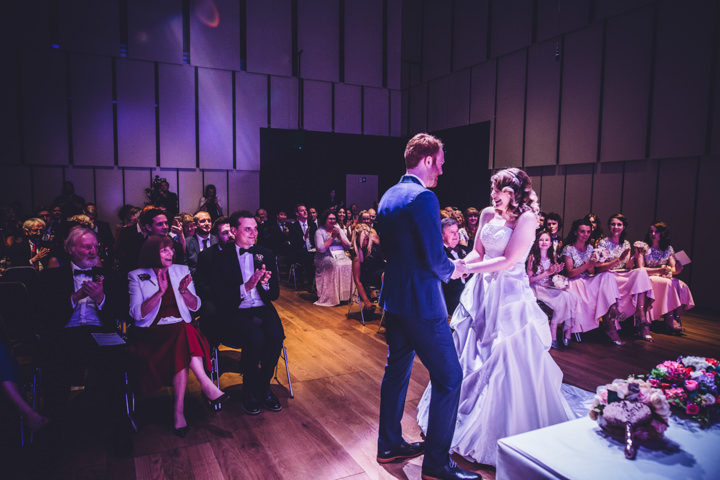 The Dress
After trying on 36 dresses, (36!) from every kind of bridal shop you can imagine in both London and Liverpool, I went for a dress that was nothing like anything I'd seen before, that I found left on the wrong rail in a bridal outlet. I knew it was the one when I saw the look on my Mum's face when I came out the changing rooms. There was no question, we bought it on the spot. My shoes were from Irregular Choice, I wanted something glittery to go with the look of the rest of the day, what better way than gold glitter shoes! My hair piece was from Accessorise where I also found matching hair slides for the bridesmaids. I had my hair done by Russell and Brown, Amy and Carl did really cool vintage inspired styles on myself, the bridesmaids and my Mum.
The Suit and Bridesmaids
The Suit was a bargain find in the M&S sale but then we spent the same amount again having it adjusted so it fitted perfectly. This worked really well and gave the look and fit of a much more expensive suit. The Bridesmaids outfits were a top from Coast and a Ted Baker ballet skirt. We managed to find both in an outlet so it didn't break the bank either!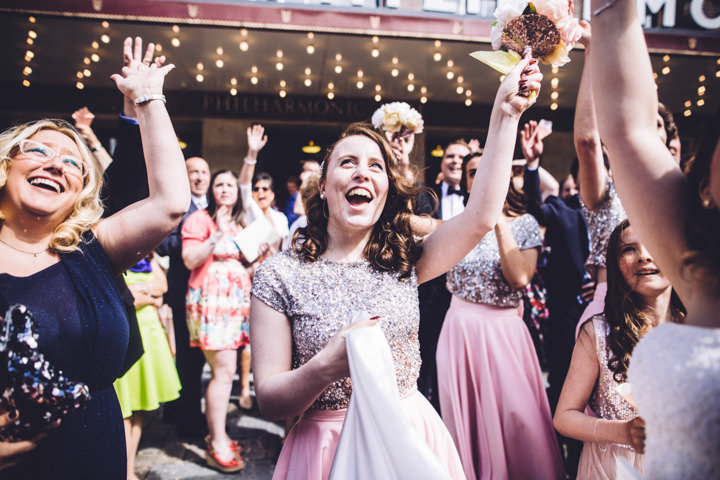 Theme or Colour Scheme
Glitter, geometrics and metallic pastels.
Flowers
We made the decision at the very beginning that we wanted to find alternative ways to decorate without flowers. So we only had one flower arrangement on the table during the ceremony that my mum put together from what she she could find in their's and the their next door neighbour's gardens.
My Mum also made gorgeous fabric bouquets, with a hint of crystals and a glitter fabric surround. I love that I have mine on display in our flat.
Decoration
We wanted our day to look glittery and and a bit magical I suppose! Our ceremony room was a blank canvas that would be decorated with light. We had the idea that we wanted it look like a planetarium, so the technician, created star effects using gobos (lighting stencils) over his lights, the only thing we adjusted was to make the colours more purple than blue. We also had confetti cannons for the moment that the registrar declared 'You may now kiss the bride'. They looked fab, and the sound scared some of our guests! For the reception we filled lots of glass objects such as bell jars and terrariums with copper wire lights, we even covered all the battery packs in metallic paper to disguise them! We also scattered geometric 3D and flat shapes made from metallic card. My Mum designed and cut out skeleton 3D shapes, with her cutting machine while we assembled them and the solid shapes were christmas decorations we bought in the IKEA January sale!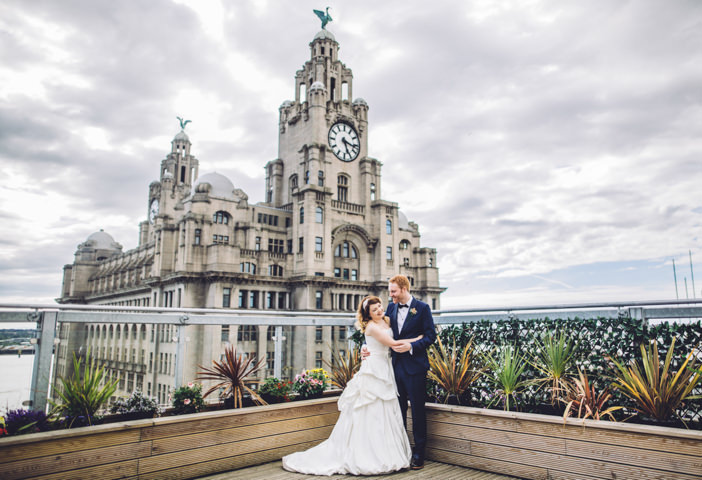 Food
We had Oh Me Oh My's Good Times Buffet, which included slow roast shoulder of lamb, chicken, mini roast potatoes and a wide selection of salads and a bruschetta bar. For dessert we had lots of different mini desserts and in the evening we had bacon sandwiches and falafel wraps.
Wedding Cake
My Auntie's sister made our wedding cake. It was a vanilla sponge (neither of us like fruit cake!) with gold dots and fabric flowers. Looked beautiful and tasted delicious!
Entertainment
My Brother is a professional musician so during our ceremony we had his band Feral Love play Cat Power's version of Sea of Love. For the reception, my Brother's old band from school got together to be our wedding band, they were fantastic! The dance floor was full for their entire set. We then had a disco.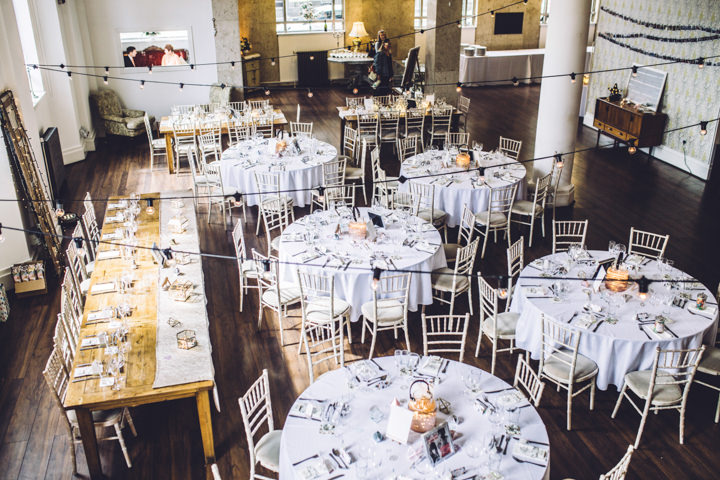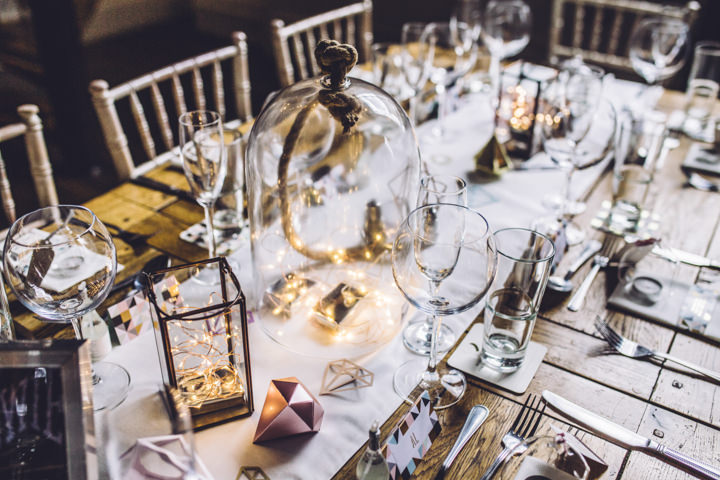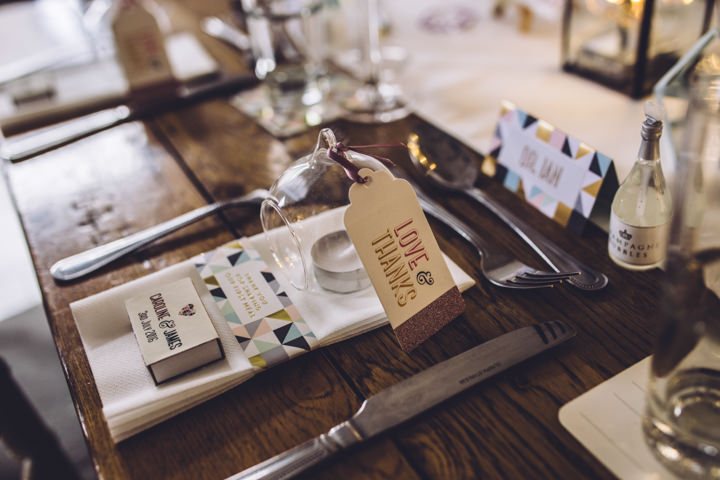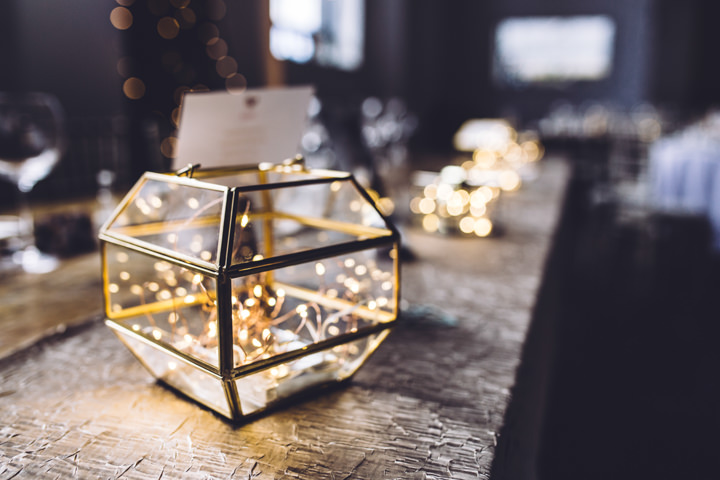 Stationery
I designed the stationary, supplemented with a couple of bits from Paperchase.
Personal Touches
We are both really in to our music so we agonised over what we chose for all the key moments. We were really happy with our choices as they reflected our eclectic tastes. This was also what we chose for our table names, they were all titles and songs that mean a lot to us, with the single cover framed on the table. For our favours, we gave our guests a glass tea light holder with tag and a box of matches. We designed a graphic to cover the match boxes, each had a different song lyric on with some reference to fire. We also displayed hundreds of our old polaroid pictures and had a frame that people could add new ones to from the day.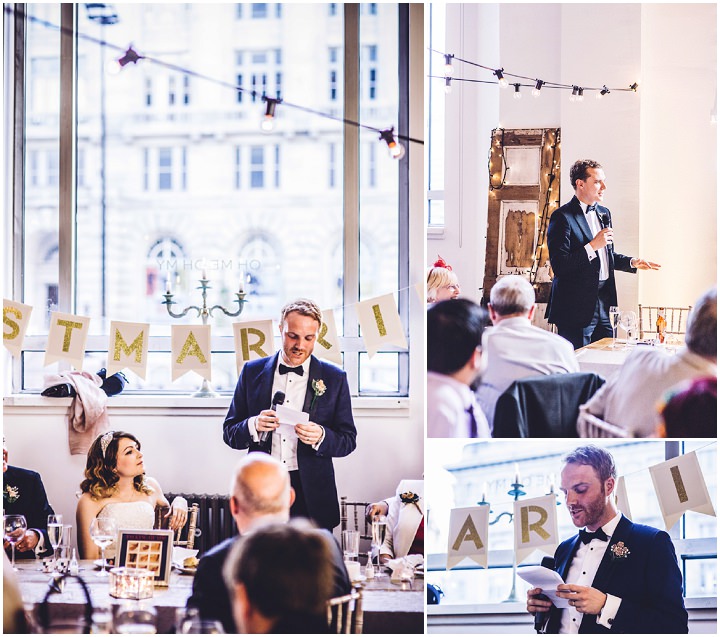 Special Moments or Highlights
So many! Taking 5 minutes on our own on the roof of The Phil for a glass of fizz, straight after the ceremony while watching our guests make their way to the front for the confetti throw. The only person who spotted us was Lucy, our photographer! When my Dad's glasses arm broke off in his hand just as he went to make his speech. The band playing Dancing in the Dark, from James' favourite, Bruce Springsteen. The singer called me up to the front to dance like Courtney Cox.
Advice for Other Couples
In the planning, it can be stressful, but always remember why you are doing it. It is all worth it in the end! Once you decide on what you want, buy early. It spreads the cost and will also give you time to order in bulk from china! Have a spreadsheet, always have a spreadsheet.
On the day make sure you schedule some time to take a few moments alone together, just to take it all in, a lot of your wedding will be spent talking to other people.
Choose your last 5 songs of the disco. It gives you an indication you're at the last half hour of the night and you can be sure you end on 5 of your favourites.
Biggest Surprise
How quickly the day went and how genuinely happy and excited we felt all day.
For more information on Lucy's work go to:
www.claracooperphotography.com / 07966066067 / www.claracooperphotography.com/blog / FACEBOOK / PINTEREST / T: @claracooperpho / I: @claracooperphoto
I have always been attracted to modern, stylish and simple things, decor in my home, graphics, websites, the magazine I read, even my clothing. When I started Clara Cooper Photography I believed I needed to be all pastels and bright colours to get anywhere in this industry, but as time went on, I realised that, that wasn't me! I wanted my photography to reflect my style. I wanted my photography to be contemporary, candid and effortlessly creative, and that's what I believe it is today. All my emphasis is on creating a simple yet elegant photograph without it being posed or fake, and really pushing mine and the industries boundaries. Every wedding is a challenge to capture and create something unique and interesting. I am based in the North West in Chester, but I travel all over the country and the world to shoot my weddings. No where is too far!