With only 3 more sleeps till Christmas day, how are you all feeling? Today is the last day in the office for me till we come back in the new year, so I am feeling pretty chipper and incredibly festive! My mum is coming up to stay tomorrow, which I'm looking forward to, but today, its head down as I plough on through my rather long to do list! Today we are heading to Derbyshire for this handmade wedding, full of so many DIY projects and lots of fun. A weekend long wedding, where Kelly and Dave really got creative and made as much as they could for the wedding so making it super personal to them. Thanks to Benjamin Pollard for the fab images.
A very well planned day, full of the unexpected. The theme throughout our planning was that we wanted a long weekend away with family and friends; it would just happen to be that one of those days we would get married and have a party!
Kelly and Dave were married on 24th September 2016 in a church ceremony at St Helens Church, Etwall, Derby followed by a reception at Lower Damgate Farm and Cottages, Ilam, nr Ashbourne, Derbyshire. 'St Helens Church is in the village we live. Dave and I both went to the secondary school in the village. A lot of my family have gotten married and christened at the church. To be honest the real reason for the church was for my grandad who also lived in the village. At 92 he wasn't great on his legs and wouldn't be up to making a big trip into the Peak District. Our plan was that he could pop to the church on his mobility scooter. Unfortunately he didn't quite make it to the wedding and passed away the week before the wedding. My dad and I did a drive by past his house on the way to the church which was a special moment. It is a DIY wedding venue, which was very important to us. It has stunning accommodation on site for 3 nights for all the family. There are fields, a barn, fresh air and a lot of rescued animals. We had 62 family and close friends for the day going up to 120 for the evening. We put our family and friends on a coach to travel the 25 miles to the church and back.
How they met 
We had known of each other for a long time. However there was one Spring Bank Camp May 2010 at Drum Hill Scout Campsite where we got chatting late one night. We seemed to have hit it off. Dave was very 'Dave' for the first few weeks, working hard with trees and ropes. Our first few dates were either in a pioneering filled shipping container or at a pub with Dave smelling like a pioneering shipping container. All scouters will know this smell damp musty rope well. We have been together since then.
The Proposal
February 2015, last day of our winter trip in Scotland. It was a bit epic day down Glen Coe way. There were plenty of white outs and we ended up in a precarious spot having to back-off a route. It was on a well-deserved sandwich stop that Dave went down on 2 knees and presented a petzel head torch case from his jacket pocket and asked me to marry him. Inside the case there was a ring, just in case you wondered.
How did you allocate your budget?
Dave is much more organised than me when it comes to money and budgets. We had every cost detail and payment schedule on a excel spread sheet. It was just at the end of each month I had to be honest about my Amazon or charity shop purchases.
Where did you splurge and where/how did you save?
I wouldn't say we splurged much at all as we borrowed a lot of things and made so much ourselves. Our biggest costs were the venue and our Land Rover. Dave really wanted to drive us back to Lower Damgate himself. He has wanted a Land Rover for a long time, so what better opportunity is there than buying ourselves a big gift for our own wedding.
Biggest save and also our biggest success were the Birds cream cakes for pudding. Bird's is very much a Derbyshire cake shop. We often treat ourselves to a Caramel Doughnut on special occasions. Our wonderful friends Fred and Heather collected these on our wedding day. We personally served these to our family and friends in the boxes at the tables. It was very simple but everyone loved the cakes.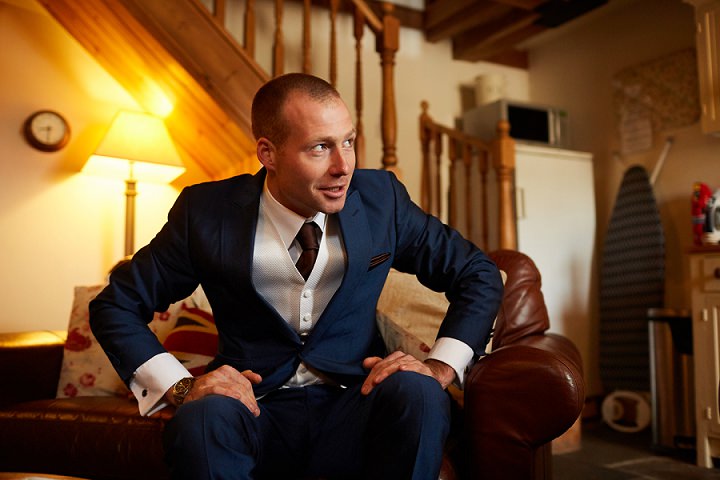 Why did you choose your photographer?
Benjamin Pollard photographed my brother and sister in law's wedding 3 yeras ago. The pictures are stunning and a real reflection of their day and them as a couple.
Ben has a great ability of documenting the day as it unfolds, capturing those special moments you see, the moments you don't see and those opportunities you wouldn't even consider. Dave and I don't consider ourselves to be photo people so we really didn't want anything too formal. The more honest, the better. Again there were no others considered, it was only Ben Pollard that we wanted to be part of our day. I consider Ben to be a part of the family now.
The Dress
The dress is an Eddy K 2015 dress bought from The Wedding House in Derby. It was the joke dress pulled off the hanger in order to have a giggle at me, being rather small, in a rather big dress. As it happens, I popped it on and loved it. I started crying along with my mum. This sealed the deal on the dress. I cannot thank Jon and Abi enough at Derby Wedding House, there were lovely people and extremely helpful. The shoes are from Debenhams and were love at first sight.
The Suit and Bridesmaids
The men's suits were hired from Brigdens in Derby. The bridesmaid dresses were again from Derby Wedding House. The colour chosen by my mum.
Theme or Colour Scheme
There was not a theme we chose or had in mind initially. Throughout this planning process we just made, chose or bought items we liked and colours that were warm and natural. I suppose it is obvious now that we like rustic, simple, natural things with a little bit of fun thrown in.
Flowers
Again, we just wanted simple, nothing too big, showy or precious. We wanted to be able to make our own arrangements rather than have them ready made or arranged by a florist on site. My family are all rather creative so it was a task we looked forward to. The flowers were provided by Sheila at Freedom Flowers. The bouquets and button holes were also from Freedom Flowers these were made by Sheila.
I grew a lot of sunflowers at home and there were other bits and bobs from family and friends gardens to fill out the many jars I had collected and strewn around the barn.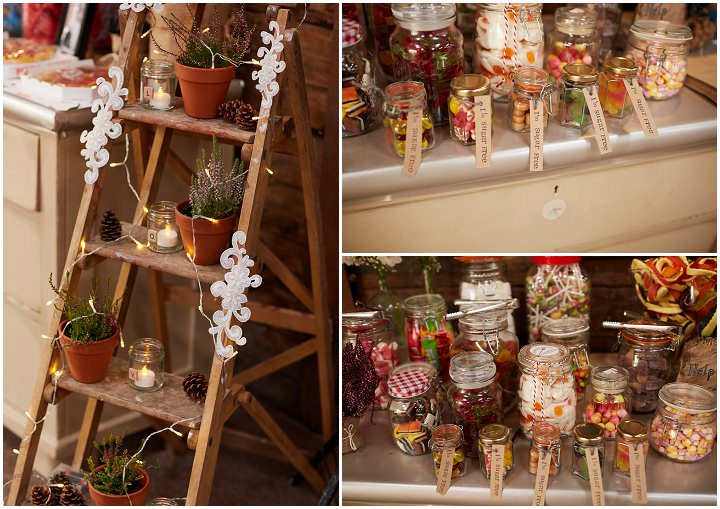 Decoration
We went with the idea that we would decorate Lower Damgate's barn and field with whatever we liked and represented us as a couple. There were lots of  big and little things that came from home to help with this.
The bunting material was from the back of airing cupboards, charity shops and Tutbury Antique store. Cut out by me and sewn by my mum. I think we made nearly 200m and only used about 100m. The table decorations are all bits and bobs from around our home or things that I made specifically such as the table names and the jar inserts. We added some our books and maps last minute to give people something to read or laugh at on the tables.
The cake stand is an acquired lump of oak. The tiny bunting around the cake stand is made with fabric from mine, my mums and my nans wedding dresses.
The cake toppers included the cork from the bottle of champagne Dave had when he proposed and a cork I found on the floor at work following a party.
To be honest there was so much we made and did ourselves that the list could keep going. We loved every moment of making everything and it all coming together on the weekend.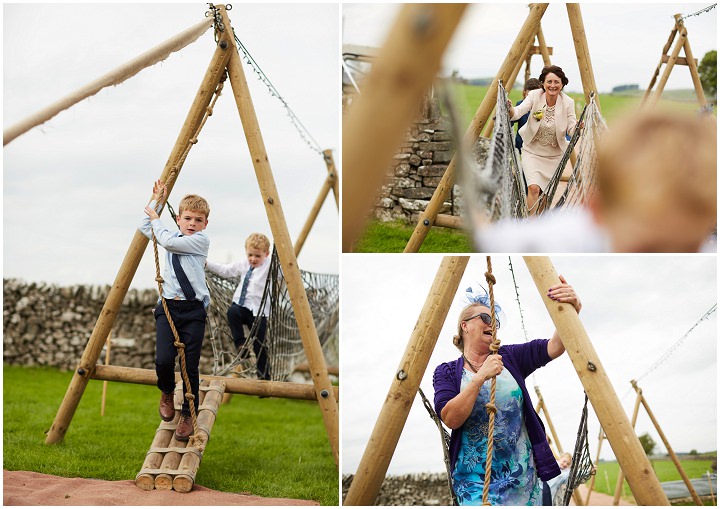 Food
All simple, comforting and filling. Bird's cobs on arrival, Leek and Potato Soup, Sausage, mash, peas and gravy from Paul's Catering Company. Birds Cream Cakes, provided by the cake retrival team. Evening Jacket Potato buffet with a variety of filling and a cheese board from Paul's Catering Company
The Wedding Cake 
Made by me a few weeks prior to the wedding and frozen. Me and my mum defrosted and iced them together the Thursday before the wedding. Again, another aspect of the wedding preparations that I really enjoyed sharing with my mum. We made a fruit cake, lemon Cake, a Chocolate caramel cake and a gluten free sponge.
Entertainment
Our whole weekend was about creating a great experience for our family, friends and keeping them entertained. The bail toss and slack line worked wonders and the mugs also proved to be rather entertaining! In the evening we had a brilliant local Ceilidh band, Maplewood. They are a wonderful bunch of chaps and the caller Steve is really great a explaining the dances to the first time ceilidh dancers. Later I the evening we had our own playlist on for a bit more dancing.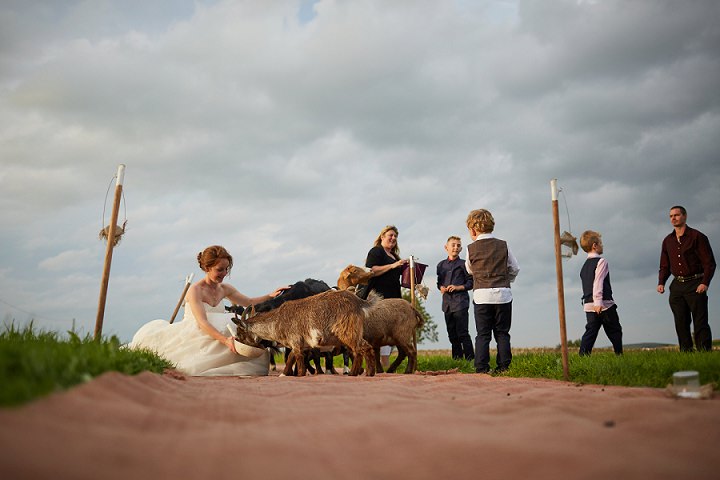 Stationery
Most of the items were purchased from Hobbycraft, Jelly Bean Crafts, Not on the High Street and Etsy. Everything was then made by myself, family and friends with the help of all my nans crafting gadgets.
Personal Touches
I would say that most areas of the wedding there were personal touches and almost everything that could be made was made by us. There were many things around us that day that mean something to us, have a story or once belonged to someone special. Not everyone knew the story or needed to know but we did and that was what mattered to us.
Special Moments or Highlights
My special moment would be marrying the man that 'turns out I like you a lot more than originally planned'. Dave's highlights are all close between marrying me, driving the Land Rover on his wedding day and drinking tea. All of which are very good.
Advice for Other Couples
Enjoy every part of the experience. The day itself is far too short so make the most of everything before, during and after. You will have years afterwards to reflect on the day so just relax, smile and go with the flow on the day itself.
Biggest Surprise
Finding photographic evidence that my Nan in her 80's was drinking shots after midnight.
The second was not being the least bit bothered about the impracticality of my big dress. I am a practical person usually and was slightly concerned how I would cope with such a large dress trailing behind me. But I loved every moment of wearing it (carrying it). I especially love the photos of me, my dress and veil fighting each other in the wind.
Supplier Shout Outs 
FOR MORE INFORMATION ON BEN'S'S WORK PLEASE GO TO:
www.benjaminthephotographer.co.uk / [email protected] / FACEBOOK / @PollardBenjamin