Happy Monday everyone and welcome to Christmas week on the blog! I hope you all had a wonderful Christmas filled weekend and that you are now ready for the last week before Christmas. Are you ready? Or do you still have lots to do before the big day?
We have the most gorgeous wedding for you today all the way from Slovenia. It's a perfect combination of using the outdoors to create a beautiful backdrop, while bringing nature inside to create a tranquil, intimate setting. Meta and Albert are big nature lovers, they spend their time hiking, so they decided that this had to be reflected in their wedding day. The results are this absolutely beautiful day, filled with moss, pine cones, great food and great friends and family. A truelly stunning day, photographed perfectly by Katja & Simon
Our wedding is a perfect representation of us, and it has been reflected in the details we made throughout the day. The most important aspect of our wedding was to be surrounded by our family and friends, as we are so grateful to have such a strong support system.
Meta and Albert were married on the 9th of September 2016 at Hotel Jelka, Pokljuka, Slovenia. 'We both love hiking and spending time in the mountains, where nature offers some of the most spectacular spots and views. It was clear to us from the start that our wedding would take place in such a location – surrounded by mountains. All of the most important decisions in our relationship were made hiking to Uskovnica and the place is certainly special to both of us. We had 30 guests and we booked the most important stuff (photographs, venue, florist, cake) a year before. With other diy projects we started a couple months before the wedding.'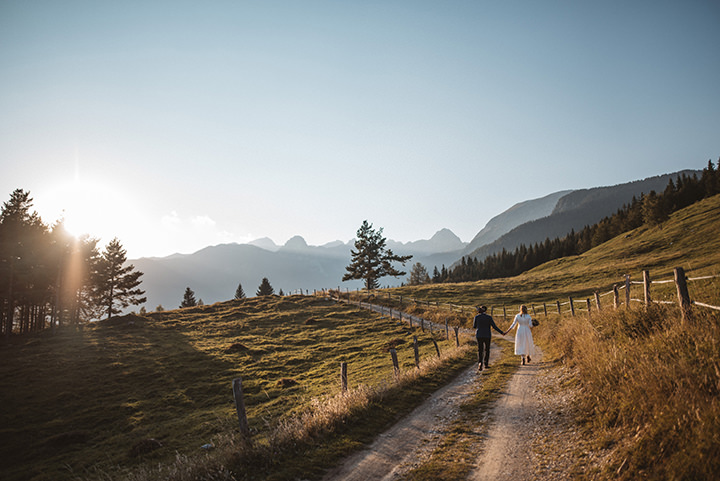 How they met
Our common friend invited us to a birthday party in January 2009. He had an idea that we all should go together to Djerba in August. We were all on board. At the party I was not really looking for something, since I was leaving for a year in Austria in September. We both did not say a word to each other that evening. But since we had to organize a trip to Djerba we went for a couple drinks and trips that spring. We got really good friends and soon found out that we both want something more. So one summer day we went hiking and Albert asked the question. When our friend found out he decided that we celebrate that, with a trip to the beach. While we spent noon in the mountains, we enjoyed evening by the sea.
The Proposal
We were both really busy with our jobs, studies, and moving in together for the first time. We were just starting to plan a wedding and going from meeting to meeting (with the florist, photographers, researching wedding stuff), not having time for each other. After a week where we rarely saw each other, we just wanted to have a nice calm evening together at our new place. While I was preparing our favourite dinner (sausage and cheese, the same as our guest got in the bundles) in the kitchen, Albert cleaned up and lit some candles in the living room. So when I brought our dinner in, he was already on his knees, proposing me.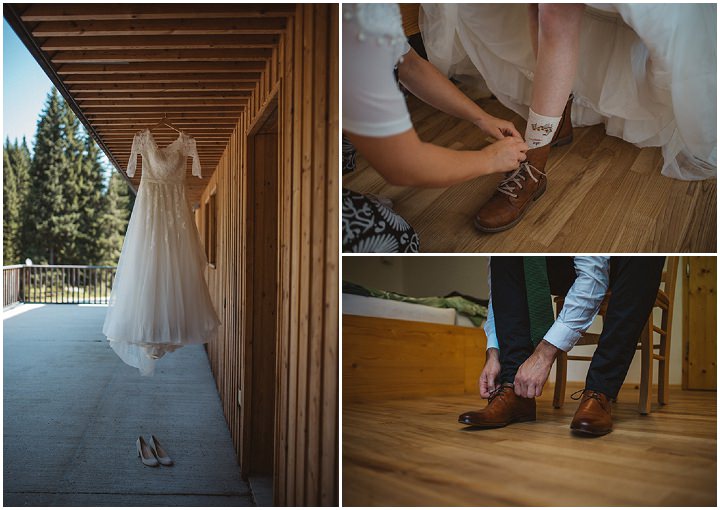 How did you allocate your budget?
We really didn't have a budget. We knew we want to keep a wedding small, intimate and simple but full of details. We focused on DIY projects and just try to include everything we love, so we save a lot of costs this way. Our biggest cost was the accommodation for a number of our guests. The best money we spent was definitely on our photographers since after a long time only memories and photos remain.
Where did you splurge and where did you save?
We splurged on food, since we are lovers of local food, so we decided to offer our guests only the best. We selected home-made cheese, sausages, bread, juices and wines. Also, we really wanted to tell our guests from beginning (with invitation) that our wedding will be something special, something different. So, we decided to splurge on stationery too. We did almost everything ourselves which saved us a lot of money, but this also connected us more.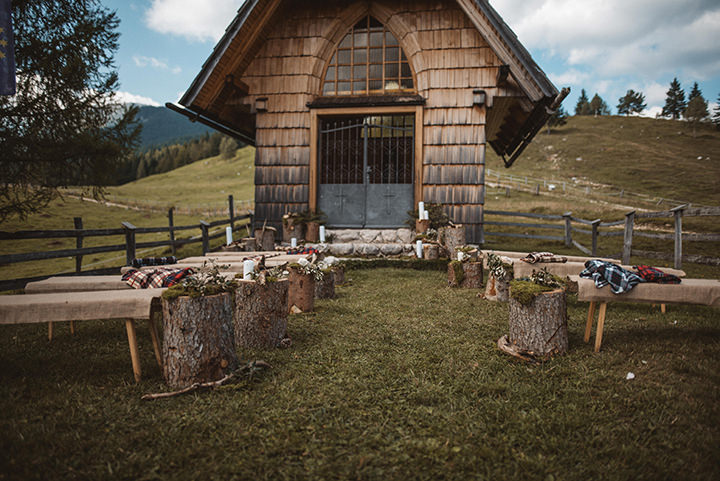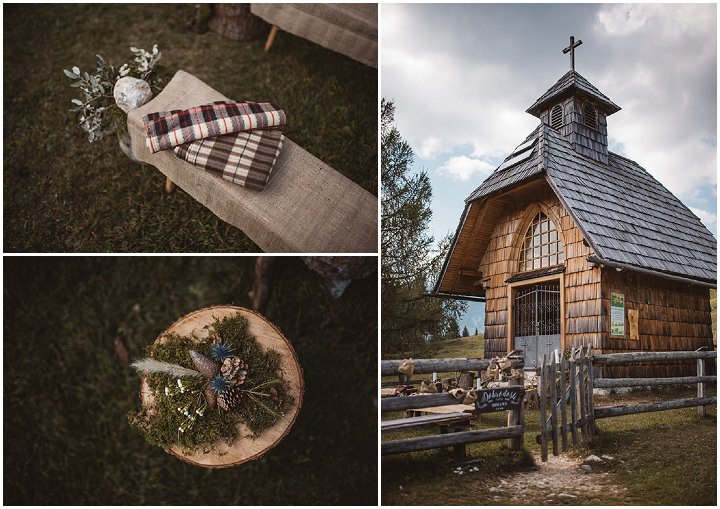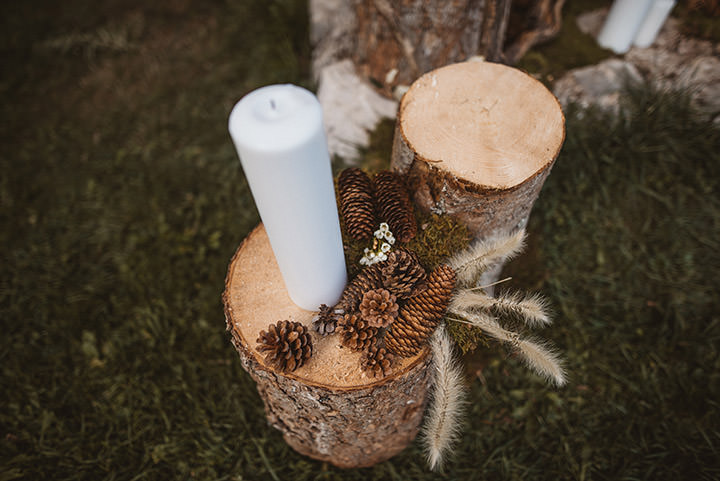 Why did you choose your photographer?
Our photographers were Katja and Simon. We met the pair almost a year before our wedding, at the time when we were still dreaming about getting married in Greece. We loved their style, their photographs reflect their talent and hard work they invest into every photo. It was clear to us they love what they are doing. They were there for us all the way to the end, helping us relax and inspire us to be spontaneous, and our photos magnificently reflect those emotions.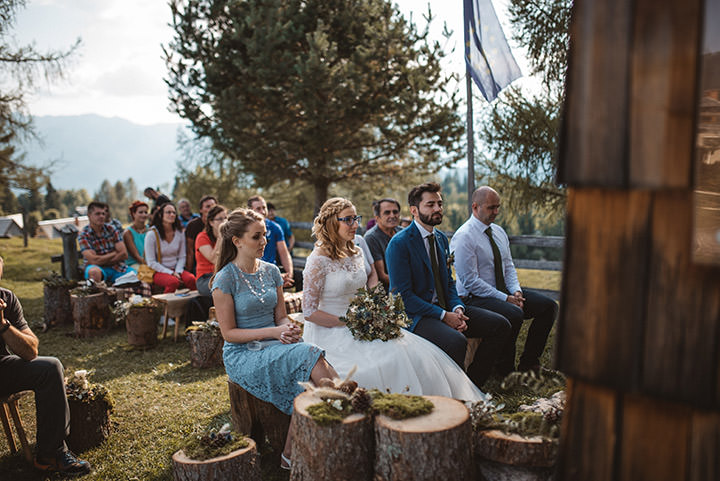 The Dress
Despite the wedding taking place in the mountains, I knew exactly what I wanted to wear. Choosing a tulle and lace dress, I found the perfect one right at the start of my fitting session. Unfortunately, the dress was too heavy to walk around, and I decided to go with something lighter after the ceremony. I draw a simple dress and my colleague did a wonderful job of sewing my vision together.
I picked warmer and comfortable mountain boots. They were perfect for walking and they hid well under the lace dress. But also, they looked amazing with the simple satin dress. For the reception I changed in the more shiny flats, so I could easily dance.
The Suit and Bridesmaids
Being a smaller wedding, we were happy to let the bridesmaid chose her dress by herself. Going with the theme, the bridesmaid decided on a sky blue, lace dress, which fit her perfectly.
We knew we want a special, blue, textured blazer for Albert. The blazer was perfectly shaped, inspiring elegance, but still comfortable to wear for Albert. The tie was chosen for its natural look, and we thought a knitted one was perfect. To create a little bit of elegance, Albert bought dark blue chino pants and add brown belt and brown shoes.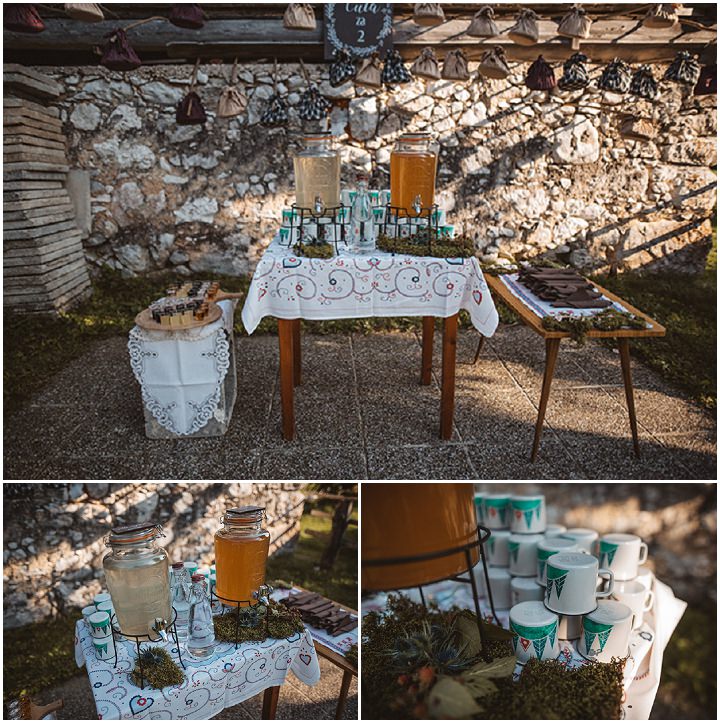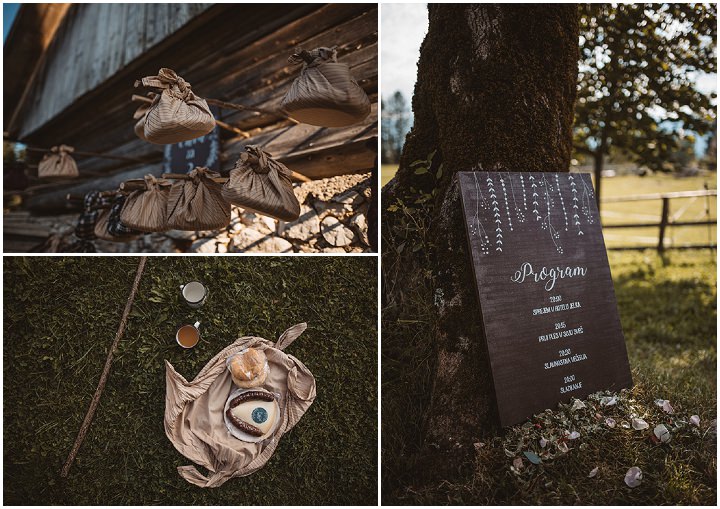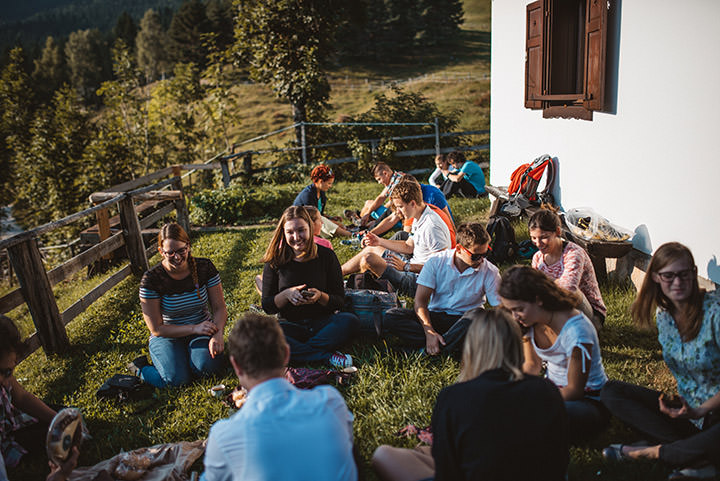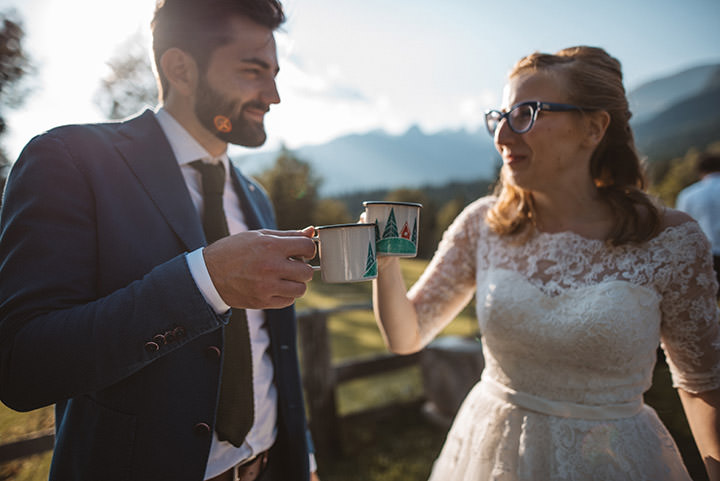 Theme or colour scheme
Our wedding theme was inspired by nature and its simplistic, rustic feeling. We wanted to share the feelings of relaxation and coming home atmosphere we find in nature with all of our guests. During the preparation, we called in our friends to help collect moss, roots and cones, which got turned into beautiful decorations by our florist.
Flowers
I am not a big flower connoisseur, but I knew I wanted a bouquet full of greenery and succulents. I also wanted a bouquet that looks like it was made on the way to the Uskovnica. Metka from Sanjski šopek made that happen. We wanted to feel the nature through the whole day, so she paid special attention that all the flower arrangements were set correctly and displayed beautifully. The smell of moss and wood was surrounding us the whole day.
Decoration
Florist used a lot of materials that we and our friends picked up during summer trips in the woods and mountains for both the ceremony and reception. After the ceremony we went to the mountain cabin, where bundles, drinks and typical Slovenian dishes were waiting for us. Florist took care of decorating and placing all those things, so when we saw it, we were amazed by its beauty. For the reception we decided that we will have a different seating chart. We put big felted animals on the tables and small ones alongside it with names written on stones. A week before the ceremony, we made wood reels as a stand under plates and a wood stand for our favours to guests. I also made photo props and bought a guest book with a lot of stickers so our younger guests had a lot of fun during reception. We also prepared a special box for each kid filled with bubbles, colouring book and yo-yos. The candles created a beautiful romantic atmosphere, just as we wanted.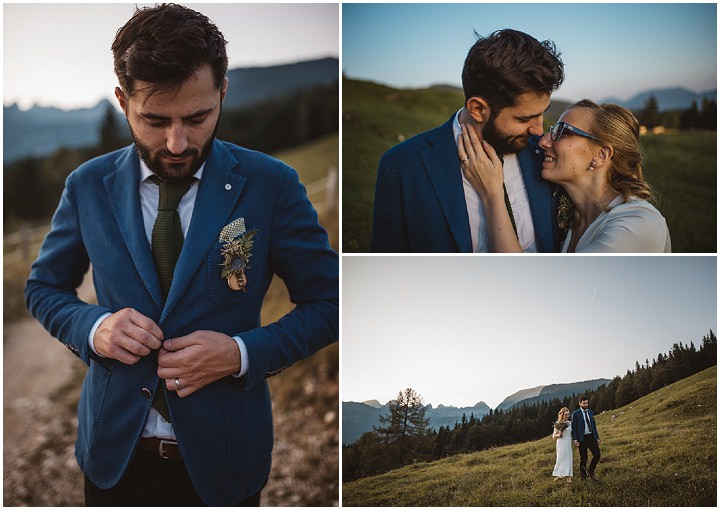 Food
Served dinner was a perfect option, since we only had 30 guests. They could choose between 4 menus filled with homemade vegetable, meat from Uskovnica, cheese from near plateau. While red wine was brought by my parents, our photographers took care of white wine. So all guests enjoyed in tastefully rustic dinner.
Wedding Cake
Rustic and natural theme was present also in cake design. Pcakes made a delicious dessert table in collaboration with our florist. We made the cake stands a week before, so wood and nature were reflected there as well. Simple and open cake design reflected our style and the cakes themselves were truly delicious.
Entertainment
We knew immediately that we want a live band, since any live music creates a special atmosphere. We chose a Zebra trio band, playing two guitars and Cajon. They played great songs; from Beatles to new pop rock songs and everyone was enjoying it, from little ones to our parents.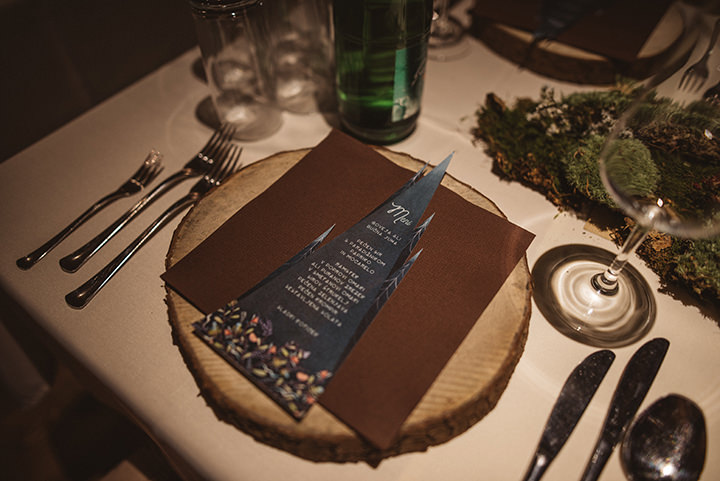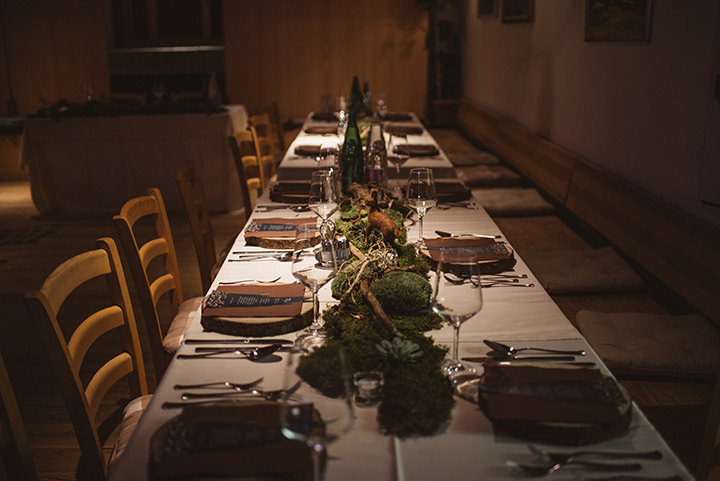 Stationery
We wanted our invitations to be something special and were looking for a designer, who could draw our wedding story. I found an amazing Italian illustrator Claudia Brodin, with her brand Mondo Mombo. Our invitations were placed in a small boxes (done by Albert), with moss, which invoked a nature escape, and our illustrated faces on the path to Uskovnica and the chapel there turned out perfectly. In addition, she also draw a design for stamps, which we pasted on mugs, the cotton totes and on the boxes filled with tea. She understood what we want and we are so happy we had her.
Personal Touches
Whole wedding was full of personal touches! From the beginning when we pick up moss with our friends, when we created boxes for invitations, when we hand painted 50 mugs for our guests, create cake stands, write names on stones, write letters for guests that waited them in the room, when we come back. We saw every piece of wood that we need for wedding. We picked all the flowers for the tea, made all boxes, sewed bundles, making boutonnieres for 30 guests and print tote bags. Our friend married us, other friends sang for our ceremony, so the whole wedding was full of deep, personal feelings.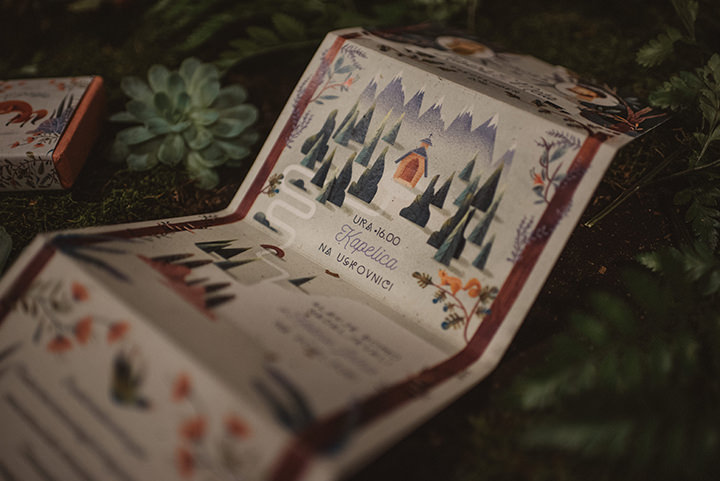 Special moments
We enjoyed preparing everything but we must admit that our favourite moment was right after the ceremony, when we could sit in the grass and eat with our friends and family from bundles. That was so natural and enjoyable moment that we will cherish forever.
Advice for other couples
Relax, everything will be fine. Just enjoy the moment with your future husband, family and friends. If you've got a lot of DIY projects, start doing them early enough. We started with ours a month before and while it was enjoyable it was also exhausting from time to time.
Biggest Surprise
It was definitely a simple game prepared by our friends. We except nothing and they positive surprised us with a funny, charming fairy-tale, where Meta played a Snow white and Albert have to fulfil some tasks to become her prince. It fitted perfectly in our forest fairy-tale themed wedding and it connected us with friends and family even more.
Supplier Shout outs:
For more information on Katja & Simon's work go to:
katjasimon.com  / [email protected] / FACEBOOK / PINTEREST / I: @katjasimonphoto
Due to an email issue if you have emailed me between the 2nd & 9th of December, please resend it.
X