This afternoon we are thrilled to welcome back celebrity stylist Holly Ounstead to the blog to talk more about Bridal fashion. Today she has picked a selection of gowns to suit a winter or Christmas wedding, full of festive sparkle and luxe fabrics.
I'LL PASS YOU OVER TO HOLLY TO TELL YOU MORE:
Being a December bride most definitely has it's perks. Since English summers are becoming ever-more unpredictable, opting to set your date during the darker months of the year is becoming an ever attractive alternative. Perhaps the most enticing reason to opt for a wintery wedding however, is that dusky days lend themselves to ball-gown styles in a way that summer-nights do not. Think about how Christmas parties bring out the all-singing-all-dancing party-frocks!
To fully embrace the beautiful gowns designed for winter months, make sure to; explore sleeve lengths in an embellished appliqué, delve into taffeta, silk satin and frothy tulle fabrics and embrace beading, feathers and sequins. Darker months allow you to be a little bolder with embellishments because they don't look as heavy against the darkening skies.
Stuck for inspiration? Scroll through the images to view my top ten winter bridal gowns to compliment your snowy ceremony.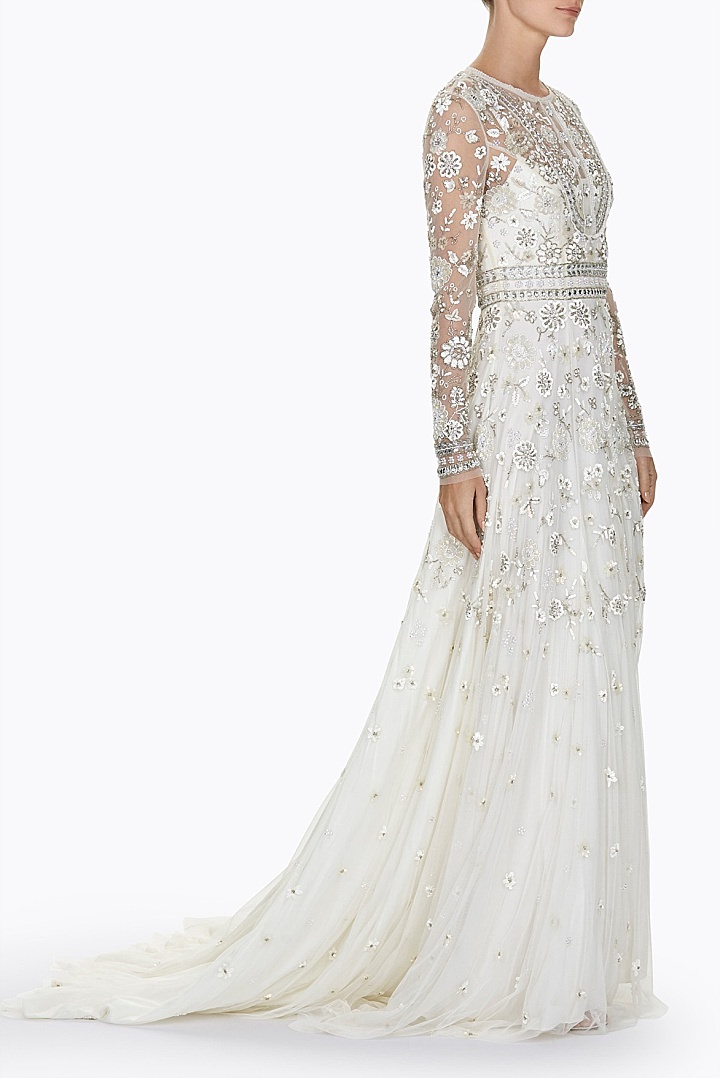 FOR MORE INFORMATION ABOUT HOLLY:
www.howtowearthetrousers.net / PINTEREST / I: @hollyounstead / T: @ HollyOunstead
Hi, my name is Holly, I'm a fashion stylist living in London, mostly I work with celebrities. I started my styling career working at 1883 Magazine and have since gone on to contribute to Wonderland Magazine, NYLON, Harpers Bazaar US and Hunger Magazine. On the celebrity side I've worked to create looks for music artists including Ella Eyre, Leona Lewis, Dionne Bromfield and Little Mix. Meanwhile my passion for the red carpet has led me to work closely with a growing roster of actresses, including; Emily Berrington, Faye Marsay, Lucy Boynton, Antonia Thomas, and Jodie Comer.  Alongside my work as a stylist I run a blog called 'How to wear the trousers', this is a space where I share styling tips, explore the fashion industry and, most importantly, try to empower women through personal style. After all, you can never underestimate the power of a good outfit on a bad day!