Happy Monday everyone and welcome to another fine week on the blog. We have a week of amazing weddings for you this week, as we take you on a journey across the world with a whole host of wedding pretty. Today we are starting off in Sunny Colorado with this exquisite bohemian Woodland Forest Wedding. This wedding oozes Boho charm, from the dream-catchers, to the relaxed and spiritual ceremony to the table settings to the decor. I just love everything about this magical day, and what about Katie and Gary! What a beautiful couple they are! I just know you are going to love this wedding. Massive thanks to Selah Photography for the wonderful images.
Our wedding was three days of yoga, hiking, music, and festivities. That weekend was one of the most magical and intimate days of our lives that we were incredibly blessed to share with our closest friends and family in the forest.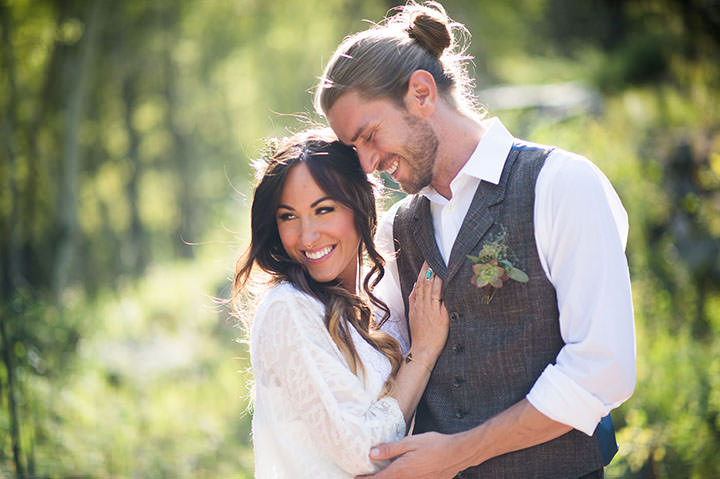 Katie and Gary were married on the 27th August 2016 at Arapahoe National Forest, Colorado. 'We both always wanted to get married in National Forest as it is a big part of our lives living in Colorado. We had 52 guests and we were engaged for 15 months. We had months where we focused on the wedding and others where we hardly thought about it. Obviously the last few weeks leading up to the wedding was crunch time but we got all the big stuff out of the way a year before.'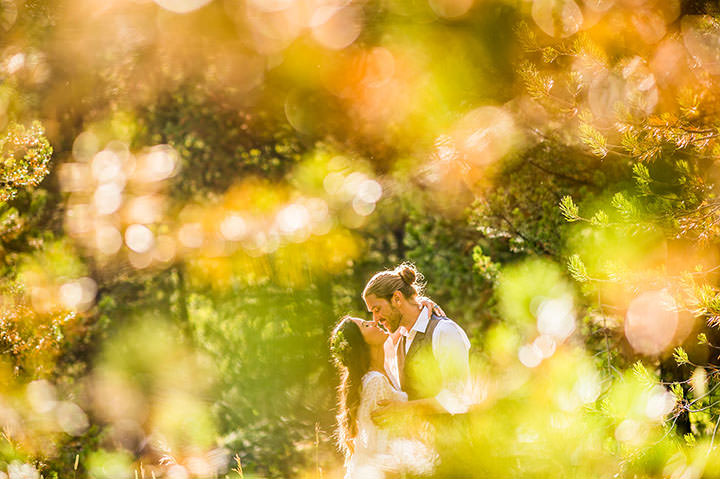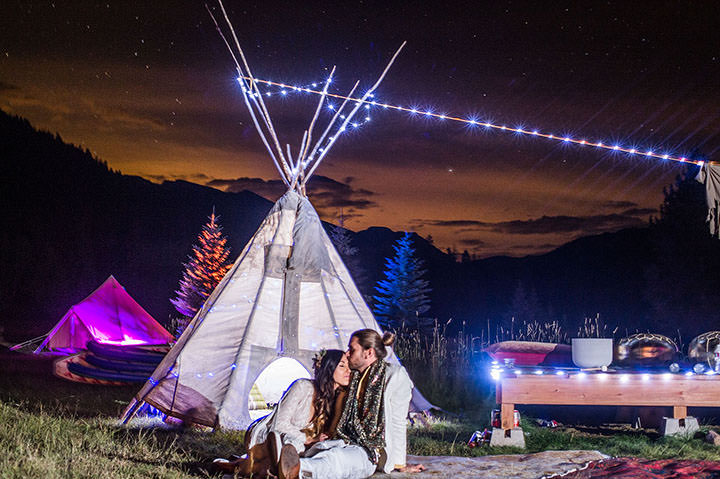 How they met
We actually met on Tinder the dating app. We have been together 2 years.
The Proposal
We were sailing with a small group of friends through Belize for a 10 days and Gary proposed to me up in the sail of the boat on our last night there. It was a total surprise and I had no idea he was planning it.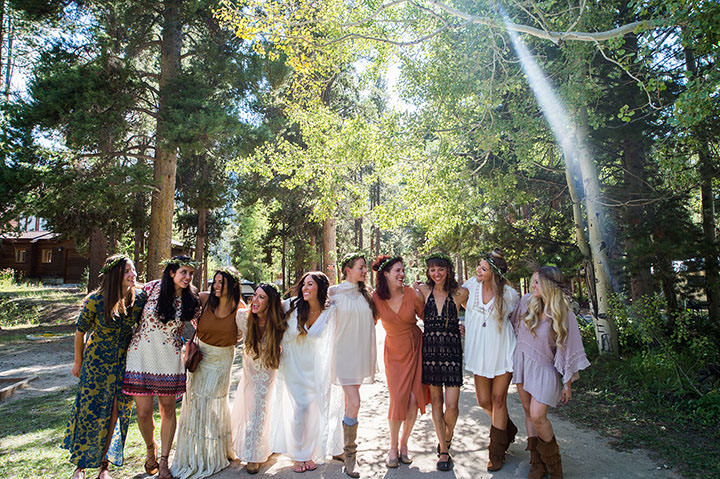 How did you allocate your budget?
We spent around $12k for three days of food and festivities. I prepped and cooked all the food for the days leading up to the wedding and called on friends and family to help pull the meals together. We spent a lot of money buying lighting, food, greenery, photographer and location.
Where did you splurge and where did you save?
We splurged on our photographer because we knew that would be the only thing lasting from that weekend. We saved by doing a lot of the work ourselves and we opted to buy things instead of renting. The only thing we rented were dinner tables and chairs. We thrifted all the plates and glassware (which took a lot of weekends and a lot of different thrift stores to find what we wanted). We emptied out our house (and some of our friends houses) of furniture, rugs, leather pouffes, peacock chairs, and crystals to decorate the area. The teepee and the van are ours as well. Friends that worked as wine and liquor reps supplied the drinks. We made all of the dream catchers and I bought all of the material from thrift stores as well.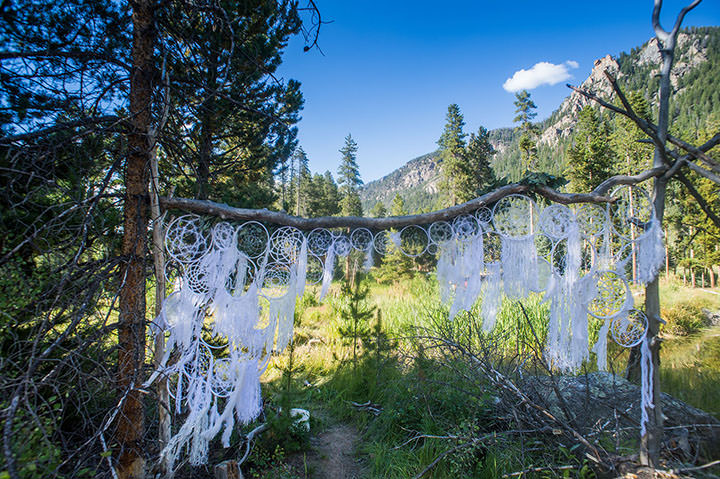 How did you choose your photographer?
Two of my best friends had used Selah Photography for their weddings and they had the most beautiful photos we had ever seen. Their work is stunning and we liked how they captured the feeling and the real moments of the day with a unique and creative eye.
The Dress
My dress was by Champagne and Strawberries. It was only $120 but incredibly well made and absolutely beautiful in person. My jumpsuit was the same price and was custom made out of Thailand from a girl I had found on Etsy that was willing to make my design. I actually got the fringe from Amazon Prime and had it sewn on here in the states. All of the jewelry I was wearing is all stuff I wear everyday- no idea where its all from. I didn't want to wear fancy shoes because we had a short hike in the site and I wanted to be appropriate for the setting. My mother did my hair and my friend Sarah who is a makeup artist did my makeup.
The Suit and Bridesmaids
No bridesmaids, it was such a small wedding that everyone there was equally special and important. I did have my florist make a handful of different greenery crowns for all of my best girlfriends. Gary's suit was a linen blend made by E. Thomas out of Italy.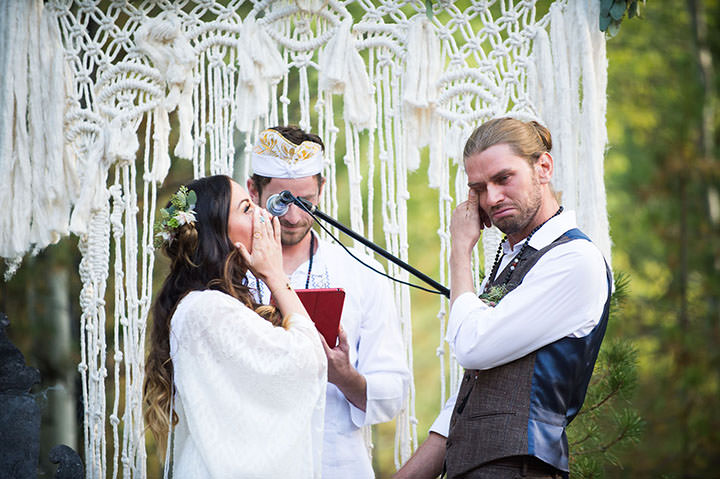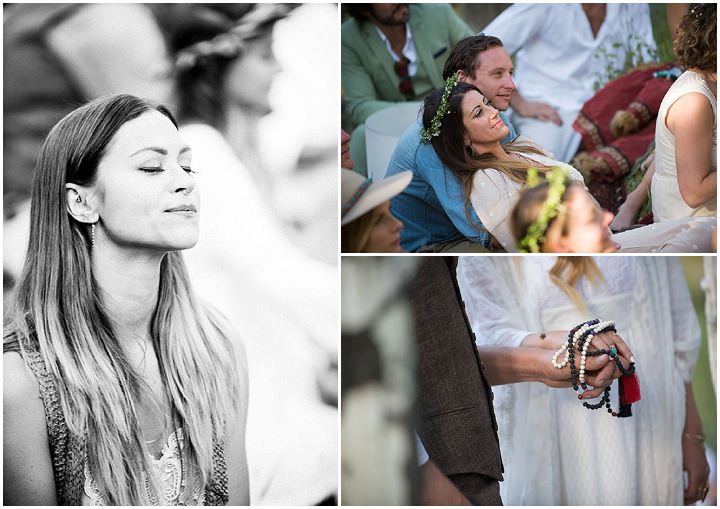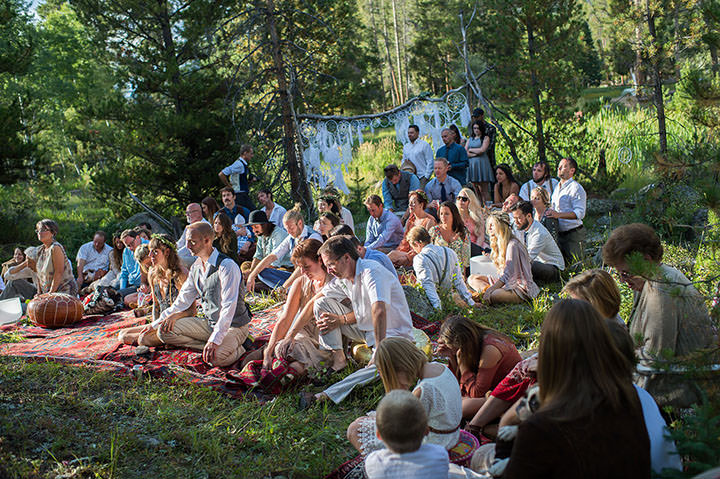 Theme or colour scheme
We asked everyone to wear earth tones and not to dress up too much or wear bold colors like black or red. We asked everyone to think Forest Bohemian when picking out their clothes for the day.
Flowers
Succulents, blushing bride, lisianthus, football mums, queen annes lace, godetia, scabiosia, assorted grasses, seeded eucalyptus, and olive branch, silver dollar eucalyptus.
What sort of decoration did you have?
The macrame curtain was custom made by Chelsea Pak. We hand made all of the dream catchers from thrifted materials and the rest were all things we owned from our home. Gary lit up the entire location with tons of different event and effect lights to transform the venue into something a little more magical once the sun had set. The rugs, teepees, van, etc were all previously owned by us.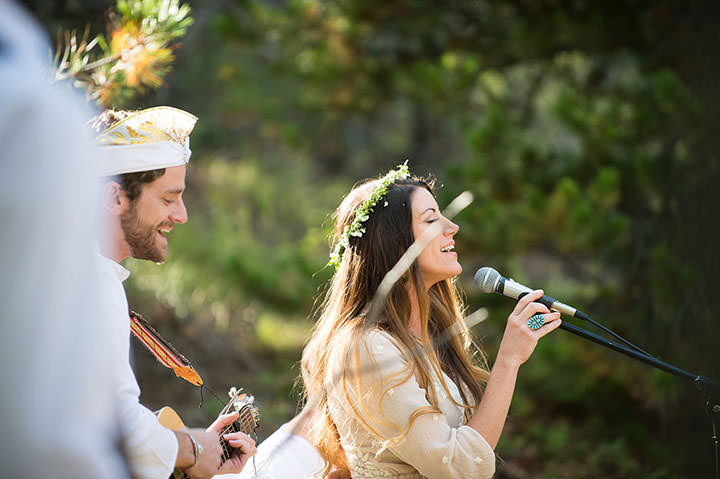 Food
We had Indian cuisine – Cauliflower Hummus, Banana Chips, Curry Melon Salad, Baingan Bharta, Tandoori Chicken, Basmati Rice, Saag Paneer and Naan.
Entertainment
After dinner we had everyone change into 70's clothes for our Soul Train themed reception. Gary had a white bell-bottom suit and I had my custom lace bell-bottom fringed jumpsuit. We had a projection screen of soul train videos and a 5 piece local funk band called Boulder Sound Lab.
Stationery
We designed and printed all of our own menus and camping trail maps. We used Appy Couple for online invites and web hosting.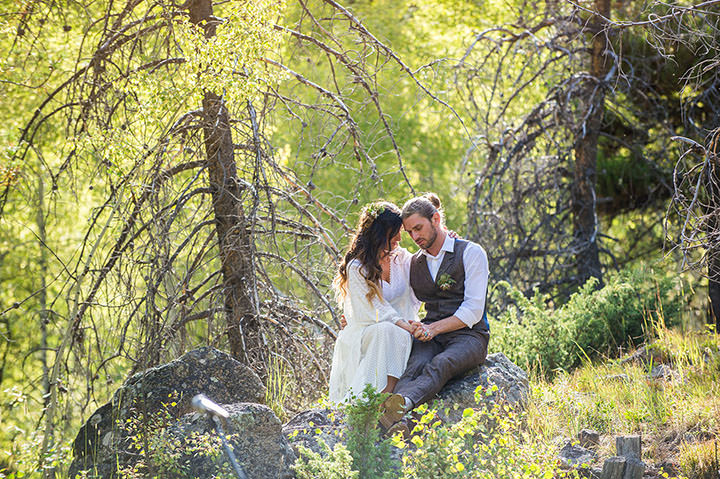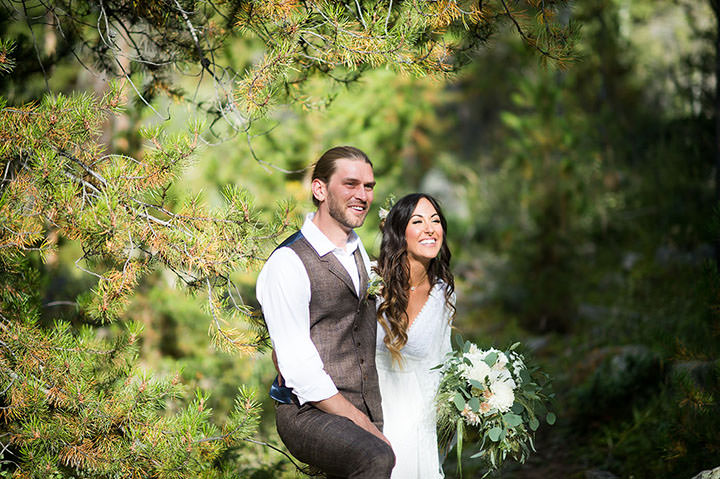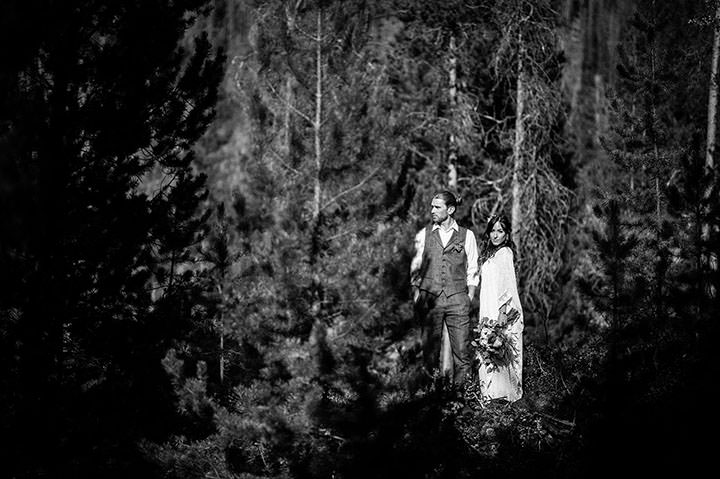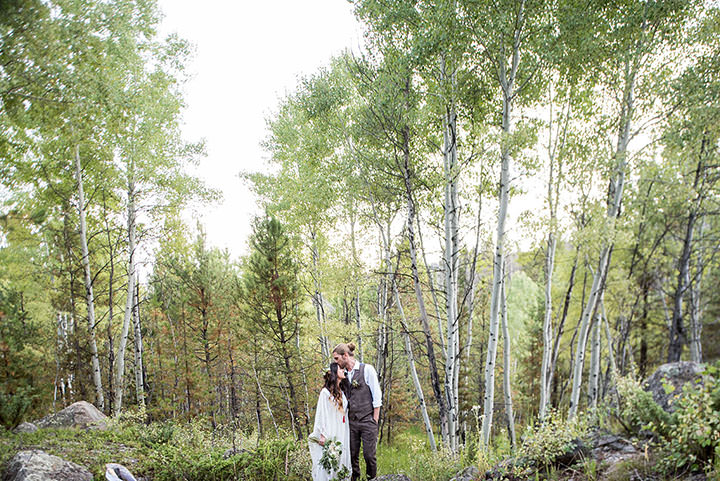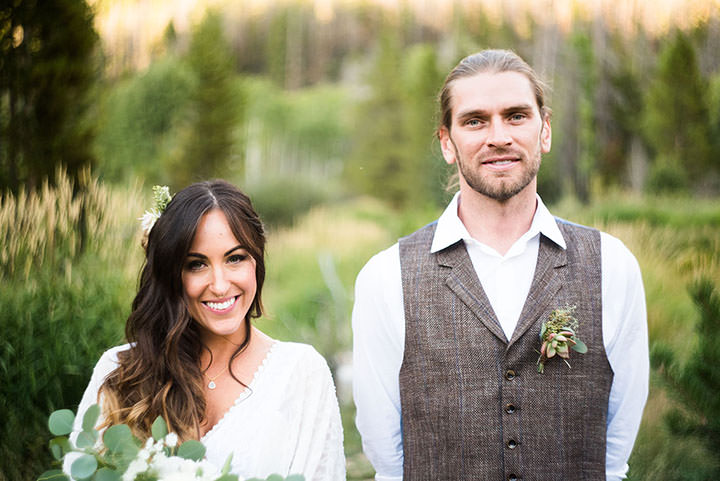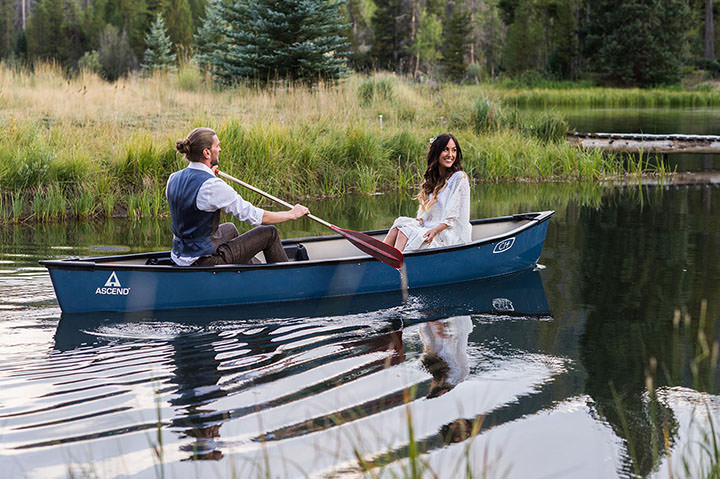 Personal Touches
Even though we have rings, we exchanged malas instead of a ring ceremony.The malas had been blessed and brought back from Bali from our friend Jesse who married us. Malas have a lot of different meanings but one that we connect with is the idea that there are 108 beads on each necklace- number 1 stands for God, the universe or your own highest truth; 0 stands for emptiness and humility in spiritual practice; and 8 stands for infinity and timelessness. We wrote our own vows and part of them talked about maintaining our individual self while becoming one in the relationship. We said those vows while our hands were bound together with the malas, and we put the malas on one another before saying our vows to each other.
We had everyone paint a ceramic tile instead of sign a guest book. We are going to use them when we build our house someday.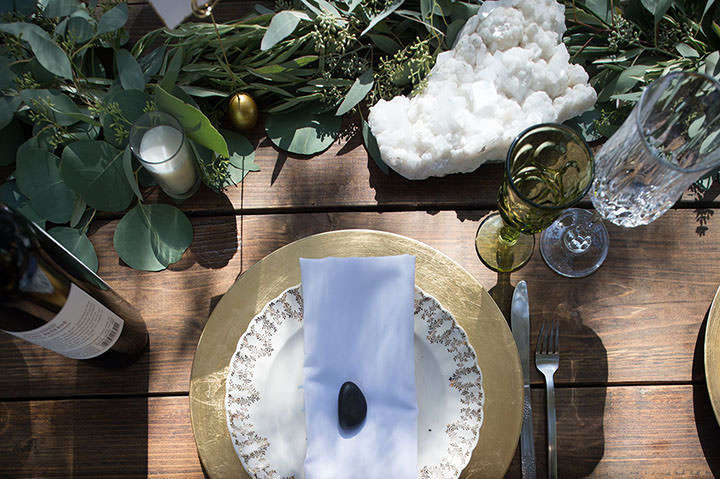 Special Moments or Highlights
For the ceremony we asked all of our guests to sit close to one another on rugs we had gathered instead of the typical rows of chairs.We then had my mother and 4 of our closest friends play crystal singing bowls as part of our ceremony. All of our guests closed their eyes and set their intentions sending their connected positive energy for us into the universe. The crystal bowls led the 5 minute mediation in the woods. It was intense and beautiful and we were incredibly grateful to have that moment with our friends and family.
Advice for other couples
Don't be afraid to really dig down deep and be yourself. Most wedding traditions have lost their meanings as couples struggle to accommodate ideas of the norm. If there are traditions that don't hold meaning for you, replace them with something that does. You will often save money doing things your own way and your wedding will turn out more personal and intimate as a result. There are no rules about what you can and can't do. This is your day to express your love for one another- do what feels right to the two of you.
Biggest Surprise
Our two friends and my brother played Van Morrison's Into the Mystic as I walked down the aisle. They surprised us by mashing David Bowie into the middle of the song. It was a total surprise and it could not have been more perfect.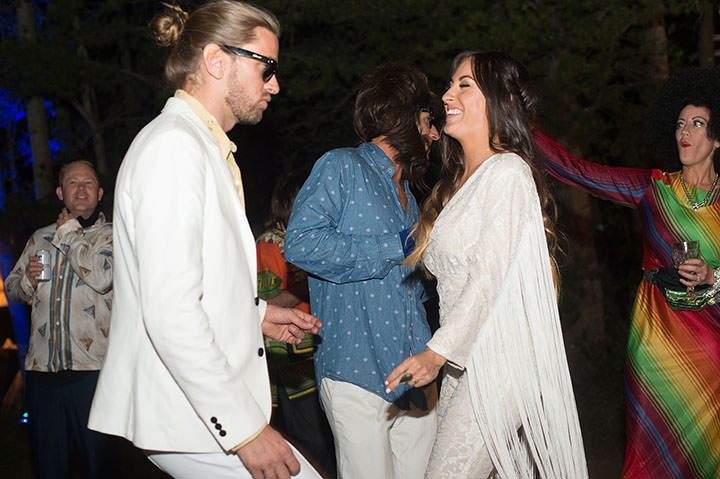 Supplier Shout Outs
For more information on Jackie and Matt's work go to:
www.selahphotography.org / www.selahphotography.org/journal  / [email protected]  / 720-509-9228 / FACEBOOK / PINTEREST / I: @jackiezoeller

Authentic, artistic and non-traditional documentation for the photography loving bride and groom. Based in Denver.

[jprel]