Happy Friday everyone, I do hope you have had a good week and that you are now looking forward to the weekend ahead of us. I am off to Chester for the weekend with Dexter and Nik to stay with Dexter's Godmother Becky and her lovely family. I can't wait! What about you? Have you got anything fun planned? We are ending the week of real weddings with this East London wedding set in the most beautiful mill. Zhi and Stuart chose a natural and subtle theme for their wedding which worked perfectly with the old backdrop. A mixture of dried and fresh flowers kept the decoration simple but super pretty. Zhi also made some amazing wedding favours that doubles up as place names. Thanks to Captured by Katrina for the images.
It was surreal to see an old mill with all its silent machines become the temporary setting for a wedding, yet it was so wonderful to be part of the process of breathing new life into the building. Our guests have also told us that the day felt particularly intimate and personal.
Zhi and Stuart were married on the 9th July 2016 at House Mill, Three Mill Lane, Bromley-by-Bow, East London. 'We love the charm of old buildings and we fell in love with House Mill, a flour mill on the River Lea built in the 1700s, when we visited the building for the first time for a tour a few months after we got engaged. We also love to be close to water and live near the River Lea just a short bus ride away from the venue, so the fact that the Mill was on the same riverside downstream from us meant so much. We had 60 guests, which was the maximum number for the venue, and which meant the atmosphere was cosy and intimate. We were engaged since February 2015, so had over a year to plan for the wedding. The main decisions like venue, photographer, caterers and the 'Save the Dates' were all in place by the end of the year. It wasn't until the last two months that I was able to devote myself to finalising everything else like the invites, the favours and the flowers.'
How they met
We have known each other for over a decade through both singing in Imperial College Choir. I was a member of the Choir through all four years of my engineering degree, and Stuart also took part as an alumni having graduated from the maths degree years ago. It all started though with a chance meeting five years ago near a 'Wish Tree' art installation outside the Serpentine Gallery, where we found each other at the right place and right time.
The Proposal
Stuart took me for dinner at Cinnamon Kitchen in the City for Valentine's Day 2015 and proposed against the backdrop of the historic East India warehouses. We then went to Brighton that weekend to pick a ring and re-live the proposal on the beach.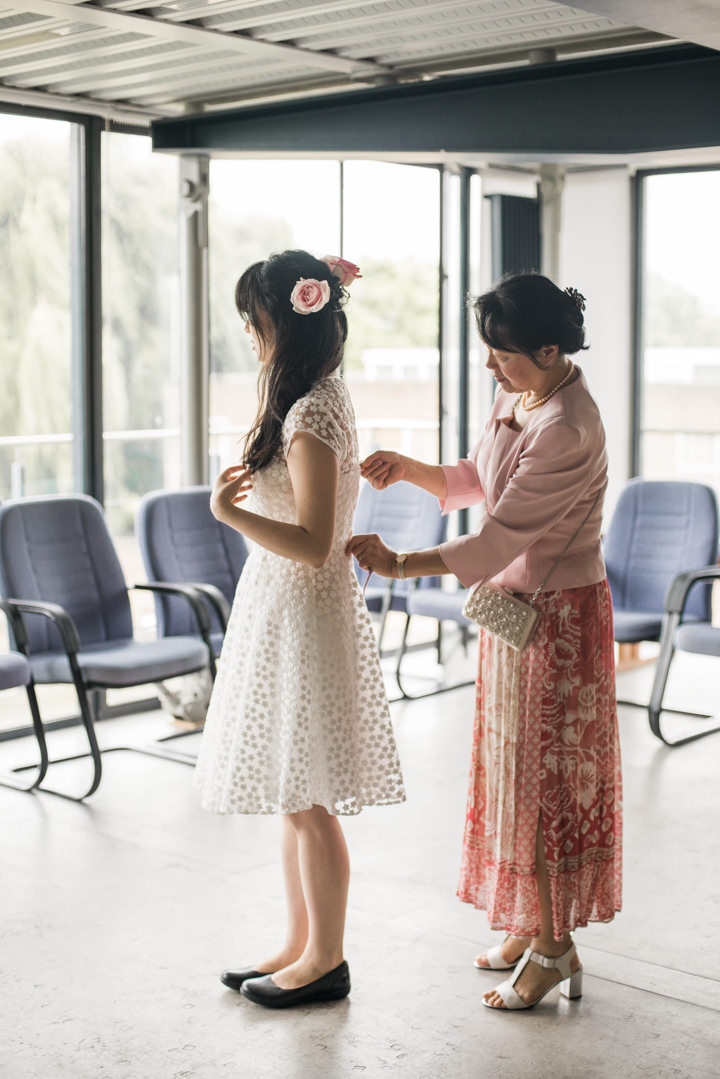 How did you allocate your budget?
The Mill had only started hosting weddings a couple of years earlier and the venue was well priced for the area, also the caterers that they worked with, Hubbub, were amazing value for money. Venue and catering came in at over 5k which was the majority of the expenditure. We made substantial savings everywhere else by booking hotels for guests early, making everything ourselves, bulk ordering flowers online etc. We also had experience of budgeting for drinks from hosting our engagement party, so we could offer an open bar as we bought boxes of wine from Tescos, and, knowing the tastes of our guests, Stuart ordered huge kegs of real ale online! The final budget came in comfortably under £10k.
Where did you splurge and where did you save?
We spent money on the things which were important to us, like the venue and having a professional photographer. We saved on everything else by doing so much ourselves, from flower arranging to make-up. The dress and suit did not even come out of the budget as we wanted to buy clothes we would wear again.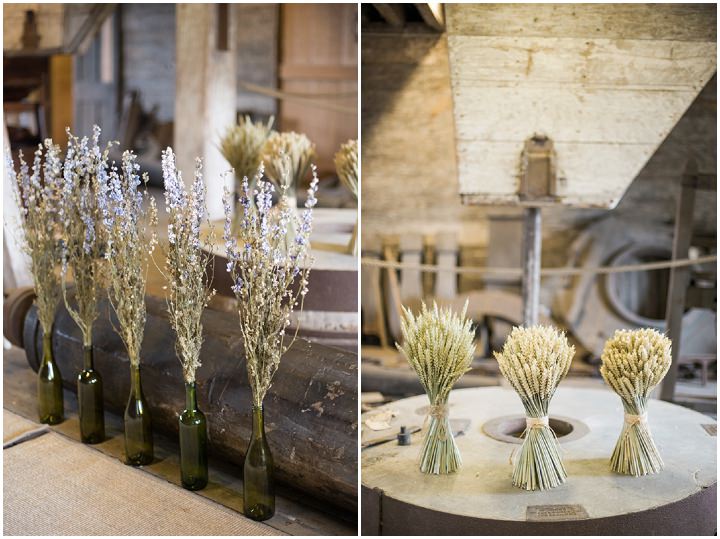 Why did you choose your photographer?
I was won over by Katrina's style when I saw her photos on a wedding blog. Her colours are so harmonious, yet fresh and natural, and her sense of light and space is like a dream. We were going for a venue with so much photographic and dramatic potential that it was important to find a photographer with the artistic talents to bring out what we loved about the building. We are so happy that we chose Katrina and she really helped to put us at ease on the day.
The Dress
I bought my dress in the Ted Baker January sales online. I covet Ted Baker's dresses and knew that I couldn't go wrong with something from the collections – luckily I found a white 'Natalya' summer dress at half price! My shoes were a Limited Edition special offer from M&S which sold out very soon after. With a short wedding dress, I wanted the colour of my shoes to stand out, so they were my 'something blue'. My bracelet was 'something borrowed' from Stuart's sister, and the flowers in my hair were freshly bought on the day. My 'something old' was a necklace and drop earrings set that my mum bought in the eighties.
The Suit and Bridesmaids
Stuart's suit was also from the Ted Baker online sales at half price, from the Commuter range. I didn't have bridesmaids, though my little cousin was a wonderful flower girl. My aunt kindly took care of my cousin's dress and shoes, and plaited her hair on the day.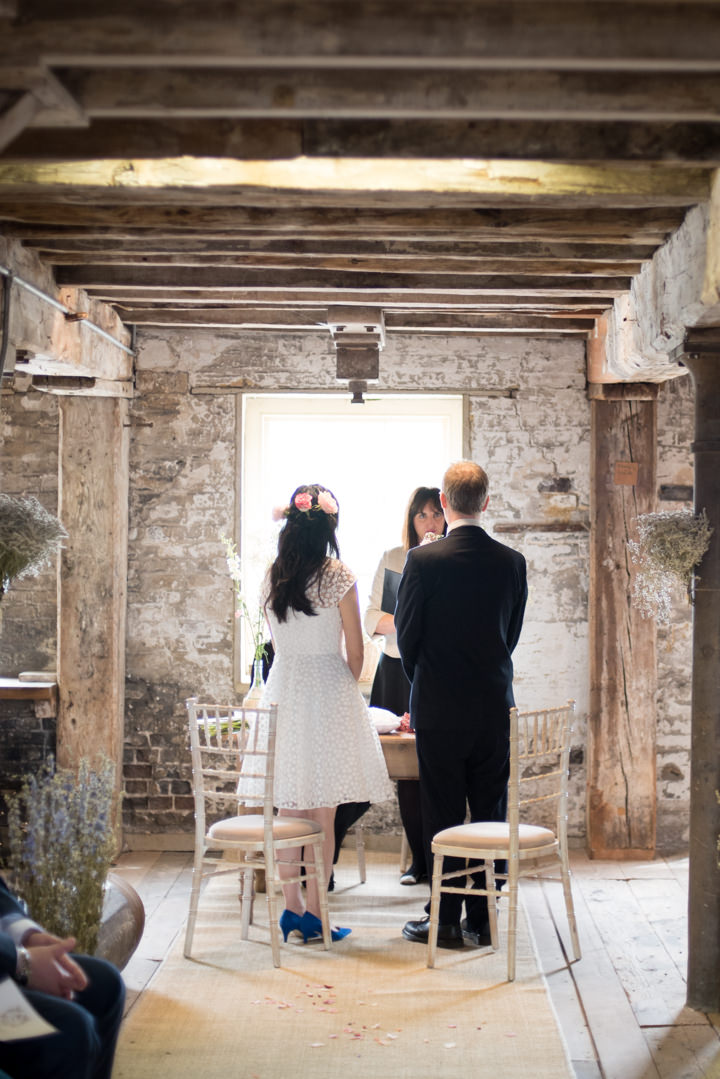 Theme or Colour scheme
The history of the C18th Grade 1 Listed Mill spoke through so much. There is a stone set into the front of the Mill with a carved coat of arms, which gave me the idea that we should adapt this for our own family crest, to include as a tongue in cheek motif on all our stationary. We kept the décor on the milling floor sensitive to the context. I also played on my Chinese heritage, with painted porcelain plates as favours which were reminiscent of early blue and white porcelain and Chinoiserie.
Flowers
I wanted lots of flowers along the aisle but didn't want to have to buy tall stands for them. I realised that with dried flowers we could tie them at eye level onto the columns. I loved the idea of the columns forming a forest of trees, we found sea lavender selling online at only £2 or so a bunch and we adorned as many columns as we could. We could not resist buying sheaves of wheat to go on the millstones. We also asked our family to donate all their empty green wine bottles and we put dried larkspur in them. I love fresh flowers and we also had tall stems of white larkspur for a couple of old Chianti bottles Stuart's mum gave us, and fresh garden flowers for the tables.
Decoration
We kept things simple, letting the Mill speak for itself and only adding floral touches, such as the sea lavender on the columns. There was an old wooden crate with the Mill's logo which we adapted to serve as a post box, and which unsurprisingly looked like it really belonged!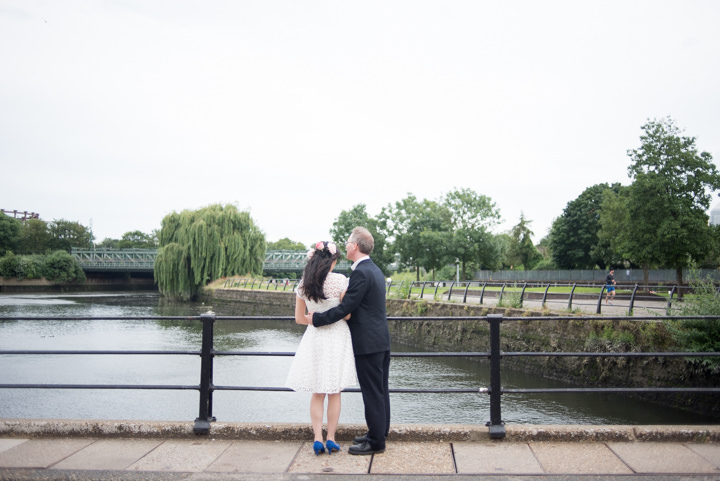 Food
The caterers Hubbub did a marvellous job, they knew about the logistics of serving up a hot buffet for the Mill and have done this for all previous weddings at the Mill. We had options of Spanish beef casserole, grilled salmon fillet, and Turkish stuffed aubergines for the vegetarians. The sides included French beans, baby potatoes with rosemary and shallots, roasted Mediterranean vegetables, and rocket salad with cherry tomatoes. There was a finger buffet for the evening guests of goat's cheese and tomato tart, Vietnamese spring rolls, Merguez lamb sausage with tomato relish, chicken skewers and also halloumi, courgette and pepper skewers. We wanted to give our guests a selection for desserts, so we had a dessert buffet of mini portions of Belgian chocolate pots with raspberries, black cherry cheesecake slice, French apple flan and Stuart's favourite – Pannacotta with compote and almond biscotti.
Wedding Cake
We figured our guests would be too stuffed after the dessert buffet to have room for wedding cake so we were happy to give that a miss!
Entertainment
Our Ceremony was fairly entertaining. Before our vows, Stuart and I acted out A.A. Milne's poem 'Little Bo Beep and Little Boy Blue'. Stuart's sister sang a song by Purcell, accompanied by a lutenist playing a striking medieval Theorbo, and Stuart's other sister read 'Scaffolding' by Seamus Heaney. Our friends from Imperial College Choir also sang an early English madrigal for us.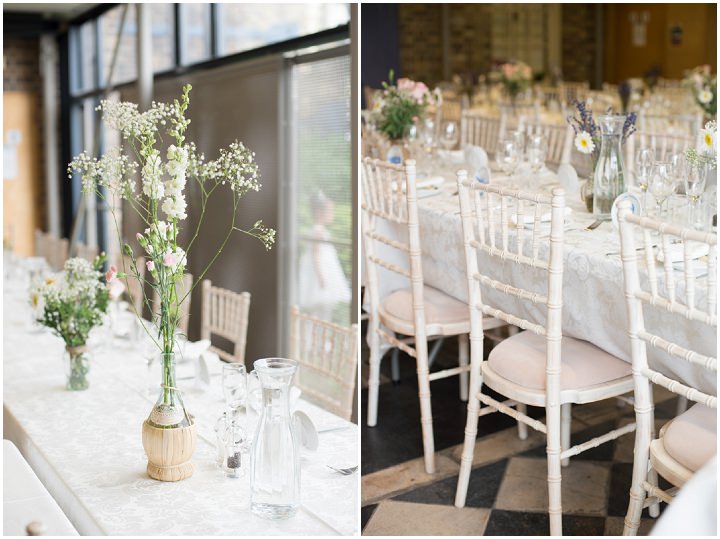 Stationery
We designed and printed the stationary ourselves. We chose some beautiful textured paper and also a font based on Jane Austen's handwriting to give the stationary a turn of the century feel. I spent an hour outside the Mill drawing a panorama of the Three Mills Island so we could include an original illustration with our invites. A family crest that I designed for Stuart and myself, inspired by the coat of arms on the front of the Mill, featured on all our stationary.
Personal Touches
We did everything ourselves from decorating the Mill the day before, to cleaning our collection of donated jars and arranging the flowers. As an architecture school graduate and a practicing engineer, I relished the opportunity for DIY projects – making the favours proved to be the most ambitious one. I was thinking about place names for the tables when I reflected that, having already spent time writing each name out, I could add a quick sketch and if this was done on a ceramic plate then that would make for a lasting memento and also serve as a place name (a literal name plate!). Hence I ended up committing myself to hand painting 60 porcelain plates, each plate and drawing personalised for each guest.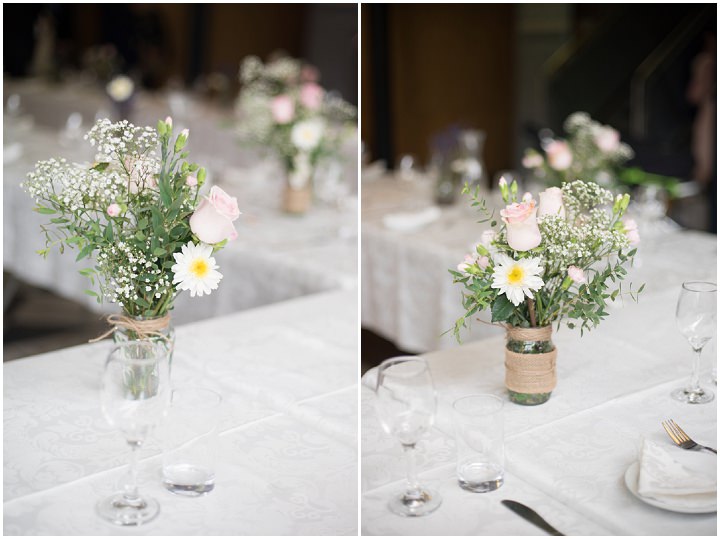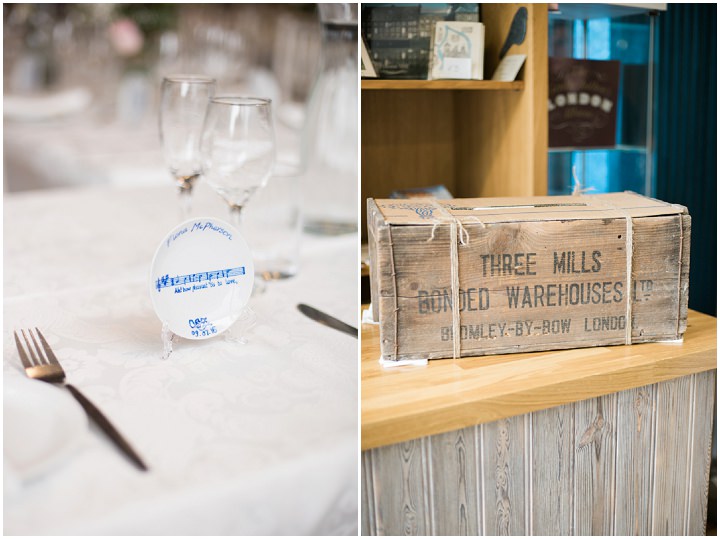 Special Moments or Highlights
We had no time to rehearse the Ceremony, so it was a wonder that it somehow played out perfectly on the day. It was such a relief to have the formal part of the day behind us, and in the quiet moment after the Ceremony when we were waiting to exit the building together, it really started to sink in that here we were, surrounded by all our friends and family, and we had the whole day ahead to enjoy ourselves. And subsequently emerging from the dark hallway of the Mill as a married couple for the first time in a rain of confetti was the most magical and memorable feeling!
Advice for other couples
It is as much about the journey as the destination. We were so fortunate, anything might have happened on the day, so we would say take the time to also enjoy the process – it is such a joyous period of dreaming and anticipating together. Also, there is no safer space to be experimental than your own wedding day – do relish the opportunity to be as frivolous and tongue in cheek as you like – no idea or venue is too crazy and you are more likely to regret what you didn't do than what you did!
Biggest Surprise
The day was run entirely by volunteers for the Mill, sharing their own time to help encourage the use of the Mill. We were so touched by their kindness and how they went above and beyond their stewarding roles. I got to the Mill an hour or so before the Ceremony to do the final touches and I still had to arrange my bouquet, but it turned out that Jessica one of the volunteers once owned a flower shop, so she helped me with my bouquet and also did everyone's button holes! Stuart could not find his tie before the Ceremony and had borrowed one of his friend's, however another of the volunteers Tony managed to find it amongst all our things just before the Ceremony started! It all meant so much to us and we are so indebted.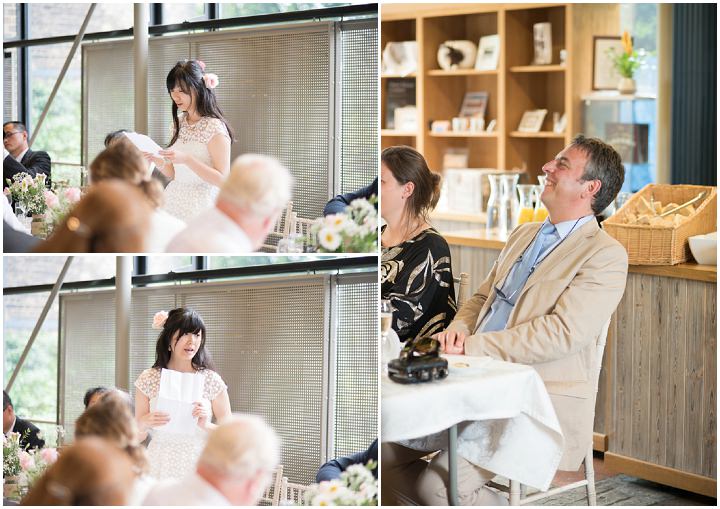 Supplier Shout Outs
• Stationary and handpainted favours– Spritzhi – spritzhi.wordpress.com
• Venue – House Mill – housemill.org.uk
• Caterers – Hubbub Catering – www.hubbubcatering.co.uk
• Photographer – Captured by Katrina – www.capturedbykatrina.co.uk
• Lutenist – Richard MacKenzie – www.richardmackenzie.site50.net
FOR MORE INFORMATION ON KATRINA'S WORK GO TO:
www.capturedbykatrina.co.uk / www.capturedbykatrina.co.uk/blog / [email protected] / 07973249858 /  FACEBOOK / PINTEREST / T: @KatrinaBartlam / I: @katrinabartlam
Due to an email issue if you have emailed me between the 2nd & 9th of December, please resend it.
X