I have another fabulous wedding for you today that was sent into me by Libby the beautiful bride. Libby and Simon are big street food fans, so they decided to bring this love of street food into their own wedding and hired a variety of street food vans to provide the catering for their 150 guests. From pies, to pizza to Taiwanese steamed buns, there really was something for everyone. Add in outdoor games, a beautifully decorated marquee, a gorgeous colour palette of peach, copper, grey and cream and lots of homemade details and you have a totally awesome wedding day. Big thanks to Capture House Weddings for the wonderful images.
A fun packed day, with great food, great entertainment all shared with our nearest and dearest
Libby and Simon were married on the 2nd July 2016 at All Saints Church, High Roding, Essex followed by a reception at Ashfield Polo & Carriage Centre in Great Canfield. 'We knew we wanted an outside wedding and opted for a Marquee by Chelmer Marquees, we were so lucky to have such a beautiful venue. Zoe and the team were amazing from start to finish and allowed us to create the wedding we wanted. The venue was really flexible and  4 miles from my parents and the church. We had 150 day guests and an additional 30 in the evening. The wedding took 12 months to plan'.
How they met
My twin sister set us up, Simon used to drink in a bar that Amy worked in. We've been together for 5 years.
The proposal
We got engaged at Mussenden Temple in Northern Ireland (where Simon is from)  on a rainy day on the 25th February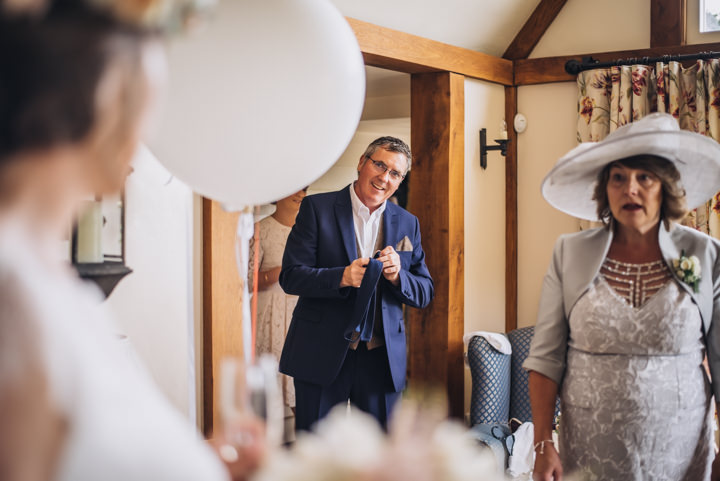 How did you allocate your budget and where did you save?
Food and music was really important to us and so we spent a lot on both aspects! I made, bought or borrowed all of the décor – I got a lot of things from ebay and amazon, I painted lots of copper bottles in my dads shed. My mum collected all the jars for the flowers with her friends and I glued lace around them. My sister made my cake (fake cake).
Why did you choose your photographer?
Jordan & Sean at Capture House Photography were amazing throughout. I dedicated my brother in law to assist in getting groups of people together at the church this saved lots of time. I love looking through the pictures and was so happy with the service from start to finish.
The Dress
I bought my day dress from The Bespoke Wardrobe in Ingatestone, I was in the shop trying on another dress for the second time thinking it was a strong contender and then I spotted the dress, no one was sure why I wanted to try it, it was the complete opposite to anything I had tried on before. It was a Stewart Parvin dress Eternal Flame. It was the one. That feeling of finding the one really does exist. I had a ballerina length dress for the evening, which was a sample Ronald Joyce dress my mum found on eBay, it had pockets which was something I always wanted, it was full length but I had it adjusted.  I wore Pink suede Dune shoes. Julie the seamstress made a belt and a bow for the back of the dress from the fabric which was chopped off the bottom. I eventually found my shoes in LK Bennett – ivory wedges with a peep toe, perfect as our venue was on grass. My Lace Jacket was from Fleur De Leys in Saffron Walden I went in 5 weeks before the wedding and was lucky enough to find a sample jacket. My veil was from The Bespoke Wardrobe, which I wore for the ceremony and took it off before lunch. Flower crowns were hand made by Love From Becky with artificial flowers that matched the wedding flowers perfectly. A flower crown was a big thing for me I'm not a fussy person and it was a statement piece.
The Suit and Bridesmaids
Simon didn't want a traditional look and opted for navy with tweed and gingham. We hired the suits from Anthony's in Billericay for the groom's party. We bought the ushers, best man and father's brogues from Marks & Spencer, and Simon's were Oliver Sweeney one of the very first wedding purchases we made.
The bridesmaids dresses were from Ted Baker and they wore them with Rose Gold shoes from Dune, I ordered us all rose gold pumps from ASOS for the evening. The flower girl my niece Lily, wore a TuTu from Ebay and Marks & Spencer Cardigan.
Theme or Colour Scheme
Our colours were soft coral/peach, copper, grey and cream.
Flowers
My church flowers were arranged by my mum's best friend Mary who did a fantastic job, we then transported them to the venue so they could be seen again. A very close friend Marie did an outstanding job on the flowers; I was blown away when the bouquets arrived in the morning. The tables were always to be jars and bottles sat on logs that my dad cut for me. I wanted candles everywhere in jars also; friends and family collected a lot of jars and bottles all shapes and sizes.
Decoration
Pinterest was my best friend, I knew I wanted copper and I love the colour grey. I introduced a soft coral colour and the navy of the boy's suits.
My sister hand made the bunting, 100 meters of it, which draped the marquee. Simon and I wanted an area for guests to relax so we started looking at sofas on eBay, I bought 5 sofas for £67. I borrowed lamps from friends to dress the area. I made Tulle & paper pom poms during the evenings after work in the run up to the big day. I glued lace to jars and painted bottle months before the wedding. I had a spread sheet of items that I needed and would always be on the look out for baskets and trays.
I was concerned that my colour scheme had got a little large so I made a ribbon curtain that tied all of the colours in and worked as a great back drop for photos.
Food
We served canapés during the drinks reception, which we prepared the day before with the help of Jenni, Jenn and my sister were in the kitchen the day before.
We love food, we love socializing with friends over dinner, we enjoy street food festivals, so choosing our food was easy! We knew we wanted our guests to have options and for food to be available all day and night. LeBao served steamed buns, MyPie served pie and mash and Woodleys served pizza, it made lunch fun and informal, guests were seated and had a menu in front of them to choose from. They went and got their own food from the food truck. It also meant less staff and no washing up. Guests could help them selves to food for the rest of the evening.
Desserts were served just before speeches. My sister made the desserts a few days in advance and they tasted and looked great. We also had a Tea & coffee station so guests could help them selves. We served homemade cupcakes, which my mum's friend Sandra kindly made, with the wedding cake in the evening.
We had a cheese tower which I loved putting together, I brought the cheese from Chelmsford market, my dad found the log which the cheese sat on.
Wedding Cake
I wanted a wedding cake but unfortunately my budget had run out by this point. My sister kindly surprised me with a beautiful cake, which was in fact a polystyrene shape which she iced, we brought wedding cake from Marks & Spencer and served it, no one ever noticed that the icing didn't match!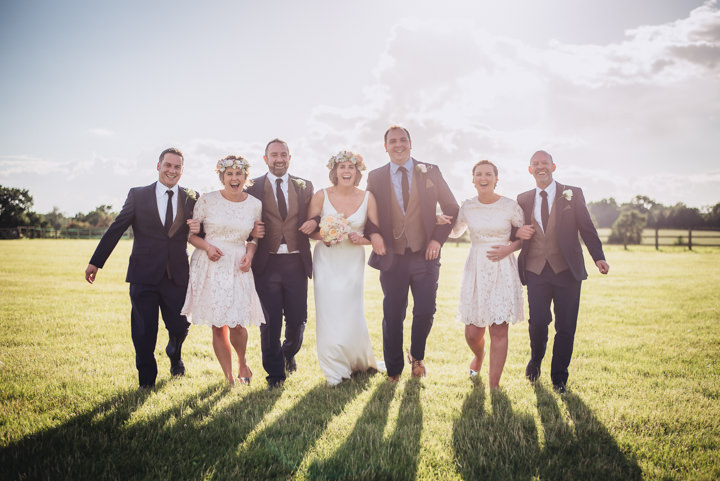 Entertainment
Simon loves live music and we always wanted to have a festival feel, Me&Him played first followed by Sax On Fire two local bands that definitely made the evening. My sister and mum brought inflatable instruments, which the band threw out during their sets, they created some great photo opportunity for guests.
Stationery
We ordered our stationery from Vista Print. I printed the day stationary and wrote on wooden tags for place names
Personal Touches
I did it all my self, I'm a control freak! My sister and mum were amazing and helped me lots.
We were very lucky to be able to use our friends Volkswagen camper van otherwise known as Tinkerbelle to drive dad and I to the church and then drive Simon and I from the church to the reception. This was a special time just the two of us.
Simon's dad produced our wedding favors, which were jars of homemade chutney; I used the tags as place names als which worked for two jobs. I arranged the order of the day and all the suppliers.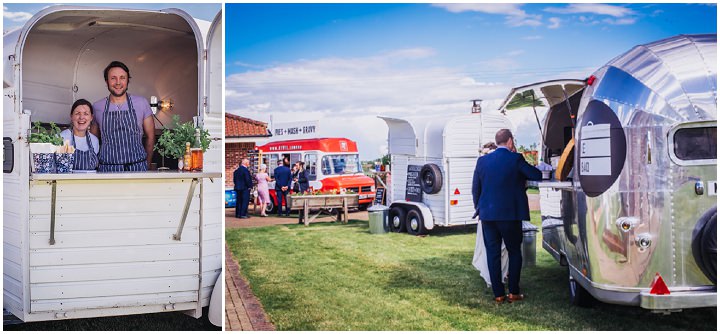 Special Moments or Highlights
I loved every second and I can't explain the feeling of being so so happy, I loved the feeling of seeing everyone enjoying themselves
Advice for other couples
Write a small list of the things that are really important to you, distribute the list between the bridal party so they can make sure it happens. The day flies by, keep smiling for all those pictures it's the only thing you have after the day. We planned a rounders and brunch for the Sunday and invited everyone, it was great we had breakfast together and all sat in the sun reminiscing about the wedding.
Biggest Surprise
How quickly the day goes, also a treat from my husband who brought me a Breitling watch and I didn't expect a gift at all.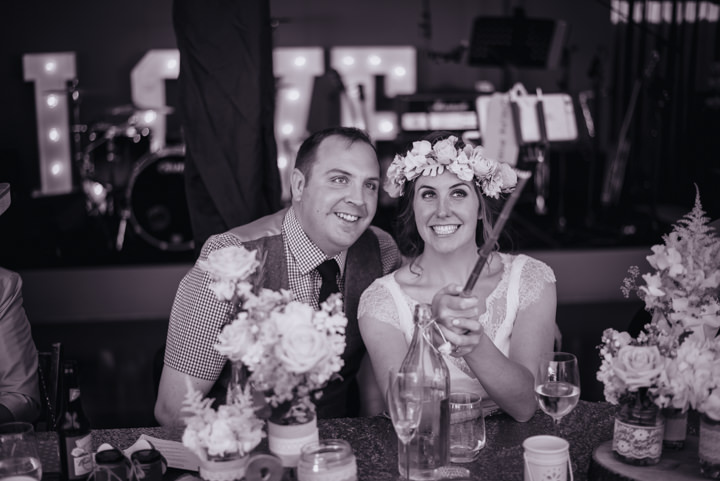 Supplier Shout Outs
For more information on Capture House Weddings go to: 
www.capturehouseweddings.co.uk / [email protected] / 01371 640410 / FACEBOOK 

Capture House Weddings is based in Great Dunmow, Essex. Natural Wedding Photography is something we're very passionate about at Capture House. We believe that a moment can't be forced, our photographers like to lie low and let you enjoy your day without you having the commotion of getting everyone together. We like to add a modern, fun twist on wedding photography to give you an experience that you wouldn't be able to get anywhere else.

[jprel]