Happy Friday everyone! How is it Friday already? This week has flown by! July is speeding though so quickly! I hope you are well and happy and have had a good week. To finish it off in style we have this gorgeous fun-filled yellow wedding for you courtesy of Nicola Thompson. Matt and Wendy chose two wonderful venues to hold their wedding across and got their daughter involved making it a family friendly day. With a fabulous colour scheme of bright yellow, their day was filled with lots of gorgeous details put together by the two graphic designers, which resulted in some lovely touches and fab details.
Relaxed and happy, we had loads of children running around which kept the day lively and informal. It was fantastic to have all our closest family and friends together in one place – that's what really made the day special.
Matt & Wendy were married on the 27th July 2015 in a ceremony at The Glasshouse, Combermere Abbey, Shropshire followed by a reception at Cock O' Barton, Cheshire. 'I've always wanted to get married outside but didn't want the stress of checking the weather forecast every 5 minutes until the big day! The glasshouse was the perfect solution, situated in a beautiful Victorian Walled Garden, you feel like your outdoors but are fully undercover. The Cock O' Barton is a lovely relaxed gastro pub and had the informal feel we wanted for our reception. We had about 100 guests. We booked the venues 18 months ahead but didn't do much planning until a lot nearer the time.'
How they met
We met at university (yawn!) we were on the same course studying graphic design. We'd been together for 12 years before we finally tied the knot.
The proposal
After 12 years I thought Matt might be building up to something extra romantic but in actual fact, I came out of the bathroom after a night out and he was down on one knee!
How did you allocate your budget?
We had a budget we tried to stick to and a spreadsheet of costs. Having the wedding on a Monday was one of our best decisions financially. As the Cock O' Barton is normally closed on a Monday we were able to have free exclusive use of the venue and most other supplier charged a reduced fee.
Where did you splurge and where did you save?
Our biggest expense was our photographer, Nicola Thompson, but the cost was well worth it. We realised as soon as we started looking at photographers that this was going to be the thing we were most fussy about with both of us being designers. Everyone says it but it really is the only part of the day you get to keep for ever. We actually own a wedding stationery company – The Foil Invite Company so the invitations etc. were one area it was easy for us to save on! Matt's Mum was also kind enough to make our wedding cake and our friend Sarah Fullwood who is starting her own floristry business sorted out all the flowers. I'd also like to add a special thank you to my parents Linda & Roger for making the day possible.
Why did you choose your photographer?
We instantly loved Nicola's portfolio, her shots are so beautifully composed yet really natural. Her portfolio wasn't full of cheesy, obvious or staged shots like many other photographers. We found her images had a unique style that we could identify with. She was an absolute pleasure to have around on the day, she was so laid back we thought surely she can't have taken many pictures!! But we couldn't have been happier with the results. Looking through our wedding album is like reliving the day which is just what we'd hoped for.
The Dress
My dress was by Sanyukta Shesthra, Shoes by Dune and Earrings by Britten. My bracelet was a gift for my 30th birthday from my Mother in Law, Sue and by rings were inherited from my two grandmothers.
The suit and bridesmaids
Matt's suit was by Folk, the bridesmaids dresses were from Louche and the flower girl dress from Monsoon.
Theme or colour scheme
Yellow quickly became our dominant colour. Despite me originally insisting that we weren't going to have a colour scheme, I'm so glad we did as the use of bright yellow definitely added sunshine to our somewhat rainy wedding day.
Flowers
Matt's Mum grew sweet peas which we had in jars hanging from the chairs at the end of the rows in the ceremony, we then moved these to the reception venue and had them as table decorations. I don't know a lot about flowers so I trusted Sarah to choose them for the bouquets and some large jars we also used at both venues. I created a Pinterest board of things I liked, my only specific requests were Billy Balls and Daisies. Sarah took charge of a small army of our friends and family putting everything together the day before the wedding at Matt's family farmhouse.
Decoration
Apart from the flowers it was fairly minimal, both venues were already so lovely they didn't need much adding. We did however create a 5ft bright yellow perspex sign with a monogram of our initials – this created a lot of impact! We also made a hanging photo backdrop, with hundreds of discs, cut out by me and painstakingly hand sewn by my fantastic sister-in-law, Helen.
Food
We didn't want the formality of a seating plan so opted for a buffet. This was great as everyone was able to have a choice of dishes. The quality of the food was a one of the main reasons we chose the Cock O' Barton and they didn't disappoint.
Wedding Cake
A 'Naked' Genovese sponge made by mother of the groom, Sue Lewis. I think this was the thing we had the most compliments about – it looked and tasted stunning.
Entertainment
Heerden & Black – a piano and guitar duo, they started with a live set then finished by DJing. We heard them play at The Botanist in Chester and knew they'd be perfect right away. They had everyone on the dance floor for the whole evening!
Stationery
As mentioned earlier, we own a wedding stationery company – The Foil Invite Company. Right from the start Matt wanted to use greyboard – heavy, tactile and full of warmth and character. It gives a lovely laid back and natural feel which perfectly suited out day. We used a bright yellow gloss foil for the text on our invitations to add an element of fun. We created a monogram of our initials, M & W that linked together and unconsciously became our logo we used across our stationary as well as on stickers for the confetti cones and the large sign for the pub.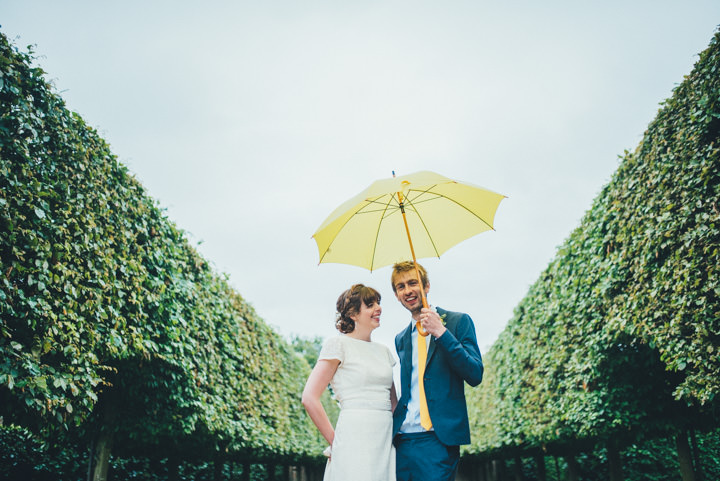 Personal Touches
We've mentioned quite a lot of them already – it was all the personal things which really made the day feel ours. We are so grateful to our friends and family who offered us so much help and support – we spent a whole evening with our friends Peter and Magda making confetti cones!
Special moments or highlights of the day
Walking down the aisle (which I was actually dreading) and seeing everybody and Matt waiting, I couldn't stop smiling. Also, after the ceremony Matt and I went to a private room to have a glass of Prosecco and a quiet moment to ourselves however our daughter Bethan insisted on coming with us and we ended up dancing in a circle to Ring O Roses! Having Bethan there throughout the day made it extra special, she was so full of joy it was infectious.
Advice for other couples
Make the most of the preparations, I made three trips to London for dress shopping & fittings with my bridesmaids, this was so much fun. My chief bridesmaid Abi also organised the most amazing hen do in Portugal and Matt's best men Ed & Adam organised a fantastic stag in Munich. We'll never forget these. On a more practical note, don't buy your wedding dress too early – I did and then had too long to start worrying if it was 'the one'. Luckily, I came back round to loving it in the end! Also, break any conventions you feel like and do things your own way. Matt and I met up for lunch before the wedding with close family and friends and it was great. We got some lovely photos taken and were then far more relaxed for the ceremony.
Biggest surprise
That we didn't feel at all nervous we really did enjoy every minute.
 Supplier Shout Outs
FOR MORE INFORMATION ON NICOLA'S WORK PLEASE GO TO:
www.nicolathompsonphotography.co.uk / FACEBOOK / PINTEREST / T: @nicthomphoto