Today we are taking you off to Wales for this gorgeous blue and yellow wedding from Tony at Photography 34. With two years to plan their big day, Rory and Angharad took their £10K budget and really stretched it as far as they could. They brought in lots of friends and family members to help out with favours and DIY projects and the results are this fun, bright wedding, with lots of wonderful decoration and so many handmade projects. From the custom built Tiki bar to the many many meters of bunting, this wedding is one big ball of creative DIY goodness.
We wanted our day to be full of fun, singing, dancing and laughing……and it definitely was that!
Rory and Angharad were married on the 1st of August 2015. 'Our ceremony was at Valle Crucis Abbey in Llangollen and our reception was just up the road in Rory's parents' garden. We all walked from the ceremony to the reception. We love Valle Crucis Abbey, it's so beautiful! It was a huge risk getting married there as of course we got married in Wales and Wales isn't known for its reliable outdoor wedding weather, luckily it was a sunny day! We were very lucky to have Rory's parent living a short walk away as this enabled us to use their garden. It was so lovely that we were able to use Rory's home as part of our day. We had 140 guests and spent two years planning the day.'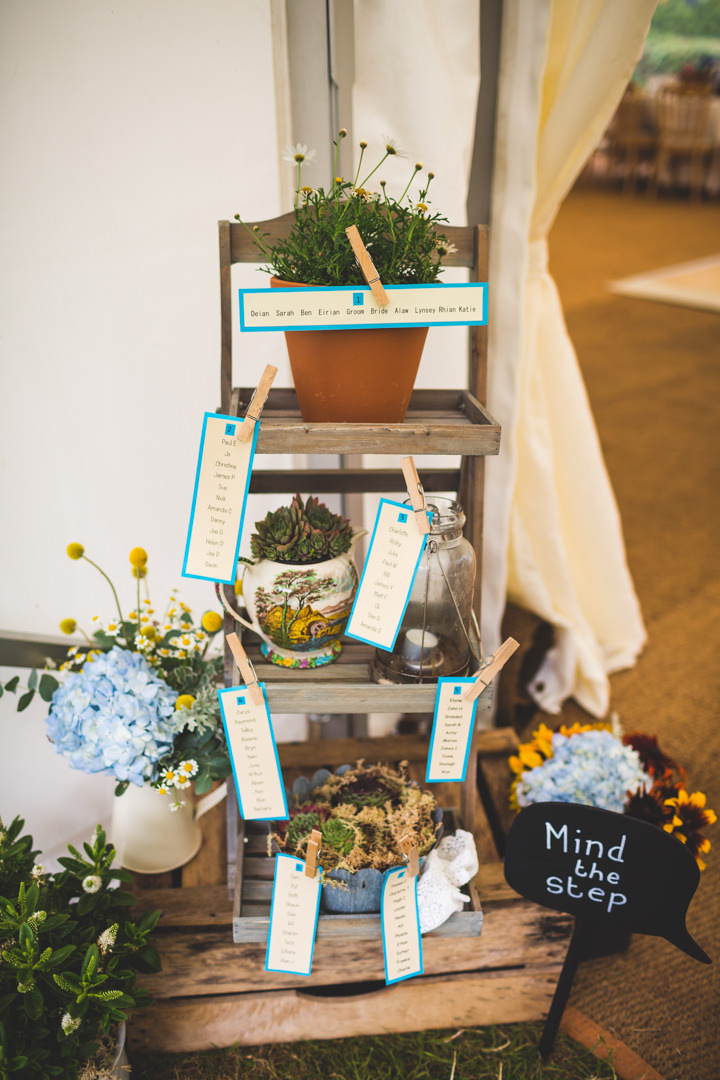 How they met
We met training to be Art Teachers 9 years ago at Bangor University. We have been together for 8 years.
The proposal
Rory organised a day out around London (we lived there at the time) taking me to some of my favourite places. I knew we were doing something as he had left me clues throughout the week made out of Lego. He also had been away the previous week at a wedding in Turkey and had sent me a piece of Lego in the post. I didn't think anything was unusual about the day out, I just thought he was being nice as he had been away all half term! He had made an invitation 'to my day out' and gave it to me in the morning. He took me to the aquarium, I love aquariums! We walked down embankment and ended our afternoon in Regents Park having a picnic and some drinks. He proposed that evening in the park….with a plastic gold Lego ring, then it all made sense! We then went to our favourite pizza place in Chalk farm and ate lots of pizza and drank lots of wine.
How did you allocate your budget?
We definitely had a budget! We knew we didn't want to spend more than £10,000. We loved our day but we also didn't want to over spend on what is quite simply a day. We were very lucky to have the garden for free for the marquee and we were also lucky to find our amazing marquee and florist duo husband and wife who just fantastic and very reasonable. Our caterers were dinner ladies from Rory's dad's school (he's a retired head teacher).
Where did you splurge and where did you save?
Being Art teachers our wedding was always going to be very DIY, anything we could make we made it. We had lovely relatives who made all our bunting, my sister made our wedding cake and my dad made our Tiki Bar and all the signs! We love how involved our friends and family were in creating our day and the week leading up to it.
How did you choose your photographer?
We quite simply found Tony when researching on the internet. We knew what kind of photographs we wanted, very natural, not staged and Tony's photos were perfect. We couldn't have hoped for a better photographer. Our guests thought he was great, he's taking the photographs at my bridesmaid wedding at the end of this year!
The Dress
My dress was from Berketex Bride in Chester. Both my hair accessory and Lego necklace were from Etsy. My shoes were by Rachel Simpson (they were my splurge!)
The suit and bridesmaids
Waistcoats were from next and we got the knitted ties off Ebay! The lego tie clips were bought on Etsy. The groom's party wore their own shirts and chinos. The bridesmaids' dresses were from Lindy Bop, they wore their own shoes.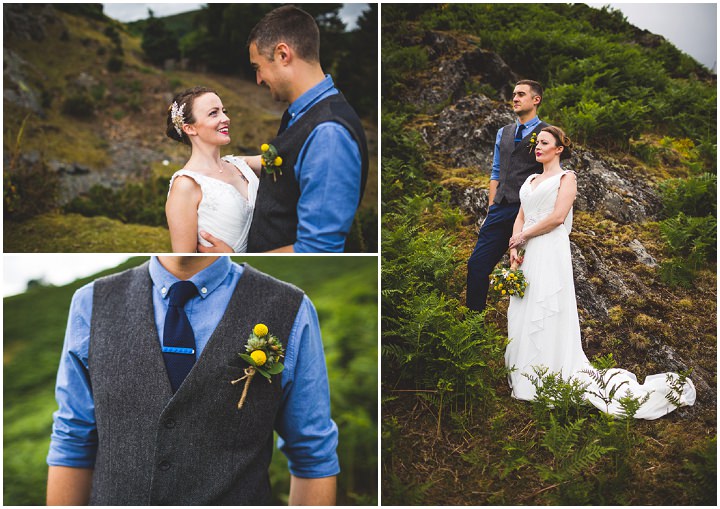 Theme or colour scheme
We decided on blue and yellow quite early on as I wanted yellow flowers. We wanted the day to look handmade and bright.
Flowers
We had a mixture of billy balls and succulents mainly. We wanted the centre pieces to look quite natural. We didn't have any flowers on the top table just planted succulents.
Decoration
In around the marquee, bunting and poms poms everywhere! We had so much bunting that not much else was needed. We had a themed bar area being the tiki bar, there we had everything from tiki masks to inflatable animals!
Food
We had a buffet style meal and Mr Whippy for dessert! We had bacon baps later on in the evening and cheese and crackers.
Wedding Cake
We had a Lego brick multi-coloured cake. It looked like a traditional wedding cake on the outside but when we cut into it, you could see the different shapes of the bricks. We also had little cupcakes with Lego style bricks on the top. And of course we had a Lego wedding topper.
Entertainment
We decided to make our own playlists to be played throughout the day during the meal, the afternoon and then the evening which were just played on a sound system we hired. We made a large personalised polaroid frame and provided props for our guests to have fun with…this proved to be a big hit!
Stationery
We got this from black lab studio on Etsy.
Personal touches
All of our bunting was hand made by generous (and crafty) family members in our chosen colours yellow and blue. Rory made our initials out of Lego for the top table, all the signs around the garden, tent and dance floor were made by my Dad. He also made the polaroid frame which we hung from a tree. My Dad is a pretty handy man so he constructed the Tiki bar, which was also made out of a bed! This was decorated with various posters, novelty items and signs I painted myself. We decided to make the order of service ourselves and included an order for the day which we wanted as it gave guests an idea about what was happening and most importantly when the food was being served! We got a load of straw bales from a local farmer, who generously came to collect them and recycle them for us after the wedding.

Special Moments or Highlights
Our ceremony started with a family friend Sian Roberts singing an acoustic version of one of our favourite songs ('You and Me' – Wannadies) and we each chose a song that replaced the traditional hymns in the service. Rory chose Jackie Wilson 'Higher and Higher' and my choice was The Beach Boys 'Wouldn't it be nice' It was amazing for us to see our guests get up, dance and sing aloud with us! We chose Big Mountain 'Baby I love your way' as our first dance as this song reminds us of memorable times backpacking in Thailand.
Advice for other couples
Family and friends will want to help out so make sure that you have a list of jobs for them to tackle. We hunted around for the cheapest deals on most things but some things you might want to spend a little more on. We had 2 years to plan and save for our wedding so we were able to spread the cost which helped. Due to the style of our big day we were also able to be very thrifty by roaming around car boot sales and charity shops…just make sure that you can off load it all after the wedding. We gave lots of stuff away to friends, some of whom worked in primary schools who really appreciated the bunting! Once the big day arrives just enjoy every second of it…there's nothing more you can do so don't stress!
Biggest surprise
Luckily there were no horrible surprises! We were pleasantly surprised at how easily our guest got involved in the singing at the Abbey…although a few glasses of bubbly probably helped!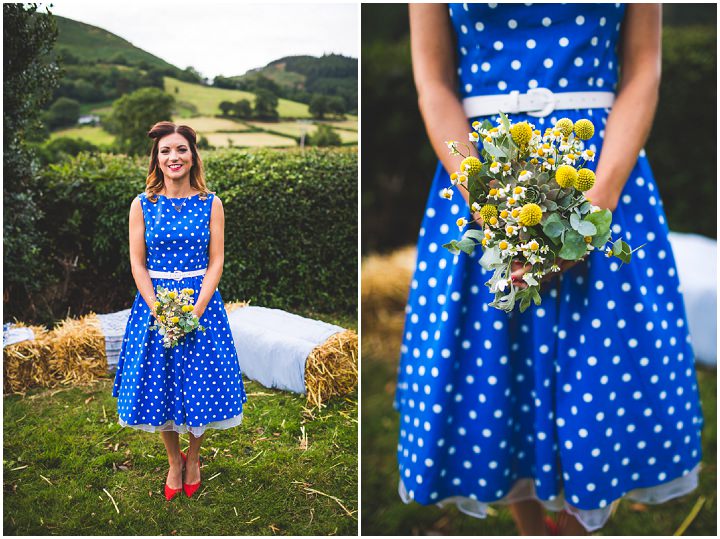 Supplier Shout Outs
FOR MORE INFORMATION ON PHOTOGRAPHY 34'S WORK PLEASE GO TO:
www.photography34.co.uk / www.photography34.co.uk/blog / [email protected] / 07792021337 / FACEBOOK / @PhotoThirtyFour