This afternoon we have a gorgeous styled shoot to share with you courtesy of Liberty Pearl Photography featuring two gorgeous bridal looks, tropical blooms and lovely light-filled images. From Hotel Endsleigh in Devon you could be fooled into thinking it was the tropics! The cake, portraits and tableware styling is all absolutely gorgeous and looks amazing against the lush foliage. Many thanks to Liberty Pearl for sending in the images.
An exotic elegant styled bridal wedding photo shoot, set in and paradise tropical gardens. Using bold colourful bouquets with lots of greens and foliages, beautiful hand made local pottery, cutlery and glassware. Simple chic couture and antique dresses, With a green and white simple theme.
I photograph a lot of styled photo shoots, and have always wanted to do something using the styled I like which was more elegant and simple. Being the photographer you don't usually get involved in the planning process of styled photo shoots. I was planning my wedding at the time so had been looking around quite a bit for bridal inspiration, and had so many ideas for wedding themes. I also wanted to use ethnic models because I feel they are rarely featured in bridal magazines and blogs, and I have so many African and Asian friends who want to get married and they find it hard to find bridal inspiration. I also wanted to feature some of my favourite award winning and new suppliers who are so creative! My husband's great grandfather is a famous potter so I wanted to feature his beautiful tableware in the shoot.
I find nature so beautiful, I love the Arcadian landscaped gardens at Endsleigh Hotel they are stunning, and I love flowers, so I wanted to use very simple wedding dresses to accentuate the bold tropical flowers and stunning backdrop of the gardens. I wanted to plan styled photo shoot from start to finish, and hand pick the suppliers that I LOVE and have always wanted to work with. I worked with a lot of new suppliers who are very talented but haven't been given the chance to show off their talent! It was the most amazing experience ever. I really enjoyed having the creative reign over the photo shoot and using my own ideas. I am so happy with the results, they are so stunning. The photos are better than I could have ever imagined!!! It was an amazing talented, creative and professional team to work with and I cannot thank everyone enough for all their hard work. We absolutely love the venue and it's gardens, it is just stunning in every way! I am planning a series of styled photo shoots my workshop series and I am planning a styled photo shoot in the Autumn (my favourite season).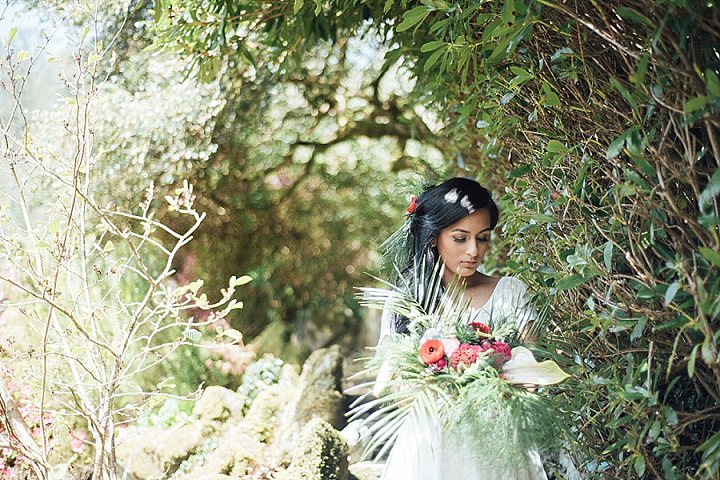 The team who made the shoot possible
For more information on Liberty Pearl Photography go to:
libertypearlphotography.com / 07863889677 / [email protected] / FACEBOOK / PINTEREST / T: @Liberty_Pearl / I: @libertypearlphotography