Happy Monday everyone and welcome to the start of another great week on the Blog, I hope you had a good weekend and managed to avoid the rain. We have a whole host of beautiful weddings for you this week and we are starting with this totally gorgeous wedding from Lindsey at The Stag and The Doe. The wedding is a lovely mix of elegant meets Boho. With the most stunning Enzoani gown, Fiona really is the most beautiful bride. A wonderful day with some fab photography, enjoy!
Although it's a cliché, our wedding day truly was one of the happiest moments of my life and the best day that I've ever had. To have the opportunity to gather our closest friends and family together for a big party where we were the centre of attention was such an honour and privilege and it will be something which I will reflect on with great affection for the rest of my life. 
Fiona and Kenny were married on 23rd April 2016, with the ceremony at Kelburn Castle in Ayrshire and the reception at Pavilion, Kelburn Estate. 'After looking at a number of venues we decided on this one because of the beautiful setting, the history associated with the Estate and the fact that the art work on the Castle added a unique interest to the place. What's more, it has an incredibly laidback vibe – especially for a historic castle – and the fact that it is an incredibly family-, arts-, crafts- and music-friendly place adds to the atmosphere – we can return time and time again. We had 85 guests for the day and130 for the evening, it took 5 months on and off.'
How they met 
We met at school and got married 16 years exactly from the day that we started our relationship.
The proposal
I had asked for Fiona's father's permission about four months prior to asking Fiona and was therefore under pressure to deliver. He actually thought I had asked her and she had said no! After a long search for the perfect ring, I waited until Fiona went out to the gym one morning and set my plan in motion. I went and bought a lot of different flowers and candles and set a trail with them, leading through our house to the back door. When Fiona returned she followed the trail and I was down on one knee out the back door with my suit on. She couldn't stop laughing until she eventually said yes. She told me that it was the perfect way to have done it and she was genuinely surprised.
How did you allocate your budget
We didn't keep too close an eye on the purse strings. We just bought things as we needed. Obviously things like the venue hire, dress and band were the most expensive but we were not excessive in our spending as we didn't consider it to be necessary.
Where did you splurge and where did you save
The venue was, understandably, a big cost and the wedding dress was at the upper end of what we expected to pay. However, thanks to a friend-of-a-friend in-the-know, we managed to get the perfect dress for two-thirds of its supposed price, so that was a massive bonus.
We saved by not going crazy on finer details – we added little home-made or self-arranged touches to make it personal to us but didn't see the need to go overboard with things like flowers or table decorations. Likewise we opted not to have a wedding cake.
How did you choose your photographer
We spent a lot of time looking at photographers as we've had friends who've been left unimpressed by their photographers in the past. We felt it was critical to get this right which was why we invested time in finding the right person for us. We looked at the style of a lot of different photographers online until we found Lindsey. We really liked the candid, easygoing style of her pictures and the fact that the pictures appeared to capture the real events of the day. We wanted more natural pictures than the formal ones that some photographers insist on and we felt that Lindsey was perfect for that. She was a pleasure to have there on the day as she was organised and professional without imposing herself on us.
The dress
The dress was called Ginger and by Enzoani. The wonderful Khara at Opus Couture in West Kilbride, Ayrshire, chatted to me for a few minutes on my first appointment there and got an idea of our personalities and the vibe we wanted for our wedding day. I think Ginger was the first one she selected from the shop's huge collection for me to try on and, five dresses later, it was still the one that I knew was perfect. I loved it – as did all our guests. Khara, Susan and all the rest of the team at Opus were amazing. My shoes were hard to get right and I opted for a Kurt Geiger pair that I got in the sale.
The suits and bridesmaids
The suit was tailor made in London. It was a place called "Nino's" in Soho. The bridesmaid dresses were from ASOS.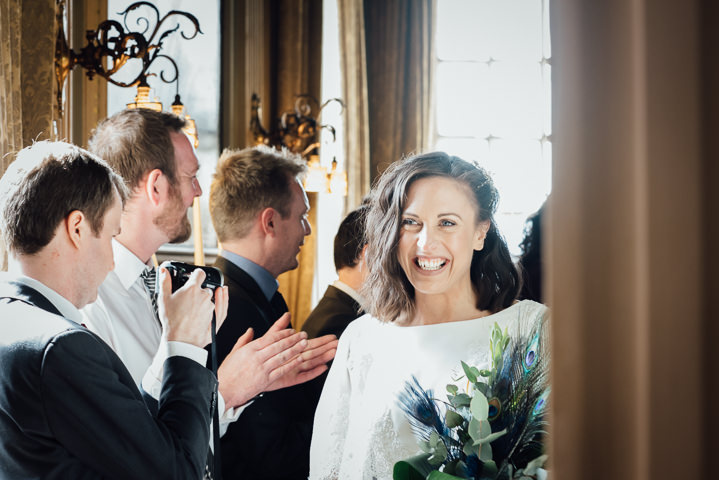 Theme or colour scheme
We did want to make peacock feathers a prominent feature of the day. Fiona has always been drawn to feathers and even her engagement ring was designed around this theme.
Flowers 
We wanted feathers instead of flowers so Fiona ordered all sorts of different colours, sizes and styles online and Kenny's mum, who has done flower-arranging in the past, put them together into bouquets for the bride and bridesmaids using fern and palm leaves to add substance – she did an incredible job, they were beautiful.
Decoration
We had some fairy lights wrapped around the beams in the pavilion and there were vases with feathers on every table. The tables also had small glass jars (Fiona's mum and her husband went through a lot of salsa to get them all the same!) filled with sand and tea light candles. These all sat on top of hessian runners. It was quite minimalistic which was again what we wanted to do.
Food
Help-yourself platters on the tables to start followed by a barbecue. We wanted everything to be relaxed and felt that having a BBQ would help create the informal vibe that we were after. The food was excellent.
Wedding cake
We didn't have one. Again, we were trying to make it a less formal occasion and we didn't feel a cake was necessary. Instead, we had a selection of cakes – chocolate, peanut butter, lemon cheesecake, carrot, pecan tarts, almond and raspberry – all made by family and friends (even the bride did one!) as well as two lovely iced sponges made by a local baker. They were sat out on a table for people to help themselves after the meal as teas and coffees were served to those who wanted them. It worked out well.
Entertainment
Kenny made a playlist for before and during the meal. We had a band for the dancing and finished with another playlist for the last hour.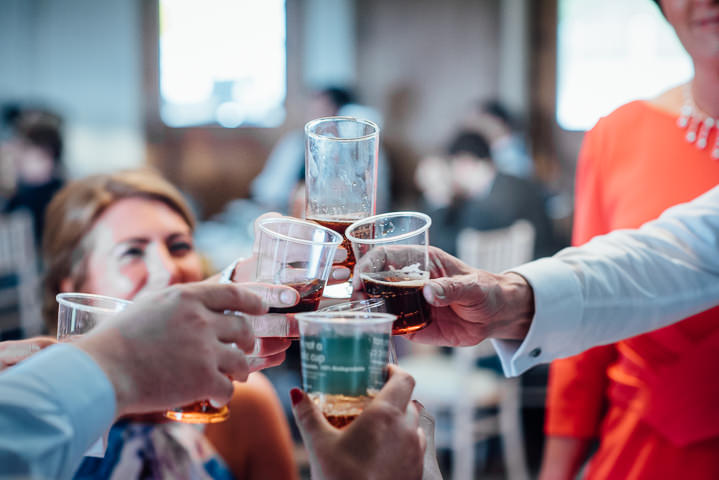 Stationery
We did it ourselves.
Personal touches
We did all of the decorating ourselves on the day before the wedding. We had miniatures of Buckfast and Jagermeister as the favours. Our seating plan was done using 9 of our favourite albums. Guests' names were listed as if they were tracks on each album. We are both massive music fans so we thought that was another way in which we could ensure that the day reflected both of us. The feathers were very much a personal touch.
Special moments
(from Kenny) Seeing my bride walk down the aisle was something that I hadn't prepared myself for but I found that to be surprisingly emotional which was a bit out of character for me. The dancing at night was fantastic – the dance floor was never empty and people just seemed to be having a great time getting into the sprit of things. I also enjoyed the opportunity that we got to spend ten minutes together straight after the ceremony.
(from Fiona) There were so many highlights, not least of which was being surrounded by wonderful family and friends and feeling the love flow – not just between the two of us but through everyone there. A real special, unique moment for me was after the ceremony we travelled through the country estate to our pavilion reception sitting on hay bales in the trailer of a tractor, decorated with a "Just Married" sign and bunting. Our three-year-old nephew Harris joined us and we waved to all the general public visiting the estate and outdoor centre, of course they were all lovely and smiling and waving to us. Our guests followed in a coach so they got to see it all too – just brilliant!
Advice for other couples
Ensure that you get to spend time alone together during the day as this allows you to soak things up and gain appreciation for all of the things that are going on. Laugh a lot and try to remain relaxed as your attitude can reflect how the day goes.
Make sure you go with your gut in the preparations and include the things that MAKE YOU HAPPY – it would be horrible to look back on your day and think, I wish we'd done that after all.
Biggest surprise  
How well the speeches were received. This was a cause for concern in the build-up as it's critical to try and strike the right balance of saying everything you want to say whilst being mindful that people don't want you to go on all night.
Supplier Shout Outs
For more information on Lindsey's work got to
www.thestagandthedoe.com / [email protected] / 07931498581 / PINTEREST / I: @_thestagandthedoe_ / T: @ANDTHEDOE
My name's Lindsey and I'm a fine art wedding photographer.  My style is contemporary and relaxed – I tell the story of your wedding day through a collection of intimate moments, natural shots, little details and beautiful portraiture.  I love playing around with the couple shots and scouting out unusual locations so if you have something specific in mind then let's make time to capture it.  Based in Brighton, Sussex.