As wedding venues go, Preston Court in East Kent has to be one of my favourite venues. I love it when I get wedding submissions that have taken place there, as they are always super special and full of personality. This stunning East Kent wedding venue is full of character and charm and comes with a beautiful outdoor ceremony area as well as 2 stunning barns, a Victorian carousel, fairground organs and the most stunning grounds, what more could you want? Today Anna from Preston Court is here to tell you a bit more about this totally fabulous wedding venue.
These words all conjure up the vibe at Preston Court; Vintage, traditional, rustic, English, romantic, natural, bohemian, fairground, carnival, circus, relaxed, creative, industrial, steam, steam punk, countryside… So if any of those tick your wedding venue box then read on.
Preston Court is a stand out venue with Georgian Country House, pretty barnyard with two magnificent 17th century oak barns, fully functioning Victorian carousel, fairground organs, as well as large gardens with lawns, lakes, and even a magical moated island where outdoor ceremonies can take place.
There is a church on site and even the option to have a traditional fun fair. They have 2 licensed areas for civil ceremonies and religious weddings can take place at St Mildred's church. Wedding receptions are held in the Kentish barn and the 5 large door doors can be opened up to allow the sunshine to flood inside.
The venue and farm is privately owned and run by the family; There are horses, cows and cattle on the farm nearby and exotic peacocks can also be seen roaming around the grounds.
The staff at Preston Court all love working at this utterly unique venue and help to ensure every wedding is brilliant – they get fantastic feedback about all their staff and understand how important it is to have a happy team to ensure the perfect atmosphere is set for the day.
We asked Anna From Preston Court  a few questions about her amazing venue
What made you start your business
I absolutely love creating things and I was lucky enough to live in a gorgeous surroundings here as my family own and run Preston Court and the farm. I also love design and the two went together perfectly.
When did you start
2009
Where are you based
East Kent
What sort of geographical area do you cover
Kent, London and we have had couples marry here who have been from as far as Manchester, Scotland, America, Dubai and Australia.
What were you doing before
I was an Architect.
How would you describe your style
An eclectic mix really – I am in love with old fashioned circus and was bought up driving steam engines and going to places like the Great Dorset Steam Fair – my father went around the world in the 1960's driving his steam powered lorry 'Britannia,' and then he has collected all manner of weird and wonderful things from Showman's wagons, circus wagons, fairground organs, Victorian fairground art and even a carousel. I am fortunate to have eccentric parents who have instilled in me an interest in history and an appreciation for art.
What makes you different to your competitors
I think we stand out from out competitors as we have a lot to offer here – the venue lends itself to a variety of themes from traditional, country, bohemian, rustic, shabby chic, fairground, circus, vintage and a quintessential English- ness. We have beautiful gardens full of exotic plants, as well as lakes, Juliana's Island which is fully licensed for outside ceremonies and we also have the barnyard with two gorgeous old oak barns which house the fairground organs. There is heaps of space and the amazing fully functioning Victorian Carousel and even option for a full funfair with Ferris wheel and traditional games like a coconut shy and high striker. We are also lucky in that every wedding here is different and we encourage this.
What do you enjoy most about your job
I love the creative side, and I love working with people every day face to face and I really love the actual wedding days themselves.
What sort of couple do you think you attract
Creative people who like the vibe hear. We are lucky enough that our couples are all charming and very relaxed.
What would be your ideal wedding to work on
A circus wedding!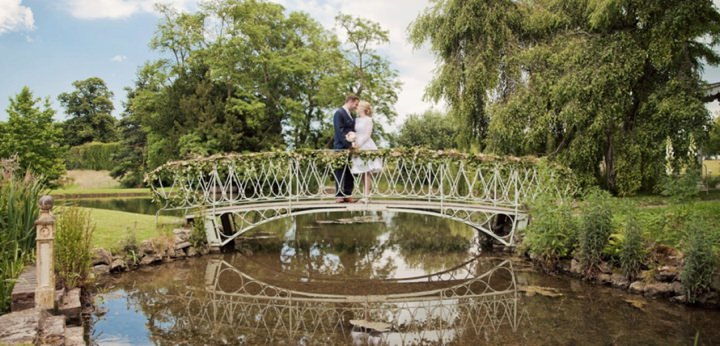 Can you give me some information on your pricing structure
Venue hire starts from £1500 plus VAT for a ceremony only and goes up to just over £10,000 for the full works and this would include exclusive hire of the entire venue including the gardens, it includes a dedicated Event Manager for the day as well as up to about 10 staff to run the bar and serve all your reception drinks all day and evening. It includes all the facilities, luxury loos, the licensed bar. Ceremony set up here and it also includes a large drinks package worth £550 and the carousel all day and evening which is worth £1500.
What is your ideal way to spend a day off
On Margate beach nearby in one of their trendy cafes eating locally caught lobster and drinking Rose
What can you never leave the house without
My dog Wilfie!
Who would be your 5 dream dinner guests dead or alive
Louis Theroux, Elvis, Jonnie Cash, Greg James from Radio 1 & Sacha Baren Cohen
What would you do if you won the lottery
Probably travel and try and somehow gives some of the lottery winnings to people who need it – start some kind of art charity to teach people in developing countries to make things
If you weren't running your business, what would you be doing
That is a tricky one – I would love to run a café or bar in Ibiza (not in San Antonio) or run a circus in fact! Like the famous Giffords Circus in Gloucestershire.
For More Information on Peacock Events and Services Ltd – Preston Court
www.prestoncourt.co.uk / 07595 190 326 / 07810 358 135 / [email protected] / @prestoncourt / I:prestoncourtweddingvenue / FACEBOOK
[jprel]