We have a real treat for you today with this super cute bohemian inspired Canadian Camp Wedding which has been sent into me by Megan from Me Creative. Sharon and Peter, decided to ignore tradition and hold their wedding across two separate days. They had their intimate ceremony at Toronto City Hall, and then held the reception 2 days later at the summer camp that Sharon attended when she was a child. This made the perfect location for their relaxed, bohemian inspired reception. With a collection of beautiful blooms across both celebrations, fab outfits, delicious desserts and some wonderful decoration. This wedding is brimming with boho goodness and personal elements from beginning to end. I Love Sharon and Peter's wedding ethos and I just know you will too.
'Amazing, hectic, beautiful, truly a day of love.  There was no reason for it to be 21 degrees and sunny at the very end of September'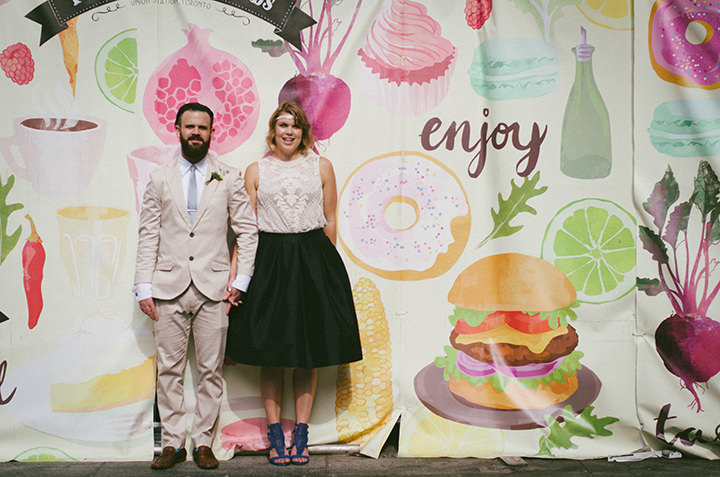 Sharon and Peter were married in Toronto City Hall the Ceremony was on Monday 24th August 2015 followed by a Muskoka reception at Camp Queen Elizabeth 26th and 27th September.  'We chose to have a small ceremony with only our dearest family and friends to honour the  intimacy of marriage. We love our city and wanted that to be reflected on our wedding day. Our photographer captured photos of us celebrating with our loved ones all around downtown Toronto.
The reception was held at the summer camp I attended as a child and is one of my favourite places on earth. I couldn't wait to share it with peter, and after visiting the camp for the first time, he knew it was the perfect place to celebrate our marriage. CQE is situated on an island with boat only access which lent a destination feel only a few hours away from the city, and with cabins for our guests, a beautiful, rustic dining hall and incredible views of Georgian bay, the venue choice was made easy. We had 34 guests to the ceremony and 80 to the reception. It took about 8 months to plan our events, with a little extra effort the 2 months leading up to the big day(s)'
How they met
We met at a restaurant downtown where we both worked (Savoy Bistro), I came in to work as a waiter, Sharon worked in the kitchen. Of course I noticed her right away but it took a while and a random encounter for us to start dating. There were always sparks though. We had been living together for 4/5 years before the proposal.
The Proposal
I had the ring for almost a month and was planning on giving it to her on a weekend where we had Arcade Fire tickets and a hotel room booked, but I couldn't wait. The Wednesday before the concert I put the ring box around the neck of our puppy Lemon.  When Sharon came home from work, Lemon ran downstairs with the ring to greet her and I dropped to both knees (whoops).  There was some crying and face licking, the yes was implied.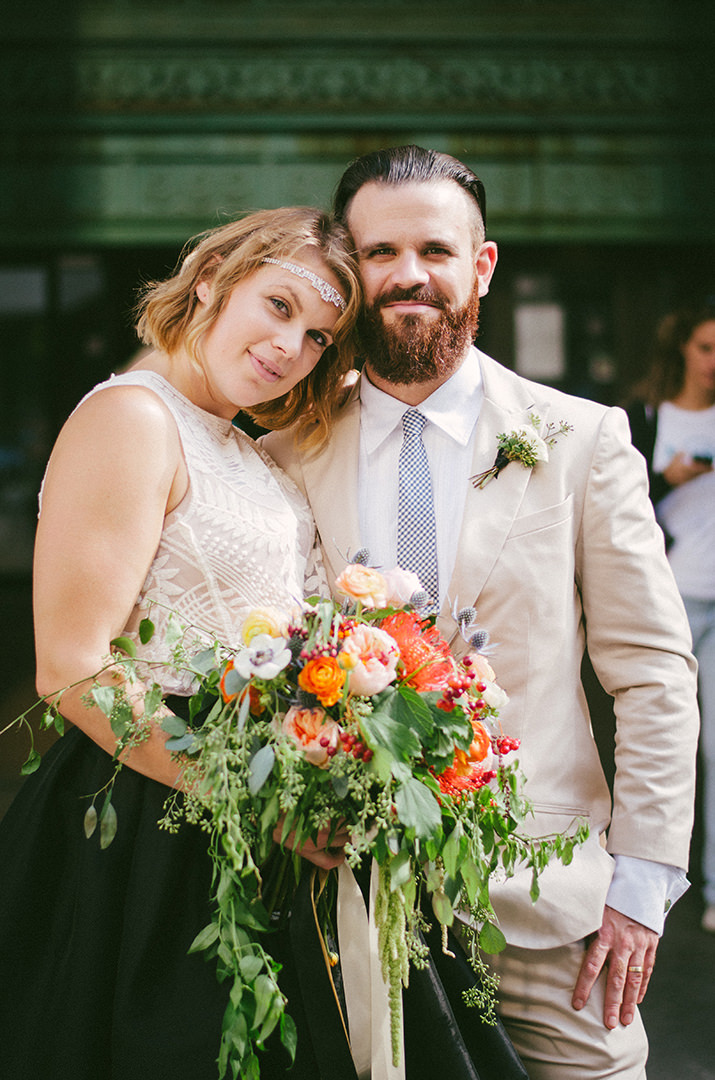 How did you allocate your budget
Our priorities lay in creating a unique and memorable event, starting from the venue out.   We chose to forgo the fancy clothing and formal service of a traditional wedding, saving a huge chunk of cash immediately.  We splurged on food, flowers, photography, and bringing a vinyl only DJ to an island.  We saved a ton of money through our friends in the food and beverage industry, including Sharon baking her own cake and desserts, and Pete having his suit donated by a local designer as a wedding gift.  We were able to provide 5 star food and beverage for 3 star prices, and the music went from 4pm to 4am, sorry residents of Honey Harbour.
How did you choose your photographer
I was a bridesmaid in a wedding in 2014 and Megan was the photographer.  She made me feel so comfortable during shooting and the finished product was outstanding, I knew that we needed to book her for our wedding!
Megan was able to lend her style and capture the aesthetic of both our events perfectly, from the hip urban setting of our downtown wedding, to the ultra-hip bohemian escape of Beausoliel Island.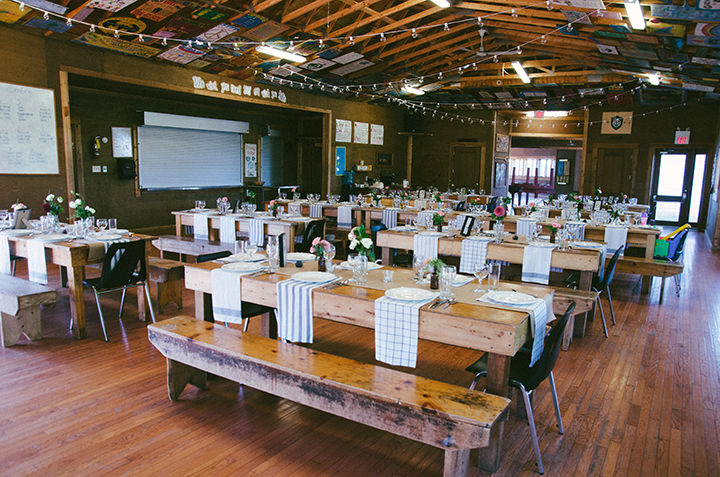 The Dress
My entire outfit for city hall wedding was from Zumel on Queen St West in Toronto, ON.  For Camp I combined a top from The Store On Queen in Toronto (TSOQ) and bottom from Original.
The Suit and Bridesmaids
Pete's suit was provided by Bustle Clothing and Tailored by Antinio Tailor Shop in Yorkville, for camp he combined a Ben Sherman vest with an outfit from Frank and Oak, and Fred Perry Topsiders.
For City Hall the bridesmaids were given a colour scheme and chose their own dresses, groomsmen wore grey suits.  On the island we simply told people to dress 'yacht club chic', and amazingly that worked.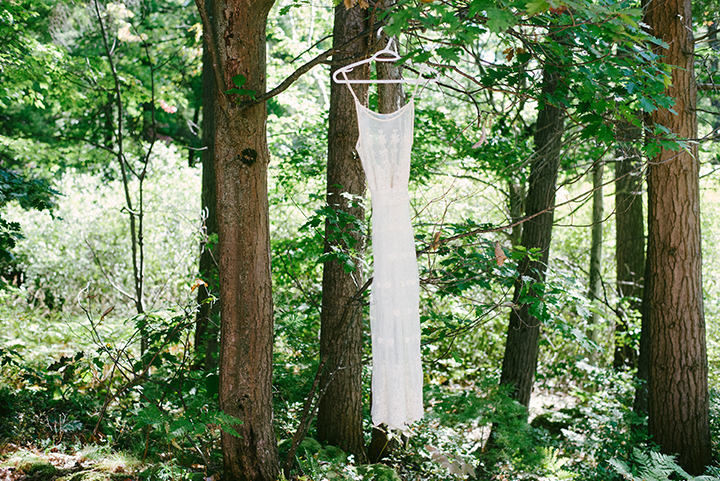 Flowers
City hall bouquets and boutonnieres were created by Botany Floral studio using echiverea succulents, black and white anemones, pincushion proteas, viburnum berries, ranunculus, David Austin Juliet roses, seeded eucalyptus and lots of trailing vines
Camp florals were also provided by Botany. They provided  loose florals  which included Deep red heart roses, David Austin Juliet's, ivory spray roses, ranunculus, and queen Proteas. I used these flowers to decorate our wedding cake and create a loose, cascading bouquet for myself. Pink Twig provided cut flowers including roses, seeded eucalyptus, freesia, dahlias, ranunculus and purple veronica which my bridesmaids and some of their significant others help me to arrange in bud vases, creating a just-picked-from-the-garden look.
Decoration
City hall bouquets doubled as centerpieces on the bar and in the restrooms, we had a giant helium balloon and floral garland marking the venue from the sidewalk. My Bridesmaid Stephanie decorated the tables simply with bold striped napkins and gold chargers. Camp wedding: The dining hall is the most perfect place-views perfectly capturing Georgian bay and its sunset, the room didn't need much. We painted  pots to hold succulents hanging with macramé, created a wall hanging with lace and satin ribbon and used small bud vases to hold loosely gathers flowers. Our wedding party really made all of this happen and with help from the camp staff, the room was a perfect representation of my boho vision. They all made our wedding dreams come true.
Food
City Hall afterparty was held at Drift Bar and Kitchen on Bloor St. West, Toronto.  They are closed on Mondays and thus were able to offer us their whole space.  Flawless 3 course prix fixe followed by enough celebrating to almost miss an afternoon flight to NYC.  Special thanks to owner Damian Gaughan and Chef Adam Fowler.
Camp was a whole pig roast and bbq catered by Chef Deron Engbers and Tawfik Sheehata.  In addition to the beast, we had beef short rib sausages, charred rapini, mac 'n' cheese, potato salad, oysters and charcuterie, and a late night nacho station.
Since I (Sharon) am a pastry chef, I made our wedding cake plus desserts for the camp wedding (so many pies!).  This saved us tons of $$ and allowed us to have a completely custom cake decorated exactly to our taste.
Entertainment
For a discounted rate, including a ticket to the party, our friend Brett Milleus was able to transport his record collection to the island, along with all the necessary equipment.  Music started at 4, and we weren't around for the end but he definitely put in some serious overtime!  Thanks Brett!
The Stationery
We used paperless post to design a custom e-vite
Personal or Handmade Touches
I feel like almost everything about the wedding had a personal touch.  We didn't want a traditional wedding, so the ceremony was tiny, and we didn't bother with speeches or bouquet-toss type events at our reception.  It was about great food and close family and friends.
Special Moments
Sharon was so happy and beautiful!  There wasn't the same pressure that goes into a massive wedding so we were able to relax and enjoy ourselves.  Our dog Lemon was there on the Island, that's pretty special.  We got the entire party into a war canoe for a photo session on Georgian Bay.  The 'first dance' was completely impromptu, although Sharon always knew it was going to be The Misfits.
At City Hall it was great to hear my Grandparents talk about how much the city has changed, they both grew up in Parkdale (Toronto) when it was still a village, and hadn't driven across Bloor street in at least 15 years
Advice to other couples
There will be a lot of work to do beforehand and some afterward too.  You will spend more than your budget.  You will find out that the day isn't all about you. You will question the nature of the event and society in general.  You will want to elope.  It will all be worth it.
On the day of:  Delegate where possible, people want to help.
Biggest surprise
All of the compliments about all of the things, from people of all walks and all ages.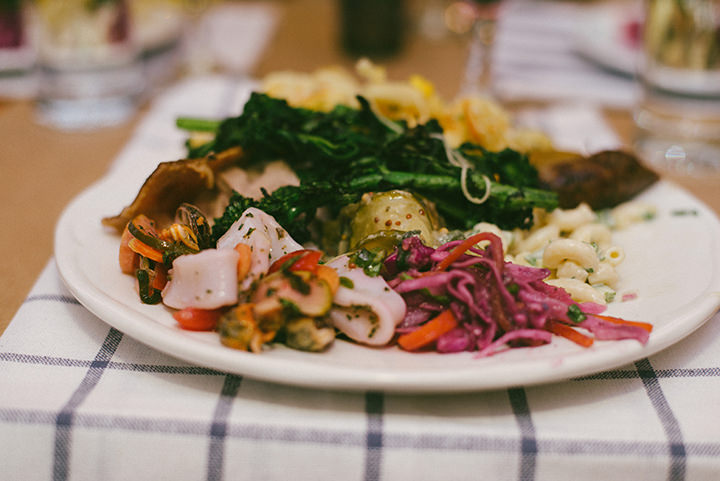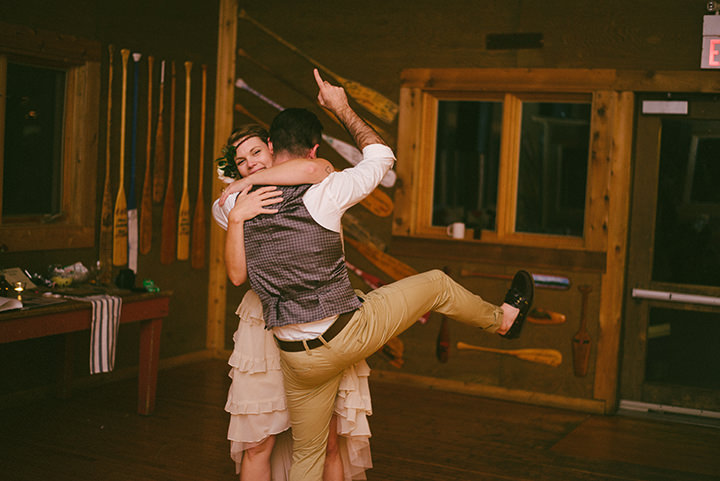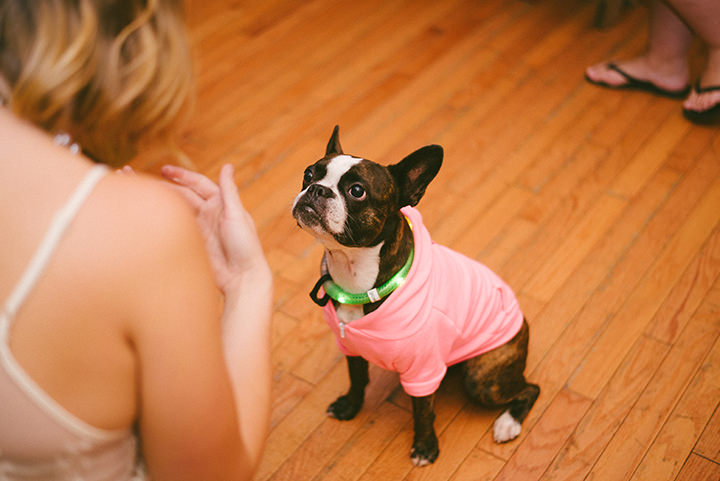 Supplier Shout Outs
For more information on Megan's work please go to:
www.mecreative.ca / www.mecreative.ca/contact / I:mewingcreative / PINTEREST / FACEBOOK / @mewingcreative