Happy Friday everyone, I hope you are looking forward to the weekend ahead of us? I have a wonderful destination wedding for you to end the week, an Austrian Wedding full of beautiful scenery and lots of smiles. Chrisi and Danny chose a beautiful outdoor ceremony with an elegant reception and amazing food. They embraced the Austrian tradition of 'wedding games' and had lots of fun activities for the guests to watch and take part in, including a gorgeous balloon release. A fab day filled with lots of sun, laughter and love. Big thanks to Annie Lovett Photography for the images.
'The perfect four day summer weekend getaway with all of our friends and family. Beautiful surroundings, lots of amazing food and drink, sunshine, fun, one heck of a party and a pool filled with blow up animals'
Chrisi and Danny were married on 29th August 2015 at Hotel Eisenberg, St. Martin and der Raab, Austria. 'My (the bride's) family has been going on holiday in the area for the past 15 years. We absolutely love it – lush forests, rolling hills, beautiful vineyards, good food and wine and a climate that is closer to somewhere in Tuscany than Austria. We really wanted to share this beautiful corner of the country with our guests so it was just the case of finding the perfect venue in the area. The moment we stepped foot into the hotel I knew it was the right place – the location is stunning, the staff were so friendly and accommodating and no request or idea was beyond them. And the food….oh the food! That was a major point for us. We had a total of 110 guests and planning took about a year and a half – but we took it super casually. Once we had found the venue we did not lift another finger for about 6 months.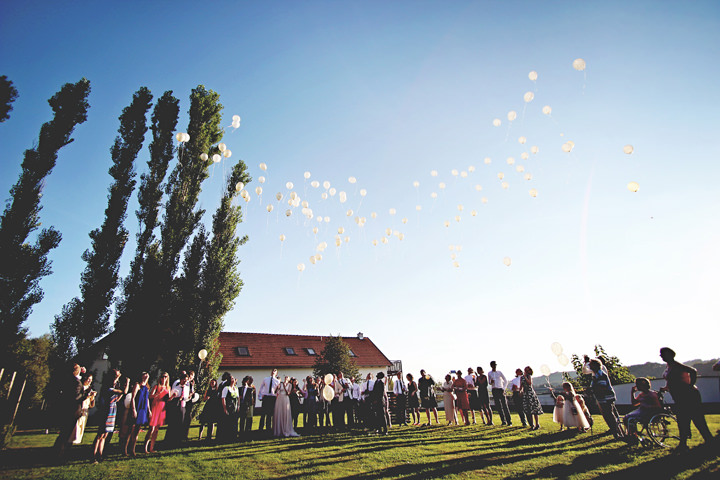 How they met
We met each other in my final year at University – and pretty much exactly seven years ago to the date we started going out.
The Proposal
It was our five year anniversary and we had a relaxed dinner at home planned, nothing too fancy. In the morning though my phone rang and it was my good friend Helen – telling me that her boyfriend had proposed to her the day before! I was so excited for them and could not stop talking about it all day. I even made a little joke about it to Danny asking him with a wink when it would be our turn….little did I know. Danny in the meantime was in panic mode for the entire day – should he stick to the plan or abandon and wait for a couple of weeks until the excitement about someone else's wedding had subsided?! So to cut to the point – he stuck to the plan and just after dessert went down on one knee and asked me if I wanted to marry him. And of course I did…
All the stress was worth it in the end and our little proposal story even ended up being a hilarious anecdote for Danny's speech during the wedding.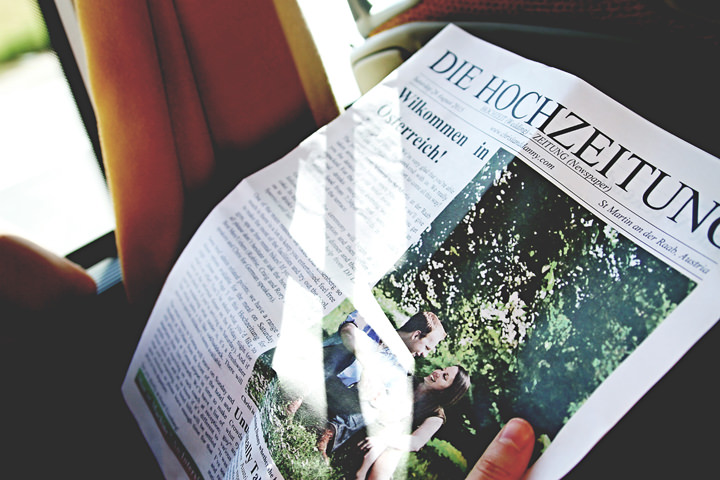 How did you allocate your budget
When we got serious about planning we prepared a budget with all of our items – from invites over to afternoon snacks, everything went on there and we would really encourage anyone planning a wedding in doing so. The little things you may forget about of the top of your head (stamps for invites!!) do add up so it is good to be aware. Our top priority was for our friends to have a good time – so food and drink certainly ended up being our biggest expense, and it was worth every penny!
Where did you splurge and where did you save
We were lucky that the hotel did not charge any venue hire. We had the entire hotel fully booked for four days which gave us quite a bit of bargaining power. While we did not save on the quantity of drinks we negotiated to bring our own wine which made quite a difference!
One area where I feel you can spend a LOT of money on but we did not was 'design' of stationary. We wanted something quite specific for our invites – and a friend of a friend ended up designing our amazing wedding infographic invites for us in return for a donation to charity. We also love etsy – and found someone to do seating plan and table names for a bargain price. We got everything printed via printed.com which was amazing value for money.
Where we did not save was food – we wanted everyone to sample what this corner of Austria has to offer, and it offers a lot! It really could not have been any better.
We also ended up splurging a bit on some technically 'non essential' items. Not so much in money terms but certainly time wise. For example we designed and printed a wedding newspaper, had Austria themed snack bags for the transport from the airport to the hotel, pictures of each individual guest as place cards and of course there were the blow up animals for the pool.
How did you choose your photographer
Annie has been a good friend of mine for many years now. I remembered the first pictures she took of a wedding and thinking that they were just amazing. And from then on she has just gotten better and better – her pictures capture everything so perfectly and naturally. I always knew if and when I was getting married that Annie would have to be our photographer – and luckily when I asked her she said yes!
We did not know what we wanted or what to expect from our own wedding pictures but the quality and detail of them really blew us away. We got our 'sneak preview' pictures a few days after the wedding and remember thinking that if those were the best pictures of the lot, we would be super happy. Needless to say, the rest of our pictures were even better.

The Dress
The dress was the Tamsin gown by Catherine Deane. The beautiful angel skin coral earrings were by Elisabeth Krainer jewellery. My headpiece was custom made by Gillian Million designs. The shoes were from Hobbs
The Suit and Bridesmaids
The suit – A suit that fits. Bridesmaids dresses were from Hobbs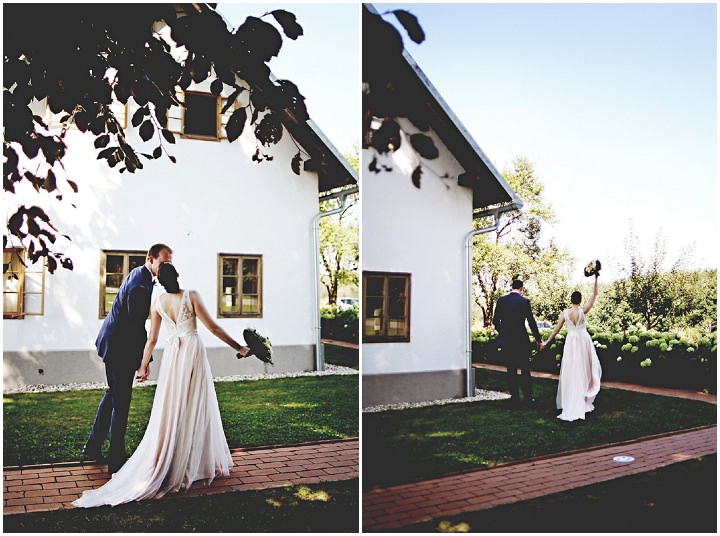 Theme or Colour Scheme
We just picked things we liked, not because the colours matched. As it turns out there was a bit of a blue theme with our flowers containing larkspur and bridesmaids dressed being the same colour but that was purely a coincidence!
Flowers
They were quite natural which pale pink roses and other wildflowers. The dominating flower was beautiful blue Larkspur.
Food
Friday night there was an Austrian themed buffet – think Schnitzel – and lots of it!
Saturday after the ceremony the hotel prepared some canapes with regional focus – and then of course there was the cake! Saturday evening we had a big sit down dinner – with various food choices we had carefully selected over quite a number of tasting dinners (YUM!)
Starter: Selection of smoked fish with salmon tartar and creamed horseradish, Smoked Barbary duck breast with chanterelle mushroom tartar. Deep fried goats cheese on a bed of mixed leaves.
Main: 'Volcano' ham stuffed chicken breast with potato-horseradish mash and vegetable selection, Roast veal with thyme jus, potato gratin and Italian vegetable selection, Zander in potato crust on courgette-pumpkin vegetables, Feta-spinach and cabbage-potato strudel with sour cream dip
Dessert: Light and dark mousse au chocolat, Semi-frozen tiramisu and panna cotta, Exotic fruit salad with mango sorbet
Wedding Cake
More like – wedding cakes! A local patisserie prepared a selection of mini cakes for us with one larger cake for us to cut. The flavours were chocolate praline, raspberry cream, blueberry yogurt and mango. They were all delicious! (On a very practical note – mini cakes are so much easier to distribute than cake slices from one large cake)
Entertainment
In the afternoon – there is an Austrian tradition of 'wedding games' – anything that is a little bit embarrassing for the bride and the groom but very entertaining for people watching. For example, my husband and I ended up having to saw through a big wooden log, do a quiz about how well we know each other or cut a giant sheet into heart shape with tiny cosmetic scissors. As a surprise my family had organised helium balloons which was really fun and made for awesome pictures…
In the evening after dinner a friend DJ'ed – it was amazing. Think of the cheesiest music you can imagine for 5 hours and a dancefloor full of people signing along to the likes of 'Living on a prayer' or 'Final countdown'.
The Stationery
Invite design was done by a very talented friend of a friend (his name is Rob Lock , table plan and table numbers we found on etsy – all printed via www.printed.com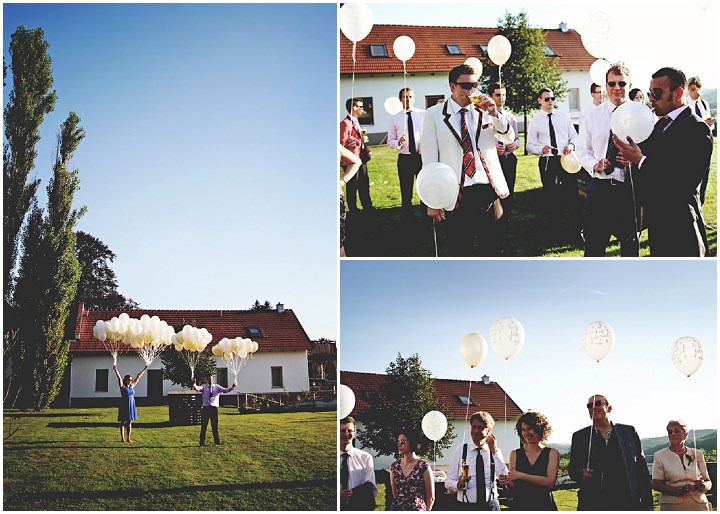 Personal or Handmade Touches
Oh so many. It was worth the effort though…
We had a wedding newspaper called 'The Hochzeitung' (Wedding=Hochzeit, Newspaper = Zeitung) which took a while to put together but it was so much fun.
We also had pictures of guests instead on place cards – it looked awesome but be aware! It takes forever (how do you get a picture of your friends new girlfriend without looking creepy?!)
My parents also did some amazing decoration for the ceremony – the ceremony was next to a huge oak tree – so to decorate the aisle outdoors they got small seedlings of the same tree and decorated them with ribbons to line the aisle. It was beautiful (and a surprise!)
We also had our own vows which was very special. That was my our favourite part of the ceremony.
Special Moments
The bus with people arriving from the airport –all of our close friends and family together just for us! It felt like I was hugging people for hours.
My good friends Sarah and Bethany singing a special cover of 'where ever you will go' when I was walking down the aisle.
Our personal vows to each other during the ceremony.
The wedding games in the afternoon – we had to laugh so much.
Taking 15 minutes just for ourselves as the sun was setting to take a little stroll as Mrs&Mr.
My husband surprising me with a speech in German he practised for weeks during dinner.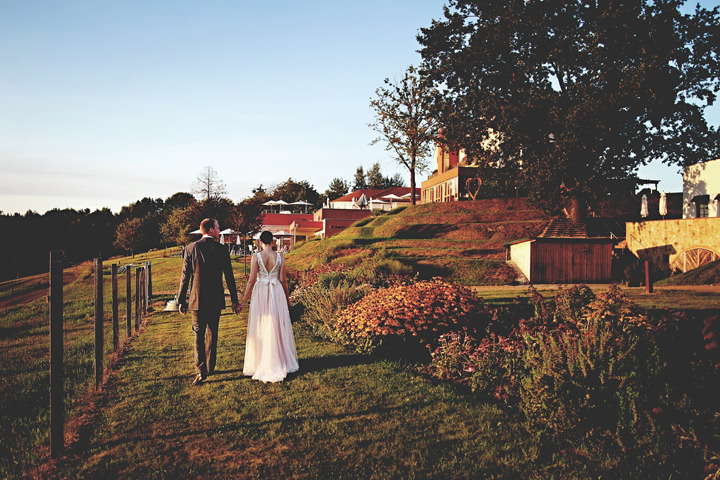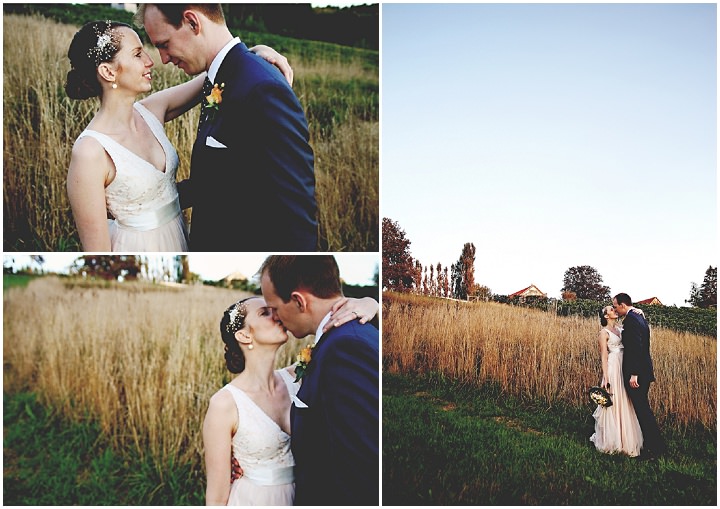 Advice to other couples
Getting married is such a personal thing – what worked for us wont work for others, but here are 2 tips that a good friend of mine who got married a year earlier told us and which turned out to be amazing advice:
Don't let others expectations guide your planning. It is such a crazy day and you will likely end up being pulled in all directions – make sure you spend some time together just the two of you. After the ceremony we hid in our honeymoon suite for 10 minutes just to calm down and appreciate what just happened! We also went for a little walk in the afternoon after the cake and during sunset – it was really lovely….
Don't stress about "giving enough time to everyone". You can't talk to everyone all the time and as long as you are having fun – everyone else will too!
Biggest surprise
My husband's speed during dinner which was in fluent German (he does not speak German). He had practiced in secret for weeks and had me in tears…it was beautiful!
Supplier Shout Outs
For more information on Annie's work please go to:
www.annielovettphotography.com / [email protected] / FACEBOOK / 07739025486.