This afternoon on the blog we have the most gorgeous shoot to share with you all courtesy of Papertini, Asya Photography and a wonderful team of wedding suppliers. This beautiful Art Nouveau Wedding Inspiration is full of beautiful styling details, as well as a beautiful spring theme.  With a pretty colour palette, the most delightful wedding details and stunning photography this shoot is just perfect to inspire you for any spring wedding.
Inspired by Alphonse Mucha's "The Seasons". The overall styling of the shoot closely follows the "Mucha Style" which eventually became known as "Art Nouveau" with a whimsical and modern twist.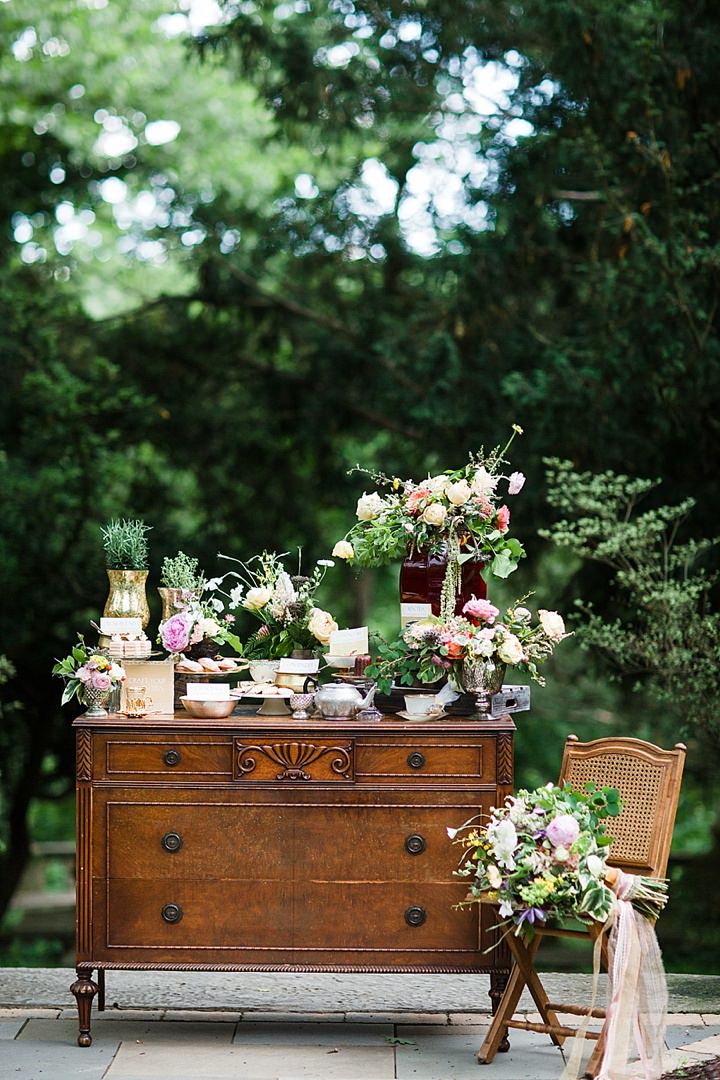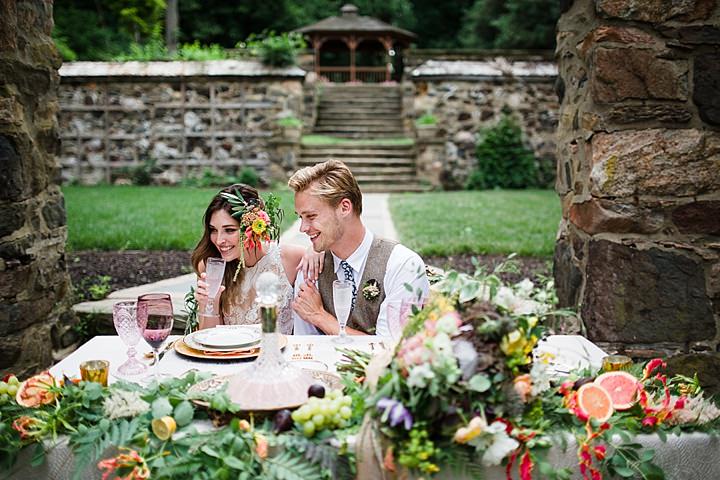 The shoot took place at Ridley Creek State Park, Media, Pennsylvania, USA. 'Magical and oh-so-worth-it! The day started with heavy pouring rain and we were worried that we might have to move the shoot date! The universe did worked with us though and blessed us with a perfect cloudy sky that worked really well for Asya to capture all the gorgeousness!'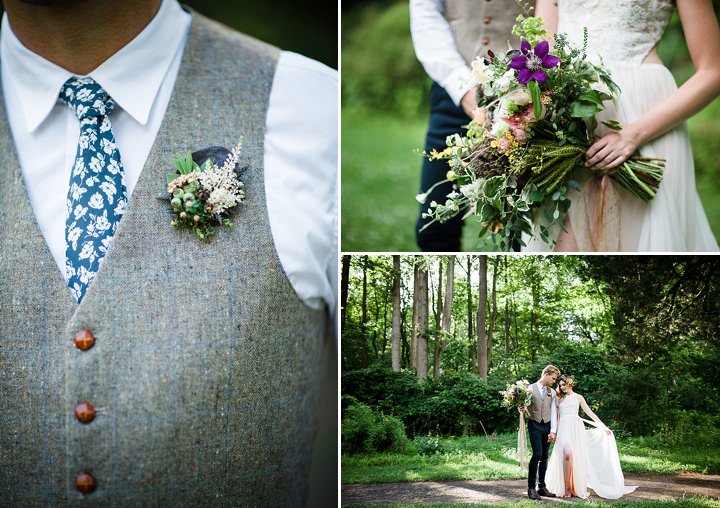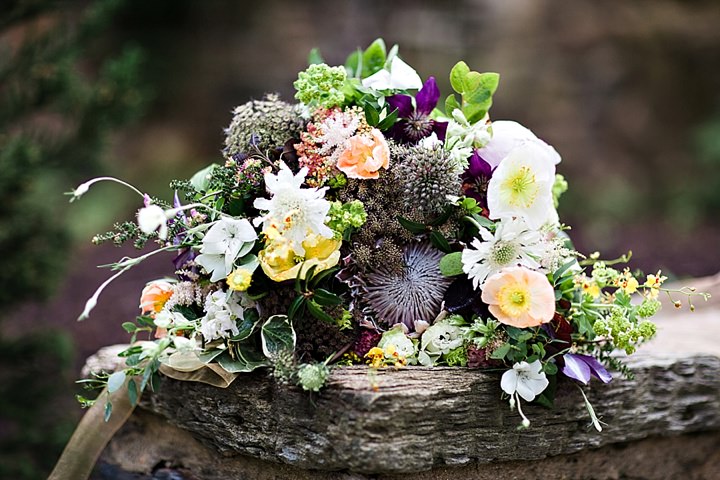 Every year we always collaborate on a couple of styled shoots with our fellow vendors to keep our creative mind going and have the opportunity to introduce new ideas to our couples. Karena, one of our talented designers, spearheaded the project and we've decided to use Alphonse Mucha's "The Seasons" as the source of inspiration. It is quite fascinating to learn that there was barely any Mucha's inspired event projects out there yet his works are definitely one of the most recognizable! We took this as an opportunity to highlight this amazing artist by translating his work into our kind of art!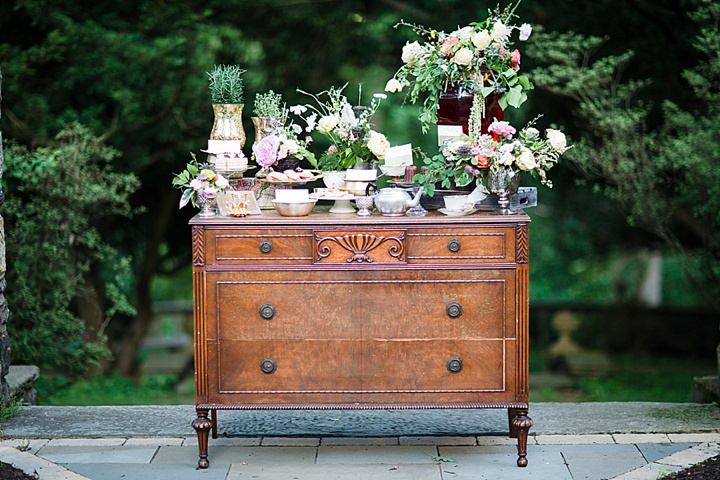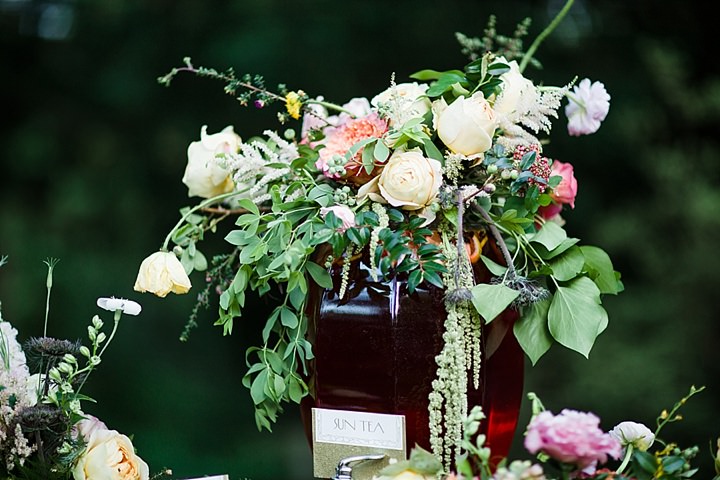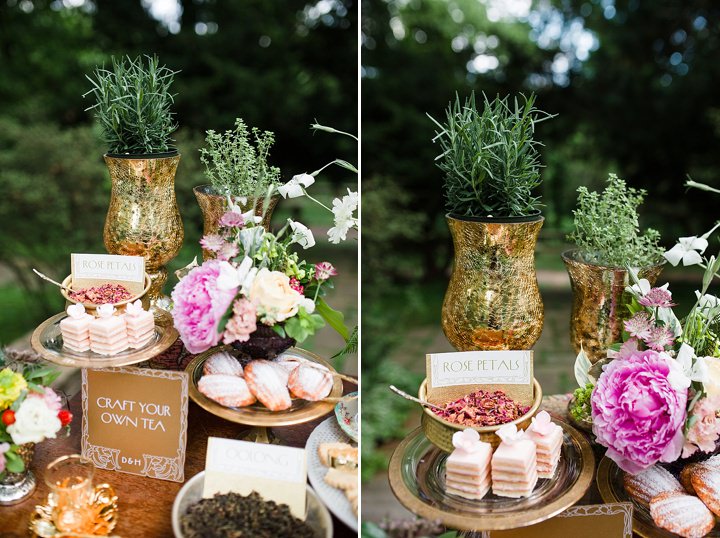 The inspiration behind our shoot is Alphonse Mucha's "The Seasons". Drawing from the colors, style, and the essence of "Spring," we created a color palette that is a rich mix of greens, ochres (yellows/oranges/reds/browns with hints of purple), peach and pinks. The overall styling of the shoot closely follows the "Mucha Style" (which eventually became known as "Art Nouveau") with a whimsical and modern twist.
We chose the beautiful outdoors alongside Hunting Hill Mansion at Ridley Creek State Park as the setting for our styled shoot. This beautiful, historic mansion is surrounded by stone walls, gardens framed by ancient cedar trees, and fountains neighboring the beautiful woods. Simply a perfect canvas for our work!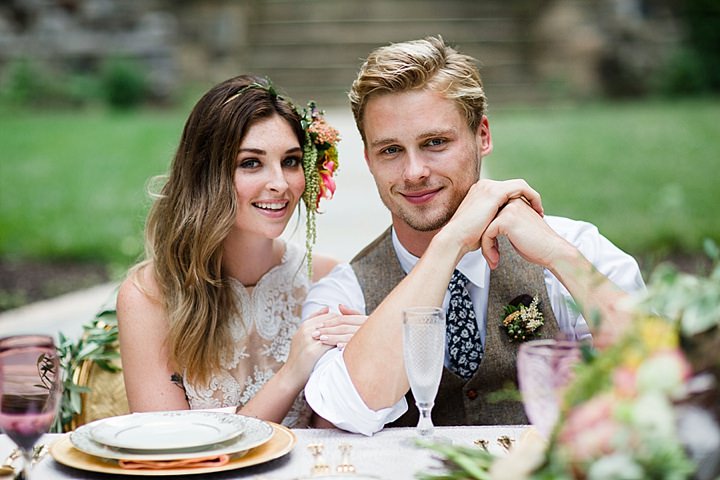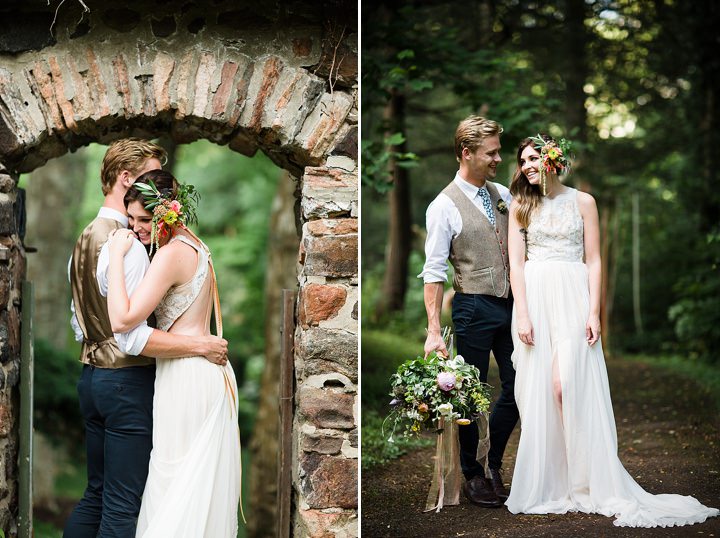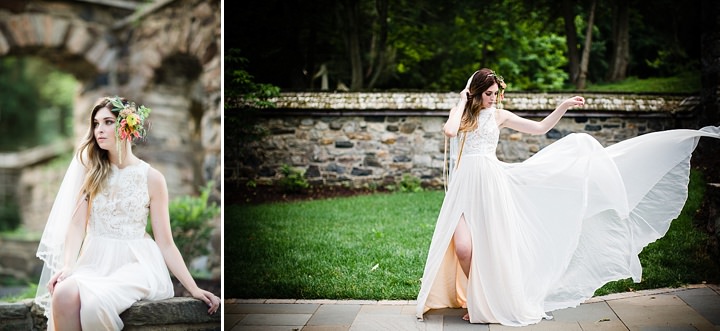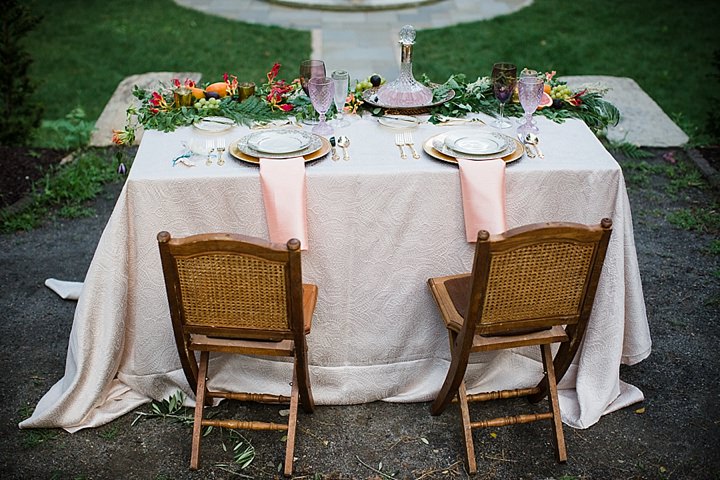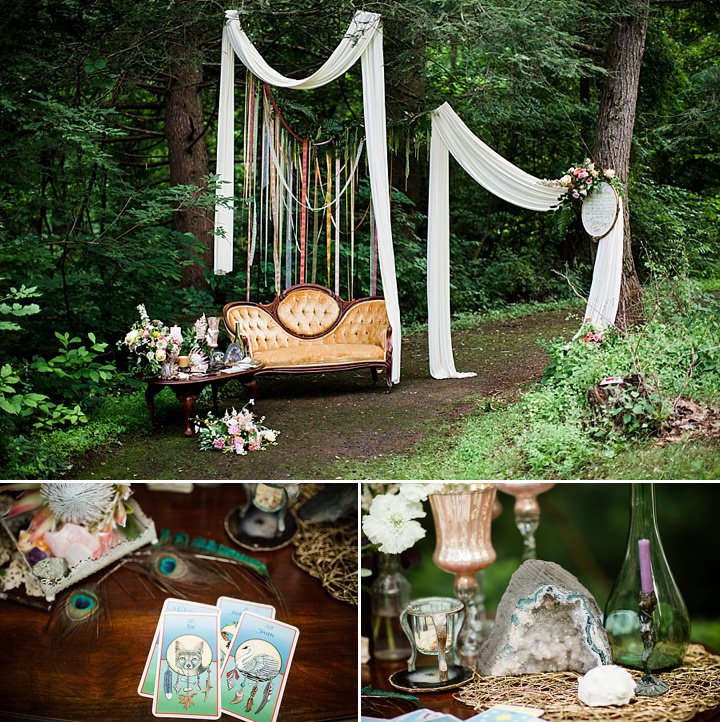 We wanted to introduce the concept of Tea Bar instead of the more ubiquitous Espresso Bar or Dessert Display. We always think that the high tea is such a fun custom and thought this would be a great fit for our Mucha inspired concept. The Craft Your Own Tea & Pastry Bar features loose teas paired with hand crafted mini desserts created by the ever talented Chef Van of Van Earl's Cakes. Chilled suntea is also on tap, a refreshing blend of hibiscus, peppermint, apple, lemon, and cherry bark.
We also wanted to introduce the concept of alone time for the couple. Thought it would be lovely for the two lovebirds to have a quick hide away after saying "I do!". We accomplished this by creating a romantic, mystical garden lounge set.
The garden lounge is a sacred outdoor space that invites magic and wonder. It's a place to connect, escape from the crowd, and steal some time together – or forget about time altogether. Mystical elements such as tarot and animal medicine cards, crystals, and feathers create an ethereal and magical atmosphere. A vintage love seat sets an intimate mood for the couple to lounge in the midst of a grove of trees accentuated with draped fabric and ribbons.
In reality, we recommend that this type of lounge setup for either Photo Opportunity spot (in lieu of a typical Photo Booth backdrop) or part of your cocktail hour setup. The draping can also be used as whimsical ceremony backdrop.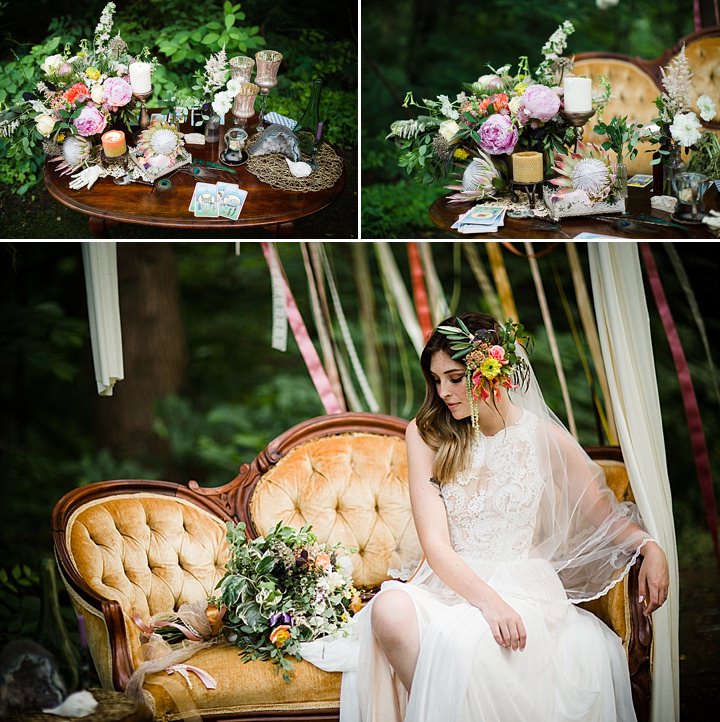 The Suppliers who made the shoot possible