When the new year arrives so do all the new trends for the up coming wedding season.  There are so many exciting and new ideas for 2016 and beyond. We thought it would be a good time to share some amazing new hair trends, I am absolutely loving all the new styles at the moment. Loose curls, messy updo's paired with some gorgeous Boho Crowns. Today Camilla Collins shares with us some beautiful hair trends, I hope you find them useful.
Last year's catwalks saw the projections for Spring/Summer Wedding Trends but with the New Year buzz of tweeting, pinning and sharing, it's clear to see that we definitely have some new trends for wedding hair and makeup this year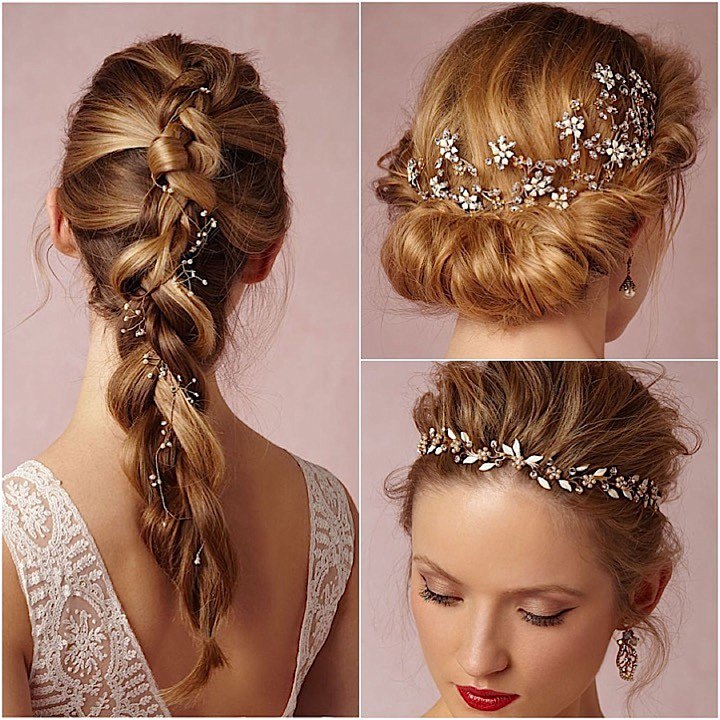 Unlike a lot of the UK population, I love this time of year. The start of the year is my favourite time, it's when the internet comes alive with newly engaged couples and excited brides-to-be planning away for their big day in 2016!
Brown lipstick is back… and that includes nudes too! Makeup this year will be taking on an all natural, "english rose" feel.  With the newly publicised strobing technique, it's all about bright, glowing skin and rosy cheeks. Earthy tones and warm metallics will be favoured over silvers and greys around the eyes and this will create a soft, natural look with subtly contoured eyes.
Centre partings were prevalent on the catwalks for spring summer brides and while last year saw them teamed with sleek, straight hair, this year it's all about texture.  From soft beach waves, to blown out curls, a bit of added texture can make the style look much less girly and more boho chic.
Braids are big news this year!  They have become an increasingly popular choice for bride's and their bridesmaids over the years but the boho feel of soft waves and whimsical braids accessorised with fresh flowers is a big trend for 2016.  More structured hairstyles will be taking a back seat allowing a more deconstructed and romantic look to take centre stage.
Image from Bespoke Photography
Big hair is another trend that's crept it's way back and one that I am super pleased about.  Voluminous hair can make a really bold statement and create a striking look but with a bit of added texture it can look sassy and even rather romantic.  The main concern for brides is that their hair will drop, but with a good stylist and some clever products and techniques, your style should last well into the night.
Despite all this focus on big, textured hair, there is certainty a place for some sleeker and more classic styles.  The classic chignon is a hairstyle that'll never go out of fashion!  Ballerina buns and sleek chignons were also featured on the catwalks adorned with big hair accessories of pearls or crystals.  In the same way that if you "play up" your eyes, you would "play down" your lips with makeup, when it comes to your hair, team a simple sleep chignon with a statement hair piece to really make it stand out!
Image Source and Image Source Left / Image Source Right
Fresh flowers are a beautiful addition to any hairstyle, wether it's a statement Orchid tucked into your neat chignon or some pretty Gypsohilia weaved through your braid – the addition (and careful placement) of flowers can add something to every hairstyle.  Flower garlands have become an increasingly popular choice for bridesmaids and I think we will be seeing a lot more of them in 2016.

For bride's with fine hair, braids can sometimes look quite severe and appear rather flat so the trick here is to add some textures.  Play around with different types of braids to make the style more interesting and look denser and leave some strands and wisps of hair falling down and framing the face to soften the look.

For More Information about Camilla Collins

www.camillajcollins.com / www.makeupartist.london / [email protected] / [email protected] / Studio: 020 8346 1491 / Mobile: 07807077982 / FACEBOOK / @CamillaJCollins

[jprel]