It's Friday…yay!! I hope you have all had a good week and are now ready for the weekend ahead of us, I can't wait! To finish of the week in style I have this super stylish and modern London wedding for you, courtesy of Chris Blackledge Photography. The wedding takes place at The Devonshire Terrace, which is a fabulous venue, that takes in the London sky line along with its own modern venue space. The wedding mixes in beautiful blooms in coral and peach which work so well against the stylish backdrop. A beautiful wedding I'm sure you will agree. Happy Friday everyone!
'Quite simply the most incredible day of our lives. Everything went perfectly and our only regret is that we can't do it all over again'
Sarah and Ben were married on 16th August 2015 at The Devonshire Terrace, City of London. We decided to look at Central London venues given the fact we met and worked there, as we felt it provided a bit more of a story rather than going for something we considered to be a bit generic. We had an idea as to the type of venue we wanted, and wanted to combine and an iconic London venue for the ceremony with a more relaxed setting for the reception. Sarah had found Devonshire Terrace online which looked interesting but felt like a shot in the dark. We first visited on a Thursday night and it was quite busy with people satisfying their Thursday thirst. Our first impression was obscured by the crowds of people and it felt like a normal London Bar. We met with the organiser and she showed us some pictures of the place when it's done up for a wedding. This included the outside, almost cathedral like setting for the ceremony and the Devonshire Terrace Bar for the reception. It looked amazing and we left surprised with how much we liked it given our initial impression. A few weeks later my Parents took us out for a meal to celebrate our engagement. We told them about the venue and we suggested that we all head over to have a look. During the day the place shone. It was 10 minutes away from where we met; it has an iconic view of the city skyline; an amazing cathedral like setting for the ceremony; roof covering so weather would not be an issue; self contained so no need for transfers – literally a tipsy stroll from ceremony to reception to dinner to dancefloor(!); a fantastically intimate, modern and atmospheric restaurant area for the reception; and a great space for a party! So we decided to book it and it delivered on every score! We had 90 guests for the day and 30 guests for the evening. We had 10 month to plan it, but we took a couple of month off after we had the most important pints ticked off our list such as venue, band and dress'
How they met
Just over four years we met at an advertising agency for which we both worked based in East London. Little did we know that 'after work drinks' would lead to us tying the knot.
The Proposal
On a beautifully sunny autumn day at the Holbeck Ghyll, a stunning country manor overlooking lake windermere in the lake district. Apart from the wedding itself one of the most perfect days. As you would expect a calamity of nerves and fumbled lines but she said yes…and many bottles of sparkly perished as a result!
How did you allocate your budget
We spent a lot on the free bar and the catering to make sure everyone would have a great time. We tried to spend as little as we could on things that we didn't feel were that important. We highly underestimated how much we would actually have to spend on the Flowers. We didn't feel we needed too many flowers, so we compromised on having single stems flowers on the tables and smaller bridesmaids bouquets which saved a little bit, but to have nice flowers you do have to invest. In the end we were pretty much on budget and had a bit extra to spend on a few extra bits and pieces like a bathroom basket for the ladies filled with all the essentials and on the gifts for the bridesmaids and grooms men.
Where did you splurge and where did you save
The biggest part of the budget went to the venue and catering. We researched a lot to get the best prices for all other things on the list and we saved a lot on decoration and invites as I made a lot myself. Luckily a friend is a great make up artist and did mine and the bridesmaids make up and hair as a gift. Etsy, Ebay and Pinterest were absolutely brilliant for ideas and reasonable priced gifts and decoration.
How did you choose your photographer
Chris had done our friends wedding pictures just a few month before we got engage and we absolutely loved the natural style of their pics. He was brilliant on the day, very unobtrusive and just a lovely chap.
The Dress
The dress was a Persiphone Gown by Wtoo. I was wearing beautiful gold Jimmy Choos which were a wedding gift from my husband. My Earrings and bracelet were by Cadenzza and the sash and hair clip were created for me by Donna Crain.
The Suit and Bridesmaids
The suit for the groom and groomsmen was by Ted Baker, we decided for the groom to wear the jacket and the grooms men just the waistcoats. This differentiated them and saved us quite a bit of money. The bridesmaids dresses are form Davids bridal, they have an amazing selection of different dresses in all colours. We were able to chose different dresses which suited each individual bridesmaid in the colour combination we wanted. I didn't want to go for one type of dress and only one colour, but instead for dresses and colours which complemented each other and the colour scheme.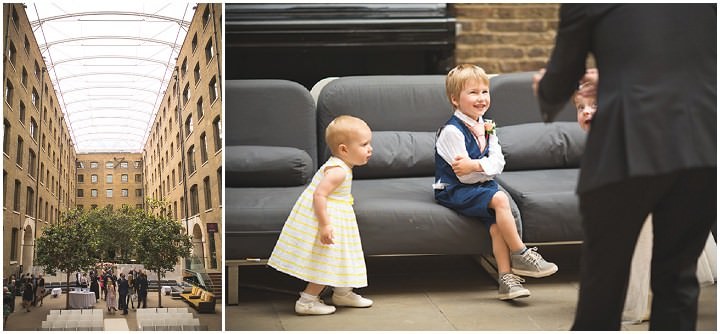 Theme or Colour Scheme
We wanted to have a 'city stylish' and relaxed wedding day, as it was August I wanted to have summer colours. We chose peach, coral with cream and gold which were carried through from the flowers to the cake, decoration and bridesmaids dresses. The groom and groomsmen also had accents of the main colour scheme i.e hankerchief, ties and buttonholes.
Flowers
We had seasonal wild style flowers such as spray roses, peonies and dahlias in coral, peach and an accent of pink. The bridesmaids had a small bouquet of 3 David Austin roses and foliage.
Decoration
We kept it quite low key and intimate with fairy lights and a lot of candles on the tables and around the venue. We placed large round mirror plates on the tables along with large pillar candles and small tea lights which reflected the lights really nicely. 3 small vases with single stem flowers and large gold wooden numbers were also placed on the table. The venue didn't need very much decoration to look amazing, so the only additional light arrangement we got was 2 large light up letters in our initials which looked great during the ceremony and on the dance floor later.
Food
The guests had a choice between a 'Roasted butternut & thyme tartlet' and 'Suffolk smoked ham hock terrine & horseradish potato tian' for the starter and 'Oven baked Scottish salmon fillet with a basil & lemon crust' and 'Oven roasted corn-fed chicken breast & crispy lardons' for the main. We cut the cake between the main and dessert and served it as dessert along with summer fruits and cream. I always feel that a lot of cake is wasted if you cut it too late in the evening and this way even saved us money in providing only a 2 course meal instead of 3 courses.
Wedding Cake
The wedding cake was made by a friend at Cinnamon Cake Company. As this was going to be our dessert for the meal, we decided on a lemon cake which went very well with the rest of the menu and was not too heavy. The icing was in a coral ombré look which we saw on Pinterest.
Entertainment
We booked the Teenage Kicks, a 3-piece wedding, party and function band based in Brighton. They were absolutely brilliant, from the first song they played the dance floor was packed. It's always a risk when you can't see the band perform before you hire them, but we couldn't have been happier with our choice and can only recommend them.
The Stationery
Sarah is a graphic and digital designer, so we were able to create all the stationery along with a wedding website which had all the details for the venue along with airport and hotel information as we had a lot of guest coming over from abroad.
Personal or Handmade Touches
We designed all the signage, table accessories and table plan ourselves. We had fun quotes, messages and signs placed around the venue. We sprayed little toy dogs in a gold colour and placed the name tags on them to add a personal touch. We also created crossword puzzles about our life together and the wedding day on each table along with a branded pencil.
Special Moments
Both:The morning for both of us: Sarah getting ready with the girls and enjoying breakfast on the rook terrace of our hotel room and for Ben brekky with the grooms men (and a couple of beers to calm the nerves!!
Ben: Arriving at the venue and welcoming all the guests. My face was aching for smiling!
Ben: Seeing Sarah when she arrived next to me, looking absolutely gorgeous. A moment I'll never forget.
Ben: Amazing best man and father of the bride speeches! Both hilarious, humiliating and humbling!
Sarah: Walking down the aisle and seeing all our friends and family and seeing my VERY handsome husband to be (fresh from a beard trim at Murdoch London) standing waiting for me. An overwhelming moment (in a good way!) that I'll never forget.
Sarah: Dancing with my Dad and seeing him so proud and happy
Biggest surprise
One of the groomsmen created a video montage featuring messages from all of our friends and family. The music stopped half way through the party and two high back chairs were put in front
of the TV (felt like we were sitting in thrones!!). With all of our guests behind us we watched as everyone send their love and best wishes. Totally unexpected and amazing…a tear jerking moment!
Advice to other couples
Planning – The only thing we would say is to do it together and enjoy it! It could quite easily become a chore but don't let it. It's an excuse to spend time together, spend time drinking and planning and getting the odd freebie along the way (sampling the dinner options was great fun!).
The day and the aftermath Relax, don't stress about timings or anything going wrong, no one else will notice. We really felt a bit of a low after the wedding as everything was over so quickly and we had booked our honeymoon for 2 months after the wedding. So meeting up with friends and just chatting about the wedding really helped. Just to hear how our guest have enjoyed the day and to see that all your hard work was really appreciated. It was actually nice to spread out the wedding with a late honeymoon.
Supplier Shout Outs
For more information on Chris's work please go to:
www.chrisblackledgephotography.co.uk / [email protected] / FACEBOOK / @bpweddings / I:cbpweddings
I always describe my Wedding Photography as fun, natural and creative. I shoot weddings because I love to shoot weddings and I always strive to show that in my approach to every wedding that I am lucky enough to be invited to. I often tell the couples that I meet with, 'don't see me as a vendor that's being hired, I'm a friend that's being invited". I allow the day to play out as the Bride and Groom have intended. Watching from the outside, whilst joining in with the fun and laughter, capturing moments and memories as they happen.
Due to an email issue if you have emailed me between the 2nd & 9th of December, please resend it.
X