Today I would like to introduce you to a wonderful company called Bears and Butterflies. If you are planning a festival style wedding, or looking for accommodation for you and your guests, then you need Bears and Butterflies Luxury Bell Tents in your life. Gemma and her husband Steve have put together a wonderful collection of Bell Tents to create your own personal Bell Tent village for you and your guests. This is perfect for any kind of wedding where you want to create a relaxed, chilled out vibe. Think summer festivals, think weekend long weddings, think outdoor celebrations and Bears and Butterflies will be there to add that finishing touch of homely, cosy Bell Tents.
Bears & Butterflies is a family run, luxury bell tent hire company providing boutique camping accommodation for weddings and hen weekends. Our bell tent village will provide the perfect backdrop to your wedding and we guarantee that you and your guests will love snuggling under our fluffy duvets after a long night of dancing. We look forward to hearing from you!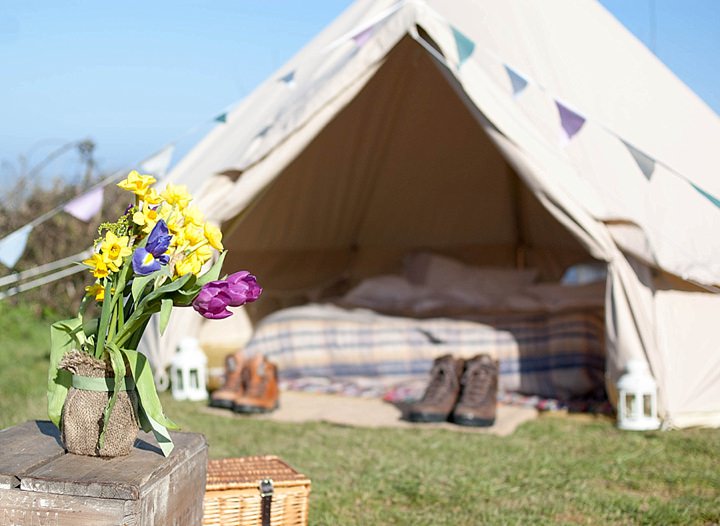 We asked Gemma to tell us more about her business Bears and Butterflies
Where are you based
York and we cover Yorkshire and The North and The Midlands
How would you describe your style
Relaxed but with a great eye for detail and never compromising on the comfort of our guests!
What makes you different to your competitors
Our bell tents are only 3m in diameter, making them super cute and cosy. We can still fit in a double airbed so they're perfect for couples or two friends.
We also offer 5m bell tents, a bridal tent and a pamper tent.
What do you enjoy most about your job
Working in an industry where everyone is so happy and excited, it makes everything so much nicer!
What sort of couple do you think you attract
We're ideal for couples who want to stay on site and have guests staying there too so the celebrations can continue the next day! Whether it's a festival-style wedding, barn, manor house or a field, we're happy to pitch up anywhere.
Pricing structure
For the two nights we have the 3m or 5m Atlas bear starting at £120 (furnished tents) or Gobi bear starting at £80 (unfurnished tents), we also have the Eurasian Bear (bridal tent) £350 and Kodiak Bear (pamper tent) £200.
We also have lots of fab extras that can be added on such as bunting, name signs, lanterns on shepherd's hooks and Welcome bags.
To find out more about Bears and Butterflies
www.bearsandbutterflies.co.uk / www.bearsandbutterflies.co.uk/blog / [email protected] / FACEBOOK / @belltenthire / I: bearsandbutterflies
07940 726565