Happy Monday everyone and how are you all? Ready for a fun packed week? After a Christmas filled weekend I am now feeling super festive and ready for the next few days before Christmas day is upon us! I hope you are too. To start the week I am taking you back to the summer when the nights were long and the sun shone with this beautiful barn wedding. Michaela and Stuart really put their own stamp on their day with lots of vintage props, DIY projects and amazing styling. A full of fun wedding that also looks amazing, big thanks to Paul and Tim from Stott and Atkinson for the fabulous images.
'A vintage inspired barn wedding with bucketloads of homemade vibes. The whole day was really relaxed and about as untraditional as we could get away with… beer tasting, bake offs, buskers and camping'
Michaela and Stuart were married on 8th August 2015 at Barmbyfield Barns, East Riding of Yorkshire . 'When we started planning the wedding we decided straight away that a traditional venue wasn't really for us. We wanted somewhere really relaxed and informal, where we could have free reign to do what we wanted and totally make our mark. Stu owns a marquee company and although that would have been a much simpler and cheaper option that many couples would kill for, he said right from the beginning that he didn't want a busman's holiday. So we set about searching for another venue that wouldn't break the bank!
We really loved the idea of having the ceremony and reception in one place. Stu heard about Barmbyfield Barns, it was everything we'd been looking for. Set in the middle of the gorgeous Wolds just outside of York, it was a total blank canvas. There were two separate spaces where we could hold the ceremony and reception, and plenty of outside space for us to party on well into the night! We had 90 guests during the day an extra 30 in the evening and planning took almost a year'
How they met
We met online! Both of us were a bit cynical about giving it a bash, but after some encouragement from our friends and a few disastrous dates, we clicked over a mutual love of music and Top Gun, arranging to meet the day before Valentine's Day 2013. We'd agreed to go for a drink in York, but the weather was so bad that Michaela almost cancelled the date altogether, and Stu had to battle thick snow to even get into town. He was almost an hour late in the end, and if that wasn't enough, when he arrived there had been a power cut so we spent the first hour and a half of our date in the dark! Luckily when the lights finally came on neither of us wanted to leave, and the rest as they say is history! We'd been together 18 months when we got engaged, and 2 and a half years when we got married.
The Proposal
Stu's proposal took me by complete surprise. During the week he causally suggested that we make the most of the nice weather at the weekend and head to Whitby. After dragging he finally managed to get me up all 199 steps to the top of the cliffs next to the Abby. After wandering a bit further along the cliffs we finally escaped the crowds and he dropped to one knee, produced a beautiful Edwardian vintage style emerald ring, and asked me if I'd like to be the next Mrs Ryder! I was so shocked that I asked him three times if he was sure, but I finally said yes and we headed back down to the famous Magpie restaurant to celebrate with takeaway fish and chips and a can of dandelion and burdock. It's was brilliant!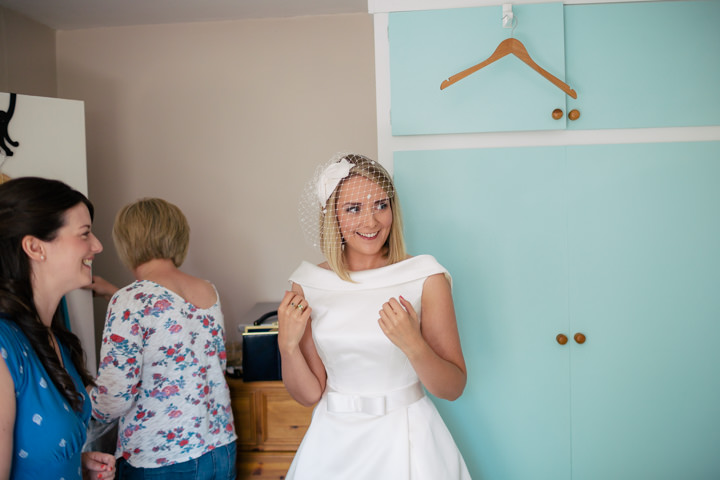 How did you allocate your budget
As we paid for a lot of the wedding ourselves and didn't have a massive budget, but luckily we wanted a really personal and homemade feel! For us, creating the perfect atmosphere for our guests to enjoy was much more important than other elements that can really hike up the cost, like stationary, flowers or transport. We basically worked out how much we could save before the day, set our budget and stuck to it without letting things run away from us, and successfully managed to bring the whole wedding in under £15k.
Where did you splurge and where did you save
We saved money by calling in lots of favours from family and friends, and wherever we could, we did things ourselves. The decor was almost all DIY and Michaela made all the invitations, stationary, table plan and table decorations herself. We didn't bother with order of service or favours and we asked all our guests to bring their own pudding for our cake table.
Barmbyfield Barns has an amazing space for camping we decided to create our own campsite. Michaela's Dad made personal wooden pitch signs for everyone who was camping, and our guests delivered their tents to us the week running up to the day so the groomsmen could pitch them before the wedding. We had about 20 pitches in the end, including a few campervans and caravans. We had two huge firepits that we sat toasting marshmallows on into the early hours, and everyone brought their own breakfast for a big fry up in the morning.
We don't feel like we really splurged on that much, but like a lot of people we spent most of our budget on the venue, food and photography. As we had more than 40 people camping we also did have a little splurge on some nice portable showers for people to use in the morning.
How did you choose your photographer
Photography was an area we were prepared to invest in because at the end of the day, the photos are the one thing you have to remember the day by! Stott and Atkinson were recommended. We loved their vibrant, cool and fun style, and felt their photos really told a story. We were apprehensive about being press ganged into any posed shots that we weren't comfortable with, but the guys put us immediately at ease and we bonded over a mutual love of burgers and cakes! On the day they were brilliant and captured everything we could have asked for, without us even knowing they were there a lot of the time. They worked so hard staying long past the dancing and marshmallow toasting, and we couldn't have been happier with the end result!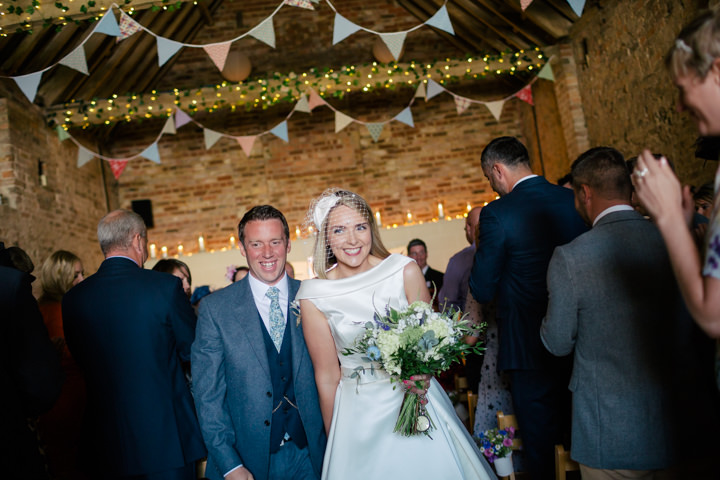 The Dress
Originally I wanted a vintage wedding dress, but struggled to find a dress in a style that I liked that also fitted me – those brides in the 30's, 40's, and 50's were tiny! In the end I went to see the brilliant team at Brides of York and they helped me find an incredible Alan Hannah dress that had simple 50's style. I found my headpiece on Etsy by designer Agnes Hart, and my shoes were LK Bennett.
The Suit and Bridesmaids
The suit was from Paul Smith at York Designer Outlet, and we got all the groomsmen's suits from there too. They were all the same cut but different fabrics, and with everyone making a contribution, it actually worked out cheaper than hiring and they all got a suit that they could keep! Stu decided to go for a gorgeous grey blue suit and teamed it with a navy waistcoat that we found in a vintage shop in York so he stood out! The ties were from Mrs Bow Tie, the bridesmaid dresses were from Hobbs, and their coral shoes and necklace were both from M&S.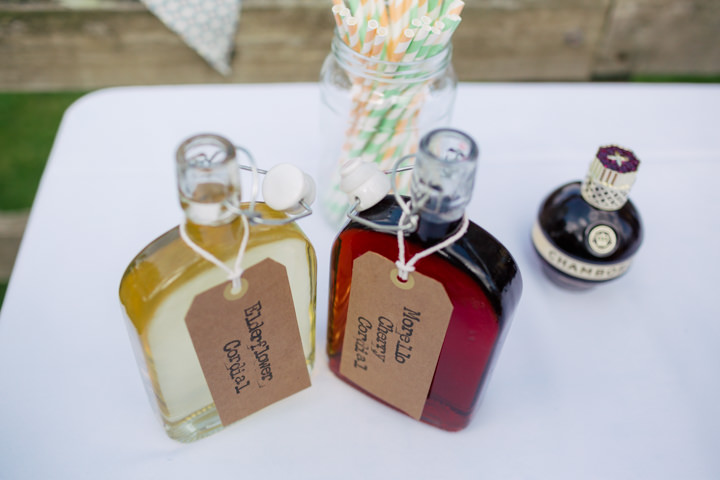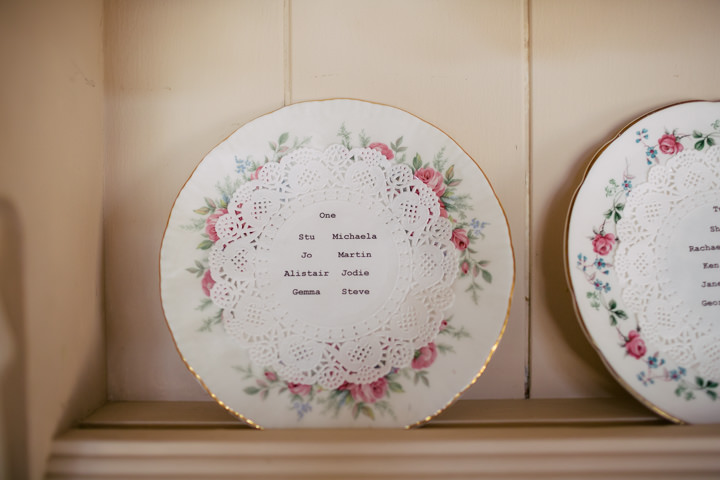 Theme or Colour Scheme
We didn't start out with any colour theme, we wanted the whole wedding to be very colourful and miss matched, so when looking for bridesmaid dresses and shoes Michaela searched for style rather than a particular colour. We then stumbled across some ties that matched the kingfisher and coral colours, and included other nods to the in the flowers and other decorations… but it all came together by accident if we're honest!
Flowers
Michaela's flowers were from The Plantsmiths, a local nursery that specialises in seasonal arrangements. Julie who owns the nursery was brilliant right from the beginning, and helped us make sure we got the flowers we wanted within our budget. All the flowers are grown in her beautiful country garden and she magically arranged them in all the various vessels and jars we'd collected, managing to pick out all the colours that were in our colour scheme, and the overall effect was perfect.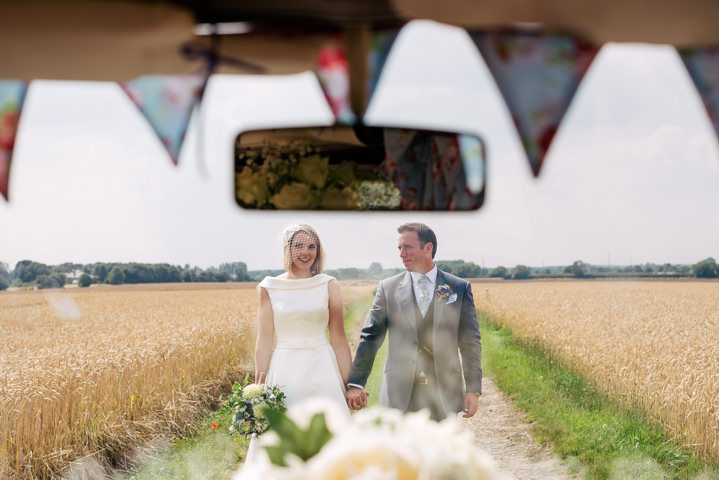 Decoration
Decorating the barn was a bit of a daunting prospect at first as it was such a big space, so we decided to try and create lots of smaller focal points for our guests to explore and enjoy.
We created an outdoor and indoor living room area, complete with chandelier, standard lamp and even cinema style seats. Next to the bar we created a cigar, sparklers and marshmallow station, and in the main barn we set up a Polaroid photobooth area with an art deco dressing screen that we have in our bedroom at home!
In the ceremony room we hung hundreds of metres of bunting that Stu's mum made, and Michaela up cycled some old doors to create a focal point at the end of the aisle. We borrowed all our vintage crockery and props from our good friends The London Tea Party Company.
We also called upon the expertise of lighting company AV Matrix to help us light the barn inside and out with festoon and other amazing lighting, and hung lampshades from the ceiling in the main room to add to the homey vintage feel!
Food
The House of Trembling Madness in York did our lovely food, which was also where we had our first date! For canapés we had Madness style skewers and finger food
We didn't want a formal three course meal, and as our canapés were quite substantial we skipped straight to the main and had two roast joints for each table – Pork Belly with crackling and Beef Brisket slowed cooked in ale – with stacks of Yorkshire puds, potatoes and seasonal veg on the side.
For pudding we asked all of our guests to bring their favourite cake or dessert, and had an amazing table full of different delicious treats. Everyone helped themselves during the day and on the evening, but we were still eating cake for days!
In the evening we had a fish and chip van for everyone to tuck into… a nod to the proposal!
Wedding Cake
Our wedding cake was made by Michaela's lovely mum. The bottom tier was traditional fruit, the middle was chocolate raspberry, and the top was a rainbow cake!
Entertainment
We are both really into our music so this was really important to us, but we didn't want to blow the budget. In the end we decided to enlist the help of Toby Burras, a local busker who is well known in York. Toby agreed to play for us on the day and also recommended fellow busker 13 year old Ruby Joy, and they were both incredible! During the wedding breakfast we put together our own playlist made up of all the bands we have been to see together, and on the evening we had a DJ who had every dancing late into the night.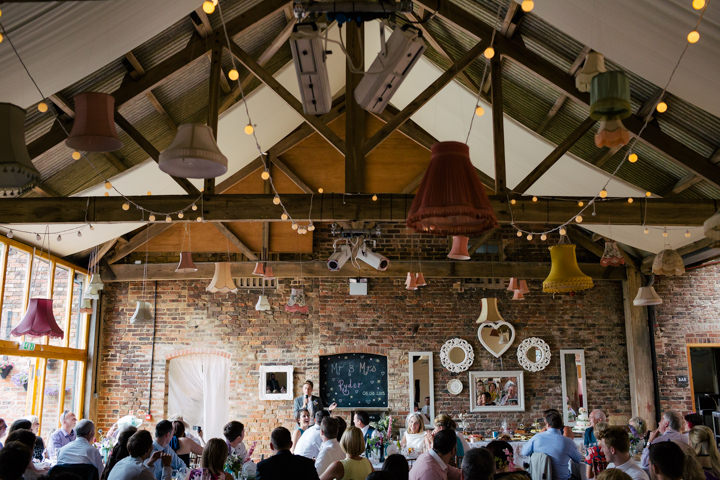 The Stationery
Michaela did! With a little help from the Range and a bridesmaid production line
Personal or Handmade Touches
We did pretty much everything ourselves, but we also included lots of other personal touches for the two of us… Michaela walked down the aisle to 'Here Comes the Sun' by the Beatles, which is a favourite of both our Dads; one of Michaela's bridesmaid's surprised her by organising her Old, New, Borrowed and Blue, which included a sixpence for her shoe from her grandmother and pocket watch from her great grandfather that she tied round her bouquet; Stu's wedding ring was made with the gold from both his Dad and Grandad's wedding rings; the numbers on the doors at the end of the aisle were our wedding date.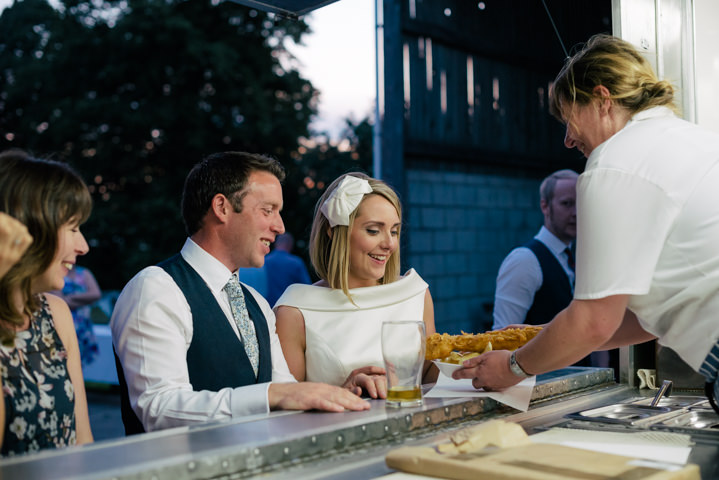 Special Moments
One of our highlights of the day was an impromptu bridal busking session with all our guests in the sunshine! At the end of his set in the afternoon, Toby Burras called us both over to finish off by leading a rendition of Bohemian Rhapsody. All our guests gathered round and joined in to help us fill in the lines we couldn't remember… it was such an amazing moment
Advice to other couples
Forget about what you think is expected of you and stay true to the wedding you want, but don't sweat the small stuff! Even if you are the ultimate Bridezilla, there will be moments that stress you out, times that you have to compromise and others that you question decisions you make… but as soon as you make it to the end of the aisle everything else melts away and nothing else matters! Also, don't be afraid to ask for help – our wedding wouldn't have been possible without all our friends and family mucking in, and it just made the whole experience even more special. Finally, be prepared to let some things go… there are so many amazing ideas on Pinterest, Instagram and Wedding Blogs, but you can't possibly do everything, so choose the best that are in budget and are achievable!
Biggest surprise
The weather and Stu's Mum's speech. She surprised us all by stepping in to say a few words and handover the title of 'Mrs Ryder Junior' to Michaela, and there wasn't a dry eye in the house!'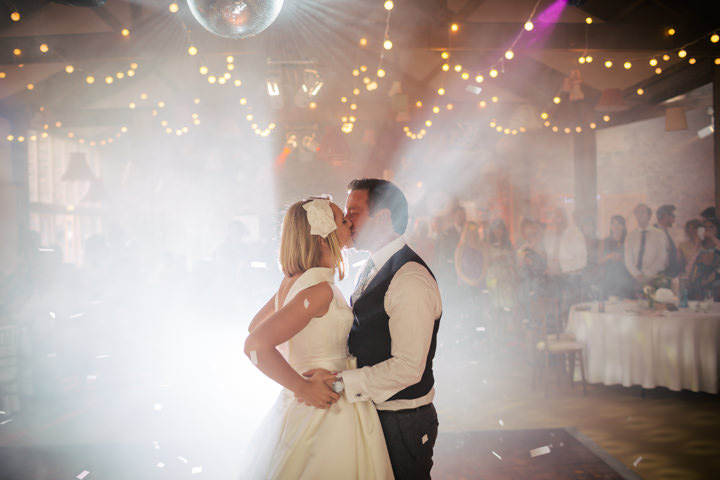 Supplier Shout Outs
Vintage China and Prop Hire – www.thelondonteapartycompany.co.uk
Lighting – www.av-matrix.com
Flowers – www.theplantsmiths.co.uk
Dress – www.bridesofyork.co.uk
Hair – www.facebook.com/Hairport-Yorkshire-Limited-297920253641122
Veil – www.etsy.com/uk/shop/AgnesHart
Photographers – www.stottandatkinson.com
Food – www.tremblingmadness.co.uk
Suit – Paul Smith
Seating and Tables – www.eventfurniture.com
Deck Chairs – www.sophielikes.com
Fish & Chips – [email protected]
Venue – www.barmbyfieldbarns.co.uk
For more information on Paul and Tim's work please go to:
www.stottandatkinson.com / [email protected] / 07917411819 / FACEBOOK / I: stottandatkinson
We are Paul and Tim, professional people watchers working together as a Yorkshire wedding photographer duo. We work with a relaxed, alternative approach capturing natural and creative portraits.We are based in Leeds but love to travel.