Todays wedding is lovely, so full of colour and gorgeous decoration ideas, it is just brimming with spring time freshness. Is it wrong that I am already looking forward of getting rid of winter, I so love spring as a season and this wedding makes me want it here even more! With a colour scheme of coal and lace and a country theme running throughout, this wedding is super cute and brimming with DIY and handmade projects. Thanks to Gemma Williams Photography for the lovely images.
'You can't describe the feeling you experience on your wedding day unless you've been through it yourself. It's like a daydream where everything is just perfect and faultless'
Jenna and Jon were married on 16th May 2015 at Lyde Arundel, Hereford. 'We wanted a barn which has both lovely interior but also stunning grounds, and this venue went above and beyond our expectations. It also allowed dogs, which was a huge factor for us as we wanted our big Newfoundland, Bob, to be part of our big day. Guest wise we had 100 to the day, 150 on the evening. We were engaged for two years, and started planning and making the whole time.'
How they met
We have been together for 6 years, and met when we worked together at a pub when we were younger
The Proposal
Best proposal ever! We have always talked about having a Newfoundland that we'd name 'Bob the Bear'. But planned to have it after my brothers wedding in Vegas.
But on a random weekend three months prior to Vegas, Jon was out 'fishing' for the day.
When I walked through the door at 5.30pm after work, there was a little newfoundland puppy sitting in our living room with 'will you marry me' on his collar. I had never experienced the term 'shell shocked' until that moment. I literally couldn't move, and Jon said there were two big puddles of tears on the floor from where I was stood.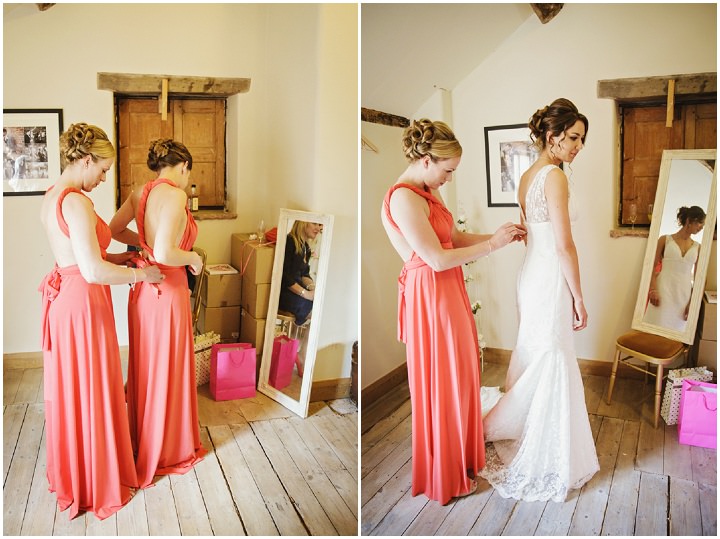 How did you allocate your budget
We worked out how much we could save within two years and based it around that.
As I'm a photographer, the photos and video were huge importance to me, and something that was priority for spending a lot of our money on. But the majority of the money went on the food, as we had so many guests attending.
Where did you splurge and where did you save
Luckily Jons family run a florist so they took care of all the flowers, which was a huge saving for us. And his dad and sister are also in an acoustic band, so they performed after the wedding breakfast and sang our first dance. We didn't want to have any regrets on our big day which is why we did quite a lot of splashing out! We made sure we had the best photographer and videographer, and our favourite band who we use to watch at the Jamhouse in Birmingham called the Platinum Rogues.
How did you choose your photographer
We struggled finding a photographer for a long time. Then when we chose the venue they recommended about 8 photographers. There was only one that stood out to us – Gemma Williams. We loved her naturalistic approach and use of creamy colour tones. We knew we wanted her as soon as we saw her work. Then when we met her, she was absolutely lovely! Which is also so important, as they're a big part of your wedding day, so you have to make sure you get on with them.
The Dress
The dress was very unusual as it wasn't classed as a specific style. It had three parts to it and was so detailed. It was a Charlotte Balbier dress and it was called Tabitha.
As the dress has lots of detail, I kept my jewellery very simple. Diamond earrings, diamond bracelet, and a long necklace, to match the long neckline of the dress.
I always knew I wanted to wear flat shoes on my wedding day, as I hated the thought of being uncomfortable on my big day. So I had them specially made from America.
The Suit and Bridesmaids
The venue was very 'country themed' and we wanted the suits to reflect this. We both wanted something a bit unique for the men's suits, so we went for tweed, which complimented both the venue and the coral bridesmaid dresses perfectly.
The bridesmaid dresses were the easiest choice of the wedding. Coral is my favourite colour so that had always been the colour choice from day one. I had seen the two-bird dresses years ago at a wedding I photographed and fell in love with them. You can wear them about 15 different ways, and i loved the idea of each bridesmaid wearing it in a different style. Especially as my god-daughter who was bridesmaid was only 12, so she could wear a more appropriate style for her age that wasn't as revealing as the older bridesmaids.
Theme or Colour Scheme
Everything was coral and lace!
Flowers
We wanted the flowers to match the theme of the wedding-country and informal. So we chose coral and white roses and lilies, and my bouquet was a waterfall effect.
Decoration
Again we stuck to the country theme so we had lace bunting everywhere. Candles in jamjars, and lace hearts around the rooms. As well as hay bales outside for people to sit on. But the flowers were the main decoration as the dressed the whole venue. We had an archway of flowers made for the end of the aisle where we got married. As well as candles lighting the whole aisle I walked down. It was like a fairytale!
Food
I love pie and Jon loves pizza, so these were our choices of food. Chicken and pancetta Pie for the wedding breakfast, with Camembert starter and chocolate brownie dessert, and unlimited wood fired pizzas on the evening. They went down very well!!
Wedding Cake
We've never been a fan of wedding cake and always wanted doughnuts…so we made sure we had the best doughnuts ever made-Krispy Kremes! With a big doughnut on top which we could cut.
Entertainment
We spoilt our guests with entertainment! From Jons dad and sister singing acoustically in the courtyard after the meal. To our favourite band 'The Platinum Rogues' who sang a mix of contemporary and old songs for the evening.
All this while the award winning magician Christian Fletcher was keeping everyone entertained with his up close amazing magic!
The Stationery
We made our own invitations and table plan as we used a mirror to write the guests names and where they were seated.
Personal or Handmade Touches
We did the majority of the wedding ourself. Jons sister has a wedding shop on etsy 'loveleigh designs' so she made all our personalised hangers, wedding cards, and something old, new, borrowed and blue tags, and even the coral bowties for the men, and lego cuff links!
We made the bunting, jamjars, and confetti cones ourselves also.
Another personal touch was we made a M & Mrs JD quiz for all the guests to answer during the wedding breakfast. Then Jon read out the winning tables during his speech.
We were so lucky with the venue as they only allow one wedding a week so it's more Personal and intimate. Which allowed us along with our close family and friends go to the venue the days leading up to the wedding to dress each room exactly how we wanted it.
Special Moments
There were so many!
The morning with the girls was very special as we had a toast to my dad, who passed away when I was 15. Then after the toast we were dancing round the room singing 'going to the chapel'. A moment I'll never forget.
My brother and uncle gave me away which was also extremely special and meant so much.
Having Bob there was a huge highlight for us both, as he's such a big part of our life. He walked down the aisle, but then got bored during the service and walked back down the aisle and fell asleep snoring at the back of the room for the rest of the service!
Our best friend made a poem about us that he read during the service which had everyone in tears. This was the first time we'd heard it too and I was also in tears!
We also wrote our own vows which made the service so much more personal and is lovely watching back on the video.
My favourite part was the speeches. Jon doesn't like public talking, but he did amazingly well and had everyone laughing. Whereas my brother and uncle spoke on dads behalf which was extremely emotional.
Then the best man lightened the mood with his speech which was pure comedy throughout.
Advice to other couples
Our advice would be enjoy every second of it. And remember that it's not just about the actual day, it's about the build up to it as well. So make sure the planning of it all is exciting and doesn't become stressful or a chore.
So much preparation, time and thought goes into your wedding day, so make sure on the day you try and take everything in as it goes so quickly!
Biggest surprise
The weather! The forecast had said all week that it was due rain on our wedding day. But it was so hot! Pure sun and not a drop of rain in sight. People even had sunburn by the end of the day! I think the weather was all down to my dad, and making his mark on the day.
Supplier Shout Outs
For more information on Gemma's work please go to:
www.gemmawilliamsphotography.co.uk / www.gemmawilliamsphotography.co.uk/blog / [email protected] / 07853 990844 / FACEBOOK / @gempics / I: gemmawilliamsphotography / PINTEREST
Hello, I am a wedding photographer based in Hereford, covering the whole of the West Midlands, the UK and destination weddings. I shoot with a creative documentary style, which means I will be very calm, quiet, relaxed and unobtrusive, capturing events and emotions naturally as they unfold, preserving real memories of your wedding day, all the details, moments, and the people there with you.