Todays wedding is an absolute beauty and I have been so excited to share it with you ever since it landed in my in box. This North Carolina Beach Wedding is brimming over with Boho goodness, from the amazing beach location to the many handmade dream catcers that have been so lovingly crafted by the bide her self. The ceremony is stunning, simple yet totally beautiful. As for the bride and groom, what a gorgeous couple they are, and what a wonderful collection of handmade details and decoration they have brought to this bohemian themed celebration. I just love everything about this intimate beach wedding, Big thanks to the lovely Sarah D'Ambra Photography for sharing these gorgeous images with us.
'A band of gypsies, sailors, mermaids, and surfers came together, pulled out all their tricks, and took part in a truly memorable celebration of their friends love. We couldn't have imagined a more perfect day'
Eden and Michael were married on 11th October 2015. 'The Ceremony was on the beach in Kill Devil Hills, North Carolina in front of their beach house. For the reception they walked back to our beach house. We both knew we wanted to get married on the beach so that was the easy part. The outer banks part was him trying to give me my dream wedding. I had been going there since I was a kid so it is like a second home to me and every time I've seen a bride on the beach. I just kind of knew I wanted to do that one day. Mike and I had taken trips down there before and he said it was one of the prettiest places he thought anyone could get married on the beach. Pretty much it just felt right. We ended up with about 34 people. We have military family and friends spread across the country so we knew it was a lot to ask when we invited them to the beach. We decided to keep it small and intimate so we could enjoy their company. It had been years since we had so much family in the same place. I got off a plane in May and asked my mom in the airport if she thought Mike and I could pull off a wedding in October… We were a little nervous but so excited we went for it anyway. We planned our wedding in 5 months'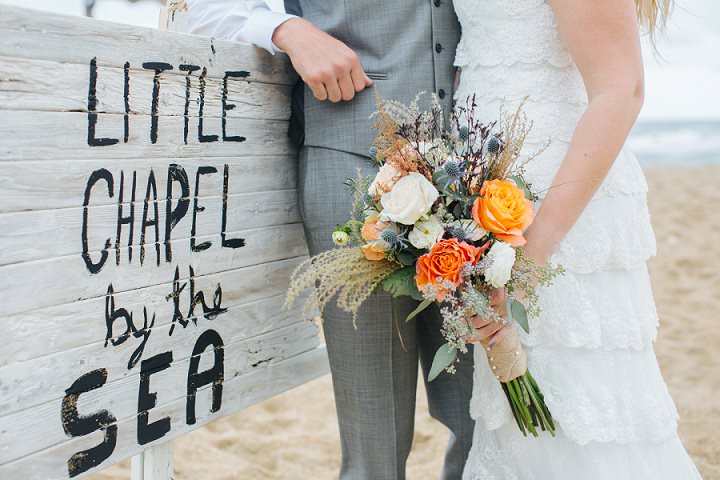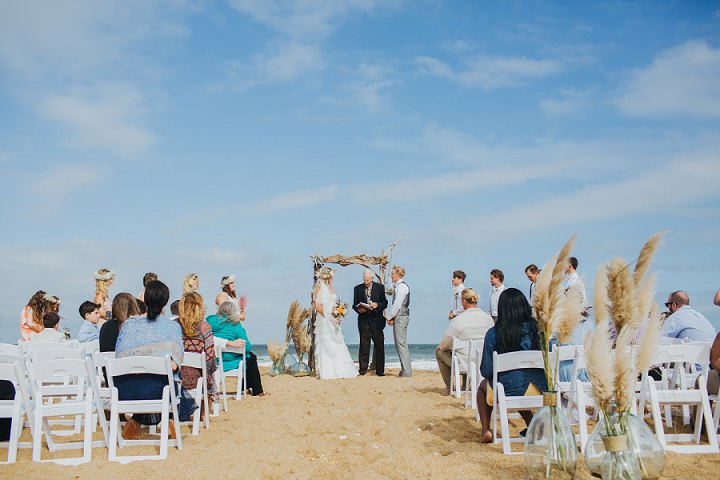 How they met
Well… About three years ago my best friend and I went out to a concert and a $2 drink night. When we got home at 3am she decided she needed to skype her "brother" who would be awake because he was in CA and it wasn't so late there. I remember seeing an attractive blonde guy pop up on her screen, loving his voice, and saying something along the lines of he's a California dreamboat and falling asleep while they were talking. The next day I had a message that said Lauren (my best friend) told me to friend my future wife on Facebook… It was from Mike. A few months later he came to visit friends on the east-coast and I was invited to take a trip down to Charlestown sc and we've been together since.
The Proposal
After a 6 month deployment and being apart for 7, Mike got my friends and parents to talk me into going to brunch. When I showed up at the restaurant Mike stepped out of the doorway in his dress blues and literally swept me off my feet. I thought that was the best surprise of my life until later that week Mike flew us out to Zion national park. We hiked to the top of angels landing (he likes crossing things like that off of our bucket list) and when we got to the summit he found a little spot off to the side where it was just the two of us. I was stacking rocks not paying attention and he said he needed me to turn around for a picture. I turned around and he was on one knee. He had also snuck a mini bottle of champagne and our camping cups past me and toasted our engagement on top of a mountain at sunset… Still doesn't seem real haha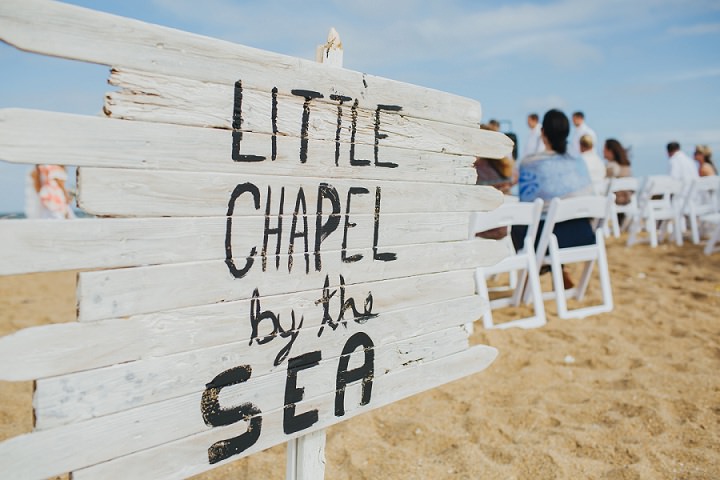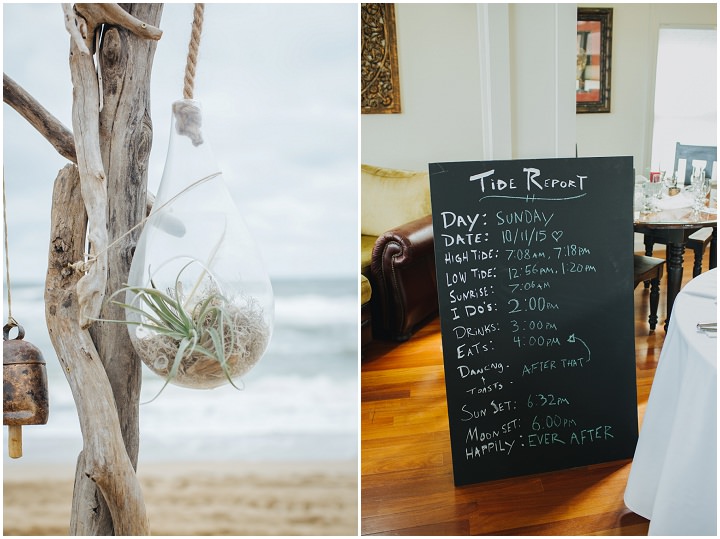 How did you allocate your budget
Our main goal was to keep it under 10K including EVERYTHING
Where did you splurge and where did you save
We splurged on our rings and our photographer because we knew those would be the things we held on to forever. My dress and our beach house were the other two major splurges. We saved money by letting me DIY to my hearts content for decorations . I ordered my flowers by the bunch and made my own flower crown and bouquet and the boutonnières for the guys. Two of my friends made the bridesmaids bouquets and flower crowns. And we let the flower girls play and make their own. We opted for cupcakes and a topper instead of a traditional cake. We had a buffet style dinner with our favourite fish tacos and appetisers from Mama Kwans and bbq my dad made. We were also very lucky to have talented friends who helped with everything from hair and makeup to mixing drinks. Mike said "we were barefoot so we didn't have to buy shoes!"
How did you choose your photographer
I'm a photographer myself so when it came to choosing one to capture my day that was the one time I was truly a BRIDEZILLA. We looked at so many and then one day my maid of honor sent me a picture of a couple on the beach with the misty beautifully captured sunset and I said I want her! Mike called Sarah D'ambra Photography the next day to see if Sarah was available and unfortunately she wasn't but she did direct us to her blog so we could see some of her other photographers work. I was disappointed until I saw the images. Madeline'work was beautiful. They were all super friendly and very helpful so we knew it would be a great match.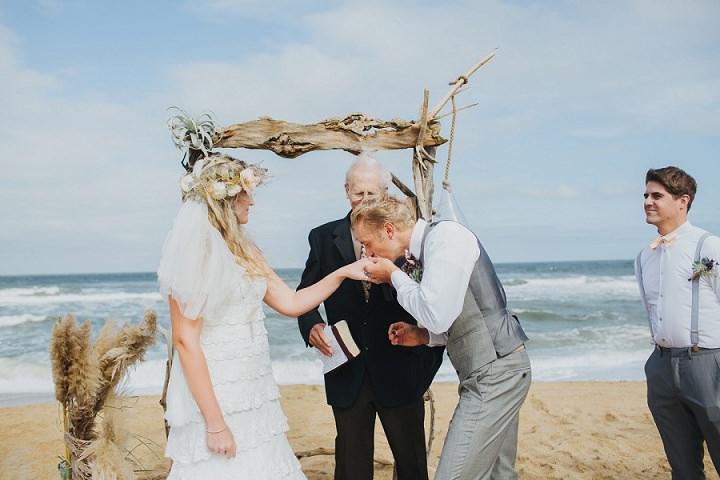 The Dress
I bought the first dress I tried on at David's Bridal. It was the Melissa Sweet beaded tiered lace wedding dress.
My engagement and wedding ring were from ken&dana designs and the necklace I wore was made for me by a local artist and friend Jane from Gypsyeye Jane. She even picked out pink Quartz and a feather to match my dream catcher decorations. She's amazing.
The Suit and Bridesmaids
The suit was actually an Egara vest and slacks from men's warehouse. The bridesmaids all had slips from freepeople one. Two had a starry night slip from free people to wear over it and the other two had crochet vests we found on sale at a store called altar'd state.
Theme or Colour Scheme
We wanted a beach boho style wedding. I started off all of my planning by buying a few succulents and a giant hunk of Himalayan sea-salt for inspiration. I knew I those wanted to be my colour, I also knew I wanted to incorporate driftwood, sand, and maybe a few shells so we used greys and neutrals, and creams and white. I'm not a sparkly person so to add some shine I wanted to use Mercury glass. My last rule was nothing too matchy. I love collecting things and that's what I did up until my wedding. If it was the right colour I grabbed it and worked it in somewhere.
Flowers
I bought a bunch of succulents from trader joes and a few giant air plants because I wanted things that wouldn't die right after. So we used those to decorate. We ordered flowers in bulk and made all of our arrangements. We had white dahlias, pale pink and white ranunculus, purple seeded eucalyptus, blue thistle, cassia, astilbe, pampas grass plumes, and babies breath
Decoration
The two main things we were excited about were dream catchers and a driftwood arbor. I made these giant dream catchers out of vintage doilies and grapevine and lace and pretty much anything pretty I could tie on there. It was so much fun. Mikes dad collected driftwood and built and arbor out of it and my mom decorated it with the air plants and a bell (my new last name) everything else was decorated with a mixture of shells and driftwood we had found, tulle, and the chunks of sea-salt. I brought crystals and pieces of petrified wood I had at home in my house and worked them into the decorations. We used a lot of mercury glass too.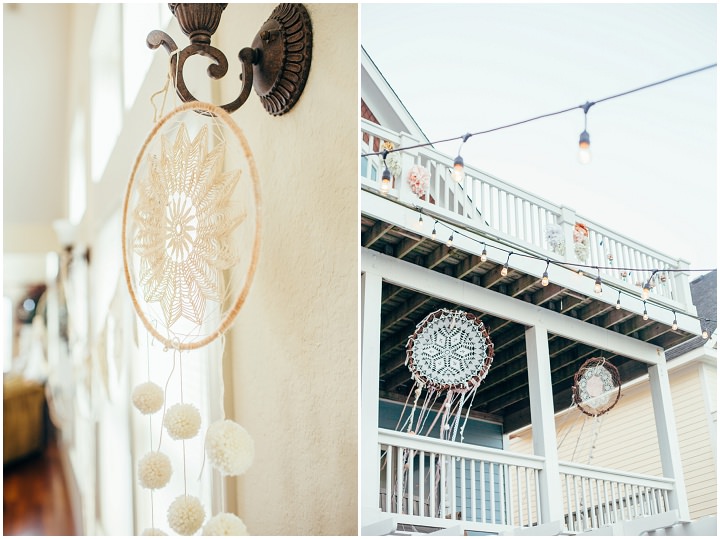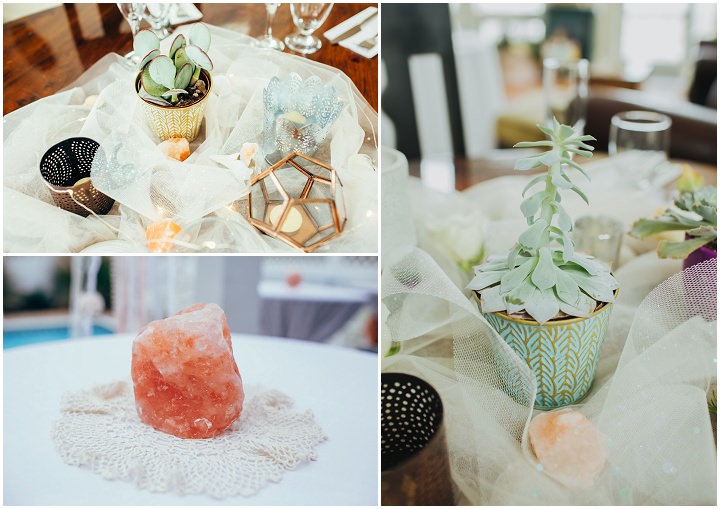 Food
Mama Kwans has always been my favourite restaurant in the OBX and the owner was kind enough to make up a buffet sized amount of them for us. He also made us cucumber salad and Thai money bags. My dad also spent a few days prior to wedding slow roasting and making a huge batch of bbq.
Wedding Cake
Marsha at Great Cakes whipped us up some of her famous key lime bliss cupcakes and a cake topped for Mike and I to cut.
Entertainment
Like I said we hadn't had so much family together in one place in so long we just enjoyed each other's company. Catching up, congratulations, surf stories, and a little impromptu karaoke were entertainment enough. We made a playlist in iTunes and let it roll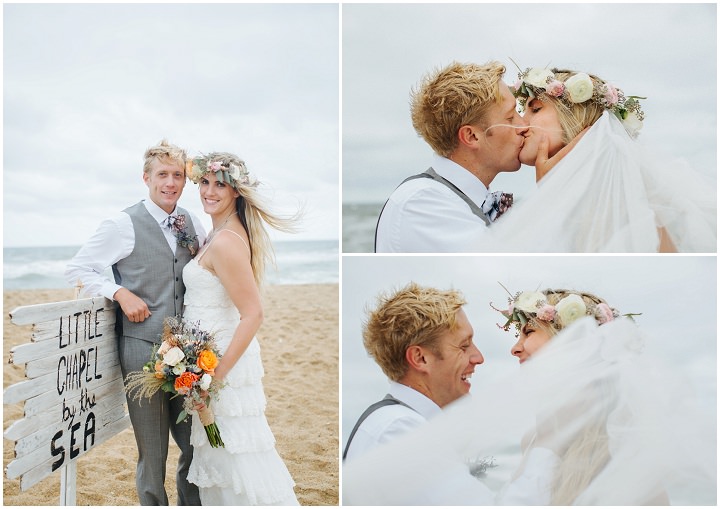 The Stationery
On the day of, instead of stationary like programs we made a giant chalkboard and wrote a tide report on it and included all the activities for the day. I made my save the dates, and wedding invitations by hand. I regretted the decision to watercolor every invitation at the time, but looking back it was definitely worth it.
Personal or Handmade Touches
My whole wedding aside from the clothes and the food was a personal touch. I spent the months up to my wedding making dream catchers and planning out flower arrangements and scouring antique stores for decorations and then my family and friends all helped me set it up. We still can't believe how well it turned out.
My father in law and mikes brother made the structure we got married under with their bare hands. I got to get excited with my brides maids the night before drinking wine and attacking buckets of flowers with wire and floral tape making the crown I was going to get married in the next day. Mike and my dad made these giant streamers a few days before the wedding and stuck them out on the beach and they were beautiful on such a windy day. Also we made a sign and painted the words little chapel by the sea on it. Mikes dad is a pastor and he's also the one who married us… And made our "chapel" so we thought it would be cool. Also we added a second flower girl the night before. My little cousin needed a pick me up and was loving helping with the flower crowns so the next morning my aunt ran around to surf shops trying to find an open one and found her a little tie dye dress that totally went with our mix matched style. Instead of carrying flowers she carried a vintage tambourine I decorated with leftover ribbon from the dream catchers. She was so excited and I got to have two little gypsies with tambourines and flowers tell everyone the bride was coming.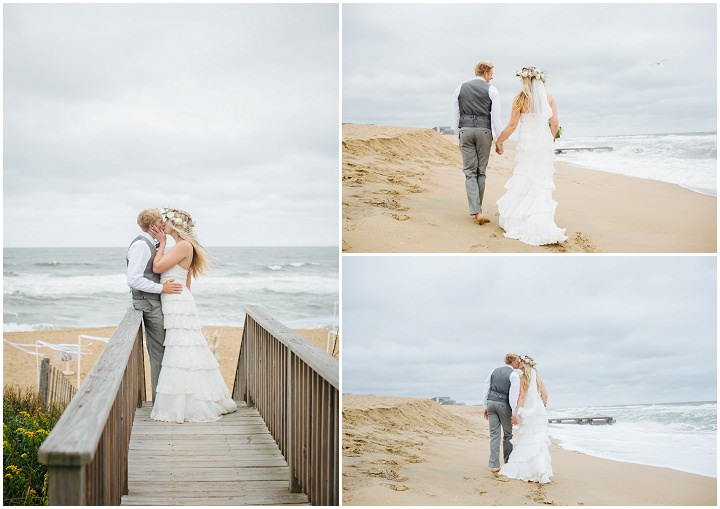 Special Moments
Before our wedding we had some major ups and downs. The forecast was calling for hurricanes, Mike almost got deployed (can't have a wedding without the groom) we lost the beach house we had planned the whole wedding around 3 weeks before the wedding, my maid of honor was in a neck brace from a car accident the week of the wedding and we just weren't sure we could make it happen. We managed to keep a positive outlook for the most part but it was tough at times. SO on the morning of, watching the whole wedding come together and seeing all of our family and friends working hard to help us pull it all off was almost surreal.
We got an hour of sunshine for the ceremony and felt incredibly blessed.
Mike's mom Pat has Parkinson's disease and as a result has trouble walking. She was worried about even getting down to the beach for the ceremony… A few hours later she refused to miss her dance with Mike. She left her walker, wrapped her arms around mikes neck and danced to Lynard skynard's simple man. There wasn't a dry eye left at the end of that one.
My dance with my dad was special to me too. He picked Kenny Chesney's wild child to dance with me to and let my mom cut in at the end. Mike and I are Star Wars nerds. I busted out a 1954 singer sewing machine my grandma left me for the first time in years and made his bow tie and my garter out of matching Star Wars fabric. Mike tied his bow tie so that Luke Skywalker was peaking out behind the bow hah
Advice to other couples
Planning- do what makes you happy. Don't worry about pleasing everyone…its just not going to happen, but in the end everyone there loves you and they are going to love what you came up with. Don't take on too many projects and don't be scared to delegate if you do!
Day of- Take in every moment and revel in it because it goes by entirely too fast.
Biggest surprise
My maid of honor got together with our mothers and made a video for us. It was our love story in pictures. It had pictures of us leading similar lives but growing up on different coasts. It had our first date, our trips, our favorite photos of each other. All of our milestones and she even managed to get her hands on screen shots from Skype dates Mike and I had during his deployments. Not to mention all of it was set to pretty great music. After the cake and toasts she asked everyone to go down to the theatre room (again the house we lost did not have one of those…everything happens for a reason) and she had seats for us right up front and we all watched it together. Again not a dry eye in the room.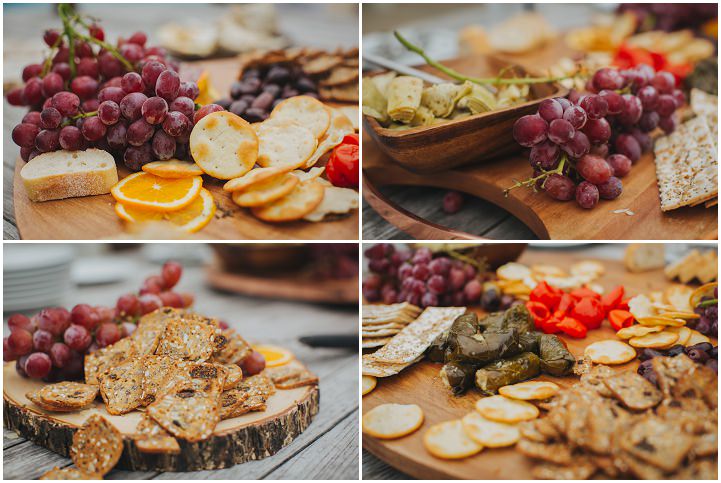 Supplier Shout Outs
For more information on Sarah's work please go to:
www.sarahdambra.com / www.sarahdambraphotoblog.com / [email protected] /
252-423-1335 / FACEBOOK / @sarahmdambra I:sarahdambraphoto / PINTEREST