With the arrival of my lovely Sponsors on Saturday comes my first 'Shiny Happy Sponsors' featured post. First up is the very lovely Sassy from Assasssynation Photography.
Anyone who has met Sassy will know what a great person she is, she's incredibly talented and completely unassuming! She is a true individual and her creative flare constantly shows through in her work, and apart from that she is just a lovely warm and friendly lady…….everyone needs a Sassy in their life!!
I have had the pleasure of working with Sassy on a couple of occasions, the first was on our 1920s Photo shootthat we shot up in Morecambe in March. Sassy was amazing her attention to details is spot on and she really worked hard to get the best out of us all. The second time was our Mini Photo shootin London just before the Rock N Roll Bride party. Showing not only does she do Vintage bridal shoots amazingly well but also a quick 10 minute photo shoot for some publicity shots is also a winner.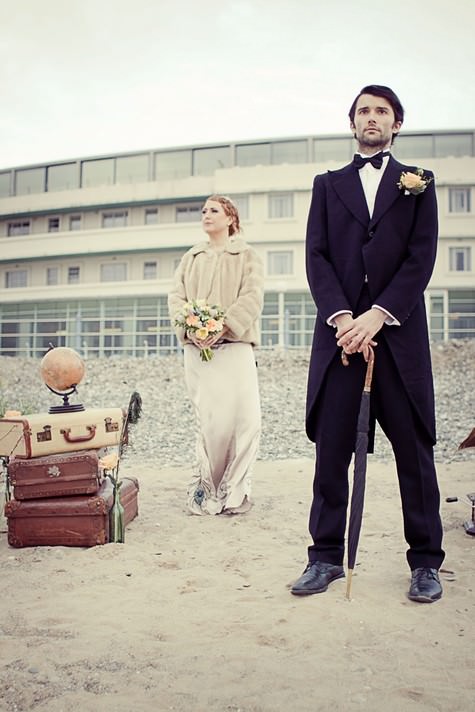 Sassy has been Kind enough to put together a special offer for you, I'll let her tell you more about it!
As a celebration of this lovely feature (Thanks Kelly!) I am offering a very special 'last minute' deal for 2011 couples. If you book me to photograph your 2011 wedding and quote BOHOBLOG on the enquiry I will give you a whopping 25% off the photography costs. This can't be used with any other discounts because it's such a bloomin' good deal anyway. Why not drop me an email to see how much I could shoot your big day for.

[email protected]
I asked Sassy if she would mind introducing herself to you all, so here she is  in her own words:
'I am Sarah Lafford, but people usually call me Sassy. I am a photographer, lover of vintage tones, lens flare and people who do things their way. I am passionate about quirky, unconventional and unique weddings and I am totally crazy about couples in love. I adore weddings where the bride and groom, or their plans, are just that bit different….or a whole lot different. I particularly love when my couples want their photo's to be arty and unique, it just gives me so much room to flex my creative muscles. Don't get me wrong conventional weddings are still very lovely!'
'I hale from the beautiful Cotswolds where I have lived all my life and I am married to the lovely but oily (well he is a mechanic) Ian or as I prefer to call him Mr Sassy and am slave to our three beautiful cats.'
'I started out photographing my friend…and now sister in laws amazing dresses and found a real passion for it which quickly moved in to weddings. There is something so lovely about getting to share in someone's big day and it's a real honour to be chosen to capture all the love, laughter and downright gorgeousness of the day.  I can't describe the buzz I get when couples tell me about their plans for their special day, I honestly find myself getting as excited as I did about my own wedding….sometimes I have to say to myself "Calm down woman, it's not your wedding!".'
'I would describe my style as funky and relaxed with a slightly vintage vision. As with most wedding photographers I have my favourite part of the day itself, which is photographing the couple shots. I love to take the happy couple off on a little adventure to get beautiful, arty and relaxed shots of them on their own that they can cherish forever, plus it gives them some time to enjoy being newlyweds alone….well almost!'
'If you are having an unconventional or vintage wedding…or perhaps you are unique or just like my style I would love to hear all about your big day. I promise not to chase you or bug you but to provide you with a prompt and friendly service. I travel everywhere and anywhere (I have bookings for weddings in Edinburgh, Belgium and Miami) so nowhere is too far and my travel rates are very reasonable!!'
Thanks so much to Sassy for her introduction, be sure to check out her website as it's jam packed with loads of quirky, imaginative and all together awsome weddings and ispirational shoots!
And don't forget the amazing Offer! 25% off your wedding Photography can't be bad!! and a must for any couples with last minute bookings this year!
To find out even more about Sassy and to view some more amazing photos check out her Q&A that I ran a few months ago
For more information on Sassy's work go to:
www.assassynation.co.uk
[email protected]
Sassy on FACEBOOK
Sassy on TWITTER
07968948114