Today we are brining you something a bit different in bridal wear. We have featured Minna on the Blog before and the collection went down really well with you all. Today we are brining you their new diffusion line Indiebride Collection. The Indiebride collection is beautiful and so reasonably priced, these dresses are all under £650! This collection is perfect for someone who wants a less complicated dress. I know when I started the big dress shop a year before my date I had to wait almost 9 months before my dress arrived in store. I have to admit because I was on a timeline I don't think I picked my 'perfect' dress, I didn't want anything fussy and just something simple yet 'me', this collection would have been perfect for what I was looking for! The Indiebride collection is available to buy on-line and it can be yours to own in less than 10 weeks. Perfect!
'Our range does not scream bridal. We believe that you can enjoy the most important day of your life looking like you and not be swamped in heavy bridal fabrics and layers of tulle.'
More about Minna Indie Bride Collection…..
Indiebride has been, I would call it, a work in progress for a little over a year. I felt that as our main bridal line Minna was moving towards more bridal styles, there was still a huge audience who were looking for a short, less complicated dresses. These women would often order online and required the item in less than our standard 10 week turnaround time. The common thing for all of these women were that they wanted a pretty dress, that did not scream " I am getting married!"
The starting point was to design for these women and to create a collection of beautiful dresses that could be worn beyond the wedding day. The Indiebride is collection is a range of gorgeous bridal dresses and separates that can be ordered online without coming for a traditional bridal fitting. Most items we also offer in maxi length and our turnaround times are between 4 and 6 weeks.  The collection is made in London from the same high quality fabrics than our Minna bridal range.
As part of the Indiebride, we also launched our sustainable bridal collection, called the "Limited edition" range. This collection of dresses are made from sustainable, end of the roll fabrics, featuring our best-selling bridal styles. As the amount of fabrics available are limited, we can only produce a small number of dresses. We  also put together an evening dress collection using our best-selling bridal styles and made them available in different fabrics. 
With over 60 items to choose from, I think it is safe to say that there is something for every size, shape and budget!
What were your main influences when designing the collection
I am see myself as an Indiebride girl. Key issues for me are affordable price points without compromising the highest quality fabrics and production quality. All our dresses and bridal separates retail under £650. 
I also did not want to design for a specific type of bride. I wanted to design for a wider audience, to cover different type of brides, anything between early 20's to late 50's. We get lot of young brides eloping and just wanting a nice dress to celebrate their big day to brides who are getting married later in life and wanting something more classical style that they can wear again. 
Can you tell our readers a little more about your company
I have been designing bridal wear since 2012 but before this, my main label Minna was a ready to wear label. We used to exhibit as part of the London Fashion Week since 2008, with many high profile retailers and celebrities such as Livia Firth wearing our designs and won Finnish Elle Style Awards in 2011 for sustainability.
Minna was always very bridal focused in terms of the fabrics and the look. When our customers started to buy our designs for their wedding, it gave me a light bulb moment and  I decided to focus 100% on bridal.  It is a decision that I have not regretted although I do miss the fun of designing RTW and the trade shows. 
Minna is already a very known bridal label and recognised for its bohemian and vintage style dresses but I felt that it was not reaching all the customers that I wanted to design for. The Indiebride label was a natural extension with the aim to reach those brides who were looking for shorter dresses, quicker lead-times and lower price points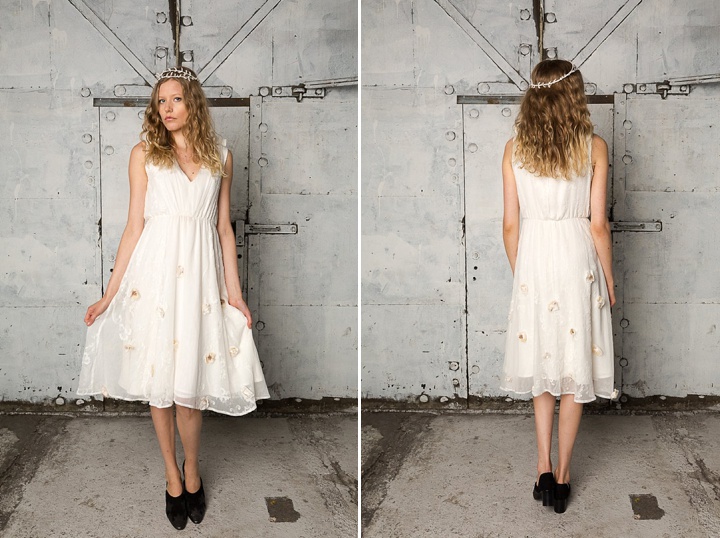 Where are you based? And how long have you been designing for
London is where all the magic happens! This is where we meet our customers and that is also where our production is located. We have been in a same building since 2009. The building is a church so it is quite a special place to have our showroom. As a company, we are in a very unique position as not only do we design and sell the dresses, we also make them. We also offer full alteration and design service, all under the same roof.  I also have an office in Dorset where i live but I prefer to have this as my creative space where I sell bridal and ready to wear samples.  
Can you give me a rough price range for your dresses
Our bridal range start at £190 ( tops) to £650. Our Limited edition range retails between £280 and £600.
Where can they be ordered/purchased
To keep our prices low, we only sell our designs on www.indiebrides.co.uk or through our London showroom.
For more information on Indiebride from Minna Bridal 
www.indiebrides.co.uk / FACEBOOK / @indiebridelondon / PINTEREST