Some weddings aren't about the fuss and the details, some weddings are beautiful when kept simple and focused on the marriage itself. Fay and Shane are just that type of couple. After having their baby daughter half way through the planning stage they decided that their finances were best spent on her, so they went about creating the wedding they wanted but really concentrating on keeping it simple, laid back and within budget. Choosing a city wedding in a wonderful venue meant that they needed little else, just good photos from the amazing Laura from Babb Photo, a super tasty BBQ and some amazing flowers. The whole day is beautiful and so full of love, I know you ar going to enjoy it.
'We wanted a laid back feeling in the day and then to party on the night and that's exactly what we got.

I was a day filled with warmth and happiness surrounded by people we love

'
Fay and Shane were married on 25th July 2015 at St Hilda's Church in Smethwick the reception was held at Fazeley Studios in Digbeth, Birmingham.  'I've always imagined I'd get married in a church, I love the vows in a Church wedding service and I love the history behind them, the fact that for hundreds of years couples have been saying the same vows to each other and making the same promises. We had 100 guests in the day time and a few more came on the evening. Shane proposed to me in April 2013, we knew we'd need a couple of years to save for the wedding we both wanted so decided summer 2015 would be a good date to aim for. We spent a few months looking for our reception venue but nothing really stood out. We're both city mice, so when we came across Fazley Studios in Digbeth just outside Birmingham city centre we knew it was the right venue for us. Once we'd secured the date everything else sort of fell into place bit by bit.'  
How they met
Me and Shane were introduced in a nightclub through mutual friends, it was a complete accident that I was even there so it's kind of like fate. We've been together for six years now. That time has flown by and it doesn't feel like six years, I guess that can only be a good thing, we must be having fun.
The Proposal
Me and Shane had been speaking about marriage and how we saw our future together. Nothing too deep, just the odd conversation here and there. We we're still living with our parents at the time and planning to move in together. I saw an advert for a vintage fayre at the Custard Factory in Digbeth and thought it would be nice to have a wonder. As we walked around we saw a jewellery stall. I saw this emerald and diamond ring, I was drawn to it because it was simple but pretty and emerald is also my birth stone. Shane asked me if I wanted it. I must have looked confused as he had to explain that he meant as an engagement ring. So Shane paid for the ring and the adjustments needed and we left it there. I think we both went home in shock.
One Saturday in April we decided to go to Birmingham Botanical Gardens for the day. The weather was beautiful, warm and sunny. We spotted a little bench in a secluded spot and we decided to have a little sit down.
We were sitting there chatting away when Shane bent down and pulled a piece of rolled up tissue out of his sock! He unwrapped the tissue with the ring inside. Still sitting next to me he told me he loved me and asked if I'd like to wear the ring and be his wife one day. It was perfect. No big gestures, just intimate and personal. For a lot of people it's a very unromantic story, but for me it's perfect.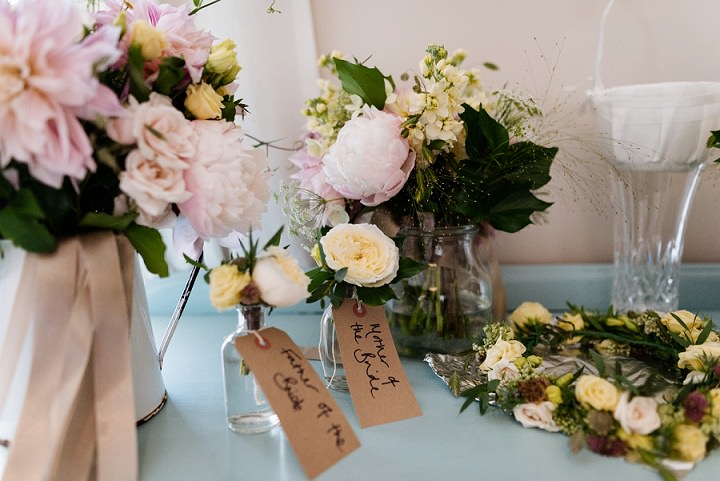 How did you allocate your budget
We knew we didn't want to spend over a certain amount. Not long after getting engaged I fell pregnant with our daughter and providing for her was our main priority. We had a budget in mind and decided that we would spend our money on the most important things to us and scrap any costly traditions that weren't important to us. Quality not quantity was our wedding budget mantra.
Where did you splurge and where did you save
For us the things that were worth spending more money on we're the reception venue, the photographer and the flowers. Weddings nowadays are so individual and can be a real reflection on the couples personality. Fazeley Studios was the perfect venue for us. We were on quite a tight budget but we made it work for us by having a BBQ rather than a three course sit down meal. As a couple Shane and I are quite informal and we wanted our wedding day to reflect this, so the BBQ ticked both boxes by costing us less but still been what we wanted.
I love flowers and to me it was important that I found the right florist. I quickly found out that flowers aren't cheap so I felt I may as well find the right florist for me and have only what we could afford. If that meant just a bouquet for me and a button hole for Shane then so be it. Like I said earlier I think quality is more important than quantity. I found our florist Emily Wisher Artisan Florist and after having a consultation with her, which included a pot of tea and homemade biscuits I knew she had to do our flowers. Our styles matched perfectly and she totally got my vision. She was enthusiastic and creative. A complete pleasure to work with. We ended up having more flowers than I ever thought we'd be able to have, which was also a bonus!
How did you choose your photographer
I spent ages looking for a photographer, there's so much choice but I'd say 85% of the photographers I found offer the same kind of thing. And it wasn't what we were looking for. I decided one night to look for a photographer that travelled the country rather than just local to the west midlands and that's when I found Babb Photo. I looked through her gallery and fell in love with the images. The photos I saw captured feeling, they were creative and not cheesy in the slightest. Shane and I hate having our photos taken, we have the most unnatural awkward photo faces. A lot of Laura's photos aren't staged. There more about capturing moments as they happen. So unnatural awkwardly posed photos wasn't something we would have to worry about if Laura did our photos. I remember when I contacted her she was away so couldn't get back to us straight away and I spent the weekend torturing myself looking through her galleries and reading her blogs falling more and more in love with her work. Luckily for us when she got back and replied our date was free and she said she would love to photograph around Digbeth. Laura was amazing to work with, and me and Shane actually loved having our photos taken.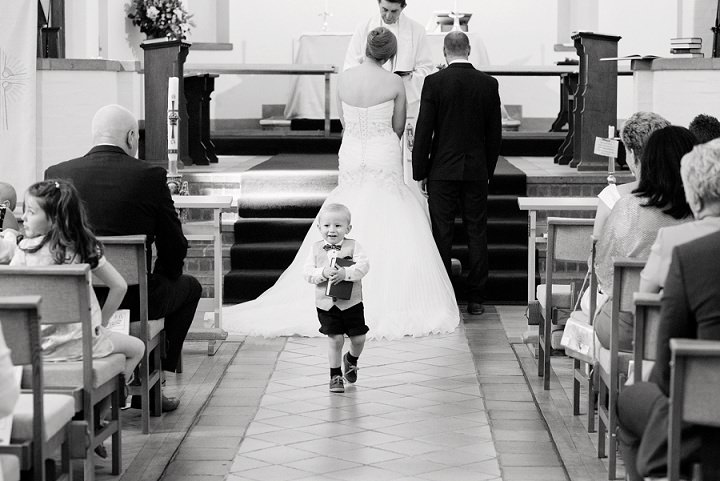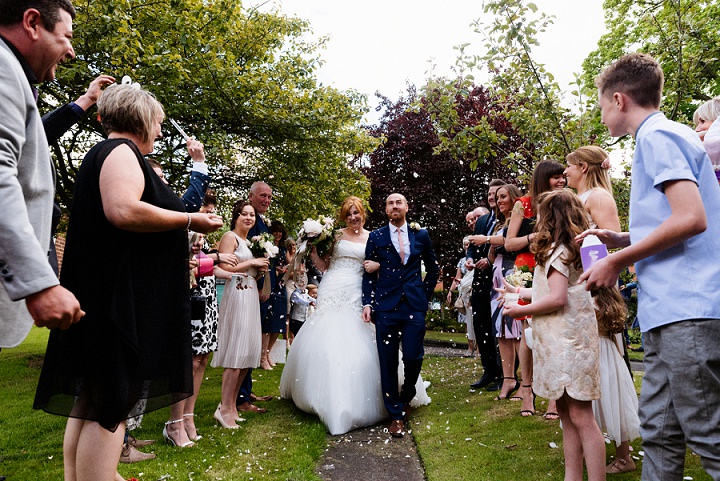 The Dress
I wore a Sophia Tolli dress. It was the second dress I tried on and I knew it was the right one for me straight away. I wanted to stay very simple with accessories and jewellery. Fashion and styles date and I wanted something simple and timeless. I decided to just stick with some crystal stud earrings from Accessorize. For my shoes I figured comfort was important as I would be walking around the streets of Digbeth having photos taken. I just had some navy sling backs from BHS.
The Suit and Bridesmaids
The men wore slim fit dark blue suites from Next. They all looked really smart. The bridesmaid dresses were from Miss Selfirdge. They looked gorgeous. The dress was very flattering on all of them.
Theme or Colour Scheme
We didn't have a theme as such. We love Sixties style and that was a big inspiration for the mens suits. We kept everything quite neutral. The bridesmaid dresses were a creamy colour with a hint of gold running through. Our colour scheme was blush, navy and gold. But it was very subtle
Flowers
I love flowers. I had a secret Pinterest board that only me and our florist could see and I would pin things like liked or inspired me. I had big café au lait dahlias and cream peonies. The colours used where very romantic and feminine. I wanted the flowers to look natural and wild, but still have some drama.
Decoration
We kept decoration quite minimal and let the beautiful venue speak for itself. I collected a few things to display flowers in from charity shops in the build up to the wedding, like the cake table had little pressed glass vases filled with one or two flowers and a few candles. Outside hanging from one of the trees in the courtyard our florist made us a floral hoop to display our menu.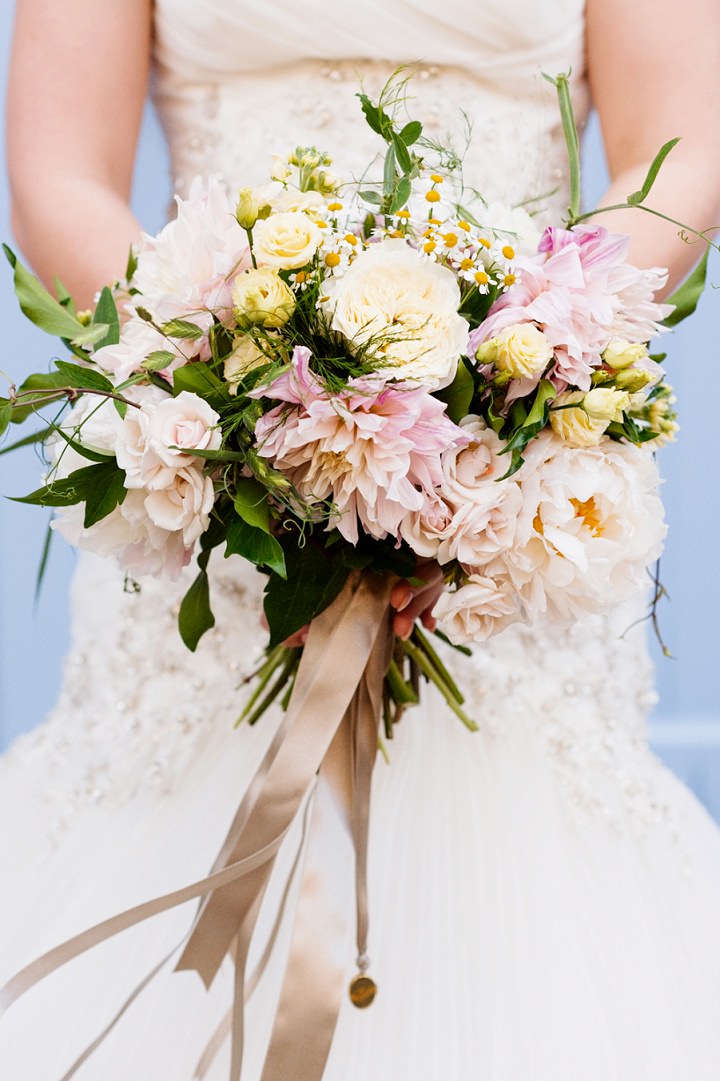 Food
We had a British and Caribbean BBQ in the day time and on the night we had fish finger sandwiches and bacon rolls. It was lovely as it was informal and our guests could mingle and sit where they liked.
Wedding Cake
We decided from the start that we liked the idea of having doughnuts rather than a big elaborate cake. We liked the fact that our guests could just go and help themselves and choose which ever flavour they wanted. It also saved us some money as it was a cheaper option than having a big cake. We just had one cake made for us to cut that a lady I work with made for us. I bought our cake topper from Etsy.
Entertainment
We had a DJ on the night.
The Stationery
Stationary wasn't important to us so we just ordered some invitations from Vistaprint to keep the cost down.
Personal or Handmade Touches
My brother passed away in 2010 and it was important to me that he was part of our day. I bought a gold locket and put his picture in it and had it attached to my bouquet. It felt very special.
I also did the menu that was attached to out floral hoop. I just bought some paper, gold ribbon and a black ink pad from Paperchase and some letter stamps from Etsy. I was really pleased with the outcome.
Special Moments
For me my favourite part of the day was having our photos taken around Digbeth. We really enjoyed it and it was nice to have that time together. Another highlight was near the end of the night when me and Shane crowd surfed to Take That's "Never Forget", we felt like rock stars.
For Shane it was our "last dance" we didn't want to have a first dance as we didn't like the thought of everyone staring at us. Towards the end of the night Shane requested Ed Sheeran's "thinking out loud" as the lyrics really sum up our feeling for each other. All the couples danced with us but only Shane and I knew that it was our special song. It felt really intimate considering we were in the middle of a dancefloor surrounded by other couples.
Advice to other couples
Our biggest piece of advice is don't over complicate the day. Make a note of what's important to you and focus on getting that right, everything else just keep simple. Don't create more unnecessary stress for yourself.
Biggest surprise
The biggest surprise of the day was probably when the Vicar read a completely different reading during the service to the one we chose. It made us laugh though.
Supplier Shout Outs
For more information on Babb Photo's work please go to:
www.babbphoto.com / www.babbphoto.com/blog / FACEBOOK / @BabbPhoto / I: babbphoto
Due to an email issue if you have emailed me between the 2nd & 9th of December, please resend it.
X