Happy Friday everyone, I do hope you are having a good one so far and that you are looking forward to the weekend! It's been a fabulous week on the blog, jam-packed with amazing weddings, so I am finishing off the week with this marquee wedding that took place in the grooms fathers back garden. A wedding filled with Disco balls, trees and the most gorgeous wedding jumpsuit! Big thanks to Tim Simpson Photography for the images.
'Untraditionally traditional. A wedding house party'
Alie and Anthony were married on 24th July 2015 at St James' Church, Southport followed by the reception in a marquee in the father of the groom's garden. 'We lost Anthony's Mum a few years ago and wanted to be surrounded by memories of her. The garden felt like the perfect place and it was. We had 110 guests in total and it took 9 months to plan.
How they met
We went to The Secret Garden Party (festival) with mutual friends and had a smooch watching Phoenix. It was nice. Exactly 6 years later we got married.
The Proposal
We try and go to the Lake District every Autumn for what we call leaf watch but this time Anthony was being extra charming, and a little quiet! He gave me his phone to take some panoramic photos and whilst I though he was ducking out of the way of the camera I soon realized he was down on one knee. That was nice too!
Where did your splurge and where did you save
We wanted to treat our guests to a proper feast so a lot of our budget went on food and booze. We also wanted to create a cozy atmosphere in the marquee so lighting was important. We had an onsite lighting technician (shout out to Dave!) who made everything look just lovely! We are lucky to have friends who are event stylists and have a warehouse full of props and a ready-made bar so we were able to save on dressing the marquee. Their generosity allowed us to spend more on filling the bar up…which soon got drank!
How did you choose your photographer
This was probably the most daunting challenge as there are so many photographers to choose from. We wanted something different and found Tim Simpson online. We instantly loved his portfolio and when we were asked to fill in a questionnaire which asked us who our favourite bands are and are there any new artists we could recommend we knew we were on a similar wavelength. We weren't disappointed. Tim and his team were beyond helpful from start to finish and were so much fun to be around. They captured our day perfectly.
The Dress
I never saw myself in a wedding dress so opted for a jump suit and found one by Brunello Cucinelli. It was simple and comfortable. I loved it. I bought an iridescent head peace and a birdcage veil and couldn't decide which to wear on the day so ended up wearing both. I wore my late mother-in-law's pearls and didn't want to take them off.
The Suit and Bridesmaids
The suit was from Paul Smith and the bridesmaids wore blue or green. I couldn't see them all wearing the same dress so thought it would be easier to give them the choice. They looked lovely.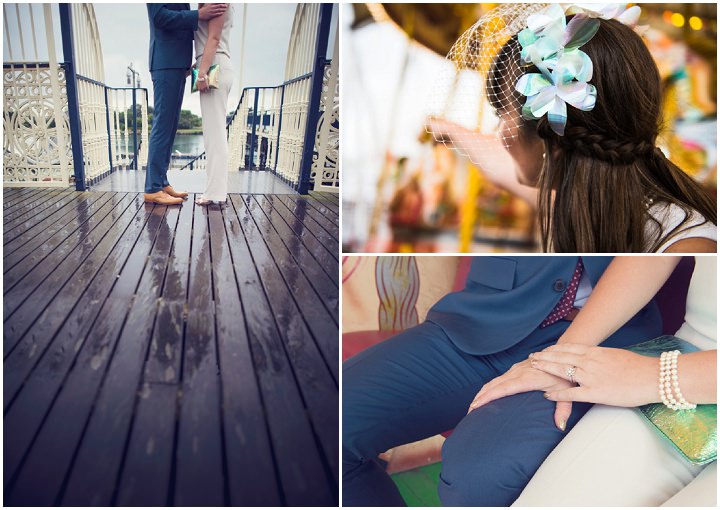 Theme or Colour Scheme
We didn't really discuss a colour theme but it all seemed to pull together. The bridesmaid wore blue or green and the groomsmen wore burgundy ties and socks.
Flowers
I wanted to keep it simple and chose gypsophilia for all of the bouquets and button holes. They keep really well too!
Decoration
Disco balls and trees (the perfect combination) which we borrowed from our friend's warehouse.
Food
Southport shrimp to start, a rack of lamb and some veggies followed by the most sticky, sticky toffee pudding.
Wedding Cake
I forgot about the cake so had to run to a nearby cake shop and took whatever they had that most resembled a wedding cake. It was single tier and white. It did the job.
Entertainment
Alcohol and disco balls seemed to provide a lot of entertainment and we asked a few friends to DJ with a cameo appearance from me. I was more nervous about "DJ'ing" than any other part of the day.
The Stationery
We found an amazing photo of Southport Pier and contacted a printing company to ask if they could design our invites. They were great although we totally oversubscribed as we forgot that you need to count the addresses and not the guests. We still have about 50 invites left!
Personal or Handmade Touches
It all seemed to come together at the last minute. We're still not sure how. We borrowed some trees made from MDF which we stuck spray painted wooden apples to for the table plans and mini apples stuck on chopsticks for table numbers. We were spraying and sticking 24 hours before the wedding!
Special Moments
For me it was walking down the aisle with my Mum listening to The Beatles, I Want To Hold Your Hand, played on the grand piano. My Mum wasn't expecting it so it was pretty special to see her face when she recognised the track. Anthony says his highlight was sitting down for the wedding breakfast, it was the first moment of calm and having a moment to take it all in.
Advice to other couples
I remember someone telling me to celebrate every little thing you accomplish, whether it be finding the photographer or finalizing the table plan. You will never get to plan the same party again so enjoy it. I also spent a lot of time putting a playlist together for some parts of the day so now when I hear a track I instantly get taken back to that moment of the day and who I was with when I heard it. Music and photos are so important and will stay with you forever.
Biggest surprise
I was surprised how calm we were. There are so many preconceptions that it's stressful. It's not. It's nothing but love. Enjoy every second.
Supplier Shout Outs
For more information on Tim Simpson Photography please go to:
www.timsimpsonphotography.co.uk /  [email protected] /  07790787732 /
FACEBOOK  / @TimSimpsonPhoto /  PINTEREST / I: tspstudios 
We are a small, unique photography collective consisting of 3 fully qualified photographers. Our approach to our work is relaxed, creative and reportage with a sprinkle of magic. We gather our inspiration from all over- Fashion, Film, Art, etc- making our eyes work in an artistic, unique way.