Hello you beautiful people and welcome along to another fabulous wedding on the Blog. Today's summer fete wedding is packed full of beautiful details, wonderful decorations and of course a gorgeous bride and groom. The Whole wedding is stunning from beginning to end, with a relaxed Boho feel to it. I just adore Sally's dress, the sparkles are amazing, her flower crown, the wonderful garden games, the school desk guest book. The whole day is superb, and I know you are going to love it to. Big thanks to Vicky from Amrose Photography for the images.
'A vintage summer fete style wedding created with the help of our family and friends. A day full of music, bunting and fun, which represented us a couple perfectly'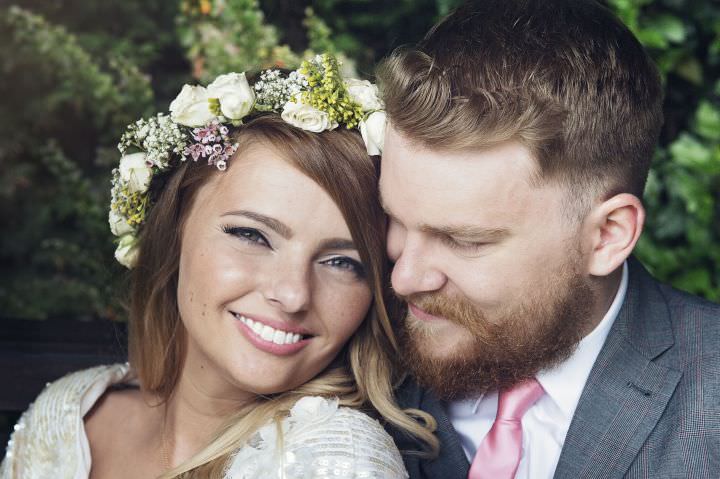 Sally and Ian were married on 15th August 2015 at The Royal Arms, Sutton Cheney. 'Neither of us wanted to get married in a church, or manor house. We wanted somewhere that was quite relaxed and somewhere that we could really put our own stamp on. As soon as we went to look around The Royal Arms and met the manager Anoop, we knew it was the right place. We had 65 guests in the day and around 120 at night. We booked the venue about 11 months in advance, but the real planning and preparations started about 6 months before.
How they met
We have been together for 8 years, we met when we were 18 on a night out (a Hawaiian fancy dress night). My sister had invited some friends to come out with us and Ian happened to be one of their friends who had tagged along. We were going out one week later!
The Proposal
I decided to get a ring made for Sally, rather than get one from a shop as I knew she wanted something in a vintage style. I then booked a couple of days away to the Cotswolds to propose, but the ring wasn't ready in time!
It arrived on the following Wednesday, I then couldn't wait to plan anything else, so I asked her at home the next day
How did you allocate your budget
Truthfully, Ian budgeted and I ignored it.
Ian had a lot of spreadsheets breaking down the costs, but I knew the total amount we wanted to spend and aimed for that. I planned to make a lot of the decorations myself so knew we could save some money there – I also wanted to use a lot of the furniture and decorations I already had in our home. Because we both saw the budget in different ways it allowed us to be flexible with our money and really make the most of it.
Where did you splurge and where did you save
Our biggest expense was the venue, and photographer because these were the two most important factors for us. A lot of our decorations were from eBay, charity shops and car boots so we was able to really make the most of our budget – it was also fun bargain hunting and getting everyone involved on the weekends leading up to the wedding.
We wanted the venue to be full of wild flowers, knowing this could be very expensive we ordered the flowers in bulk from our local florist and I did all the table decorations and floral displays myself (with the help of my amazing bridesmaids). We were also up at 5am on the morning of the wedding making our own flower crowns.
I used my own Nissan Figaro as our bridal car and my friend Sam, drove the bridesmaids to the venue in his MK 1 Golf. Not only did this get all my friends involved in the day, it also allowed us to save hundreds of pounds!
How did you choose your photographer
I found it really difficult to chose a photographer – looking at photos I knew exactly what I didn't like, but couldn't find any one whose photos I really liked.
My bridesmaids took me on a day out to the wedding show at the NEC where I met Vicky, that night we sat down and looked at her photos and knew she was perfect!  Her style of photography really fitted in with the theme of the wedding
The Dress
My dress was 'Eliza' by Eliza Jane Howell. I knew I wanted a really relaxed dress that was quite bohemian, after looking around I couldn't see anything that suited me. We went to a local wedding fayre with both of our families and I saw this dress hanging up in the back of a stand – I knew it was exactly what I had been imagining.
I bought it straight away I then had it altered by Rachel at 'The Dress Suite' who lifted up the front to make it fit me perfectly.
My shoes were by Freed London and the necklace I wore was given to me on the morning of the wedding by Ian. He bought it from Etsy
The Suit and Bridesmaids
Ian didn't want any suit that was too traditional. He chose to have a matching suit with the groomsmen, which was from Next.
My bridesmaids were all so different and I knew it was going to be difficult picking a dress that suited them all, until I found these multi way dresses from Willow and Pearl.
We opted for the mix of dusky pink and dove grey and they really suited the relaxed feel of the day.
The bridesmaids shoes were from Topshop.
Theme or Colour Scheme
We didn't have a set theme, we just knew that we wanted to make it different to any wedding we had ever been to before and unique to us. Sally decided to make alot of it herself so that it was very personal. When all of the decorations came together it created a DIY rustic look.
Flowers
Our bridesmaids bouquets and button holes were made from gyp tied with twine. My bouquet also had pale pink peonies mixed in. For the table decorations we went for a wild/garden flower look.
Decoration
We had a mix of decorations. There was ALOT of bunting, crates, hay bales, old ladders, a singer sewing machine, flowers, games, paper lanterns, fairy lights, old books, tea pots, suitcases and chalk boards. This was all sitting in our spare room for months, so seeing all come together at the wedding venue was just incredible.
Food
Being an extremely fussy eater I was worried that there wouldn't be anything that I liked to eat on the day, but luckily The Royal Arms made us all my favourite meal – roast beef dinner with chocolate fudge cake for desert. In the evening we had a hog roast.
Wedding Cake
Again, with the wedding cake we didn't want a traditional one so we opted for a 'naked' cake, which had butter cream between the layers and was covered in flowers. Hollie from Scottie Dog Cake Design was absolutely brilliant. Our cake toppers were from Etsy.
Entertainment
The one thing we were both certain of, was that we didn't want our guests waiting around on the day. We wanted any spare moment to be filled with fun and activities. So Sally's Uncle and Auntie handmade all of the garden games for us. Our entertainment in the evening was a band called 'Cool Hand Luke'. Both of us love indie music and we really wanted to bring this into the day. They even learnt songs from our favourite band 'Courteeners'.
The Stationery
I made all of the save the date cards, and based on this vintage style my Auntie handmade all of our invites. They featured bunting, craft card and lace.
Personal or Handmade Touches
I made all of the decorations in the marquees. I also knew exactly how I wanted certain areas to look.
Both Ian and I are twins so I really wanted to show old pictures with our sisters. We set up a corner with old step ladders and lots of old pictures of us. As family is so important to us, we also wanted to include an area where we could show all of their wedding photos, these all sat on top of an old singer sewing machine and crates.
I also wanted a guest book that was slightly different, so we bought an old school desk from eBay and gave all of our guests sharpies to leave us a message. (This now has pride of place in our dining room)
We also made all our own favours for the guests, it was a small watering can with a potted pansy and I had hand wrote their initials on the front. I loved creating all the personal touches for the wedding and would recommend this to anyone, it really makes the day is unique to you!
Special Moments
Our special moments came from all our family and friends being together, playing the garden games and having a dance in the evening.
It was just so nice having everyone there for us and seeing them enjoy themselves.
Advice to other couples
Don't stress! I am such a worrier, but as soon as I woke up in the morning I let all my worries go. I knew that by the end of the day we would be married and that was the most important thing so everything else was just a bonus!
Biggest surprise
There were two surprises for us, firstly we hadn't seen the games that my Auntie and Uncle had made us. They set them up on the morning of the wedding so I didn't even see them until after dinner. We honestly couldn't have been happier with them, they made our day and everyone loved them. They even made us a surprise sweet cart! Secondly, it had been pouring with rain the day before when we were setting up but luckily the whole day was beautiful sunshine.
Supplier Shout Outs
For more information on Vicky's work please go to:
www.amrosephotography.co.uk / www.amrosephotography.co.uk/Blog / [email protected] /  / FACEBOOK /  T: @AmroseUK / I: amroseuk /  PINTEREST 
Amrose Photography is run by me, Vicky Strongitharm and I am based in Shrewsbury, Shropshire. I love storytelling through my images so love natural but powerful shots which show the moment, along with creative & artistic portraits. Please note that on the day of this wedding I hired a second freelance photographer to work alongside me- Mark Vyse.
[jprel]