I don't know about you but this week is speeding past, it will be the weekend before we know it, which is not a bad thing really! Today's wedding is a wonderful mixture of bright vivid colours mixed with classic white decorations. Jo and Dave mixed Ghanaian decor with a rustic country theme and the results are wonderful. With a stunning venue the feel for the wedding with all the pretty details and decoration is just right. A gorgeous wedding captured beautifully by Captured by Karina.
'We like to think it was personal, relaxed and fun. The best day of our lives'
Joanna and David were married on 25th of May 2015 at Lyde Court, Hereford. 'We had been to visit lots of venues but none seemed to have the feel we wanted for our wedding. As soon as we went to visit Lyde Court we could see that it was the perfect place to have a relaxed and personal wedding. Guest wise we had 107 in the day and 140 in the evening and the wedding took about a year to plan.'
How they met
We were introduced by two of our best friends Mikey and Soph. They had met six months previously and decided that we would make a good match. In fact Soph's words to Jo were 'If you don't get on with Dave I will eat my own hat!' After both of us saying we didn't want to be set up we met on a night out and bonded over a hot water bottle. We have been together for four years now.
The Proposal
It was My 30th birthday and when I arrived home from work Dave told me to put on my walking shoes and handed me a present which I wasn't allowed to open. We drove to the Malvern Hills and walked to the top. Once we were there we sat down and I was told I could open my present. It was a vintage camera. Dave told me he had put a film in and we were there to take photographs with it. When I tried to take photos (of the fog!) I found the camera wouldn't wind on. The only option was to open the back to see if the film was stuck. When I opened the back there was no film…..Just a ring!

How did you allocate your budget
It was important to us that everyone had good time, so the venue, food, alcohol and music were really important and made up about 75% of the budget. We were incredibly fortunate to have very generous parents!
Where did you save and where did you splurge
We spent more on the band than we had originally planned but they were worth every penny! We had an open bar and maybe over ordered on the wine from France, but better than running out. We made a lot of our own bits and pieces because we wanted it to be personal but this did actually save a lot of money. We had wonderful friends and family who chipped in to help with various things like the favours and making napkins from traditional Ghanaian cloth.
How did you choose your photographer
Kat is a good friend of ours and when she asked us if we'd like her to photograph our wedding we were over the moon. She has a wonderful style that captures moments beautifully. Her photographs are honest and document the very feel of an event. She worked tirelessly all day, and placed herself in all the right places to get the best shots of the day. We are so pleased with our photographs and would recommend her to everyone!

The Dress
My dress was by Essence of Australia which I chose because I loved that it was a satin dress with a separate soft lace dress which went over the top. I felt it was very me.  I had two pairs of shoes, one for the day which were more traditional and an pair of Khaussa Shoes for the evening to dance in! Both I ordered online after a lot of searching.
I had a very set idea that I wanted 1930's style accessories and in the end found what I was looking for in House of Fraser and Debenhams!
The Suit and Bridesmaids
The boys were in chinos with blue tweed waist coat, Oxford shirt and paisley ties. Dave wore a blue tweed jacket too. These were bought from various places to complete the vision! The bridesmaids only criteria were that they were in navy blue. We wanted them all to be comfortable and the different dresses worked really well when they were all together.
Theme or Colour Scheme
We wanted to incorporate Dave's Ghanaian background with a rustic country feel. We had bright Ghanaian Kente cloth bows and napkins and opted for white or clear decorations elsewhere, the only other colours were in the flowers.
Flowers
We had sunflowers and Lavender. The brides bouquet had thistles, sunflowers, lavender, wax flowers and foliage. The bridesmaids had a single sunflower with baby's breath and the button holes were small sunflowers which we thought looked great next to the navy blue of the suits and dresses.
Decoration
We kept it quite simple as the venue speaks for itself. We had white lanterns hanging from the ceiling and on the stage, clear bottles with candles in them and large pots of Lavender on the tables.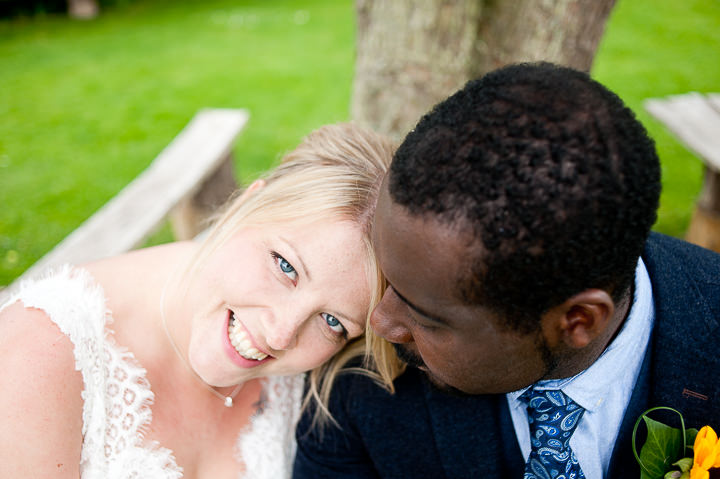 Food
The food was amazing and everyone keeps talking about it. We had a variety of local barbequed meats which were brought to tables on rustic platters along with a variety of salads and side dishes which were on tables for people to help themselves to. We wanted it to feel like a family meal. For dessert we had sticky toffee pudding and in the evening a hog roast. Lyde court did a fantastic job on the food
Wedding Cake
Jo's mum made the amazing lemon drizzle wedding cake. It was individual cakes with a big cake on the top. There were a lot of lemons involved and a years worth of practise. They were perfect and very yummy. They were set off brilliantly by a handmade wooden cake stand made by Jo's dad and topped with flowers. Everyone commented on how wonderful it looked.
Entertainment
We had a band called The Smooth Criminals who were fantastic and worth every penny! They played music that kept the dance floor full from start to finish.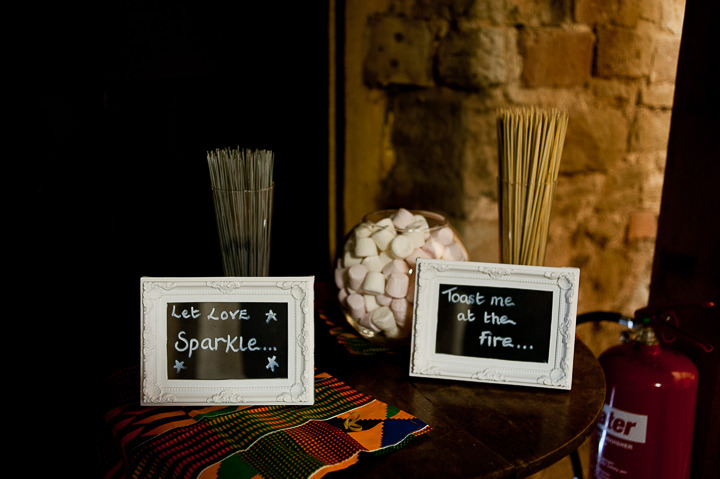 The Stationery
Jo designed and made the stationary using stamps made for us by The English Stamp company and pieces of ply wood to keep with the rustic feel of the venue and the day itself. We were really pleased with their simplicity.
Personal or Handmade Touches
We had a lacrosse game during the reception drinks. This could have been a complete flop, but actually lots of people got involved, it kept the kids (and many adults) entertained. We made our own chalkboard signs and table plan, lemon curd favours and clay name tags.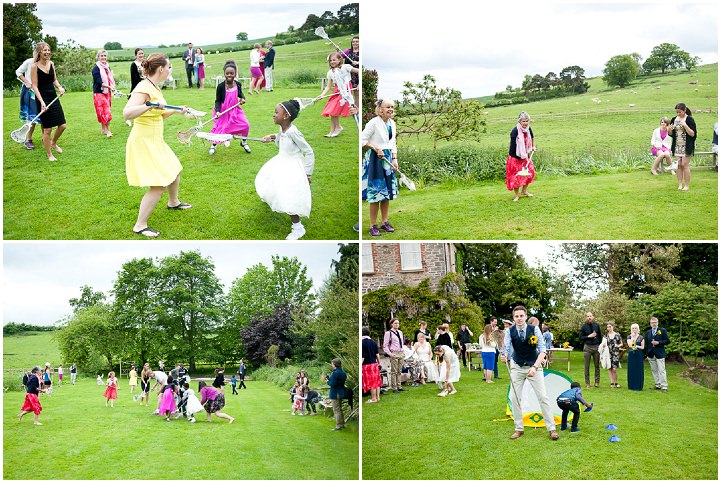 Special Moments
The lacrosse game was a definite highlight and the fire pit in the evening allowed us to enjoy the evening outside even though it was only May. There were so many special moments that have given us amazing memories but the best moment has to be walking down the aisle and actually getting married in front of all of our favourite people.
Advice to other couples
Share the load. Every decision we made we made together. We allowed each other to have things that the other might not have chosen and it all came together well in the end. Write lists, we had so many lists in our kitchen but couldn't have done it without them. Use friends and family to help you, they are awesome! Enjoy the day, once everyone is there and having a good time who cares if a minor detail doesn't happen, nobody else will know it was supposed to!
Biggest surprise
We didn't really have any surprises as we had planned everything together. In some ways the nicest surprise was that it was so much better than we could had ever hoped.
Supplier Shout Outs
For more information on Captured By Katrina Photography go to:
www.capturedbykatrina.co.uk/ FACEBOOK / [email protected] / @KatrinaBartlam /
07973 249858
Due to an email issue if you have emailed me between the 2nd & 9th of December, please resend it.
X