I am so glad it's Thursday.  I've had such a busy week this week but today I am heading off shopping with my Mum and Grandma shortly to look for some good winter clothes. The chill is in the air and it's time for some new winter boots and possibly a cream tea along the way.
Lets forget about the Autumn weather this afternoon because today we are taking you back to the sunshine for this beautiful Whimsical Summer Inspiration. We love these images as they are so dreamy and romantic, many Thanks to Kristi Midgette Photography for supplying us with these amazing and dreamy images.
'Exchanging loving vows upon soft, warm sands in North Carolina'
We asked Kristi to tell us more about the shoot….
This summer shoot tells the story of a bride and groom exchanging loving vows upon soft, warm sands. For this bubbly couple, nothing is as romantic as a Wedding Day filled with sunshine, relaxation, and laughter. She loves flowy fashion, whimsical flower crowns, and vibrant turquoise jewelry. She's a strict vegetarian, but her hubby loves his food straight from the grill.
For most, planning a wedding can take years. It's strategic, stunning, and carefully calculated. However, this tranquil couple decided to throw caution to the wind, and kept their day minimalistic. Flowers, colorful glass, gem stones, and delicious drinks set the tone for this laid-back atmosphere; and they wouldn't have it any other way.
Today, it's their day, wild and free. He's a natural in front of the camera, and she's a bit shy. Her laughter is contagious, which allows you to feel the genuine love between these two kind souls. This styled session pulls in inspiration from the shores of North Carolina.
Imagine wild horses running down these gorgeous sandy banks, and you'll have the ultimate summer wedding. This inspiration bounces between rich earthy tones, and warm summer hues. Sunshine and a soft breeze never looked so good. As the sunlight fades, you'll find these two dancing under a starry-filled night sky, singing along to their favorite song.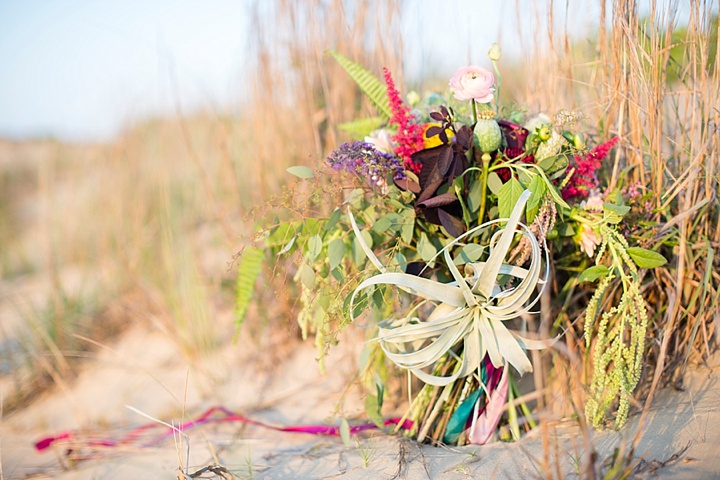 The amazing suppliers who made this shoot possible
More about Kristi Midgette Photography
[jprel]