This afternoon I am bringing you a bit of wedding inspiration, in the form of these alternative guest book ideas. Many brides and grooms love the idea of a book that their guests can sign, however from my personal experience, the book never gets signed by everyone, no matter how hard a designated bridesmaid may work at circulating it around your wedding party. Because of this there has been a huge rise in finding new and inventive ways for your guests to get involved. I see so many fab ideas in the weddings I post, so I thought today I would share some of the most popular ones with you. Guests like to get involved, they like activities to do during the wedding reception, so why not get them interacting with your guest book.
Here are a few of my favourite………..
Balloon release – great idea to get everyone involved and makes for a fabulous photo opportunity. (Photo source)
What about this cute postcard idea, it makes for a wonderful display as well as an interactive idea your guests can get involved with. (photo source)
Message in a bottle anyone? with this idea your guests can choose when you open the message. (photo source)
The classic finger print tree – Let your guests create a piece of wedding art for you, it's quick and simple and something you can keep for every. (photo source , top, middle, bottom)
Guests still like to sign stuff, it's an easy way for them to get involved, so why not mix it up and get them to sign something you can keep forever and display in your home. (photo source – top left, top right, jigsaw, tree trunk, teddy, table, quilt, pebbles, vinyl)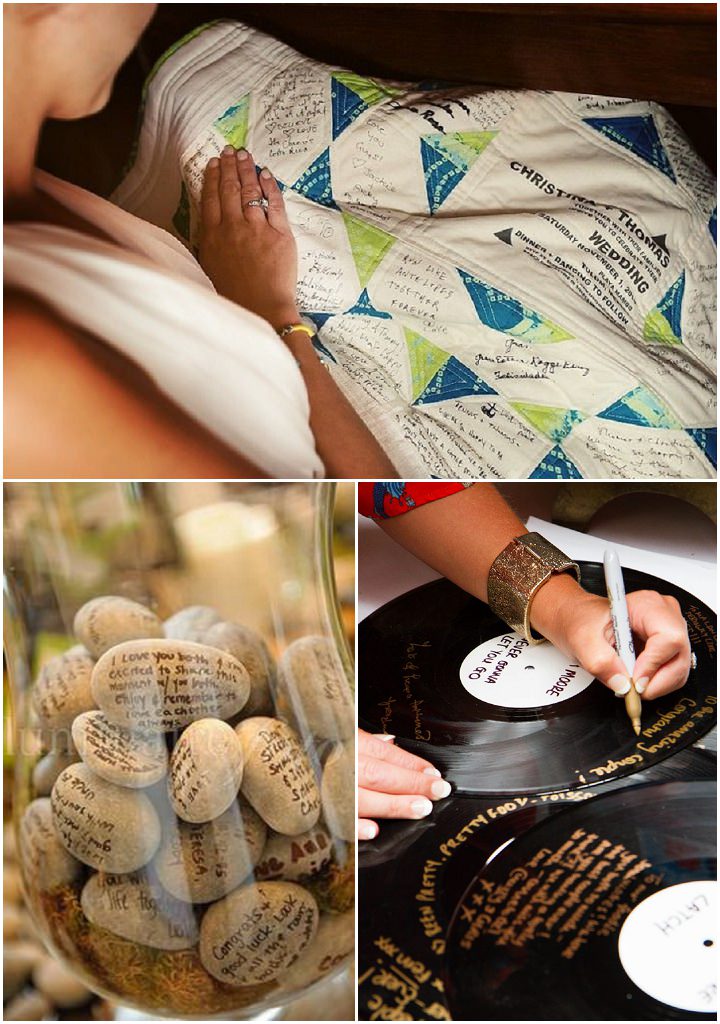 Hearts in boxes are becoming nearly as popular as the finger print tree. You can either make these yourslf, or byy them. Either way your guests get to sign a cute little heart, which is then turned into wall art after your wedding. (photo source – top left, top right, bottom)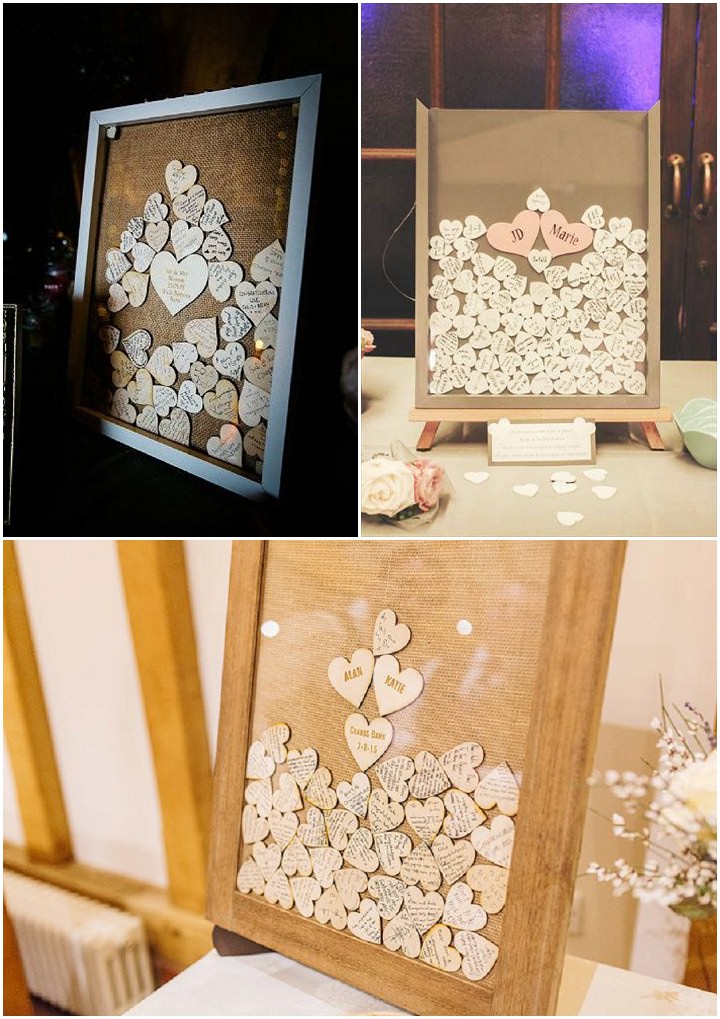 With many weddings taking on a travel theme at the moment, this 'sign our globe' idea has become increasingly popular. (photo source – top left, top right, bottom)
Photo booths and Polaroid cameras at weddings have become really popular over the last few years, so what better way for you to remember your guests than to have them take a photo of themselves. The photo then gets stored with a message or on its own. This is what I did for my own guest book. (photo source – top, bottom left, bottom right)
Giant Jenga is not only a great wedding game at weddings but it's made its way inside in its normal size as a guest book alternative! Get your guests to sign a peice each and play the game after the wedding. (photo source – top, middle left, middle right, bottom)
The trusted typewriter has been around for a while now, it makes for a great form of decoration and a fun activity for your guests. (photo source top, bottom left, bottom right)
So there is my selection, there are so many I could have shared with you. If you want to see some more than pop over to my Pinterest board for my full selection of alternative guest book ideas.
I'd love to hear your ideas what ae you planning fo your wedding?
Big Boho Love
Kelly xx