Good Afternoon to you all, I hope your Friday is going well so far and you all have lots of lovely plans for the weekend. I am at a wedding in Cheshire today and tomorrow I am in Leeds at another wedding. I feel like a professional wedding crasher this year! I really do love a good wedding!
Today we are back with our Boho Bride feature and this time we bring back Kerry and Doug to the blog. Last time they were talked all about their Wedding Suppliers and today they are on the blog talking about their crafting for the wedding.
I'll pass you over to Kerry and Doug………
Hi you  lovely people, things have been a bit hectic in the Winter/Wilson household. 2 promotion's a failed house purchase, a hopefully successful house purchase (fingers crossed ), 2 weddings and a run of bad luck have meant I haven't been able to do much wedding planning! Luckily in the words of Blue Peter, here's one I made earlier!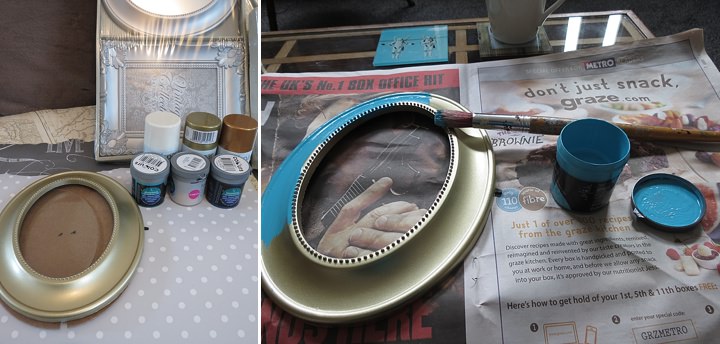 We are having a Alice in Wonderland style tea party for our wedding breakfast and I found some amazing illustrated notelets with iconic Tenniel drawing and quotes which seemed a fun way to distinguish between each table. But how to display these?
I am a keen Pinterester and have seen some really unique ideas for a table plan, a trip to B&M inspired me to make a shabby chic style way of directing our guests to their seats. I found a pack of 3 plastic antique type photo frames/mirrors for £2.99 and thought that spray painted in our wedding colours they would be very bold and fit perfectly with the feel of the day.
I went looking for spray paints but once I saw the price I had to rethink this option and a trip to a DIY superstore was in order! I picked up some tester pots and it was very fun getting my crafty head on painting these. Once dry I wasn't 100% happy with the feel of these so after a bit of research found some Decoart varnish that had very good reviews and this will make them long lasting (especially as we have 9 month until the wedding they need to not fall apart). The last picture shows the notelet in the frame and I am yet to decide what background paper to put behind to complete the table plan.
I hope you all enjoyed my very first craft make and I promise I will try to post more as it gets closer to the day!
Until next time
Kerry and Doug x