Today's wedding really is something special. The bride describes her theme as 'Glamorous Bohemian' and oh my does, this wedding fit her brief! With the ceremony set in a private forest in the Philippines and the reception on the beach, the location alone is absolutely stunning. Add in the fact that Aila is a photographer and BIG into styling and details then you can see why this wedding is quite the spectacle it is. Aila decided on a red theme to go with the glamorous overall look, but wanted to mix in natural elements. She went all out with her ceremony venue and brought 100's of red flowers to decorate the space. Moving onto the beach reception and I'm sure you will agree it looks absolutely beautiful, the accents of gold really pop against the deep red. And what can I say about Aila herself? What a totally stunning bride, Indoi is a very lucky man. Thanks to Ian from Ian Santillan Photography for the photography.
'A day that reflected who we are as a couple. Everything we have ever dreamed of'
Aila & Indoi were married on 25th June 2015 at Artists Village Forest. Dicasalarin Cove and reception is at AMCO Resort Diguisit Beach. Both are in the town of Baler, Aurora in the Philippines. 'Baler, the birthplace of Philippine surfing, is the hometown of my maternal grandma. Her family is one of eight that survived the almost mythical tsunami that hit the town centuries ago. Her family roots are deeply planted. For the ceremony and cocktail venue, we were blessed by Aila's granduncle, because he lent us his resort called Dicasalarin Cove. It had the private and vast beach for cocktails and the forest as an uncanny ceremony venue for us Filipinos. I am very proud to call Baler my province. It's wildly chased by the surfing waters of the Pacific Ocean on one side and is bordered by the tree filled mountains of the Sierra Madres on the other. Despite it being recently ranked as the most visited Philippine tourist destination, it still has maintained its magical appeal. I always call it "my town, my ocean, my paradise.' We had 85 guests in total and it took Two months to plan the wedding.'
How they met
We have been classmates in De La Salle Zobel since second grade. We were teased in our last year of high school but we only got together in college. We have been boyfriend and girlfriend for twelve years and got engaged in the last year.
The Proposal
Since we have been together for more than a decade, we have always talked about getting married. I knew he was going to propose, I was the one who found the ruby stone. We even went to the ring maker together. I assumed he will only give me the ring since I know about it already. The week of June 22-26, 2014, we flew to Siargao island, home of the world famous reef break, Cloud 9, to surf. In the late afternoon he managed to convince me to paddle out to Tahiti point where we have been surfing the past few days. He said we should at least have surfing pictures since this is our last day. Needless to say, I was fooled. He really just wanted to propose in the surfing waters of Siargao. I said yes sitting on a surfboard. He still made an effort to make the proposal special.
How did you allocate your budget
All in all, everything was budget conscious yet we still spent so much. I can summarize my wedding spendings by saying that we had an expensive wedding at a discounted supplier's rate.
How did you choose your photographer
I chose my boss, Ian Santillan, as my photographer because there is no one in this world who could have done a better job of covering our wedding.
The Dress
My gown is by Sunshine and Van Lim. They have been in the industry for ten years but have maintained an under the radar persona, they don't even have a website! I got my shoes at a retail store called People Are People. I was supposed to wear my grandma's pearl necklace but I didn't. My only accessories on my wedding day were my engagement ring and floral head wreath.
The Suit and Bridesmaids
Indoi's suit is made by our high school classmate's company, Suit It Up Manila. Our classmate, Franco Ongkingco, is so nice he gave Indoi a 50% discount. The shirt was a challenge, we finally found the perfect floral one at Armani Exchange. His shoes are retail too, an Allen Edmonds pair.
For the bridesmaids gowns, I went to Divisoria to buy the cloths and researched online for nice bohemian gowns.
Theme or Colour Scheme
I was very obsessive about the theme. The theme is "Glamorous Bohemian." The motif is red and all women were required to wear solid colored red. If its bohemian, better. The men were allowed to wear bohemian or white shirts and barongs. Thankfully only two women didn't follow the scheme. One had a yellow print and the other one did not wear red at all.
Flowers
A mixture of local and imported flowers. Here are the flowers as texted by my stylist. Cool water Ecuadorian roses, Cabaret Ecuadorian rose, Esperance holland rose, King protea, Eryngium, Queen Anne's lace, Lisiantus, Carnations, Astilbe, Hypericum berries, Misty blue, Rose cactus
Decoration
Since I am an artist, it only comes naturally that I will be OC with details. I wanted something classy that has a bit of an untamed look to the styling. I wanted it simple because I want the natural surroundings to be the main focus. I just wanted the styling to compliment said natural surroundings. What's "In" in Manila are "perfect and over the top" looking arrangements. I wanted mine to have a more natural feel to it. I am actually a huge fan of the stylist Flower Wild
Food
Since I am vegetarian and my groom isn't, we had a menu that was combination of vegetarian, international and local flare. Most of our guests- the groom's side in particular- have been wanting to go to Baler since forever so I made sure the venues and food were destination worthy
Wedding Cake
My cake is by Wilson Paulino of Madison Cakes and Pastries. Two layers of the cake were red velvet. Only one layer was Styrofoam. He migrated from a different province to Baler because he married a Baleriana. He opened his bakeshop so the locals can taste international flavors at affordable prices
Entertainment
We only had a guitar and keyboard set up. My friend, Sir Noel Mendez, is the number one session guitarist in the country. He is also a surf buddy of mine. He said he won't charge me for my wedding as long as he gets to surf without spending for anything. It doesn't hurt that he has a talented keyboardist friend either. We are so blessed.
Personal or Handmade Touches
I actually conceptualized everything. I showed to the stylist the pegs and I gave him the artistic freedom to correct or add stuff that his more trained eye and brain are made off. In the end, he did what I envisioned but a million times better. A tidbit, during the rehearsal dinner, my husband could not see what beauty I saw of the forest venue. It was thru Dave's artistic styling that made him comprehend what I saw in the venue. I did the invite, I bought empty film canisters and had the strips printed with my layout.
Special Moments
It made even more special because the suppliers are my friends. It also humbles me that they were so pressured more than usual to deliver excellently at my wedding. I mean, I am not even a lead photographer, just a second shooter and assistant to one of the best in the industry, yet they treated my wedding like we were royalty. The highlight of the ceremony was of my groom crying even way before I walked down the aisle. He still kept crying when I was walking down the aisle. He was so touched by Sir Noel's guitar playing. My bridal march was my groom's favourite moment together with our vows. I have always been so proud to be a part of Ian Santillan Photography and Cinemaworks Wedding Art Film has always been one of my favourite dream videography teams. I am glad our guests got to see how good they are. Also, SDEs are such a good night cap for all the work you have done for your wedding.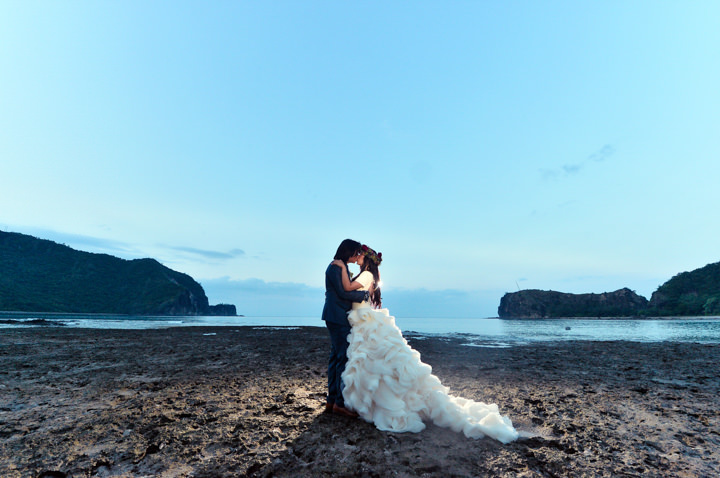 Advice to other couples
Go for what you want. Weddings are so expensive that its so hard to live with "shoulda, woulda, couldas." I cannot stress enough how blessed we are for Indoi's parents to support our wedding. They shouldered 90% of everything. They originally wanted a Catholic wedding. I just never saw myself getting married in a structure. Ever since as a kid, I have dreamed of a garden wedding. It was only when I saw again Kevin Costner's Robin Hood: Prince of Thieves on a bus that I decided I wanted a forest one instead. In the end, everyone was swimming in the pool of compliments and glory for having such a beautiful non-traditional wedding. Aside from the fact that Indoi and I really wanted the forest wedding, another non-negotiable for me is my officiating Pastor. It only has to be my grandma, my Lola (Filipino for grandma) Letty.
Biggest surprise
Indoi crying. I mean, I thought there's a chance he might cry but I wasn't banking on it. And he did. Also, my Lola getting emotional at the start of the ceremony.
Indoi and Aila Same Day Edit from Cinemaworks Art Film on Vimeo.
Supplier Shout Outs
For more information on Ian's work please go to:
www.iansantillan.com
FACEBOOK
[email protected]
I: wyt_chocol8