Wedding Photography, as I have said on many occasions is one of, if not THE most important aspect of you day. At the end of the wedding planning and the big celebrations it's only your wedding photos that are left to remember your day with. I have always encouraged you to spend as much as you can on your wedding photography, however what do you do with our photos after the wedding? The obvious answer is to get a professional album made by your photographer, however I know a lot of you opt for digital packages, in which case, what should you do with your wedding photos in order to keep them for eternity?
Today Andrew from Lightworks Photography is here to talk you through the many options available, technology is moving so fast, who knows how useful that CD of wedding photos will be in a few years time? after all how many of you even have a CD drive in your computer, I know I don't!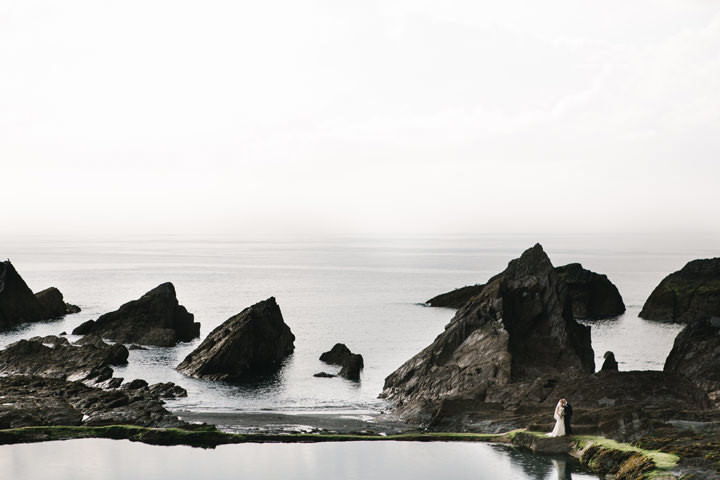 (photo by Debs Ivelja)
My youngest daughter asked me the other day "what's a floppy driver?" – my head spun for a few moments as it normally does when I'm asked why the sky is blue, why it's Tuesday or whether insects have hobbies and realised that she was referring to the funny little slot things we all used to have in the front of our computers. Can you remember when you last used one? Ten years ago maybe? I've just checked on Wikipedia and it turns out that they were still being put into computers as recently as 2010 – scary stuff as technology marches on at a pace that makes even last years gadgets look antiquarian. Now think back 30 years in terms of technology and it's like going back to the dark ages. Four channels on TV, no home computers or internet, film cameras and vinyl records, no mobile phones and I thought that my cassette tape Sony Walkman was the coolest thing ever invented to listen to Ultravox on – sad! This is probably what today will look like in the future for your children. Our slow mobile networks, dodgy broadband, 2D TV and clumsy mice, keyboards and touch displays will be laughably outdated. So, where does this leave your wedding photographs?
(photo by S6 Photography)
As time goes by they will become increasingly valuable but in 30 years time will you and your children still have them and be able to access them? Today, a majority of photographers deliver their final work in electronic format on DVD, you might well think that the DVD as a medium will be around for ever but when did you last buy software on a DVD? When did you actually last buy a physical CD or DVD rather than downloading it? Some computer manufactures are producing high spec machines without DVD drives now and they will, in time, become as dated as our entertainingly named floppy drives. The problem is that all electronic storage mediums have a certain shelf life and, if your precious wedding photographs are in electronic format only, they are, over time, vulnerable to becoming lost inaccessible or forgotten. So, what should you do to prevent this from happening? Follow this handy four step guide to keeping your pictures safe and accessible.
(photo by Paul Joseph Photography)
Step 1) Back up, back up, back up!
Your wedding photographer should have several copies of your precious files on archive but, as soon as you receive the electronic copies yourself, you should also back them up. Download them onto your computer, copy them to a USB stick and then consider putting them on another archival hard drive or possibly uploading them to the cloud as well. Also, each time you upgrade your computer commit to transferring your files over!
(photo by Toast of Leeds)
Step 2) Consider Your Options With your pictures safely backed up and stored consider some of the options below to put them to work!
Social media – An obvious and quick way to get your pictures seen and enjoyed!  The image quality on Facebook can be quite poor as it compresses images heavily (try uploading images at the maximum size allowed – currently 2048 px – there's more about changing file sizes below). Google + is much better and Instagram and Pinterest are all obviously set up specifically for photography as well.
Your wedding website – may well have the facilities for you to create a gallery of your wedding pictures and allow interaction too. Sites like www.ewedding.com

are a good starting point with

www.squarespace.com

and

www.wix.com

offering more comprehensive options.

Screen savers and backgrounds – Try making a screen saver slideshow and commit to changing the images every month so that they stay fresh. Most electronic gadgets with screens can be customised – it's just a case of having a set of small enough files easily accessible to put on them.What about putting a set of mini files of some of you favourite wedding pictures in a Dropbox folder so that they can be accessed from all of your devices?
Slideshows – Apps such as Animoto – www.animoto.com make this easy by helping you to make custom slideshows that you can view on computers, tablets and phones allowing you quick access to your images as well as customised presentations for different people. Maybe you could make a slideshow for your parents or bridesmaids of selected images or just a special selection of your favourites to share with your partner only?
Image sharing sites – Upload the photographs to a free image sharing site such as www.flickr.com or www.500px.com as you will then be able to access your pictures from wherever you are. They both have excellent design and viewing capabilities and have a real gallery feel to them.
Get them printed – As soon as you commit your pictures to print, they are essentially future proof – you will always be able to view them and you are no longer reliant on technology and storage media. A majority of online and high street printers will be able to produce high quality prints from your files at a very reasonable cost, in fact the more you have printed the less expensive the prints get. Small sizes will print really well but if you're wanting more of a wall size print or a canvas I would recommend using one of the more specialised online labs such as Peak Imaging. What about putting the prints in boxes, frames, hanging them, giving them as gifts, making cards, making collages? In fact you can let you imagination go wild! You don't need to spend a fortune and they will essentially last for ever if stored carefully away from direct sunlight and damp.
Make an album – There are now a large number of DIY options when it comes to book and album design and this can be a great way to get your photographs out into the fresh air for a reasonable cost. It's not for the feint hearted though as selecting images and designing pages is extremely time consuming and hard work. A number of online book manufacturers have free online software though and this does make the job much more manageable. Blurb – www.blurb.co.uk for example are excellent and there are numerous other options. You might also want to consider having individual images printed to stick into an off the shelf album. Avoid anything where the prints are mounted in sticky plastic as they discolour after a short amount of time – try to find an album that has acid free pages and either use specialist photo mounts or photo mounting spray. Both of these should last for decades without discolouring or disintegrating.
(photo by Paul Fletcher Photography)
Step 3) Sort, Decide and Organise!
You will hopefully now have some ideas of what you can do with your pictures – time to get organised! You may have been given several hundred and you will inevitably probably want to filter a few out. It can be a good idea at this stage to put different images into different folders on your computer according to what you might finally want to do with them – you might have a Facebook folder for example, a slideshow folder and maybe a printing folder. The worst thing to do is to go through them one by one copying and pasting or deleting as this will take for ever! Most professional wedding photographers edit several thousand images a year and use specialist software to help speed the process up. You can download a similar piece of software called Fastone Image Viewer for free www.faststone.org and it will save you hours of work. The quickest technique is to open your folder of photographs in Faststone and simply go through each one at a time marking in the ones you want to keep (don't mark the ones to take out as this is much more time consuming). After you have decided on the keepers you can delete the rest and/or copy the selections to different folders according to what you want to do with them. Whatever you do follow step one above first and do not work on the original copies in case you make a mistake and lose them!
(photo by Andrew Billington)
Step 4) Share and Enjoy!
Finally, take the images from each of your folders as above and put them to work! Printing – avoid using instant print machines as they are very expensive and poor quality. An average high street lab on online lab will produce good results on average paper at a reasonable cost if you print in bulk. However you will get better value for money using a more specialist online lab such as Peak Imaging www.peak-imaging.com or Pro Am Imaging www.proamimaging.com. They will produce more accurate colours and print on better quality archival paper.
Avoid cheap album, large scale printing and canvas options. They are not a good long term investment and the chances are you won't be happy with the quality. Screens and calibration – The quality of the screen you are viewing on can also make a huge difference to the photographs and it really won't do them any justice looking at them on a £200 laptop. Consider on what device you're going to view them regularly, get it set up and have the images available whenever you fancy having a flick through. You might not want to spend £500 on a wedding album but spending the same on a high quality tablet to view your images on and that can also be used for other things might be more appealing? A majority of high end computer and tablet screens will produce reasonably accurate colours straight out of the box but you might want to consider calibrating an older screen to get the very best qualityand colour out of it. Free software such as www.calibrize.com is a good starting point and will help make sure that the colours and brightness are correct.
Sizing – Uploading will be a bit of a trial if you try to upload the full resolution versions so I would recommend making a duplicate set of minifiles as soon as you receive your pictures specifically for using electronically. You can use a number of different software tools to do this quickly and easily as a single batch or go online and use a free service such as www.fotosizer.com – these smaller sized images will also be much better for uploading onto social media and emailing etc. – a pixel count of around 1000 pixels wide is a good starting point and should give you are reasonable file size for most applications although uploading the specific maximum file size for each platform will be a bit more time consuming but will yield better results.
(photo by Gianni Di Natale)
Finally! – Whatever you decide, do something with your photographs! I know for a fact that there are millions of wedding images languishing on people's hard drives unseen and unloved. Digital images are hard to view and work with and the very inertia of actually doing something with them is preventing you form enjoying them. Wedding photographs become emotionally much more valuable over time, unfortunately, the longer they are left and forgotten about the more likely it is that theywill be lost as well. It's vitally important to take action, do something with them and make sure that they are preserved for future generations and somehow become woven into the fabric of your family's history.
(photo by One Day Studio)
A bit about the Andrew the author 
I'm a full time wedding photographer based in Cambridge although I do undertake wedding commissions through the South and London. I'm very much into the photo documentary style and have been photographing weddings since 2003. There's more on the about me page on my website and the main page of my website is www.photographyatlightworks.co.uk.