This afternoon we are talking flowers with our resident flower expert, Tracey Campbell from Campbells Flowers. When I met Tracey a few years ago the first thing that became clear is that she loved her job, secondly the importance of using British flowers within her gorgeous arrangements. Tracey has stuck by this ethos over the past few years and today she is here to tell us why. Using British only flowers is ethically the best thing to do, no using flowers out of season, no flying flowers around the world, keep it fresh, keep it local and keep it in season!
I'll pass you over to Tracey……….
Hello again all you lovely Boho fans, it's so lovely to be back and our heartfelt thanks to Kelly for giving us the opportunity to talk flowers. As you can imagine, it's pretty exciting here at Campbell's HQ at the moment as we're in the midst of our busiest wedding season yet, but are totally loving working with more wonderful couples than ever, designing abundant, 'just-picked' prettiness, using as many locally grown blooms as we possibly can.  Which brings me neatly onto today's post and an absolute passion of mine, British grown flowers. When I set up Campbell's back in 2012, working with British and locally grown blooms, along with working as ethically as possible, was something I felt incredibly strongly about. It's just beyond thrilling to see how the industry has grown over such a short space of time and how so many more florists are offering their couples the option to buy British.
But why? I hear you ask! Well, apart from the fact that you get gorgeous seasonal blooms which are at their very best in terms of size, scent and longevity; you're also contributing to a lower carbon footprint and supporting a really worthy industry full of fantastically enthusiastic and truly caring small business owners. Why wouldn't anyone want this ethos as part of their special day?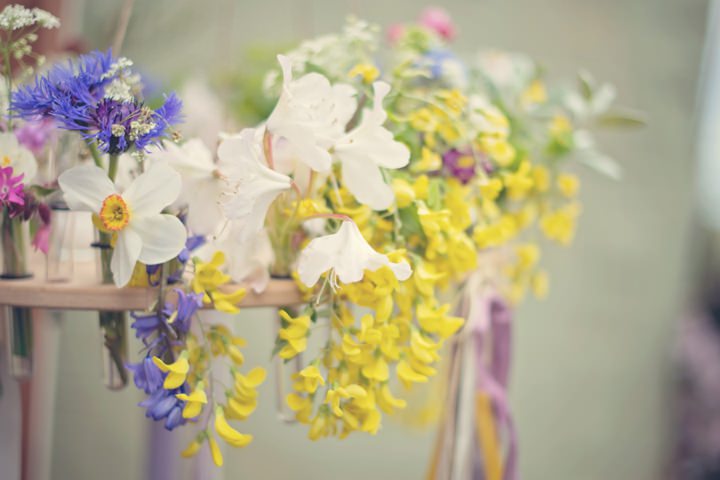 In terms of design, like any flowers, the only limit is imagination! Bear in mind that just because they're British grown, doesn't mean they have to be shoved into a jam jar! We've decorated venues with all kinds of locally grown beauties from archways, floral chandeliers in marquees, stunning long table centres, created overflowing urns with peonies and roses, made the pretties of buttonholes and the most sumptuous of bridal bouquets and pretty much designed hair flowers in a myriad of styles to compliment all manner of hair styles!
So I say, embrace all that's British grown. Side-step those jam jars because we're moving towards gorgeous, generous, opulent, big blowsy blooms a I can't think of a better way of expressing this than through using flowers which haven't needed to be flown across the world!
Well, that's it from us for now, I do hope you've enjoyed this positively evangelical post helpful!
However, if you have any questions or want some specific advice on seasonal or British blooms, then do leave a comment at the bottom of this post and Kelly and I will be sure to get back to you as soon as poss.
You can find Campbell's Flowers in various ways:-
www.campbellsflowers.co.uk
www.campbellsflowers.blogspot.co.uk
Facebook
Twitter
Pinterest
YouTube

[jprel]