Happy Friday everyone and how are you? are you on a weekend count down? Not long now and we can all clock off and enjoy the weekends activities! Today we are back with our lovely couple Ruth and Mike. With only 8 weeks to go before the big day it's all systems go for them. Last time Ruth gave us an update on all the areas of the wedding planning, today it is all about the bridesmaids dresses and the wedding day stationery.
I'll pass you over to Ruth and Mike
We're now less than eight weeks until the big day…and man don't I know it! I feel so crazy busy with everything, especially after realizing there's a honeymoon to finish arranging and holiday clothes to shop for and buy on top of everything else! For the honeymoon, we'll be travelling around Italy and we've planned the trip independently so, as you can imagine, it's taken quite a bit of time to scope out exactly where we want to go, book the internal flights/trains and search for the most suited hotels! We've just got car hire to book then that should be it!
The bridesmaid dresses arrived from For Him and For Her just the other day, I'm SO pleased with them! I was nervous ordering bridesmaid dresses online but I can absolutely vouch for this website, the material is soft and falls beautifully, the dresses are really well made, they look great and the bridesmaids are happy with them…so that's another one ticked off my wedding to-do list!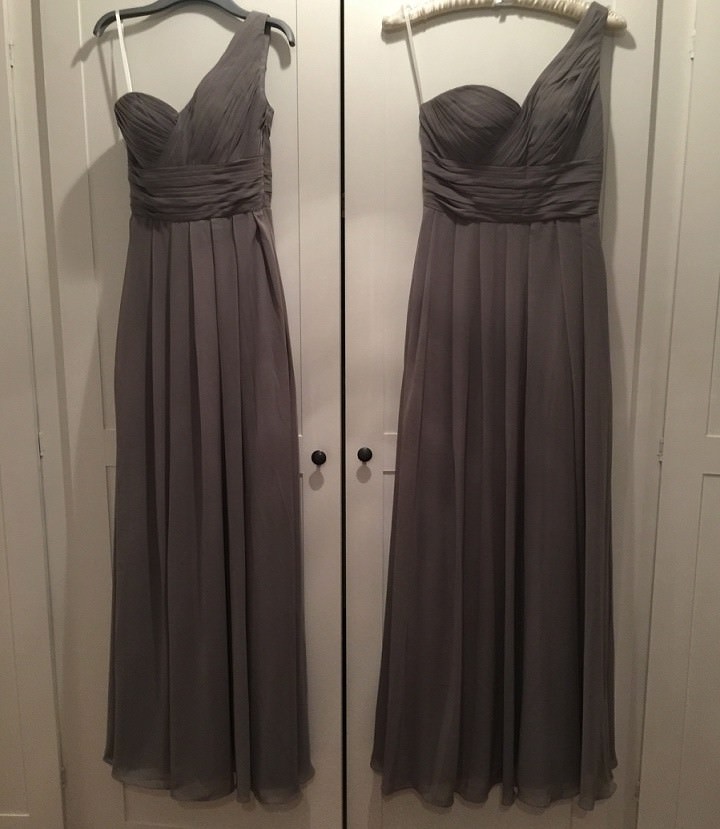 I'm delighted to report that my Dad's friend, Jason, is doing the calligraphy for us as a wedding gift so that's the place cards, table number and table plan all taken care of! We researched free fonts online and came across the perfect one called Calendary Hands so Jason's using this as a guide when he writes everything out. I popped over to his a few weeks ago and this is what the tester looks like…
I think he'll do a great job and its little things like this that, I believe, that will tie the theme and overall feel together nicely. I also used this font to write up some ceremony information, which the ushers will hand to guests when they arrive. I printed this onto A5 parchment paper and voila…we've got ourselves our own customized ceremony information.
This weekend we're heading to B&Q for plywood. Mike's making us a large Polaroid-style frame for our photo area; I'll show you the finished result in the next blog! I'm also gathering pictures of wedding guests, family and friends wearing, or pictured with some sort of accessory, as a friend at work is making a giant Guess Who game for us to go outside, how exciting!
Speak soon,
Ruth x