We have a real treat for all our Boho readers today as we have not one, but two instalments of Diary of a Boho Bride. Our second instalment comes from the lovely Ruth and Mike and they will be sharing with all our Boho readers an update of the progression so far. There is only 3 months away until Ruth and Mike tie the knot. Time is certainly flying by!
I'll pass you over to Ruth and Mike………
With less than three months to go the wedding's suddenly becoming very real! Lots of things have either been booked or planned or made and it's all really coming together…
Flowers
It wasn't difficult to choose a florist, as my Mum's friend Julie is a brilliant one! She did the flowers for my sister's wedding a few year's ago so she was booked immediately. Julie brought a flower sample round a few weeks ago following a chat about what sort of flowers and colours I might want and I'm so pleased with them.
The plan is for our centrepieces to be something like crystal decanters with flowers and the table number tied around the neck of the decanter with grey ribbon. With the flowers as centerpieces they're a pretty important part of the overall look so it was great to see them and give them a test run. We were just missing some green thistles. Although thistles look quite harsh, I think they'll compliment the rest of the flowers and the theme so Julie's hunting for some for us!
Another Venue Visit
The way in which you choose your wedding venue can be looked at as the same way you choose your house – you make this huge important decision based on (usually) just one or two visits and you don't go back there for a number of months until the deal is done!  Doesn't that seem a little mad?
Our venue, Doddington Hall is a blank canvas allowing us to do pretty much whatever we fancy decoration wise…I have lots of ideas and need to visualise the space and different areas in which to do this…I need pictures! Sometimes, pictures on the venue's website just aren't enough so we went to Doddington Hall a couple of months back and did just that. I took pictures of every room, every windowsill, every space in which I might want to fill with flowers or candles…I even took pictures of the ladies & gents so I can plan what I might put in there! It might sound a bit odd but its really helping me in the planning process.
So my top tip? Take pictures of absolutely everywhere you can!  It'll help you visualize what can go where.
Calligraphy/Stationery 
Now I know wedding suppliers aren't cheap but when I contacted a couple of wedding stationary companies and calligraphers, I really wasn't expecting quotes on place cards at £1.50 a word + extra to have the surname written on the place card!
I'd already tried and failed with calligraphy…I thought it would be easy…how wrong I was! I spent a whole afternoon trying it and I think a four-year old could've done it better! I knew I wanted this beautiful romantic handwriting for the place cards, table numbers and table plan, it's the perfect look for our vintage Hollywood glamour theme but I definitely couldn't afford what the professionals were charging.
So I asked around family and friends to find out if anyone could do it and I told the girls in the office about it. I work in marketing and have a creative bunch of people around me so one of the girls is giving it a go…and it's coming on well! I also found out that my Dad's friend is quite the artist. I've seen some of his work (it's brilliant) and he's offered to help so family and friends have saved the day (and saved us hundreds of pounds) on calligraphy handwriting. Phew!
Other things booked/sorted these past few months: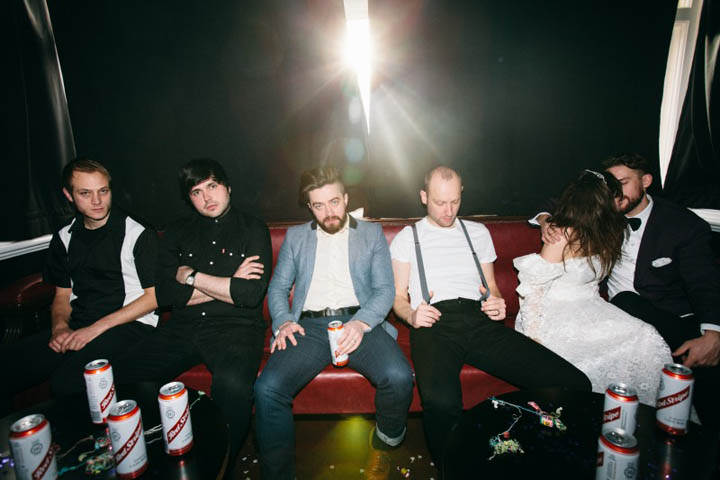 Image Source via Emma Case Photography
The men's made-to-measure suits arrived from Vietnam, just the shoes & ties to sort

Bespoke rings nearly ready for collection

Went to taste some glorious fudge at

The Treat Kichen

in Nottingham and purchased loveheart shaped fudge favours. We originally said we weren't too fussed about favours but I saw these on Pinterest and couldn't resist! They're also cheaper than you might think!
Speak soon,
Ruth x