So today is Easter Sunday (sorry for pointing out the obvious!) To be honest Easternever really grabs me, and I hadn't really registered the fact that it was Easter, mainly because when you're self employed bank holidays just pass you by! Nik's been off camping with his family, while I've been busy meeting with brides while they are up in the North for their Easter break. With 2 weddings next weekend and then a week in Ibiza to look forward to (I'm going for work as well as a bit of pleasure) Its been non stop here!
But I have found time enough to find you not one but two fabulous photos today, well it is Easter. The pictures come form the hugely talented Lisa Devlin who I have featured on the blog several times! I just love her work, as well as her!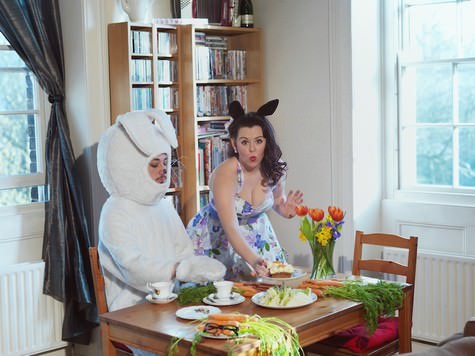 Lisa was recently lucky enough to have the use of  a HasselbladH4D-50 and 'Dream Kit' after winning Wedding Photographer of the Year Award and she used it for this shoot with Tommy and Katie. she says 'I saw some pictures of these two on Facebook dressed in big fluffy bunny suits at a fancy dress party and that sparked the idea for this quirky shoot. We were aiming for something a bit vintage and a bit dark. We shot a day in the life of them as this fantasy bunny couple and had a lot of fun. For the full shoot CLICK HERE
I LOVE these pictures, they are so much fun, so styalised and you can really see the couples personalities shine through. I love the cheeky nature of them mixed with the naughty elements as well. Great use of carrot props and bunny books!
For more information on Lisa's work go to:
www.devlinphotos.co.uk
www.devlinphotos.co.uk/wordpress
FACEBOOK
TWITTER