Todays wedding is an absolute beauty, a stunning outdoor wedding full of wonderful sunshine all the way from Portugal, courtesy of Fabioazanha. Not ony is this wedding simply gorgeous but so is the photography with warm tones and a great use of light. The couple wanted a spiritual and personal day and they created just that. With flowers donated from each wedding guest to make up the bridal bouquet along with the watering of an olive tree during the ceremony, all go together to make this such a beautiful and personal day, I just love it all.
'A romantic, relaxed, fun, country and nature loving wedding'
A few words from Maria and Fábio the photographer……
The bride and groom preparations, ceremony and party was all held at the beautiful rustic vineyard estate Quinta de Sant´Ana in Gradil, a small Portuguese town located some miles from Lisbon.
Weather this summer  had been rather unpredictable, but it decided to grace us with beautiful sun spells the whole day. We met Betânia on that day, just finishing off last minute decoration piece, after which she´s had her make-up done.
Meanwhile Fred arrived to get ready at a different chamber. Unwittingly however the couple run up to each other breaking the "not-seeing-before-wedding" tradition.
The ceremony took place at a hill overlooking the vineyards and the estate where everyone under a shelter of the Chinese umbrellas had witnessed a heartfelt ceremony.
Betânia´s wedding bouquet consisted of flowers that had been given to her by her guests as she walked down the aisle. When she´d reached her husband-to-be, the couple tied the bouquet together with a fabric ribbon.
 Right after exchanging the vows and rings the couple made a symbolic act of watering together a sprouting olive tree. The tree has for centuries symbolized an immortality, peace, fertility and a strength while a  water is a symbol of purity, vitality  and a life giving force. They believe that love has to be watered by respect, affection, faithfulness and understanding, and by this symbolic act they show their great commitment to each other.
After the beautiful ceremony the newly wedded couple and the assembly were conducted by a brass band over to wine tasting, cocktail party and some dancing after which a dinner was served and a fabulous party ended the beautiful wedding.
It was in every way a genuine, heart filled and romantic day just like the couple itself , so full of passion for life and for things they believe in.
How they met
We met in 2011 in Guinea-Bissau. where  Fred lived and worked in conservation and environment since 2009. While going for a short research trip to the Bijagós islands of sea turtles to complete my Master´s degree, we were presented at the Fred´s office. A month later we met again by a total chance at a train, while taking a  long journey back to Bissau. We talked for hours and after reaching Bissau, Fred followed his own path while I went back go Portugal. I don´t know if it was love at first sight, but the long conversation, Fred´s voice, green eyes and a gorgeous smile  had left a mark in my heart. And as for Fred he´d just realized that he let a woman of his life go away with the flight to Portugal. Some months later we met in Barcelona and for a year, had a  long distance relationship between  Europe and Africa . In 2012, I  moved to Bissau and we´ve been together ever since.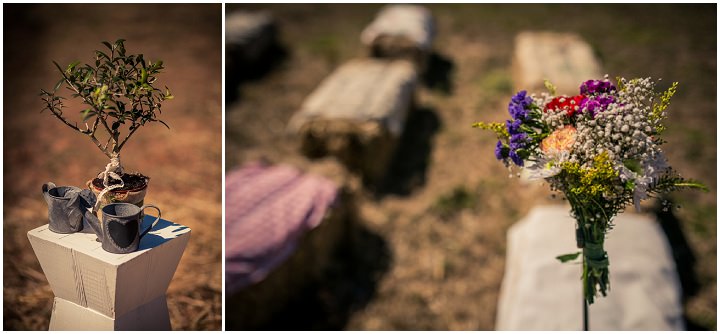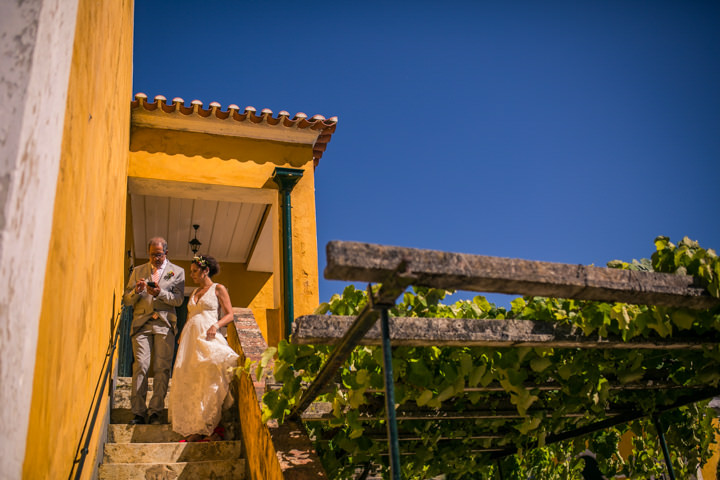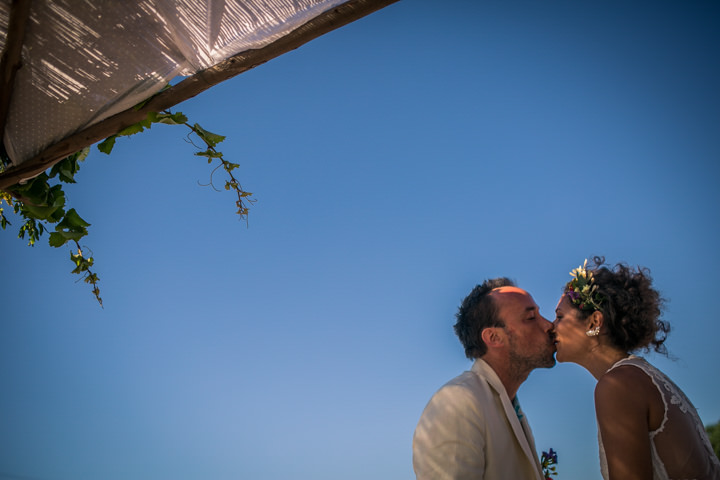 The Proposal
Fred proposed quite shortly after in a simple and natural way. Marriage was something very natural to us and we wanted to start this journey together and be companions for life.
Although most of the wedding preparations were done from distance they all went pretty smooth.
How did you allocate your budget
The choice of venue was perhaps the most difficult one, essentially by the type of place and for the type of party we wanted. But once chosen, the rest followed naturally.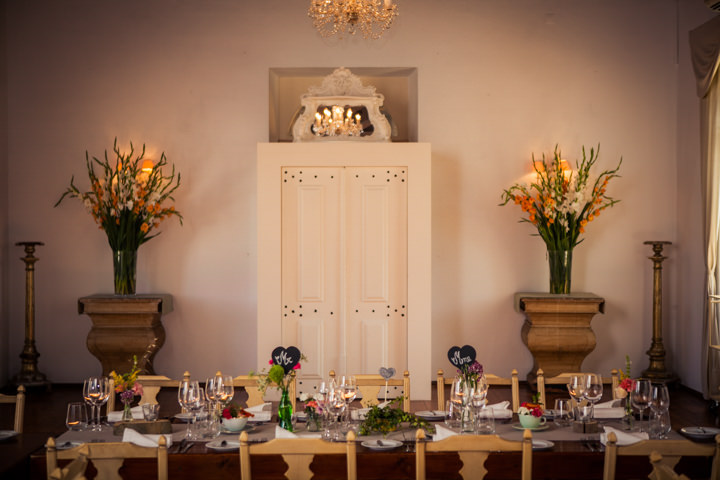 Theme or Colour Scheme
Our intention was to create an event at a rustic village setting, an outdoor party on a beautiful summer afternoon in a romantic and family atmosphere.  Some of our  family members  participated in musical entertainment, many small details of decoration was made either by ourselves or by the organisers from the venue. 
But the importance of incorporating  Nature and romantizm was crucial to us. Fred and I are big romantics and therefore wanted to fill our day with charm and love … I think it´s important for people to show others their romantic side, not to be afraid to show their feelings that brings more harmony, joy and happiness to life, and most importantly that nourishes the love!

Supplier Shout Outs
For more information on Fabioazanha's work please go to:
www.fabioazanha.com
www.fabioazanha.com/blog
[email protected]
00351 212902584
FACEBOOK
INSTAGRAM
PINTEREST


We are Maria and Fábio Azanha, Portugal wedding photographers based in Lisbon, that share a great love for one another and passion for telling other couples´ stories. Our style is popularly known as creative photojournalism and we have photographed couples across Europe and Brazil