A few weeks ago we introduced you to all our new Boho brides and over the coming weeks/months you are going to get to know about them and their wedding plans much more.
Today I am happy to bring Jo and Paddy to the blog.  They are getting married at the Kingshall Barn at Elmley Nature Reserve this September.  Jo and Paddy have chosen the subject of invites today and Jo has kindly shared with us a supe cute DIY post.
I'll pass you over to Jo and Paddy………
Wow less than 5 months to go now and things are starting to feel real, we have decided to give a general update on the details so far and a peek into our invites and how I made them…….
So we have finally booked our notice of marriage, not sure if it's just me but seems a little scary. Despite 11 ½ years I'm not sure Paddy will be able to answer the questions!!
Planning all in 12 months seems pretty doable, been quite relaxed and plodding through I suddenly realised I needed to get moving and book hair & make up, so with trials coming up I'll let you know how I get on.
I wanted to go for something different with accessories so with the help of a close friend got in touch with Rachel and after our second meeting cannot wait for the piece to be finished. It's a completely bespoke piece designed for me after our initial consultation. I'm leaving this one a surprise (Paddy has no clue)
With Paddy being a Tree Surgeon we are incorporating this into our day. After seeing lots of pictures we decided on our favourite log guest book, stump cake stand and wooden card barrel. Since then we have struggled to locate somewhere to buy these from. Paddy has enlisted a friend who is also a Tree Surgeon and making her own guest book and cake stand for her wedding in July and has agreed to make ours too! So excited to see the end result. It's also taken time to hunt down and research into finding the barrel and at reasonable price too! We have now ordered it from Etsy, fingers crossed it's as good as it looks!
(Photo source: cake stand / barrel letter box)
Inviations
So the biggy, our invitations which took me forever to make!! These have now all been posted so we can sit back and wait for the RSVPs to come through.
Inspiration for the invitations came from a picture on Pinterest, I loved them. Not having a massive budget for stationary nor really knowing what to do, I made a trip to hobbycraft………Bank holiday project
However never under estimate the time these take!!
You will need:-
Kraft cards and envelopes 6 x 6 (30 per pack)
Kraft card and envelopes 5 x 7 (30 per pack)
A4 White card
A4 Pink card
'Wedding Invitation' Stamp
Black ink pad
Mr & Mrs wooden confetti hearts (25 per pack)
Sweet Paris Paper Blooms & Leaves (30 per pack)
3 x Double sided tape rolls
Glue gun with glue (2 sticks)
Personalised stickers from Etsy
Wax gun with wax (10 sticks)
Personalised Wax seal stamp from ebay
Small guillotine
Ruler
Scissors
'Wedding invitation' was stamped onto the front of each and left to dry, the original idea of having a heart also stamped underneath didn't work out. I didn't like the finished look, after Paddy being polite at first he then agreed I needed to make a second trip to hobbycraft! I found some flowers and wooden hearts which were glued for our final design.
Using each half of the 5 x 7 cards I made the pockets by scoring the edges folding and cutting diagonal to shape. Then used double sided tape to stick. These need patience and time!
I found a wedding invitation template from wedding chicks which I love, the wording felt more relaxed suiting our theme. Paddy didn't like the bicycles and wasn't keen to incorporate into our wedding so these had to be chopped off!
These were all cut to size slightly smaller than the pink card so it formed a border, all stuck down with double sided tape.
After designing the Key information, Accommodation list and RSVP postcard, all were then cut to size ensuring the title of each could be seen and fit into the pockets neatly. The original plan of having brown RSVP postcards had to be changed as these wouldn't feed through our printer!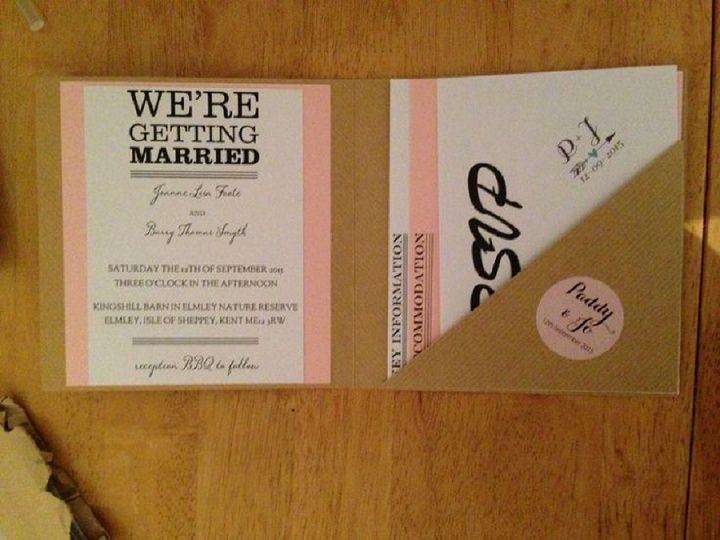 To finish off the look I ordered some stickers from Etsy, luckily these were planned in my head and ordered in advance. I couldn't find blush pink anywhere so these took 2-3 weeks to arrive from America.
Paddy's favourite part, the envelope seals. I didn't think I would manage this on my own however proved myself wrong! Again I planned this in my head beforehand so had ordered these from eBay
Really happy with how they've turned out – hope you like them too. I'd love to hear what you think.
He's already mentioned I need to get started on the thank you cards!!
With Love
Jo & Paddy xx
[jprel]