Has everyone got that Friday feeling?  I certainly have!  This week has been a great one.  The weather was so beautiful, we have showed you some amazing weddings, we have had some amazing wedding submissions fall into Kelly H email box and we are so excited to be blogging these in the upcoming weeks.  I went to London this week on a very exciting visit for Boho Weddings and I will be revealing more about the trip very soon. So all in all this week has been a great one!
Today we are back with our weekly Boho Bride feature and I am so pleased to welcome back Sarah to the blog.  Last time Sarah and Del chatted all about changes afoot and honeymoons and this week they are sharing with us Traditions.  I love this post because Sarah and Del have really worked out together what exactly they do and don't want with regards to Wedding Traditions.
I'll pass you over to Sarah and Del…..
Hello from Glasgow. We did it! We survived moving house 7 weeks before our wedding. Some of the DIY didn't quite make it, but all in all we'll take that! I wouldn't recommend it, but then moving is always going to be stressful whatever you've got going on. The wedding gave me a good excuse to take a break from unpacking to go to taste some cheeses at the lovely George Mewes' in Glasgow.
Del's just back from his stag in Budapest, which I'm assured was lots of fun, so much that he missed his flight on the way home. I've started my new job too this week, so we've been busy again. We've also sent out invites and are impatiently waiting for RSVPs – chasing them is not fun, and so family and friends reading this – if you've received an invite please RSVP as it's making me grumpy! I can't really remember what else we've done as it's been such a busy time, so I'll just get on to the main theme of the post – wedding traditions.
We've written before about how important it is to us to personalise the wedding, and so this post is about our approach to some wedding traditions. I've always been quite apathetic – I'm not superstitious and I find lots of the traditions a bit cringey -but what's surprised me is that some are really important to Del, and so there have been lots of conversations and compromises along the way relating to traditions. It's also surprising to me how many (older) people are shocked if you choose not to follow a tradition, but you've just got to go with what you think is right…. I promise that, despite suggestions to the contrary from some family members, the sky will not collapse if you fail to put a silver sixpence in your shoe the morning of the wedding!
So what is it with many traditions that I'm not keen on? Some I find a bit cringey – like photo opportunities when cutting the cake, but then I've never liked posed photos – much prefer those natural action shots. Mostly though I think some traditions come from quite sexist origins. I know this can be quite a controversial topic – marriage and sexism – and so I won't go into that debate, but just talk about how I think we have tackled some of my concerns, and where we've compromised.
IMAGE SOURCE
IMAGE SOURCE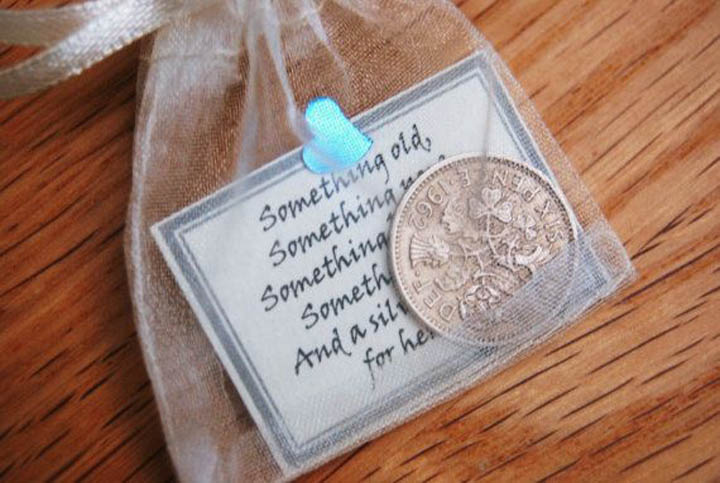 IMAGE SOURCE
Out of the window
One of the things I felt most strongly about was the name change – I won't be changing mine when we marry. This topic has been discussed previously on the blog and so I won't go into great detail as lots has been previously written. It's not that I don't think having the same would be nice, it's just that I feel that for one person to give up the name they grew up with would be unfair – I wouldn't ask Del to change his surname to match mine, so why should he ask me to do the same? We have discussed both of us double barrelling (I could do it, but then what's the point if we still have different names?), but Del wasn't too keen, so we're just leaving it as it is.
Something that has raised many an eyebrow amongst others is the sleeping arrangements the night before. Del and I are staying in the same house – the wedding venue – for four days with friends and family. So we're going to sleep and wake up together the morning of the wedding. It seems silly to play musical beds when we'll effectively be in the same house, and plus I'd prefer the normality of having him there rather than waking up alone on my wedding day. I was chatting about this with friends the other night – and there are so many different opinions. One thought it'd make her more excited to see him if she hadn't spent the night together, and I totally get that. It just made me realise that you have to do what's best for you – it's not about what tradition dictates.
Another thing we won't be keeping is the bouquet throw. I think it's a bit of an outdated idea…whilst it's a fun photo, I doubt many of my friends are really bothered about catching it, and none believe that if they do they'll be next to marry… And more importantly, I LOVE my dried flower bouquet and don't want it ruined!
Things We're Keeping
Del's quite a stickler for tradition, and so while I feel a bit awkward about the posed photos – cutting the cake, signing the register and doing the first dance – we've kept them in because they're traditions he values, and at least with the 1st dance we can have lots of fun with it (although with less than 6 weeks to go we still haven't decided which of 3 songs we'll use!).
We have disagreed a lot about the arrangements for walking down the aisle though. I always saw us walking down the aisle together as I'm not too keen on the idea of being 'given away' (to me it feels too possessive, although I know for many that's not what it is), but he wants to experience the waiting nervously and sweatily at the bottom of the aisle, so we're sticking with tradition here. Although I'll be "walking with" my Dad rather than being "given away"…
We also decided early on that my outfit would be kept secret from Del (although pretty much every woman attending the wedding has seen it!). This has been a long running mystery for Del and a real source of fun for us as he imagines what it'll be like, and I laugh on, throwing in red herrings here and there…
So traditions are there to follow to the line, or to completely disregard – it really is up to you. I think what's come out of conversations with friends is that less of us are just blindly following tradition – we're picking the ones which work for us and disregarding those which don't.
So what about you? Id' love to hear which traditions you're keeping/dropping and why.
Love Sarah & Del 
xx