Good Afternoon to you all. I hope you are all well on this lovely Thursday. Today we are back with another wonderful styled shoot and this time we are bringing you some gorgeous beach wedding inspiration in the form of this boho inspired shoot from Label' Emotion. The shoot took place at the Hillion Beach, Armor Coast in Brittany last November. It brings us some gorgeous ideas for a beach themed wedding as well as some fantastic images. I can't wait to spend a bit of time on the beach this year, summer is just around the corner!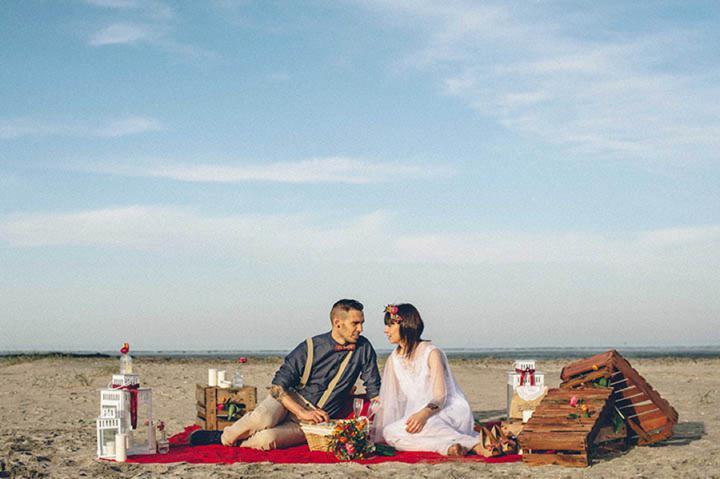 'This shoot was very exiting and wonderful: being in the middle of nowhere only with Nature and very few people was just fantastic. Also, it has been very helpful for us: we have created a special atmosfear, a special wedding mood in a different way than what we are able to see in France. It has increased our creativity.'
What made you decide to do the shoot
We are taking part of the 1st franchise network in France and Europe – Label' Emotion LTD-, and the founders ask to every Label' Emotion agencies in France to imagine this kind of inspiration shoot once or twice a year, trying to discover new trends and propose a brand new know-how for French people. We definitely share this point of view that's why we have made it as a real wedding
What was your inspiration behind the shoot
Allow everyone in the world to discover our wonderful region. Britainy is a fantastic area to get married. It's so magical.
What did you want from the shoot and do you think you have achieved this
We have tried to mix several wedding and decoration styles to create a brand new one: that's what we call the Label' Emotion touch! And it has worked!
Are you planning on doing any more shoots
Definitely yes! And the one that is coming will be amazing!
For more information on Label Emotion's work please go to:
www.label-emotion.com/en
[email protected]
FACEBOOK
@L_E_Provence
Label' Emotion Nantes:
[email protected]
http://nantes.label-emotion.com
Label' Emotion Rennes :
[email protected]
http://rennes.label-emotion.com
Label' Emotion wedding and event agency was created in 2008 and is specialised in bespoke event planning for the private sector. To date, and as a result of its success, the company now counts 10 agencies : Provence, Paris, Montpellier, Lyon, Brittany, Pays de la Loire, Nord Pas de Calais, French Riviera, Bordeaux and London allowing a total satisfaction for our clients all over France as well as internationally