Well hello you lovely people and welcome along to another Wednesday! It's officially the middle of the week and I am so excited! It's my birthday on Saturday so I am counting down the days till I can go out and celebrate! Shopping, cocktails, a lovely meal and dancing are on the menu, so I can't wait! Today I have a gorgeous winter wedding for you from Paul at Roar Photography, it's a really lovely wedding with some amazing details. With winter weddings for me it's all about the use of light and this wedding has so many lovely touches. I just love the giant light up letters and all of the little tea lights and fairy lights that make the venue so pretty. The vintage travel theme is present throughout and works really well with the rest of the gorgeous decor.
Gareth and Gemma were married on 20th December 2014 at the Hundred House Hotel in Norton Bridgnorth. 'We chose the venue because it was super quirky, with award winning secret gardens and a fabulous chef. It also had the all important Ironbridge Brewery guest ales, the only factor for consideration according to my brother! We had a total of 80 guests and the wedding took 11 months to plan.'
How they met  
We met on line at match.com and been together 3 years before we married
The Proposal
I travel around the world for work and planned a surprise ticket for Gareth to join me in Hong Kong after I had finished work in Jan 2014. We carried on to Thailand for a beachy holiday, which is where he returned the surprise by proposing during our elephant ride! I managed to mess up his proposal as I was concerned that the poor elephant had to carry us and his bag so made him leave it behind at the lodge…. turns out the ring was in the bag!
How did you allocate your budget
Our budget was controlled by a spreadsheet, forecasting how much we would spend and then the actual – its a nice surprise when you come in under budget and it can be a bit addictive to come under what you planned! We made sure the things that would last forever where the things that took priority; our rings and the photographer being the highest of the list.
How did you choose your photographer
Finding Paul was the happiest accident! We had met someone we were really keen to work with but he was booked for our chosen date, never the less I was following him on Facebook. A beautiful image popped up on my feed one day, just stunning… feeling a bit sad I started to flick through the beautiful pictures and realized it was actually someone else… Roar photography. I was over the moon when I contacted Paul and he was free! His images are breathtaking, honest and capture scenes that are better anything you can remember yourself. Paul is a really chilled and easy going chap, it was like having another friend by my side all day…Oh, and he gave us the best cupcakes when we met him, it basically sealed the deal!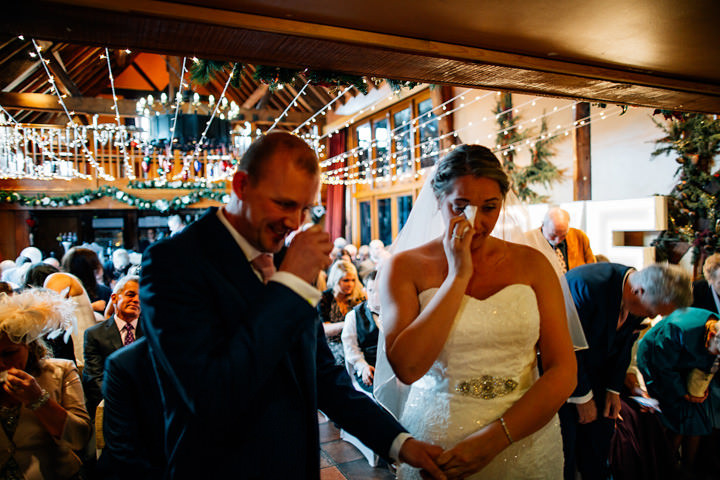 The Dress
My dress was Essence and I fell in love with the fabric, every bit of it glittered like a snowflake. Shoes were lady dragons from Vivien Westwood, I had always wanted a pair, so what better excuse! I did alot on ebay, including my veil and belt.
The Suit and Bridesmaids
The boys hired the 'Westbury' suits from Peter Posh in Telford. The girls wore multi way dresses from Ethan and Eliza with coast boleros
Theme or Colour Scheme
The theme was vintage travel. Collected, reused and up cycled decorations were key. I really wanted a soft but wintery colour scheme, dusty pinks 'happy' navy blue pulled together with natural hessian and lace
Flowers
The flowers were amazing and supplied by my close friend and colleague. We had dusty roses, thistles, wax flower, pussy willow, lisianthus and gypsophila. I had a brooch bouquet that was made by my super talented friend Lucy. We collected brooches from antiques fairs and ebay along with some sentimental pieces my mom gave me to put in – it is stunning, every time I look at it I see something new – I could stare at it for hours!!
Decoration
We borrowed VERY old ladders from Gareth nan adding fairy lights, jugs filled with flowers and giant balloons for the entrance to the barn. Inside We decorated with table top manzanita trees, wired with mini LED lights, tons of candles, Mason jars collected from our numerous visits to a restaurant in Chicago – Joe's crab shack! They give them away free when you buy a cocktail, so would have been rude not to have one or two cheeky drinks! We collected 20..!
Food
We had the most fabulous Meze to start, something for everyone. Then roasted bridge north beef with tons of mash and a giant yorky, followed by a yummy treacle tart. Then after dinner drinks of baileys,whisky or brandy, my step dads extra touch… He really wanted to make sure that everyone had a good feed and was looked after!
Wedding Cake
The wedding cake was stunning and made by my mom, she took a lesson on how to make flowers and is a dab hand after only one session! She made 3 different types of cake, rich fruit, light fruit and sponge.. again very keen that there was something for everyone!
Entertainment
For our entertainment we hired Synergy live Band – Jaun and Glenn are the most talented Mediterranean flamenco guitarists and covered beautiful Spanish classics to Bruno mars – they did an amazing Hawaiian version of 'somewhere over the rainbow' whilst I walked down the aisle
Personal or Handmade Touches
So many personal touches:
-Comfort baskets with little notes for our guests
-Magic Gloves 'you are magic, so are these gloves'
-Beanies 'Boys get cold too, get your beanie on baby'
-Wraps
-Slippers for dancing!
-Emergency kits of paracetomol, mints, de-fluffers, gaviscon… the list goes on
-Confetti basket, made from disty floral cones
-Order of service – aeroplanes
-Bird cage seating plan
-LOVE lit sign – made by my amazingly talented and crafty Dad
-Dressing table, we up-cycled to be used for our sweet shop
-Hessian table centres / runners
-Slate name places
-Invites for Day and night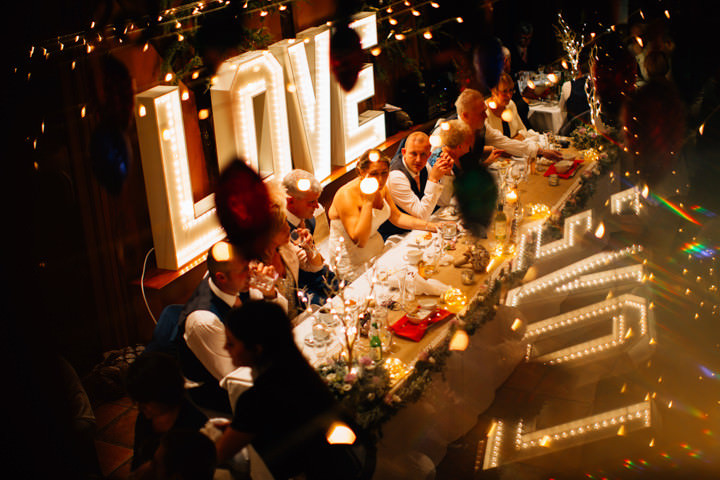 Special Moments
So many special parts to our day that its hard to single out. There is the most obvious part of marrying the love of your life, but that feels more natural than you think it ever will. What can be quite overwhelming is the effort that everyone has taken to be a part of your day. It is awesome to have all of your loved ones together under one roof, knowing that everyone that was there had made such an effort to not only be with you but to look fabulous too.
Advice to other couples
Planning a wedding is not stressful, what can be stressful is the family dynamics and considerations – the 'human' aspect. The fact is, everyone will have an opinion and they will let you know! So take everything with a pinch of salt but make the concessions where you feel necessary to smooth the path. Essentially its about you and your future husband, but frankly no bride would be happy with lots of long faces surrounding her. Head it off – man up and have the necessary conversations to eliminate your own stress!
Please find a moment to spend with your new husband / wife… we had a pic by the village Christmas tree and whilst we walked back the sound of our family and friends enjoying the disco and hog roast was filling the barn – it was nice to stop, be outside looking in together just for a moment.
Biggest surprise
The biggest surprise was how quickly the day went! Blink and you will miss it!
Supplier Shout Outs
For more information on Roar Photography go to
www.roarphotography.co.uk
[email protected]
FACEBOOK
TWITTER
Phone: 0789 1178779
I'm based in Ripley Derbyshire but shoot weddings nationwide