I often get stuff sent to me in the post, both for my role as a wedding planner and a wedding blogger. A lot of it is rubbish (sorry but it is) but some stuff really stands out from the rest. Wedding stationery is something I get sent a lot of……….I have boxes of samples in my office. If ever I was to get married again, I could probably send each of my guests a card from a different designer with the collection I have now.
For this reason when I get sent something that stands out I love it straight away! And that is the case for todays featured supplier –Denote Sationery
A couple of months back Louisa, the lady behind this gorgeous stationery, sent me a little package to introduce herself which was followed by a bigger package of wedding stationery samples.  I have since been recommending her to my brides, so I thought it was about time I recommended her to you as well.
Louisa told me a bit more about how the stationery came to be:
I have always had a penchant for all things paper. I used to dream of opening up a card shop with my sister, I was going to call it "Melon" (my maiden name is Mellon). Well, an online storefront called Denote Stationery is a good place to start!
My main inspiration is my Grandfather (who was an art teacher), he gave me the gift of creating. But the Denote seed started after I came back from a two year stay in New York and being totally inspired and surrounded by the quality of stationery ( I still am), I wanted to start up on my own company when I got back to the UK. Starting with my own wedding invitations, then for friends and family and then it got a bit more serious. It has turned out to be the perfect job since having my daughter. I get to do what I love which is being a mum and designing! 
We have a pre-designed range for everyone, but we also  custom design if couples want something really unique. We offer great  customer service and  want all out clients to be happy by making sure they get what they desire at very reasonable prices.
We also try to be as environmentally friendly as we possibly can. So we like to use materials such as recycled & cotton papers. If there is an eco alternative we will try to use it.
I was also very excited that I was invited to be  as part of a new venture in the US called The Pressroom & Company www.pressroomandco.com where I'm amongst some really amazing stationery designers from all over the world. If you love letterpress check out my designs here www.pressroomandco.com/denote-stationery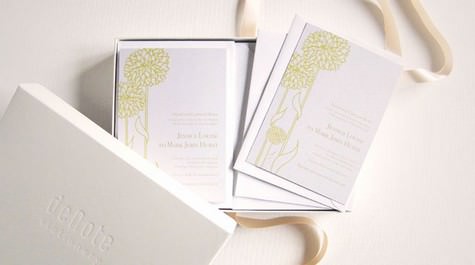 For more information go to:
www.denotestationery.com
[email protected]
FACEBOOK
TWITTER
01245 422993