What a very beautiful post we have gracing the pages of the blog this afternoon. The first thing that I thought of and I think that most bride to be's think about once they are engaged is 'the' dress.  You want to shine on your day so it is important that you pick the right one.
Today I am so pleased to bring you this delightful selection of dresses from Kisui.  There are some very delicate, simple styles to the very detailed styles.  There's capped sleeves, long sleeves, short sleeves, no sleeves. There is even a gorgeous suit in this collection. There really is something for every bride to be in this gorgeous collection.  Kisui are based in Berlin but the best thing is that they have 2 stores in the UK that stock these gowns, FrouFrou Bridal Boutique in Kent and Heart Aflutter in London. Price range from £1100 to £2800.
More about the label and the designer……..
As a label for High Fashion wedding dresses, kisui opened doors in Berlin 2007. The first collection aroused magnificent interest by the media and brides which is rewarded by unique designs year by year. Meanwhile, artists like the style icon Lana del Rey have discovered the design of kisui for themselves and are enthused. To embrace the big demand of kisui dresses, the label extended its offer by an exclusive evening fashion collection for the season 2014. Kisui keep on using carefully selected high-quality materials which are meliorated by special craftsmanship in Berlin to create the gorgeous kisui dresses.
Kerstin Karges is the creative director of kisui. The high skills in design and creative pattern cutting of our head designer are a family heritage. Her grandmother ran a dressmaker atelier and passed on her knowledge about cutting, textiles and processing to her granddaughter.
Studying fashion design in Berlin and London, as well as working for designers like Alexander McQueen, Martine Sitbon and Bernhard Wilhelm Kerstin could amplify those skills. The unique handwriting of the kisui collections is stamped by Kerstins passion for design and the soulful handling of textiles.
More about the collection………
The art of French gardens and blury photos had been the inspirations for the 2015 collection. Floral laces and geometric cuts are combined with jewellery pieces and cut-outs and accrue extraordinary looks with a romantic vibe.
Soft and flowing dresses, airy gatherings and ravishing back details determine the dreamy and pure look. The inimitably dresses are characterized by special dress patterns, sophisticated details and belts. The exquisite silk materials and French lace complete the gracious and individual look.
The collection displays the perfect composition of structure and effortlessness which emphasizes the feminine lines.
In this seasons collection you will also find tops and skirts that can be mixed to various looks. Kisui Berlin also introduce its first wedding suite for civil weddings.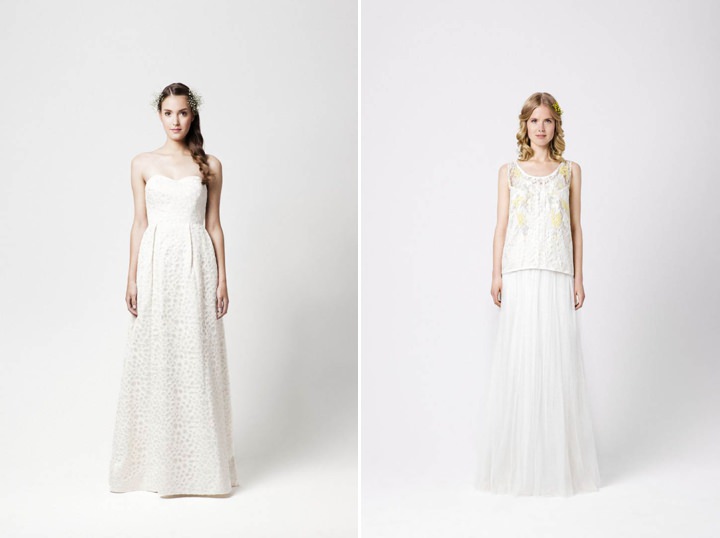 For more information go to.
[email protected]
www.kisui-bride.com
Facebook
Pinterest