I love it when I get to feature local weddings, and this is one of them. Matt from Greyeye Photography sent this wedding into me and asked if I would like to feature it on the Boho Blog, I replied straight away with a big yes! Not only is it local (well 40 minutes up the road) but it shows just what a wedding can be like when a couple do it their way. Matt also shot with Andy Garfitt who is the other photographer at Greyeye.
The first thing that struck me about this wedding is just how happy the couple are, especially the bride, it's fantastic to see such a genuine expression of excitement. I also love the red balloons, and great to see Mike and Mandy having so much fun!
Full names
Mike Barrett & Mandy Barrett
How did you meet/ how long together?
She was the girl next door. Been together 4 years.
Date of wedding
23rd October 2010
Location
Yorkshire Sculpture Park – West Yorkshire
Did you have a theme/colour scheme?
Reds and oranges / autumnal. Because of the time of year and also because they are our favourite colours! Mandy's red, Mike's Orange. Although, in the end, the colour scheme was a little random.
What made you decide to get married where you did?
Yorkshire Sculpture Park is a stunning place that has a special place in our hearts. We had always planned to get married at YSP as it is one of our favourite local places to visit for county walks, chilled out summer picnics and fun with friends and family. It is a truly beautiful place with the added attraction of having some of the best works of art from world leading sculptors both past and present.
For one reason and another we had decided to have the wedding breakfast and evening shenanigans at a different venue, which was a little closer to our home. When that fell through at the 11th hour (some 12 days before our wedding) we were somewhat panic stricken to say the very least.
We contacted YSP to see if they could accommodate us for the evening do as well as the ceremony. Upon hearing our plight Sally Meyrick the Conference & Hospitality Manager pulled out all the stops to help make sure that our wedding would run as smoothly as possible. She took into consideration all the things that we had put in place and did her utmost to ensure that we would have the day that we had planned despite such large changes at the last minute. The YSP and all the staff were fabulous.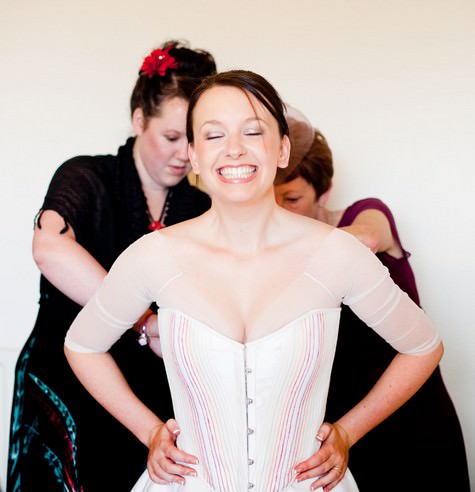 Who was your dress by
After realising the stereotypical wedding dress was not for me. I approached a local dress designer 'Cella Thomas'. Jeannie and Rebecca instantly understood where I was coming from and the three of us created the dress design together.
And the suite?
Suit by Ted Baker and Trilby by Christy's of London
How would you sum up your day?
Our wedding day was awesome in every way. As much as possible we wanted the day to be informal, relaxed and fun. We wanted everyone to enjoy themselves as much as we were going to.
Did you have any personal touches? Or things that you did yourself?
I am an artist (Mike) so I was always going to be hands on with the design side of our wedding. I created our invitations and table name designs. I also put together the poster for the seating arrangements. Mandy, also being very creative made all the table place names with a nod towards ye olde ransom note, using letters cut from newspapers and old quirky buttons. We also collected jam jars in the months leading up to the big day (friends and family also helped with this – soaking all the labels off was a task and a half to say the very least) and used them to contain the flowers on tables. We also used jam jars for our favours on the tables and filled them full of peanut M&M's. We created little rustic looking tags containing romantic quotes and tied them to the jars with twine. We also bought and arranged our own flower displays. The major personal touches were having the wedding bouquet made by artist and friend Catherine Green and our rings were hand made by Charlotte Brown and engraved with 'love and laughter', the date of the day, venue and our shared initials M.L.B.
How many guests?
We had 80 guests.
What were your special moments/highlights?
It's hard to single out any particular moment we bothenjoyed every single minute. But seeing each other for the first time was certainly one of our highlights. We both travelled to the venue on a vintage double decker bus but managed to create an air of suspense. Mike travelled upstairs and I travelled downstairs for the 45minute journey. We managed not to see each other until we arrived at the venue where we were secretly separately ushered to the formal gardens. Meeting for the first time in private with our guests loitering behind a hedge was a truly magical moment.
Is there anything you would do differently?
No way! From the outset we intended to do the entire day completely our way and that is exactly what we did. We wouldn't change a single thing.
What advice would you give any other couples?
Do it your way. Decide between you both how you want your day to be and do exactly what you want to do, the way you want to do it. It's your wedding day after all and there are no rules! We did everything exactly the way we wanted and it was a fabulous day for it. We would also certainly recommend Greyeye Photography www.greyeyephoto.com to cover the day. They took some absolutely amazing shots and were the consummate professionals.
What was your biggest surprise of the day?
No big surprises really. Everything was just perfect. A fabulous day where I got to marry my soul mate.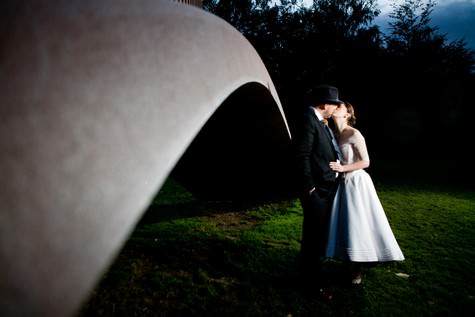 I'd like to thank Matt for sending in this wonderful wedding and also wish Mike and Mandy many years of happiness together.
For more information on Matt's photography go to:
Matt Tordoff – Photographer
I work: www.greyeyephoto.com
I blog: www.matttordoff.com
I tweet: @MattTordoff
I make friends: http://www.facebook.com/matt.tordoff1
I even have a phone: 0845 8678496
I also carry one: 0781 0663298