Good Afternoon! I hope you are well. It well and truly snowed in Yorkshire overnight and it's like a winter wonderland out there! I hope the snow stays for a little while as it looks so pretty!
I have a lovely woodland bohemian outdoor styled shoot for you this afternoon all the way from the USA. Many Thanks to Andie Freeman for sharing these images with us today, I'm sure you will agree they ar truly gorgeous!
'An opulent Bohemian wedding inspiration in the woods. This shoot is the perfect inspiration for a bride that wants to marry luxury with the bohemian feel' 
I'll pass you over to Andie to tell us more about the shoot……….
When event designer, Jessie Patton, and I first started thinking about this inspiration shoot, we really wanted to incorporate elements that were unique. We knew that we wanted bohemian to be our main inspiration, but we wanted to incorporate luxury that is not normally seen in a bohemian wedding. We wanted to include real crystal, gold overlays, and glitz and glam. So we chose a beautiful location with wild pine trees growing and an old chimney. The ceremony inspiration would take place in front of the chimney, and we brought in a beautiful mantle to act as the altar. Gold chiavari chairs lined the aisle and we had dried lavender bunches for pew markers. They release a lovely smell every time they were touched.
For our reception inspiration, we had farmhouse tables to reflect the rustic elements but adorned them with a lace runner, a gold candelabra dripping in crystals, gold chargers, white china rimmed in gold, crystal stemware, and to top it all off, real heirloom silverware that my mother-in-law brought all the way from Britain as my wedding gift. There were gold chiavari chairs on the sides of the table with dried lavender bunches linked together with a greenery swag. At the ends of the tables sat beautiful red velvet chairs. We wanted to really incorporate rich colors into the session, choosing burgundy as our main color with berries and then accenting with rosemary and other jewel toned flowers.The paper suite was hand made and calligraphic by an amazing calligraphy artist, Sherry Beauchamp. Our bride wore a beautiful floral halo in deep hues of green and purple and had a gorgeous one shouldered nude dress encrusted with silver sequins. To top it all off, on her feet, our bride wore the most amazing gold Sergio Rossi pumps that wrapped around her legs with lace detail. They came all the way from Caesar's Palace in Las Vegas!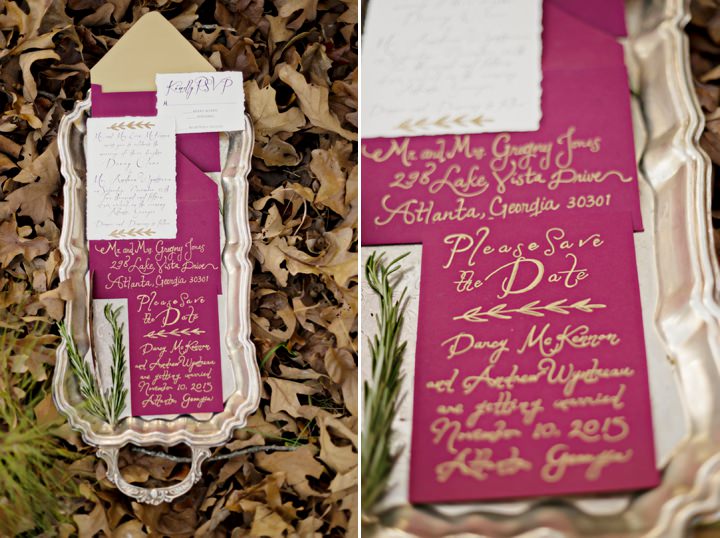 Our couple are actually a real couple. I wanted a bride and groom that could show true emotion and these two love each other so much. They are wonderful together and so comfortable showing emotion in front of the camera. Not to mention that she is a such a perfect bohemian bride with her Italian features and lovely, long brunette locks. They were a natural choice. For our menu, we chose vegetarian offerings to represent the bohemian feel. Our buffet table centerpiece was a large crystal vase filled with beautiful dried hydrangeas. The menu consisted of a carrot and ginger soup, a bohemian salad, a cheese board, fruit tray and honey whole wheat bread freshly baked.
Our cake was a naked cake adorned with rosemary and blackberries. Atop the cake sat a handmade Love cake topper in burnished gold. The cake sat on a gold cake plate dripping in crystals that matched the centerpiece candelabra. It all sat on a vintage truck beside a port bar with crystal port decanters. One actually belonged to my deceased father in law and is very important to our family. I feel that including heirloom items like the decanter and the silverware is so very important to personalizing a wedding. Around the cake, we had a sitting area that included an antique lime settee.
We photographed the session about 2 hours before sunset and had beautiful winter lighting.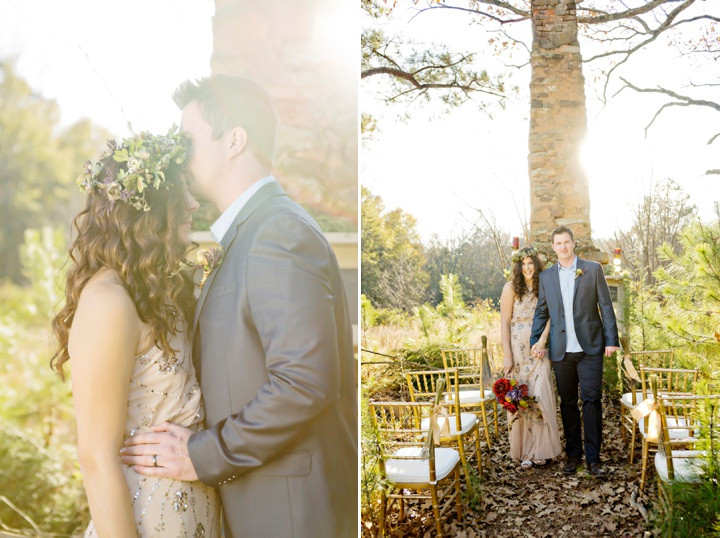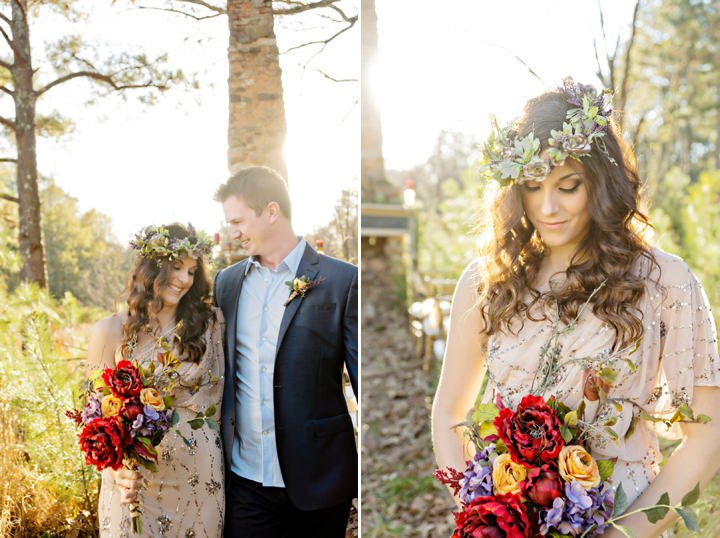 The suppliers who made it possible…..
For more information on Andie's work go to
www.andiefreemanphotography.com
www.andiefreemanphotography.com/blog
[email protected]
FACEBOOK
TWITTER
PINTEREST
INSTAGRAM